Trump Wants to Repeal First Amendment
The Republican frontrunner doesn't want newspapers to be able to write negative stories about him.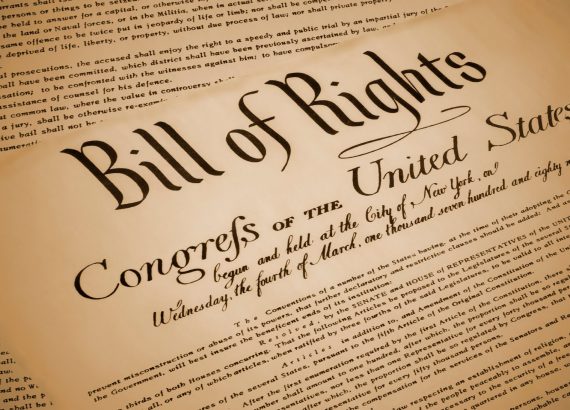 The Republican frontrunner doesn't want newspapers to be able to write negative stories about him. POLITICO's Hadas Gold:
Donald Trump said on Friday he plans to change libel laws in the United States so that he can have an easier time suing news organizations.
During a rally in Fort Worth, Texas, Trump began his usual tirade against newspapers such as The New York Times and The Washington Post, saying they're "losing money" and are "dishonest." The Republican presidential candidate then took a different turn, suggesting that when he's president they'll "have problems."

"One of the things I'm going to do if I win, and I hope we do and we're certainly leading. I'm going to open up our libel laws so when they write purposely negative and horrible and false articles, we can sue them and win lots of money. We're going to open up those libel laws. So when The New York Times writes a hit piece which is a total disgrace or when The Washington Post, which is there for other reasons, writes a hit piece, we can sue them and win money instead of having no chance of winning because they're totally protected," Trump said.

Under current law, largely determined at the state instead of federal level, public persons, such as politicians, can win a suit against a media organization only if the person can prove that the publication published information with actual malice, knowing it to be wholly incorrect, as well as in cases of reckless disregard. The case that set this precedent — New York Times Co. v. Sullivan — was decided by the Supreme Court in 1964.

"You see, with me, they're not protected, because I'm not like other people but I'm not taking money. I'm not taking their money," Trump said on Friday. "We're going to open up libel laws, and we're going to have people sue you like you've never got sued before."
Granting that most of what Trump says is half-baked bluster rather than serious policy proposal, this is further evidence of not only a thin-skinned temperament unsuited to the presidency but a fundamental misunderstanding of our system of government.
Presidents don't make our laws, they merely sign bills that have passed in identical form in both Houses of Congress. This particular "law" is a binding interpretation of the First Amendment to the Constitution of the United States that has stood for 52 years. Thus, "opening up our libel laws" in such a way to overturn this precedent would require either packing the Court with Justices who would overturn it—incredibly unlikely for a variety of reasons, including the fact that this is hardly a cause célèbre among even Federalist Society acolytes–or amending the Constitution. That ain't happening.
Given that Trump can't do what he's saying he wants to do, I suppose his spouting off in this way is irrelevant. But, again, it's pretty strong evidence of what a lousy president he'd make.