Sarah Palin Defamation (Sort of) Dismissed
The bar for defaming public officials is too high.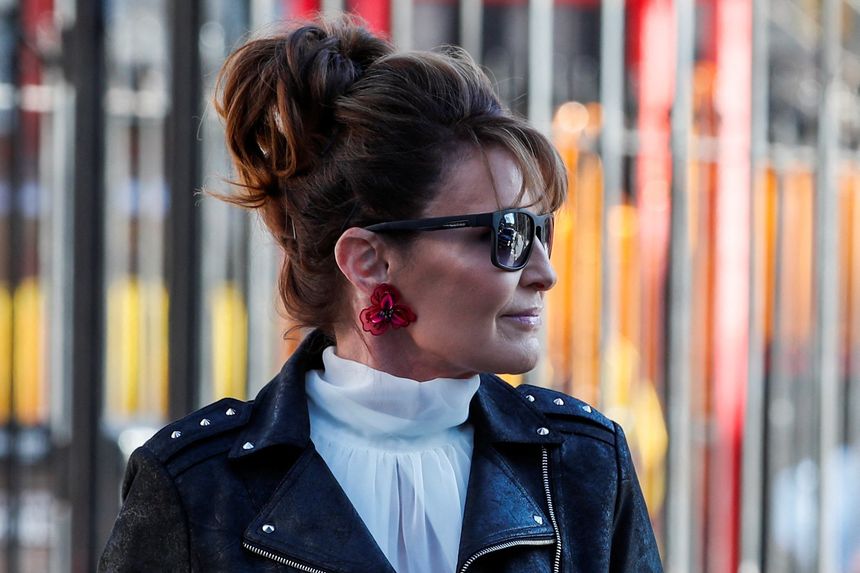 The judge in Sarah Palin's defamation suit against the New York Times got the law right in dismissing her case. It's the law that's wrong.
WaPo ("Sarah Palin judge will dismiss her libel case, finding no malice by New York Times"):
A judge on Monday said he will dismiss Sarah Palin's libel case against the New York Times, saying she had not met the legal standard showing that the newspaper acted with "actual malice" in publishing a 2017 editorial that included an inaccurate claim about her.

Judge Jed S. Rakoff told the lawyers involved in the case that he will formally issue his ruling after a jury that has been deliberating since Friday returns its decision.

Rakoff said that because the decision is likely to be appealed — a path that could upend long-standing legal protections for journalists who write about public figures — he wanted future courts to have both his decision and the jury's to consider.

Rakoff did not spare the Times criticism for its error, a collection of phrases within a larger essay that inaccurately suggested a link of "incitement" between the crosshairs that her political action committee imprinted on a congressional map and a 2011 mass shooting in Tucson.

"This is an example of very unfortunate editorializing on the part of the Times," he said, adding that he was "not at all happy to make this decision" in its favor.

However, he told the parties gathered in a courtroom in the U.S. District Court for the Southern District of New York in Manhattan that "the law sets a very high standard for actual malice, and in this case the court finds that that standard has not been met."

While Palin's attorneys argued that the paper's then-editorial page editor, James Bennet, had acted recklessly in publishing assertions he should have known were false, a Times lawyer described a frantic rewriting session on deadline that resulted in "a mess-up … a goof" that Bennet regretted immediately and corrected as quickly as possible.

Ultimately, Rakoff concluded that Palin's team did not prove that Bennet knew the statements were false nor even that he suspected they might be false and then recklessly disregarded that possibility.
For those who haven't followed the case, here's a rough summary:
Palin first filed suit in 2017, not long after the Times published its editorial, under the headline "America's Lethal Politics." Written in the hours after the June 2017 shooting attack of Republican lawmakers practicing baseball at an Alexandria, Va., field, the editorial decried rising levels of toxic political discourse and gun ownership. And it made a connection between the Alexandria shooting and a 2011 attack at a Tucson shopping center that left then-Rep. Gabrielle Giffords (D-Ariz.) gravely wounded and six other people dead.

"The link to political incitement was clear," the editorial stated. "Before the shooting, Sarah Palin's political action committee circulated a map of targeted electoral districts that put Ms. Giffords and 19 other Democrats under stylized crosshairs."

In fact, investigators never found any indication that the mentally disturbed Tucson shooter was motivated by the Palin PAC's map. The Times corrected the error the morning after it was published on the newspaper's website.

Rakoff dismissed Palin's suit not long after she filed it, stating it was doubtful that Palin could demonstrate that the Times had shown the "actual malice" that public figures must prove in a libel case.

"Negligence this may be," he wrote, "but defamation of a public figure it plainly is not."

But the case was sent back to him by an appellate court — a reversal that put many legal scholars on alert that a favorable climate for journalists may be changing.
WaPo media critic Eric Wemple ("Sarah Palin needed a smoking gun. She had boring emails."):
Judge Jed S. Rakoff was impressed with an email from then-New York Times editorial page editor James Bennet on June 14, 2017. "I really reworked this one," wrote Bennet to colleague Elizabeth Williamson that evening. "I hope you can see what I was trying to do. Please take a look."

Those four words — "Please take a look" — impressed Rakoff to the point that he cited them in announcing on Monday that he will dismiss former Alaska governor Sarah Palin's lawsuit against the Times regarding the editorial that Bennet had "reworked." The ruling came as the jury in the case was still deliberating on its merits and responded to a Times motion under a federal rule that allows the judge to determine a case once a party has been "fully heard" on a complaint.

"I don't mean to be misunderstood," explained Rakoff. "I think this is an example of very unfortunate editorializing on the part of the Times." Yet Palin and her attorneys, the judge determined, hadn't put forth sufficient evidence to satisfy the demands of New York Times v. Sullivan, the 1964 Supreme Court ruling which established that public officials — and later, a wider group of "public figures" — could only claim defamation if the offending media outlet had knowingly published a falsehood or proceeding with "reckless disregard" of its truth or falsity.

As Rakoff said during discussion of the Times's motion on Monday, "Certainly the case law is clear that mere failure to check is not enough to support 'reckless disregard' in the context of any libel claim. But … where the assertion is that someone incited murder: That is such a strong statement that even under a reckless disregard standard, it calls for more assiduous checking than would be normally the case."

Rakoff said it wasn't surprising that Palin, the 2008 Republican vice-presidential nominee, filed her complaint.

That's different from proving the case, however. Over six days of testimony and documents produced in discovery, Palin's lawyers exposed an editorial process that was hurried and disjointed — typical of a news organization seeking to hustle on the day's biggest story. They showed that Bennet, Williamson and others pursued two themes for the editorial — one on gun control and the other on the "rhetoric of demonization." When the two themes merged uncomfortably in Williamson's draft, another editor apprised Bennet of the problem. He launched into the copy, inserting the false claims.

What was missing from the whole production was any indication that Bennet was out to smear Palin. And here's where his email to Williamson comes into play: No matter what you believe about Bennet or his colleagues, he'd be foolish to ask for Williamson's review of the draft if he'd been committed to planting damaging falsehoods in it. "The allegation that he published with 'actual malice' is also undermined, in the court's view, by the actions he undertook after finishing his revisions of Ms. Williamson's draft," said Rakoff, highlighting the email seeking Williamson's review.

Translation: Palin needed evidence — preferably in email form — that Bennet was eager to nail Palin with something he knew was false: an "actual malice" smoking gun. Instead, she offered only emails outlining another day at the Times.

Palin faced a "very high burden," acknowledged Rakoff, stressing that First Amendment law is designed to allow a "very robust debate involving especially people in power and that the whole point of the First Amendment as applied in that context would be undercut if the standard for libel and defamation were not as high as the Supreme Court decreed."
So, again, Rakoff got it right here. There's no evidence Bennet was acting with "actual malice," the legal standard established by the Supreme Court for claims of defamation of public figures. But the notion that Palin should have to prove that Bennet not only knew the claim was false but published it with intent to do her harm to succeed is just nuts.
I'm far from a Palin fan. Even though I supported John McCain throughout the 2008 presidential primaries and ultimately voted for the McCain-Palin ticket, I immediately excoriated him for choosing the unseasoned Palin as his running mate, noting that "Palin undercuts McCain's entire campaign theme. She's got less political experience and less foreign policy experience than Obama." As more information came to light, I lost quite a few Republican leaders by doubling down on my assertion that she was an ignoramus. And she hasn't exactly covered herself in glory in the years since.
Still, if the Newspaper of Record is going to use the prestige of its platform to claim that someone incited mass murder, they should make damn sure they have their facts straight first. And, rather obviously, the fact that Bennet was eager to tie Palin to the shooting was a function of political bias.
Were Palin not a public figure, mere "negligence" —which Bennet clearly admits to—would be the standard of proof. How much damage Palin actually suffered from a quickly-retracted smear is another question entirely, but one that should be for the jury to determine.
Wemple's defense of the current standard is weak, indeed:
Through its process-heavy tedium, the trial brought into relief just the sort of journalism that deserves protection from crippling litigation. Here was a one-off claim in a hurried editorial that slimed a public figure. Granted, it perpetrated a gobsmacking falsehood for which the Times and Bennet are appropriately ashamed. But everyone who feeds off unsparing coverage of politicians and celebrities — a pretty healthy American plurality, we'd submit — should applaud the ruling. It's a principle, after all, that props up your favorite media outlet, too.
I'm much more sympathetic to this argument:
Times spokeswoman Danielle Rhoades Ha said the ruling reaffirmed "a fundamental tenet of American law: public figures should not be permitted to use libel suits to punish or intimidate news organizations that make, acknowledge and swiftly correct unintentional errors."
We absolutely want to avoid casting a chilling effect on those seeking to report on and criticize politicians and others engaged in the political fray. (I'm less sure of why, say, Kim Kardashian, should be more subject to falsehoods than an ordinary citizen.) We don't want the press afraid to report and comment. At the same time, it shouldn't be a free-for-all.
Furthermore, this was gross negligence on the part of the Times. The matter of the "target" ad had been widely commented upon six years before the editorial in question. And, while, as Steven Taylor noted at the time, it looked bad—and as the late Doug Mataconis noted, the Palin team's claim that it was a "surveyor's symbol" was risible—the fact of the matter is that "targeting" was a trope with a long, bipartisan history in American politics. And one didn't have to be a regular OTB reader to have that knowledge; a Washington Post fact check concurred. Again: this was all in 2011, six years before Bennet's claim.
This was irresponsible journalism on the part of the Times. I'm persuadable that a quick correction and an apology are sufficient punishment. But it should be a justiciable issue.