Palin 'Target' Graphic in Perspective
Palin's infamous "target" poster recycles a theme used by both parties over the years.
Steven Taylor has already posted on the now-infamous Palin "Target" Graphic, in which the  Gabriel Gifford's congressional district was depicted in crosshairs of "20 House Democrats from districts we carried in 2008 voted for the health care bill" and proclaiming with "IT'S TIME TO TAKE A STAND."
As horrendous as this looks in hindsight, with Giffords fighting for her life and six others, including a federal judge and a 9-year-old girl, dead, the fact of the matter, as Alex Massie points out, "Palin's poster was only a souped-up version of a campaign trope that both parties have been happy to employ in the past."   He points us to a posting from John Sexton from last March showing similar graphics employed by the moderate Democratic Leadership Council and the Democratic Congressional Campaign Committee.
The DLC one appeared in the December 13, 2004 edition of Blueprint Magazine: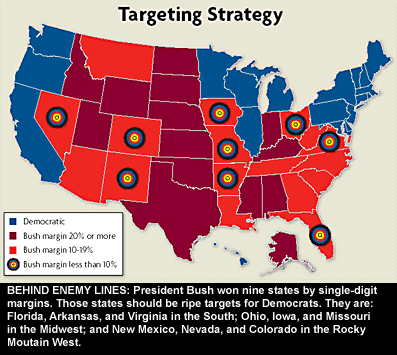 The article by Will Marshall is perfectly benign campaign strategizing.  But it has targets on Republican-held states that Bush won by less than 10 points in 2004.   It's called "Targeting Strategy."   It says, in all caps, "BEHIND ENEMY LINES."    (And, incidentally, it turned out to be rather prescient, as Barack Obama indeed won several of these states in 2008.)
The DCCC one is from February 23, 2010: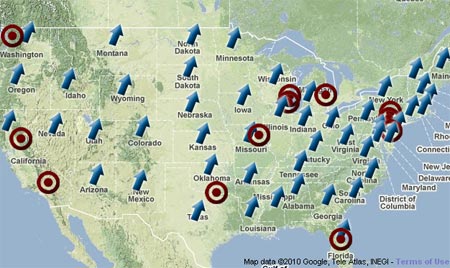 Clicking on the targets reveals this: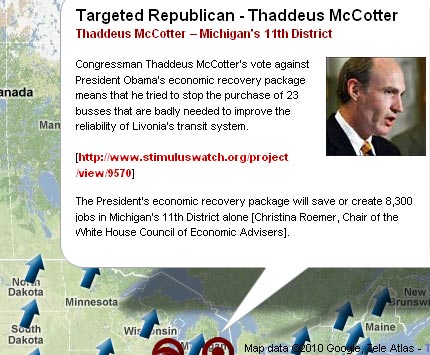 So far as I know, neither of the above Democratic graphics led to any shooting sprees.  Then again, there's no current evidence that yesterday's shooter was inspired by the Palin graphic, either.  Neither Alex nor I are Palin fans, by any stretch of the imagination.   But she's simply not culpable in yesterday's outrage.
Alex gets it exactly right:
While you cannot legislate for lunatics there's also little need to give them any encouragement. But the more we learn about Jared Loughner the more it seems probable – at this stage – that he's the kind of mentally unstable person who neither needed nor took any inspiration from Palin or the Tea Party or anything other than powerful fantasies that were his own creation.

And this too is normal. Political violence of this type is almost definitionally unhinged but it's striking how rare it turns out to be the case that the perpetrators can be fitted into one neat political profile or another. And even when they can their targets are frequently so at odds with the meaning of their supposed "philosophy" that trying to "make sense" of such matters becomes an even more frustrating task.

Anyway, we may think these are unusually turbulent times, fanned by unusual quantities of cheap and phoney populism, scaremongering and hysteria but this is not in fact the case. 'Twas almost ever thus. Remember McKinley and Garfield too. The paranoid style has rarely lacked followers and, just as significantly, the centre has also always had a healthy paranoia of its own. Sometimes, as is the case today or in the aftermath of any other act of grim violence, this will seem unusually plausible. Most of the time, however, the scare stories about a new era of Militiamen or whatever are seriously over-cooked. The temper of these American  times – despite what you will read everywhere today and tomorrow – is not unusually rebarbative or even uncommonly obtuse. (What might be said, mind you, is that the level of rhetoric is out of proportion to the stakes involved in the political game these days.)

The fact of the matter is that a country of 300 million people cannot help but be generously larded with oddballs, freaks, paranoids and assorted other nutters. Couple that with the American genius for self-realization and you soon begin to wonder why there isn't more politically-themed violence than is actually the case.
I have actually been wondering that for quite some time.  I'm just thankful that incidents like yesterday's remain rare and shocking.
UPDATE:   In a posting titled "The Cloudy Logic of 'Political' Shootings," James Fallows takes us on a historical tour showing "how rarely the 'politics' of an assassination (or attempt) match up cleanly with the main issues for which a public figure has stood."  Sirhan Sirhan (Robert Kennedy), Arthur Bremer (George Wallace attempt), John Hinckley (Ronald Reagan attempt), Squeaky Fromme (Gerald Ford attempt), and those who killed McKinley and Garfield and tried to kill Truman all chose targets who seemingly had nothing to do with their own agenda.
Oddly, given that buildup, he then concludes:
We don't know why the Tucson killer did what he did. If he is like Sirhan, we'll never "understand." But we know that it has been a time of extreme, implicitly violent political rhetoric and imagery, including SarahPac's famous bulls-eye map of 20 Congressional targets to be removed — including Rep. Giffords. It is legitimate to discuss whether there is a connection between that tone and actual outbursts of violence, whatever the motivations of this killer turn out to be. At a minimum, it will be harder for anyone to talk — on rallies, on cable TV, in ads — about "eliminating" opponents, or to bring rifles to political meetings, or to say "don't retreat, reload."
Now, I've been condemning this absurd rhetoric — and even the shouting at the townhall meetings and the like — for years.  I think ratcheting down the rhetoric several notches would be quite helpful.  Not because it's likely to lead to violence, but because it's unhealthy for our democracy to overexaggerate our differences and to treat our fellow countrymen who happen to disagree with us as if they were enemies.
And, yes, I think bringing rifles to political rallies and using the language of revolution to describe opposition to relatively minor changes to the tax code is absurd.  But it's not because I think these people are actually likely to go out and shoot somebody but rather because it demeans those who fought and died in our actual wars.
While I disagree with Barack Obama on a host of issues, and even think his policy agenda is in the direction of marginally diminishing our freedom, he's the legitimately elected president of these United States, not a tyrant. As such, the way to stop him is to muster public opposition to his policies (check), elect more Republicans to the Congress (check), and recruit an able candidate with a positive agenda to defeat him at the ballot box in 2012 (work in progress).