Sarah Palin Spokesperson: Targets On Map Were "Surveyor's Symbols"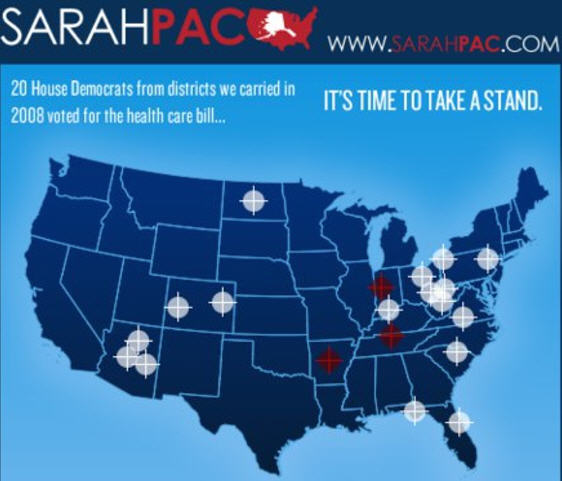 As the media continues to focus on political rhetoric in general, and Sarah Palin's "targeted districts" map in particular, it's understandable that the Palin camp would want to distance themselves from the debate as much as possible, but this response strikes me as rather silly:
A Palin staffer, Rebecca Mansour told a radio talk show host Saturday that doing so is "obscene" and "appalling." In fact, she said that the "target list" was not intended to allude to guns.

"We never ever, ever intended it to be gun sights," she said.

"It's surveyor's symbols," the interviewer Tammy Bruce suggested. Bruce, a Palin supporter, describes herself as "a gay, pro-choice, gun owning, pro-death penalty, Tea Party Independent Conservative. " Her show is promoted as a "chick with a gun and a microphone."
You can listen to the whole podcast, but here's the relevant quote:
MANSOUR: I just want to clarify again, and maybe it wasn't done on the record enough by us when this came out, the graphic, is just, it's basically — we never, ever, ever intended it to be gunsights. It was simply crosshairs like you see on maps.

BRUCE: Well, it's a surveyor's symbol. It's a surveyor's symbol.

MANSOUR: It's a surveyor's symbol. I just want to say this, Tammy, if I can. This graphic was done, not even done in house — we had a political graphics professional who did this for us.
As David Weigel notes, this is just beyond stupid. I happen to think that Palin has been unfairly attacked for this graphic over the past 24 hours, and those of you who've read what I've written about Sarah Palin know that I'm no fan of hers to say the least. However, the only thing a reaction like this does is reinforce the meme being pushed by those who say that she owes some kind of apology for a political ad that, as James Joyner noted this morning, merely mimics ones that we've seen from other groups in the past. It would have been better to just stay silent, but that doesn't seem to be possible for the Palin camp.
They've played right into the hands of their opponents on this one, I think.