The Media's Pro-Trump Bias?!
The rules of American journalism haven't caught up with the reality of this Presidency.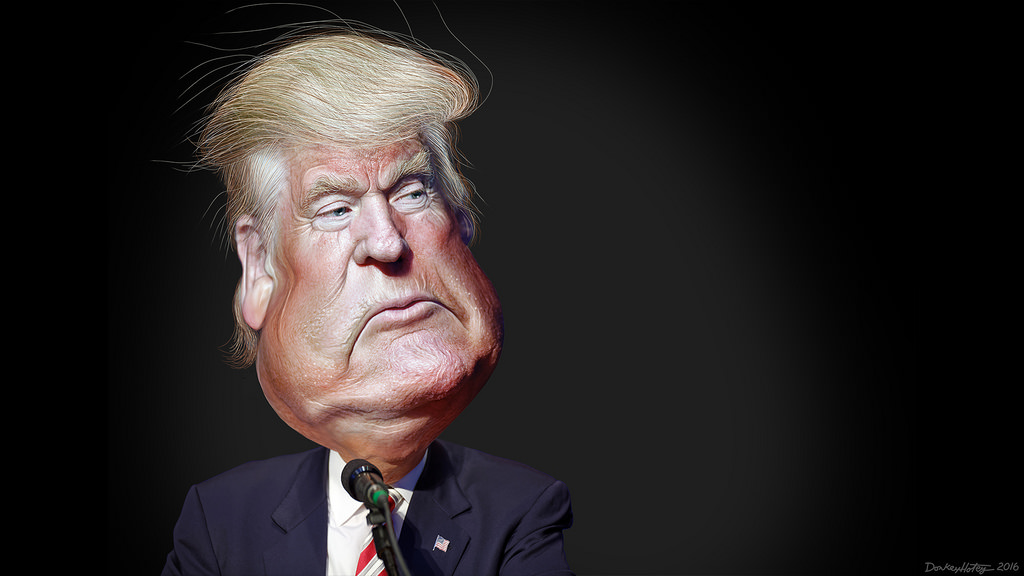 Tim Miller makes a case for "THE MEDIA'S UNDENIABLE PRO-TRUMP BIAS." It's not a good one. Or, rather, it's a category error.
His central premise:
In MAGAland, the conceit that the media is biased against President Trump is the one creed that unites all factions. It is considered so self-evident that Trump supporters will dismiss my effort to present a counter argument as farcical trolling, not worthy of engagement.

[…]

It is true that on a personal level, national political journalists tend to be socially liberal and not only dislike Trump, but are ensconced in bubbles where nobody imagined voting for him. But this type of personal ideological bias distorts coverage of Trump much less than the avalanche of bullshit Trump and his allies unleash everyday. A mixture of fundamental human nature and incentives in journalism that reward recency, access, and "balance," pressure reporters into treating President Trump with far more leniency than he deserves.
I don't fundamentally disagree with this. Indeed, I've made this argument myself, many times.
The rules of American journalism, at least at the elite level, make covering a politician who is a bullshit artist extremely difficult.  Trump has mastered distraction, dominating the news cycle with his tweets and gaffes. But, first, that's not a pro-Trump bias. And, second, reporters aren't in the business of dispensing justice but rather presenting facts so that readers can make informed judgments.
Take for example, his rally in Nashville, TN this week. Over the course of a typically meandering and unhinged speech he propounded and repeated several bald-faced lies, including his second favorite lie (the first is "No collusion!") that Mexico is going to pay for a wall on the southern border. This lie touched off an international incident in which the president of one of our largest trading partners tweeted a formal rebuke at our own. Trump incited grievances against minority groups, bragged about his hand size, invented fake people who demanded policies that their real-life incarnations oppose, attacked John McCain who sits at home dying of brain cancer, cursed, attacked Jay-Z for cursing more than him, leveled absurdly false attacks against Democrats that lie well beyond the pale of normal political discourse, and, finally, advanced an insane conspiracy theory that Barack Obama infiltrated his campaign with a spy. Most of the above links come from Daniel Dale, a reporter for the Toronto Star who uses his Twitter feed to comprehensively fact check Trump's speeches. But even someone who dedicates his professional life to documenting Trump's lies understands that simply cataloging them is insufficient. "One thing I still haven't figured out well," Dale added, "and I don't think anyone really has, is how to capture Trump's level of rally unhingedness in a regular article."

And the evidence bears Dale's point out. The Tennessean topped its article about Trump's speech as if it were any standard campaign event: "At Rally for Blackburn Senate bid, POTUS calls Phil Bredesen 'Tool' for Democrats." USA TODAY took a tongue-in-cheek approach that largely gave Trump a headline he'd want, "Trump Vows To Rebuild USA With His Big Beautiful Hands." The New York Times, Washington Post, and Wall Street Journal didn't give the speech any mention on their front pages, which wouldn't be remarkable if Trump were giving an ordinary political stump speech, but reflects a depressing level of desensitization to what he offers instead. The president of the United States gathered supporters to incite racism, to spread lies and propaganda, to slander his political enemies, and the most important newspapers in the country didn't think anything of it.

It's unimaginable that any other politician would receive that type of coverage after delivering such a loathsome speech. The worst gaffe Mitt Romney made in 2012—the only one, I'd argue, that deserved sustained scrutiny—was his now-infamous remark that 47 percent of Americans are dependent on government, believe they are victims, and, thus, will never vote for Republicans. Imagine if Trump had slipped Romney's remark, verbatim, between his call-and-response screed about "animals," and the story about the imaginary San Diego mayor who wants him to build a border wall. Would the comment that the media made a defining issue in the 2012 campaign have even made it into the newspaper the next day? Would cable producers have bumped the wall-to-wall coverage of Roseanne for even a single segment?
Miller actually understates the Trump-Romney comparison here. Romney's unfortunate remark, after all, was made in a closed-door session with a small group of supporters and went public only because some worker surreptitiously taped and leaked it. Trump's remarks were in a prepared, public speech with full knowledge that there were reporters and television cameras present.
But here's the thing: Romney's remark was in fact much more newsworthy than Trump's screed. Sure, it was a comparatively benign comment. But it was off-brand. Romney was a rich guy trying to sell himself as a Regular American. The "47 percent" line painted him as out-of-touch. Further, it continued to haunt him not so much because of dogged journalism but because the Obama campaign seized on it and made that a central part of their message.
Further, the Romney story came in the midst of the horse race that is a presidential campaign. That inherently makes it bigger "news" than the day-to-day slog of a four-year presidential term.
By contrast, nothing in Trump's Nashville speech is even mildly surprising. It's the sort of thing he's been saying since, quite literally, the speech that launched his successful 2016 campaign almost three years ago. Dog Bites Man is not news; Man Bites Dog is.
Miller seems to understand that:
Trump is employing a strategy that might be familiar to coaches of inferior middle school basketball teams: Foul your opponents on every play, because, by human nature, referees are not equipped to blow the whistle on every play for fear of seeming biased. They are going to let some plays go by. In politics, journalists are the referees. And because they give Trump a pass on so many of his fouls, he avoids scrutiny that politicians who play by the rules would be subjected to regardless of ideology.
He's right. Trump has played the game well and desensitized the media and the general public to treat things that would have been outrageous if done by a traditional politician as "Trump being Trump." I've complained about that many times.
Still, the fact of the matter is that reporters continue to report. Every single outrage that Miller points to are known to Miller because they've been reported by the media that Miller says is biased against Trump. And, while the may well be numb to it, the American public is generally aware. Trump had the lowest approval rating, by far, of any modern President at the one-year mark. While his popularity has rebounded a bit, he's still at 10 percent net disapproval in a hyper-partisan environment where 35 percent of Americans would approve of Charles Manson if he were their party's President.
Miller points to a series of lies and outrages committed by Trump, all of which were dutifully reported by the press. He's frustrated that, because of the industry's bias for new news, they get bumped off the radar screen quickly as the coverage moves on to the outrage of the day, hour, or minute. I agree that this has played to Trump's advantage. But that's simply the nature of daily reporting. And it's not as if there isn't daily, longform coverage—like Miller's!—that look back at various aspects of Trump's highly unusual presidency.
Miller apparently expects reporters to be time travelers or savants:
During the campaign, this dynamic played out in ways that allowed Trump to avoid the most basic vetting journalists rightly expect all leading politicians to submit to. Every four years, presidential nominees authorize their doctors to divulge their otherwise-confidential health information so that voters have confidence they won't elect someone in poor health to run the government. Recently, Trump's former personal doctor revealed that Trump pressured him into releasing a letter, which Trump himself dictated, declaring Trump would be the healthiest president in history. The contents of the letter were facially absurd—an insult to sentient people everywhere. Trump should have been hounded for releasing an obvious forgery, for misleading the media and the public, and for hiding his true medical history. Instead, headlines unskeptically declared Trump to be in excellent health and reporters chased "stories" about Trump allies who were peddling a conspiracy theory that Hillary Clinton had serious health issues, based on no evidence.
This conflates a lot of things. Journalists constantly hounded Trump to release his taxes. The New York Times published stolen tax documents. Rachel Maddow spent hours teasing yet more stolen tax documents. Most everyone treated the "healthiest president in history" stuff as a joke at the time. But Miller wanted more:
This doctor thing might seem dumb but it's an example of how Trump abuses the press with lies & why I have the unconventional view that coverage is actually biased in his favor. The headline in 2015 should've been "Trump Dictates Phony Doctor Letter, Hides Records." Instead: pic.twitter.com/nWL8e7djuJ

— Tim Miller (@Timodc) May 2, 2018
First, it's absurd to fault news outlets for December 2015 reports that failed to acknowledge things we learned in May 2018. "Trump Dictates Phony Doctor Letter, Hides Records" would have been gross journalistic malpractice. Indeed, it would have been slander. And, despite the benign headline, the AP story Miller cites was hardly "unskeptical."
Donald Trump released a glowing letter from his physician Monday declaring that the Republican presidential candidate will be "the healthiest individual ever elected to the presidency" if he wins in 2016.

The letter from Dr. Harold Bornstein of Lenox Hill Hospital, identified as Trump's personal physician since 1980, was released after Trump promised to disclose his medical records amid questions about the billionaire businessman's health.

Trump, 69, has acknowledged eating a less-than-healthy diet — heavy on McDonald's — and said his primary form of exercise consists of speaking at campaign events.

"I love steak and hamburger and pasta and french fries — all the things we shouldn't be eating," he said during an interview this fall on Bloomberg's "With All Due Respect."
That third sentence borders on mockery. I'd argue it's editorializing, not reporting. But it was a perfectly reasonable—and almost universal—reaction to the report. While we didn't know at the time that Trump had personally dictated it and bullied Bornstein into releasing it, all but the most ardent Trump loyalists knew it was laughable. Indeed, most of us laughed.
Miller closes with this:
But here's the thing: If the leader of the country is lying 100 percent of the time, then the coverage of his comments needs to be 100 percent negative. Trump uses the sense that coverage of the president needs to be balanced to avoid accountability. It's why pundits lavish praise on him anytime he gives a speech that doesn't include conspiratorial race-baiting, and have been quick to praise him for a nascent diplomatic entreaty with North Korea that, by any relative measure, has been messy and ad hoc at best.

Covering Trump is no doubt more challenging than covering past presidents. Some days reporters rise to the occasion and some days they don't. But few reporters, and no major media outlets, have concluded that a president who lies systematically should be covered in a systematically different way than his predecessors. He routinely calls the maxim that there are two sides to every story into question. At the very least, he demands a level of fact checking that previously would have been considered absurd or gratuitous, and necessitates keeping "old news" in the headlines, even as new outrages pile up.

Trump has declared the media the enemy of the people, and the media has responded with no fresh tactics. He is fighting a war that uses the media's own rules against it, and he is winning in a landslide.
Here's the thing: What Miller proposes isn't journalism—or at least not reporting. He's essentially calling for the media to become a wing of the Democratic Party. That would, ironically, play into Trump's hands.
Having long given up regular consumption of television news, I can't much comment on what the mainstream networks are doing. But the coverage of all of the dominant print outlets, including the Republican-leaning Wall Street Journal, is decidedly anti-Trump. I've read more coverage of the North Korea saga than most and have seen rather little in the way of "praise." Again, the reason Miller gets the impression that it "has been messy and ad hoc at best" is because that's how the press has, quite correctly, covered it.
Miller seemingly wants the news section of the papers to do more than report the news. Even though said reporting has allowed Miller and me—along with 53 percent of the American public—to disapprove of Trump's performance, 61 percent to think he's usually dishonest, he wants them to change the rules.
There is precedent for Miller's model. Ben Bradlee did precisely this in making the Watergate scandal the Watergate scandal. Because the story was unfolding so slowly, Bradlee ordered reporters Bob Woodward and Carl Bernstein to write near-daily pieces to keep the story alive, mostly features that tied together what had previously been reported, often including speculation and inference. It put the Washington Post into the big leagues and changed the nature of investigative reporting forever. But it also helped create the idea that the mainstream media was essentially an arm of the Democratic Party.
I share Miller's frustration that Trump's corruption and lies are treated as the new normal—even if, objectively, they're in fact the new normal. But, again, the public seems to understand that this is where we are and, by a sizable margin, don't like it.
To the extent that Trump's negative approval constitutes "winning," I'd argue that it's the fault of the Democratic leadership, not the press. It's their job, not that of the news media, to hammer home the anti-Trump narrative. The press has doggedly been reporting the facts. They are damning. It's up to the opposition party to persuade the citizenry to do something about that.