There's Only One Right Side In Trump's Unjustified War On The News Media
There are two sides in this war between Trump and the media, but only one of them is the right side.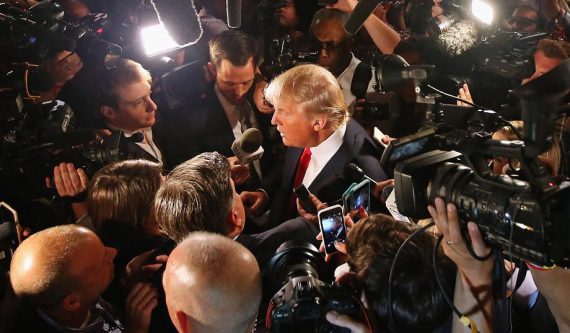 President Trump took to Twitter late yesterday to unleash the latest salvo in a war on the news media that has been a part of his repertoire since he began running for President:
WEST PALM BEACH. Fla. — President Trump further escalated his attacks on the news media Friday afternoon when he tweeted that outlets such as the New York Times, NBC, ABC, CBS and CNN are not his enemy but "the enemy of the American People."

Although Trump has long colorfully criticized news coverage and sparred with reporters who question him, he had not yet labeled the fourth estate as being an enemy of the country. On the campaign trail, some of Trump's supporters would heckle and threaten reporters who covered his rallies, and his tweet Friday came 24 hours before his first political rally as president.

It took the president two tries to properly post his message, which came soon after he arrived at his luxury oceanfront estate for the weekend. The first tweet, which was quickly deleted, contained a number of extra spaces and listed the Times, CNN and NBC, ending with this conclusion: "SICK!" The second tweet added ABC and CBS to the list, while removing "SICK!" Both tweets labeled those organizations as being "the FAKE NEWS media."

The media has been credited with breaking stories about Trump's administration that have prompted action this week, including the resignation of his national security adviser Monday and his nominee for labor secretary withdrawing from consideration Wednesday. Meanwhile, the president has accused the press of distorting facts and berated it for not painting a rosy portrait of the country under his leadership. At a news conference at the White House on Thursday, Trump uttered the words "fake news" seven times.

"Much of the media in Washington, D.C. — along with New York, Los Angeles, in particular — speaks not for the people but for the special interests and for those profiting off a very, very obviously broken system," Trump said early in the news conference, which lasted over an hour and 15 minutes. "The press has become so dishonest that if we don't talk about, we are doing a tremendous disservice to the American people. Tremendous disservice. We have to talk to find out what's going on, because the press honestly is out of control. The level of dishonesty is out of control."

Thursday night, the Republican Party and Trump's campaign websites posted a 25-question "Mainstream Media Accountability Survey." The survey formalized Trump's attacks and his insinuation that media outlets are working against the American people. It's unclear what, if anything, the data will be used for, and participants are required to give their name, email address and Zip code.

The first question asks: "Do you believe that the mainstream media has reported unfairly on our movement?" It then asks whether the survey-taker believes that MSNBC, CNN or Fox News "report fairly on Trump's presidency," allowing for answers of "yes," "no" or "no opinion." Those surveyed are also asked their primary source of news, with options limited to those three cable networks, along with "local news." There is no mention of specific newspapers, websites, magazines or non-cable networks.

Other questions ask whether the survey-takers think the media does "due diligence fact-checking before publishing stories on the Trump administration," whether it fairly reported on the rollout of Trump's travel ban, whether "political correctness has created biased news coverage on both illegal immigration and radical Islamic terrorism" and whether the media has been "far too quick to spread false stories about our movement." Participants can also indicate which issues the media does "the worst job of representing Republicans" on, with the option to pick as many topics as they like.

The final question: "Do you believe that our Party should spend more time and resources holding the mainstream media accountable?"

The social-media ads driving people to the survey were paid for by the Trump Make America Great Again Committee, a joint fundraising committee that splits its proceeds between Trump's campaign and the Republican National Committee. Since Trump's victory, the fundraising committee has continued to pepper supporters with appeals for money, helping keep a steady stream of contributions flowing to the party and Trump's campaign. By the end of December, Trump had already socked away $7 million into his campaign account, money that officials said they are stockpiling for his 2020 reelection effort.
This is nothing new for Trump, or for the American right, of course. For conservatives, the news media has been a favorite target for decades now, and while there may have once been some truth to that accusation in the days when television news was limited to three broadcast channels and radio was shackled by a "Fairness Doctrine" that clearly violated the First Amendment, it didn't take long for "media bias" to expand beyond legitimate media criticism into partisan hackery. Starting in the 1990s, the attack on the so-called "mainstream media" expanded to include the accusation that any evidence of negative reporting about conservatives was evidence of bias, while numerous instances that clearly disproved the notion that the media didn't report negatively about Democrats was ignored. This was especially ironic during the Clinton Presidency when it was, by and large, the news media that was responsible for the dissemination of much of the most damaging information about Clinton's Presidency ranging from Whitewater and the Rose Law Firm billing records to the Lewinsky Affair. Instead, according to the "biased" news media meme, the media was engaged in an effort to cover up Clinton's alleged "crimes" while engaging in nothing but attacks against conservatives. This phenomenon continued into the Bush Administration and Obama Administration and has been reinforced even as the media has fractured to the point where there are numerous cable and online news sources that clearly have a conservative point of view. This includes not just Fox News Channel, but also sites such as The Daily Caller, Town Hall, The Blaze, and others, along with blogs that receive hundreds of thousands of hits per day such as Hot Air and National Review's The Corner. Of more concern, we've seen the rise of extreme sites on the right that have arguably grown in influence such as Breitbart, World Net Daily and the conspiracy theory laden websites run by Alex Jones.
This isn't to say that there isn't some merit to the media criticism that one often sees from the right, and also from the left. As I said, in the era when the news business was dominated by three broadcast news networks, it's fairly obvious that the American public was getting news predominantly from one point of view. It's also likely still true that the majority of American reporters in print and broadcast media are what might be described as "liberal" or at least leaning slightly to the left politically. To a large degree, though, it seems apparent to me that the bias we see in the media today isn't an ideological one so much as it is a geographic one. Because most reporters and pundits reside either in the Boston-New York-Washington corridor or on the West Coast the news coverage we get often ends up placing emphasis on news and points of view that fall within the viewpoints of those parts of the country. One of the benefits of the expansion of what constitutes news, and the availability of different news sources on cable, though, is that viewers aren't limited in their news consumption to just what's provided by people living in those areas. The are downsides to this fracturing of the news monopoly, of course, especially to the extent that it means that people are tending to only get news from sources that agree with their points of view, but if you're willing to broaden your news consumption you can now get access to news, opinion, and analysis from a wide variety of viewpoints and a wide variety of areas. For the most part, that's a good thing.
Donald Trump stepped into the middle of all this and instinctively grabbed on to it. Throughout his campaign for President, he engaged in repeated attacks on the news media that can only be described as vile and threatening. More than once he would stand in the middle of an adoring crowd and talk about how horrible the very reporters who were providing the coverage that made his campaign possible were, and the crowd would respond with cheers for Trump and verbal assaults on reporters that often required one or more of them to be escorted by security for their own safety. Trump also speculated openly about expanding libel and slander laws so that it would be easier to sue news media for allegedly false reporting. In recent weeks, he has seized on the idea of so-called "fake news," originally intended to refer to false and sarcastic 'news' items being passed around on social media as if they were true, and turned it on the traditional media itself. During his press conference the other day, for example, Trump insisted that the reporting on his former National Security Adviser's pre-Inauguration contact with Russian officials was "fake news" even as he decried the leaks that made the reporting of that apparently truthful news possible. In fact, Trump has used seemingly every recent opportunity to address the media as President to attack the media. In that sense, last evening's Twitter attack was just another round in an attack that has been ongoing since June 2015 when he started running for President.
What was a clown show while he was a candidate, though, has turned into something far more serious now that he's President. A President who calls the news media the "enemy of the American people" is a President who, quite simply, cannot be trusted with power. These are the words of an authoritarian dictator, not the words of the leader of a republic with a Constitution where freedom of speech and of the press are not only enshrined in our Constitution but are also the very lifeblood of American democracy. The fact that it has been reported that the Trump Administration had multiple contacts with Russia during the campaign is most certainly real news, especially in light of what we already know about Russian hacking and apparent efforts to influence the election itself apparently in Trump's favor. At the very least, these allegations need to be investigated both by law enforcement and by Congress in a fair and efficient manner.  If it weren't for someone reporting this, we wouldn't know about it. Just like if it weren't for reporters we wouldn't have known about Watergate, or Iran-Contra, or the reports that Hillary Clinton was taking the extraordinary step of using a private email server while Secretary of State. All of these stories were broken first by what the so-called President is calling the "fake" news media."  This is why I agree with Thomas Jefferson. Given the choice between government without newspapers and newspapers without government, I will choose the latter. In reality, of course, we don't want to live in either a world where there is no government or one where there are no newspapers (i.e., news media). They are both essential to the survival of a free society, but as long as we have government, we need a free and independent media that isn't being intimidated by a wannabe dictator in the White House. There are two sides in this war between Trump and the media, but only one of them is the right side.