Fact Checker Finds 78% Of The Factual Claims Donald Trump Has Made Are False
Truth? Donald Trump can't handle the truth.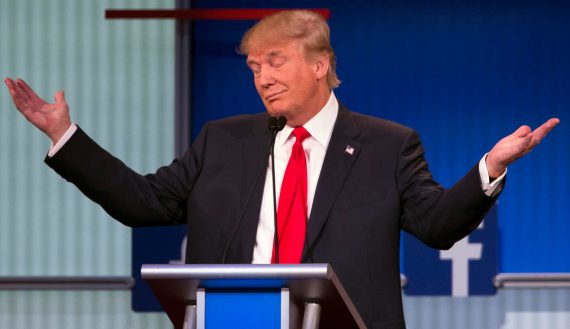 As it turns out, a lot of the things Donald Trump says are, quite simply, not true:
PolitiFact, the nonpartisan fact-checking outlet based in Florida, is out today with its mid-year report on the 2016 election. It's an attempt to take a step back from the day-to-day grind of the campaign and see which candidates are telling the truth and which aren't.

Donald Trump isn't.

Of the 158 Trump claims that PolitiFact has checked out, 95 have been rated either "False" or "Pants on Fire." That's 60 percent of all Trump claims. As PolitiFact notes, if you include the Trump statements rated "mostly false" in that group, 78 percent of all of Trump's fact-checked claims have been scored "mostly false" or worse.

That's not even the most amazing fact in the PolitiFact report. That honor goes to this: "Trump has more statements rated Pants on Fire, 30, than the 21 other candidates for president we've fact-checked this cycle combined." Ben Carson comes in second in "Pants on Fire" ratings — with four!

Now, there's some context that's necessary here. Trump was the most fact-checked of all the 2016 candidates. Of the 650 fact checks PolitiFact conducted, 158 were on Trump — good for 24 percent of the total. Hillary Clinton was fact-checked 120 times over that same period, approximately 18 percent of the total. As PolitiFact notes, the number of Trump fact checks is to be expected because "he made himself more available on television in the early part of his campaign than his Democratic or Republican rivals. Trump also participated in more debates (11 by our count) than either of the top Democratic contenders Hillary Clinton and Bernie Sanders."

So, yes, Trump has been fact-checked 38 more times than Clinton. And, yes, PolitiFact was the one deciding what statements to fact check. This is not a comprehensive guide to the relative truthfulness of every word uttered by Trump or Clinton in this campaign. But, the number of times his statements have been ruled "false" or "pants on fire" is still substantially higher than it is for her.

(…)

As of July 1, The Washington Post Fact Checker — the duo of Glenn Kessler and Michelle Ye Hee Lee — has fact-checked 46 statements by Donald Trump. Thirty-two of those (70 percent) have been awarded Four Pinocchios, meaning that the statement is a "whopper" as defined by Kessler and Lee. (You can see all of Trump's Four Pinocchio claims here.)
Given the extent to which Donald Trump clearly makes things up while he's speaking, whether it's during a media appearance on cable television or during one of his campaign rallies, it's hardly surprising that he's fared so badly when it comes to the fact-checkers. Whether it has been his claims about Mexicans and crime, his claims about immigrants in general, his claims about Muslims, or his claims about policy issues ranging from international trade to foreign policy to history, there are few candidates who have been quite as skilled as Donald Trump in making up facts that happen to support his claims. It's a skill he honed during his long period of celebrity prior to becoming a candidate for President when his brash, obviously exaggerated claims about his own business success would be slavishly repeated by the media rather investigated to see if they were actually true. Indeed, one lesson that Trump seemed to learn from that era is that it largely did not matter if the claims you made in the media were true or not. For the most part, the people reporting the "news" about Trump back then were not inclined to check just how much of what he said was true. Indeed, given the fact that it was his status as an ostentatious celebrity that caused the public to tune in or buy newspapers and magazines when they covered him, it was not in their interest to deflate him, but rather to build him up since the relationship between celebrities and the media that covers them is largely a symbiotic one where the media benefits by inflating the ego of the celebrity, and the celebrity benefits by letting the media cover him or or her.
From these years, Trump no doubt learned the lesson that making things up didn't really matter because the media wasn't going to check anyway, and he has carried that lesson over to his political career. Things are a bit different when it comes to political reporter, of course, but the fact that Trump was, from the beginning such a high ratings draw for all the cable news outlets means that they were much less inclined to challenge his factual assertions lest his decide to issue one of the several "boycotts" that he's engaged in over the course of the past year. Those media outlets that have challenged him on the facts, such as The Des Moines Register, The Washington Post, and even Fox News Channel have found themselves subjected to one of a Trump's mercurial reprisal efforts. It's enough to make one wonder how a Trump Administration would treat the notoriously adversarial White House Press Corps.
All that being said, Trumps liberties with the truth, even when pointed out by the media, did not have much of an impact on his political fortunes. His die hard supporters, quite obviously, don't care about something as apparently trivial as the fact that the candidate they support is a proven liar, for example, and neither do the Republicans who have rallied behind him in the wake of his clinching of the nomination. What the rest of America thinks about it will be a huge question as we head into the final four months of this campaign.