Donald Trump's Unqualified Judges
As a candidate, Donald Trump liked to claim that he only hired the "top people." and said he would do the same thing as President. So far, it isn't working out that way.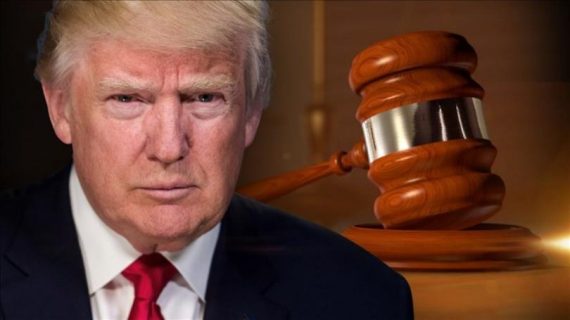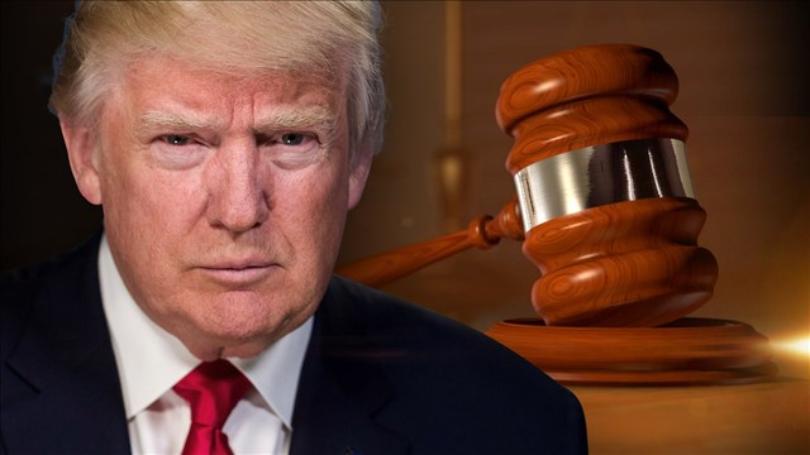 For the fourth time since January, one of President Trump's nominees for a Federal Judgeship has received the extremely rare "not qualified" rating from the American Bar Association, and this time it's a man who has never tried a case in a Federal or State Court in what amounts to a very short, limited career:
A 36-year-old lawyer who has never tried a case and who was unanimously deemed "not qualified" by the American Bar Association has been approved for a lifetime federal district judgeship by the Senate Judiciary Committee.

The lawyer, Brett Talley, is the fourth judicial nominee under President Trump to receive a "not qualified" rating from the bar association and the second to receive the rating unanimously. Since 1989, the association has unanimously rated only two other judicial nominees as not qualified.

The Senate committee's vote on Thursday to approve Mr. Talley, who graduated from Harvard Law School in 2007 and is a deputy assistant attorney general at the Justice Department, fell along party lines; Republican members outnumber Democrats on the committee 11 to nine. Mr. Talley will now face a full vote in the Senate. If confirmed, he would serve as a trial judge in his home state of Alabama.

Mr. Talley's nomination is just one of the latest examples of Mr. Trump's efforts to reshape the nation's courts, packing them with young, deeply conservative judges.

Mr. Talley's lack of experience drew searing questions from Democratic members of the committee. Senator Richard J. Durbin of Illinois, the minority whip, asked Mr. Talley in a written questionnaire, "Do you think it is advisable to put people with literally no trial experience on the federal district court bench?"

Mr. Talley demurred. "It would be inappropriate for me as a nominee to comment on the advisability of any nomination," he wrote.

Senator Dianne Feinstein of California, the ranking member of the committee, asked if Mr. Talley had ever argued a motion in Federal District Court, given that he had never tried a case. He had not.

Ms. Feinstein also pointed to Mr. Talley's prolific social media presence before his nomination. He once referred to Hillary Clinton as "Hillary Rotten Clinton" on his public Twitter account, which is now private.

In 2013, he wrote on his blog that armed revolution was an important defense against tyrannical government. Ms. Feinstein asked in her written questions when Mr. Talley believed it would become appropriate for American citizens to participate in an armed uprising against the government.

He replied that he did not believe any situation in American history — with the "possible exception" of slavery — had called for armed rebellion.

At the committee vote on Thursday, Ms. Feinstein took greatest issue with Mr. Talley's professed views on gun control. In 2013, about a month after a gunman killed 20 children at an elementary school in Newtown, Conn., Mr. Talley on his blog pledged his total support to the National Rifle Association, "financially, politically and intellectually."

Ms. Feinstein said she had asked Mr. Talley whether, if confirmed, he would commit to recusing himself in cases involving weapons. He refused.

"I find this unacceptable," she said.

Senator Charles E. Grassley, Republican of Iowa and the chairman of the committee, defended Mr. Talley's qualifications. "Mr. Talley has a wide breadth of various legal experience that has helped to expose him to different aspects of federal law and the issues that would come before him," he said in a statement.

Mr. Grassley also cast doubt on the importance of the bar association's rating. "Senators can decide for themselves if the A.B.A.'s metric of what makes a nominee qualified is proper in these cases," he said.

Senator Lindsey Graham, Republican of South Carolina, in 2012 had praised the bar association's practice of evaluating judicial nominees as an important way to distinguish between people who merely had political connections and people who belonged on the bench.

Mr. Grassley also noted that other judicial nominees rated "not qualified" had been approved by the Senate Judiciary Committee, at times unanimously.

Other judicial nominees have faced scrutiny for their lack of trial experience. In 2010, Jeff Sessions, then a senator from Alabama, asked Nancy Freudenthal, who had been nominated to Wyoming District Court by President Barack Obama, about her having never tried a case before a jury. Ms. Freudenthal was eventually approved by the Senate, 96 to 1.

Additionally, the comparative rarity of "not qualified" ratings for judicial nominees under previous administrations may have been due, at least in part, to a difference in procedure. Every president since Dwight D. Eisenhower, with the exception of George W. Bush, screened potential nominees with the American Bar Association before publicly announcing them — a tradition the Trump administration has decided to shun.
As noted, this is the fourth Trump judicial nominee to be rated "not qualified" by the ABA in just the first ten months of the Trump Administration. As The Washington Post's  Philip Bump notes, this is highly unusual for recent Presidents:
As of writing, four of the people nominated by President Trump to serve on a bench have been judged by the standing committee of the American Bar Association to be "not qualified." Two of those proposed judges were found to be not qualified by a majority of the committee; two were given that designation by a unanimous vote.

To a layperson, this sounds . . . bad. But, in one sense, it may not be as bad as you think.

The ABA has its ratings since the 101st Congress — 1989, the first term of George H.W. Bush — on its website. We pulled out all of those ratings and divvied them up into five categories: those unanimously determined to be well-qualified, qualified or not-qualified and those who received a rating that included a substantial minority opinion between those three groupings. (So the two non-unanimous Trump picks above would land in the "split" category between "qualified" and "not qualified.")

Trump, of course, has made fewer nominations over the course of his less-than-one-year-old term than did his predecessors over the course of the first two years of theirs. The circles below are scaled to the percentage of nominees in each group.

Trump has made fewer picks — but a higher percentage of them were determined to be not qualified or received a substantial minority of the standing committee who believed that they were not qualified.
This chart summarizes the data the Bump and his colleagues reviewed regarding ABA evaluations of nominees from every President going back to George H.W. Bush: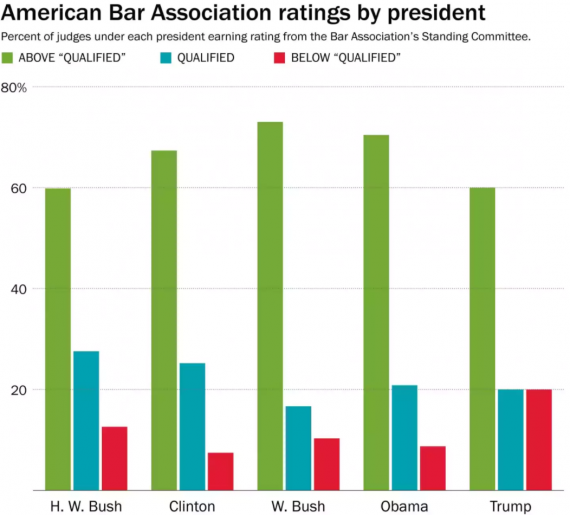 As the chart reveals, the vast majority of the nominees that Trump has named to date have been rated "Very Qualified." At 60%, the number in this category is roughly equal to those of George H.W. Bush and, given the fact, that we're talking about a small universe of Trump nominees to choose from so far, within the range of those of Clinton, Bush 43, and Obama. Additionally, the percentage of his nominees to date who have received the slightly less prestigious "qualified rating is roughly in the same range as his predecessors, although on the higher end of that scale. Where he differs from those predecessors is in the percentage of nominees who have been rated "not qualified." As can be seen, he is far ahead of any of his four immediate predecessors in this category, with roughly 20% of his nominees to date receiving the rating. As noted, this 20% is made up of just four nominees so far, but it exposes a potential pattern in Trump judicial appointment that doesn't bode well for the future. It's also worth noting that this study appears to examine Presidential judicial nominees at all levels, including appointments to the Supreme Court, the Circuit Courts of Appeal, and the District Court. The four Trump appointees that have been rated "not qualified" have all come at the District Court level. Given that, it would be interesting to see a breakdown of these ABA ratings based on what Court the Judge was appointed to. Given the trend, my bet is that Trump would be even further ahead of his predecessors in "not qualified" appointments than he is overall.
The American Bar Association's ABA Journal. meanwhile, provides  explains how the nominee review process works and provides a probable reason for why Trump's nominees are getting a "not qualified" rating at a higher rate:
When the White House participates in the pre-nomination process, the president can choose not to officially nominate that candidate before a "not qualified" rating can go public. President Bill Clinton chose to advance four nominees who received such a rating, three of whom were confirmed by the Senate. Although no official nominee under President Barack Obama had a "not qualified" rating, the New York Times reported in 2011 that the ABA gave a "not qualified" rating to 14 of about 185 potential candidates the Obama administration asked the ABA to evaluate.
In other words, in the past Presidential Administrations have worked hand-in-hand with the ABA regarding nominees and presented their credentials to the review process before announcing them to the public. While they didn't take the ABA's advice in every case in many cases this resulted in previous Presidents declining to submit at least some candidates as "not qualified" to the Senate for confirmation. As noted above, the Trump Administration has decided to forego that process, and that is likely one of the reasons why they have appointed a higher percentage of "not qualified" nominees to the Senate so far. To a large degree, of course, this decision was an ideological one on the Trump Administration's part as it backs up a common belief among conservatives that the ABA's process is biased against conservative judicial nominees. This claim is largely disproven, of course, by the fact that the vast majority of Trump's nominees have ultimately been judged to be "very qualified" and that, according to the chart above, the President with the highest percentage of "very qualified" nominees over the past twenty years have been made by a Republican President, George W. Bush. If the Trump Administration were participating in the ABA process in the same way that previous Presidents did, and declining to nominate potential nominees rated "not qualified," it's likely that his numbers would be far lower.
To be fair, it's not necessary that every judicial nominee has trial experience, or experience as a Judge, before being appointed to a Federal Court. When one gets up to the level of a Judge on the Courts of Appeal or a Supreme Court Justice, the most common path to the courtroom was through academia. True, many of these legal academics had spent at least some part of their early careers working in a law firm, but for most of them, their first job out of law school was as a law clerk for a Supreme Court Justice, Judge on one of the Courts of Appeal, or District Court Judge. From there, many of them did go on to be recruited by a top law firm, but they often held positions that didn't involve going to court much if at all, and in any case, many of them quickly moved into the academic world before their first judicial appointment. For the Courts of Appeal and Supreme Court, this isn't necessarily a problem because these courts don't conduct trials, instead, they review the rulings of the District Courts and State Supreme Courts. When it comes to the District Courts, though, we're talking about a venue where trials occur on a daily basis where Judges are required to be aware of the rules and procedures of the court, the rules of evidence, and how trials ought to be conducted. Additionally, when a case is tried without a jury, which is not at all uncommon in U.S. District Courts, Judges are required to be judges of both the facts and the evidence rather than just running the trial while the responsibility for determining whether the prosecution has proven a Defendant guilty beyond a reasonable doubt, or liability in a civil case, is left to the jury. In this situation, the fact that a nominee has been both rated "not qualified" and apparently never tried a case nor argued a motion before a Judge at any level is both unusual and alarming.
The final note, of course, is the fact that this nominee, along with all of the other judicial nominations that a President submits to the Senate, will sit on the District Court for a very long time. At thirty-six years old he isn't necessarily unusual for a District Court nominee, but the fact that his appointment is essentially a lifetime appointment means that he could be on the bench for the next forty years or longer, well into the latter half of the 21st Century. This makes the fact that he lacks the experience that would seem to be necessary for a trial judge and that he has been rated "not qualified" by a process that has long been well-respected is concerning, to say the least. Ideally, of course, the Administration would withdraw this nomination or the Senate would reject it, and while it's possible that one of those two things will happen it's unlikely that they will. The Trump Administration has not withdrawn the nominations of the other nominees rated "not qualified" and doesn't seem inclined to do that in the future, and the Republican-controlled Senate doesn't seem inclined to decline to confirm him or any of the other "not qualified" nominees. Thanks to the fact that the Democrats ended the filibuster for nominees below the Supreme Court level, there's nothing Democrats can do to stop the nomination from going forward. In all likelihood then, Brett Talley will end up being confirmed. Perhaps he'll go on to be a fine District Court Judge. We don't know if he will, though, and based on what we do know, he should not have even been nominated for this position. The fact that he's the fourth "not qualified" nominee that this President has named in just under ten months in office does not bode well for the future.