Donald Trump, Liar Of The Year
Donald Trump has won Politifact's 'Lie Of The Year' because, well, he's told so many things that are utterly and provably false.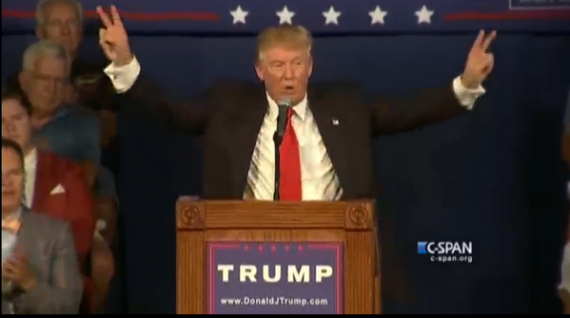 Politifact has awarded its "Lie Of The Year" to Donald Trump, not so much for one thing he has said as for, well, nearly everything he says:
PolitiFact has named Donald Trump the winner of its annual "Lie of the Year" competition — and it's not even close.

The fact-checking website has rated 76 percent of Trump's statements "mostly false," "false" or "pants on fire," out of 77 statements checked. "No other politician has as many statements rated so far down on the dial," PolitiFact observes.

Trump is often criticized for statements that have little to no basis in fact. For example, no video has been found showing "thousands" of Muslim-Americans celebrating the 9/11 attacks, as the Republican presidential candidate has claimed repeatedly.

"In considering our annual Lie of the Year, we found our only real contenders were Trump's — his various statements also led our Readers' Poll," PolitiFact staff members write. "But it was hard to single one out from the others. So we have rolled them into one big trophy."

"When it comes to inaccurate statements, the Donald was on fire," PolitiFact continues.
From Politifact itself:
It's the trope on Trump: He's authentic, a straight-talker, less scripted than traditional politicians. That's because Donald Trump doesn't let facts slow him down. Bending the truth or being unhampered by accuracy is a strategy he has followed for years.

"People may not always think big themselves, but they can still get very excited by those who do. That's why a little hyperbole never hurts," Trump wrote in his 1987 best-seller The Art of the Deal. "People want to believe that something is the biggest and the greatest and the most spectacular. I call it truthful hyperbole. It's an innocent form of exaggeration — and a very effective form of promotion."

That philosophy guided Trump in luxury real estate and reality television. This year he brought it to the world of presidential politics.

Trump has "perfected the outrageous untruth as a campaign tool," said Michael LaBossiere, a philosophy professor at Florida A&M University who studies theories of knowledge. "He makes a clearly false or even absurdly false claim, which draws the attention of the media. He then rides that wave until it comes time to call up another one."

PolitiFact has been documenting Trump's statements on our Truth-O-Meter, where we've rated 76 percent of them Mostly False, False or Pants on Fire, out of 77 statements checked. No other politician has as many statements rated so far down on the dial.

In considering our annual Lie of the Year, we found our only real contenders were Trump's — his various statements also led our Readers' Poll. But it was hard to single one out from the others. So we have rolled them into one big trophy.

To the candidate who says he's all about winning, PolitiFact designates the many campaign misstatements of Donald Trump as our 2015 Lie of the Year.
Among the more recent claims that Trump has made on the stump and on his ever-present Twitter feed that Politifact cites in its report are Trump's claims to have seen thousands of Muslims in New Jersey celebrating the attack on the World Trade Center on September 11th, 2001, which they rated "Pants On Fire," the claim that the Mexican government was sending criminals to the United States as official policy, also rated "Pants On Fire", and a claim about racial disparity in crime that is simply not supported by the evidence. The ratings go back, though, to things that Trump said in the past. These included all his comments when he flirted with running for President in 2011 and was questioning President Obama's eligibility to serve as President and whether or not he was actually born in the United States, a claim that, of course, received a "Pants On Fire" rating. His claim that the Obama Administration was barring claims for refugee status from Syrian Christians while allowing Muslims to come into the country was also investigated and it was rated as "False." Trump has also made recent claims about economic growth and jobs statistics, something that is of course easily verifiable just by looking at government reports and analysis performed by private sector investment analysts, and these have been rated as "Pants On Fire." I could go on, but you get the idea.
When you have one person where three-quarters of the factual claims they have made that have been examined end up being determined to have been false, it seems clear that the designation "Lie Of The Year," or perhaps most appropriately "Liar Of The Year" is properly bestowed on Donald Trump. Not only has Trump built his entire campaign, and indeed in some sense his public reputation, on claims that are utterly false or at least incredibly exaggerated but he has done so making claims that can be quite easily debunked. In that sense, one has to wonder if he actually believes what he's saying or if this is all part of some elaborate con game that he's running to appeal to the most rabid, frothing-at-the-mouth elements in American politics. It's actually hard to believe that it's the former simply because it's hard to believe that someone could go through life so self-deluded and still be as successful in business as Trump has admittedly been, even though it's clear that Trump's own ostentatious displays and worshiping of his wealth are often an illusion meant to hide a financial position built as much on debt and the pretend value assigned to his "brand" as it is on anything tangible. In that last case, though, then Trump's campaign for the past five months has been nothing other than a cynical appeal to the worst aspects of American politics combined with pure demagoguery that at the very least borders on fascism.
Trump has, not surprisingly, dismissed the Politifact award and claims that he has been proven right on the statements that Politifact has deemed to be false, which is of course another "Pants On Fire" award worthy statement all its own. We'll likely hear more from Trump on this on his Twitter feed or in his stump speech, because it fits right into the meme he has established among his supporters that the media and the 'establishment' keeps attacking him because they're afraid of him. No doubt, his supporters will cheer him on rather than taking this opportunity to consider the fact that they've been had by a con man, and that's largely because he's saying things that they agree with and he's doing it in a way that they like so much that it doesn't matter to them if he's telling the truth or not. It's a rather depressing commentary on the state of American politics, really, but, given the fact that Trump continues to lead nationally, as well as in states like New Hampshire and South Carolina, while running very close along with Senator Ted Cruz in Iowa, who has his own odd relationship with facts at times, it's not something that's likely to end any time soon.
So there you have it, Republicans. Your 2016 frontrunner, currently and for the past five months is the Liar Of The Year. Perhaps you ought to ask yourself how and why it came to this.