Trump Lies, The Truth Dies
Donald Trump's lies became even more frequent during the recently-concluded campaign season.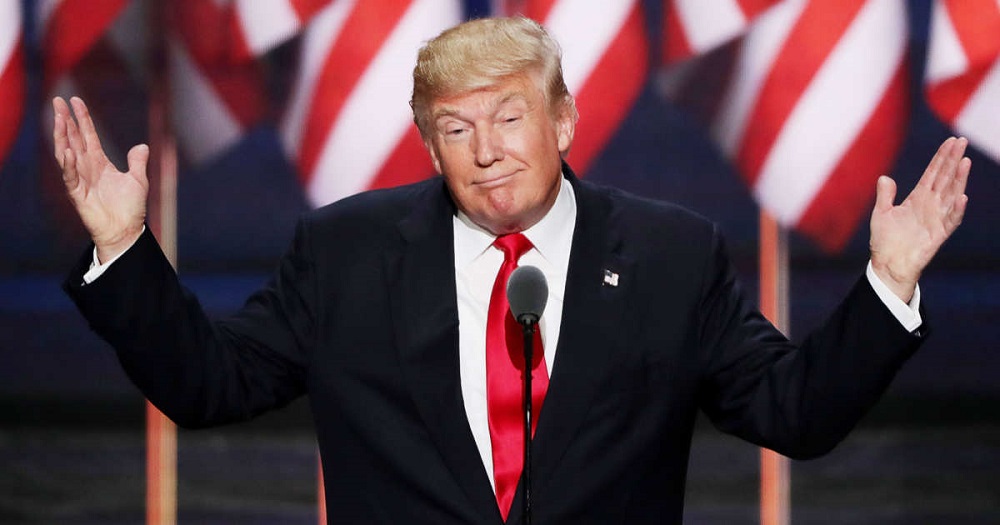 On Tuesday of last week, President Trump reached his 649th day in office and the fact checkers at The Washington Post providing the latest update to their ongoing count took note by of the number of lies and misrepresentations we've gotten from this President since he took office in January 2017:
If President Trump's torrent of words has seemed overwhelming of late, there's a good reason for that.

In the first nine months of his presidency, Trump made 1,318 false or misleading claims, an average of five a day. But in the seven weeks leading up the midterm elections, the president made 1,419 false or misleading claims — an average of 30 a day.

Combined with the rest of his presidency, that adds up to a total of 6,420 claims through Oct. 30, the 649th day of his term in office, according to The Fact Checker's database that analyzes, categorizes and tracks every suspect statement uttered by the president.

So that adds up to 84 claims on Oct. 1, when he held a rally in Johnson City, Tenn.; 83 claims on Oct. 22, when he held a rally in Houston; and 78 claims on Oct. 19, when he held a rally in Mesa, Ariz.

Put another way: September was the second-biggest month of the Trump presidency, with 599 false and misleading claims. But that paled next to October, with almost double: 1,104 claims, not counting Oct. 31.

The burden of keeping track of this verbiage has consumed the weekends and nights of The Fact Checker staff. We originally had planned to include Oct. 31 in this update, but the prospect of wading through 20 tweets and the nearly 10,000 words Trump spoke that day was too daunting for our deadline.

The president's proclivity to twist data and fabricate stories is on full display at his rallies. He has his greatest hits: 120 times he had falsely said he passed the biggest tax cut in history, 80 times he has asserted that the U.S. economy today is the best in history and 74 times he has falsely said his border wall is already being built. (Congress has allocated only $1.6 billion for fencing, but Trump also frequently mentioned additional funding that has not yet been appropriated.)

But there are many curious moments, too, suggesting the president is walled off from contradictory information.

In an interview with the Wall Street Journal, Trump emphatically denied he had imposed many tariffs. "I mean, other than some tariffs on steel — which is actually small, what do we have? . . . Where do we have tariffs? We don't have tariffs anywhere," he insisted. The newspaper responded by printing a list of $305 billion tariffs on many types of U.S. imports.

Nearly 25 times, he has claimed that Supreme Court nominee Brett Kavanaugh was No. 1 in his class at Yale University or at Yale Law School. The law school does not rank, and Kavanaugh graduated cum laude from the college — the third level, below summa cum laude and magna cum laude. At the time, Yale granted honors rather liberally, so nearly 50 percent of the class graduated with honors, with half of those cum laude.

This is one of those facts that can be easily checked with a Google search, yet the president persists with his falsehood.

Similarly, Trump attacked Richard Cordray, a Democrat running for governor in Ohio, for having spent $250 million on renovating the building for the agency he once ran, the Consumer Financial Protection Bureau. That was almost double the actual cost. Oddly, Trump added that after Cordray spent "$50 million on some elevators, it turned out they didn't work."

Trump lives in expensive housing, but that's a fantasy. The most expensive elevator ever is the 1,070-foot-high Bailong Elevator, set in a Chinese mountain range. It cost $20 million.

Thirteen times, Trump invented whole-cloth stories about Sen. Richard Blumenthal (D-Conn.), the lead plaintiff in a steadily advancing lawsuit that could open up the Trump Organization's books to lawmakers. Trump falsely claimed Blumenthal said he was a war hero and fought in Vietnam's Da Nang province. "We call him 'Da Nang Richard.' 'Da Nang' — that's his nickname," Trump said. Blumenthal described his military record in misleading or false terms on a few occasions before he was elected to the Senate in 2010, but he never said he fought in the theater. Trump also said Blumenthal dropped out of the Senate race (no), barely won anyway (no) and was crying when he apologized (no).
The stories go on and on, and by now we're all familiar with them. There's basically a day that doesn't go by where, if the President speaks publicly or sends a message out via Twitter, the President does not tell a lie, mislead, or, as is the case with Senator Blumenthal, simply invent things out of whole cloth. Additionally, as the Post notes, the closer we've gotten to the midterm elections, the more lies he's told. In many cases, of course, these are repeats of things he's lied about before, but every now and then something new enters his repertoire, and without fail becomes yet another one of the many lies he tells on a regular basis. Most recently, of course, Trump's lies have centered around the caravan of Central American migrants currently making its way through Mexico which he contends, without evidence, is full of criminals and gang members, and which he has used as part of his closing message to Republican voters as we head to the midterms. Indeed, as the Post notes, over the past seven weeks alone, the President has made more than 1,400 false or misleading claims, an average of 30 per day which is far above the previous average over the whole of his term through Day 600 of 8.2 lies per day.
Based on the Post's numbers as of October 30th, the President is averaging roughly 9.9 lies per day over the 649 days that the Post based its numbers on. If he maintains this average, he will have told an astounding 14,474 lies for the duration of his first term in office. If he maintains this average over the course of two terms, then he will have told just under 29,000 lies over the course of an eight-year Presidency.  While I'm as cynical as the next person when it comes to the tendency of politicians tell the truth, this is an extraordinary number of lies coming from one person and it's arguably consistent with the type of person who either does not believe he is obliged to tell the truth or that he is simply so used to lying that it comes as easily to him as putting on a pair of shoes.
This latest update should come as no surprise. Shortly after the Republican National Convention in 2016, Politifact found that nearly 80% of the claims that candidate Trump had made on the campaign trail since entering the race the year before had been a lie of some form or another. That trend continued for the balance of the campaign, including even during Trump's Presidential debates with Democratic nominee Hillary Clinton. While there were several points during those debates that either one of the moderators or Clinton herself called these lies out, their sheer number was almost impossible for any one person to keep track of without losing their mind. This trend continued after the election, of course, and Trump wasn't even in office for twenty-four hours before he told the first of his many lies regarding the size of his Inauguration Day crowd. From that point forward, the trend was set and we're now at the point where I'm sure that Glenn Kessler and the rest of the fact checkers at the Post and other similar outfits are glad to have access to a computer that can keep track of the numbers for them.
Given the extent to which he makes things up on the fly, whether it's during one of his rallies, during an interview, or on Twitter, it's hardly surprising that the President has faired so badly with the fact-checkers. From the start of his campaign, he's made false and easily disproven claims about Mexicans and crime, about immigrants in general, about Muslims, and about policy issues ranging from international trade to foreign policy to history. Indeed, it can truly be said there are few politicians in American history who have been quite as skilled as Donald Trump when it comes to being able to lie so easily and so frequently. Additionally, the ease with which he does so makes it seem as though he believes what he's saying, or that he simply doesn't care if it's true or not. It's a skill he honed during the time he was considered a "celebrity" before becoming a Presidential candidate. Back then, of course, even his most obviously exaggerated claims about his own business success would be slavishly repeated by the media rather investigated to see if they were actually true. If Trump learned from that experience is that it largely did not matter if the claims he made were true or not. For the most part, the people reporting the "news" about Trump back then were not inclined to check just how much of what he said was true. Indeed, given the fact that it was his status as an ostentatious celebrity that caused the public to tune in or buy newspapers and magazines when they covered him, it was not in their interest to deflate him, but rather to build him up since the relationship between celebrities and the media that covers them is largely a symbiotic one where the media benefits by inflating the ego of the celebrity, and the celebrity benefits by letting the media cover him or her.'Throughout his pre-Presidential life, Trump took advantage of that relationship with the media to hype his "brand" even when it meant telling outright and obvious lies that only a handful of reporters bothered to try to verify.
That brings us back to the present day. There are some who have argued in the past that the media spends too much time trying to count or rebut the President's lies and that the endeavor is largely pointless since the true believers who support him aren't listening and will never believe he's lying in any case. Tom Toles at The Washington Post made that point back in September, while others have claimed that, in pointing out the numerous occasions on which the President doesn't tell the truth, the media only serves to help the President to spread these false and misleading claims and serves to further muddy the waters between truth and reality. Linguist George Lakoff, meanwhile, argues that the press feeds into Trump's game plan by chasing his lies:
If reporters dedicate time and energy to investigating whether known lies might be true, they will continue to cede control of the news cycle to Trump.

Trump's "big lie" strategy is designed to exploit journalistic convention by providing rapid-fire "news" events for reporters to chase. Trump spews falsehoods in a blitzkrieg fashion, but the lies are only part of the game. What reporters continue to miss is the strategy behind the big lies: to divert attention from big truths. The technique is simple: create controversy and confusion around politically-charged topics to stoke his conservative base and distract from stories that harm Trump.

It's a numbers game. The more he can get his key terms and images repeated in the media — even as "fact checks" — the more he wins. That's just how our brains work. The more we hear about something, the more it sticks. Even if it's not true. When I say "don't think of an elephant," it forces you to think of an elephant. Repeating lies, even to debunk them, helps spread and strengthen them. The scientific evidence is clear.
Lakoff isn't suggesting that reporters completely surrender to Trump's congenital lying, merely that they adjust the way they handle them and try to inform the public:
This doesn't mean reporters should ignore the president's lies. It means they must be extremely cautious about spreading the substance of the lies, because that rewards his lying strategy.

We recommend using the "truth sandwich" method. And maybe it's time to take Trump's circus of lies off of the front page and put them in their own special section of the newspaper, perhaps with the comics and the horoscopes. Document them, but don't give them the power to overshadow important news.

When Trump tells a big lie on any particular subject it's usually because he's distracting from a big truth. The big truth he's trying to cover up by making up lies about the election system is the massive voter suppression effort Republicans have undertaken. They are wiping voter rolls and doing everything they can to make it harder for people — especially people of color — to vote. Meanwhile, Trump uses his bully pulpit to accuse his opponents of doing exactly what he and his party are up to.

(…)

Faced with an authoritarian leader who uses lies as weapons, reporters must evolve to counter the threat. Protecting the truth requires more than fact checking. It demands that reporters take into account the strategy behind Trump's blitzkrieg of lies and refuse to fall for it.
I understand the point that Lakoff is trying to make. Publicizing Trump's lies does tend to help him to spread them, and all the fact checking in the world isn't going to stop his true believer supporters from believing what he says, especially when he has told those supporters that the media that is doing the fact checking is "Fake News" and "the enemy of the people." This is even further complicated by the fact that, long before Trump came along, these supporters were told by conservative pundits and politicians that the so-called "mainstream" media was biased against them. Indeed, we're now at the point where many of these people aren't even likely to be paying attention to the media outlets that are doing the fact-checking. Instead of watching CNN or MSNBC, or any of the broadcast networks, they watch Fox News Channel, a network that not only doesn't call the President out for his lies but actually helps to spread them. Instead of reading The New York Times or The Washington Post, they're reading The Washington Times or, worse yet, "news" sites on the Internet such as Breitbart and blogs such as Gateway Pundit or one of the allegedly mainstream conservative blogs that do little more than spread the President's lies and engage in the proud conservative tradition of trying to "own the libs." To that extent, the reporters who have taken it upon themselves to try to point out the truth are, sadly, largely preaching to the choir.
Notwithstanding that, though, I think it's mistaken to suggest that the media should stop being so explicit in trying to challenge the President's lies. The realities of Donald Trump's America notwithstanding, the truth still does matter, and the fact that we have a President for whom lying is second nature is important. Taking the time to point out those lies, even when the Trumpidians aren't listening, is exactly what the news media is supposed to do. My suggestion is that they keep doing it until people start paying attention, and it seems clear that outside of the GOP people are paying attention. This fact seems most apparent when you notice that political Independents, who are the decisive factor in most elections, have a far more negative opinion of the President than the American public as a whole. Trump's base may be a lost cause, but then they always were, but the rest of America seems to be listening, and hopefully, that means that they'll use the power they do have to send this President a message at the ballot box.