Responding to Trump's Lies: Damned if You Do, Damned if You Don't
Rebutting the President's routine prevarications merely spreads them. Is there an alternative?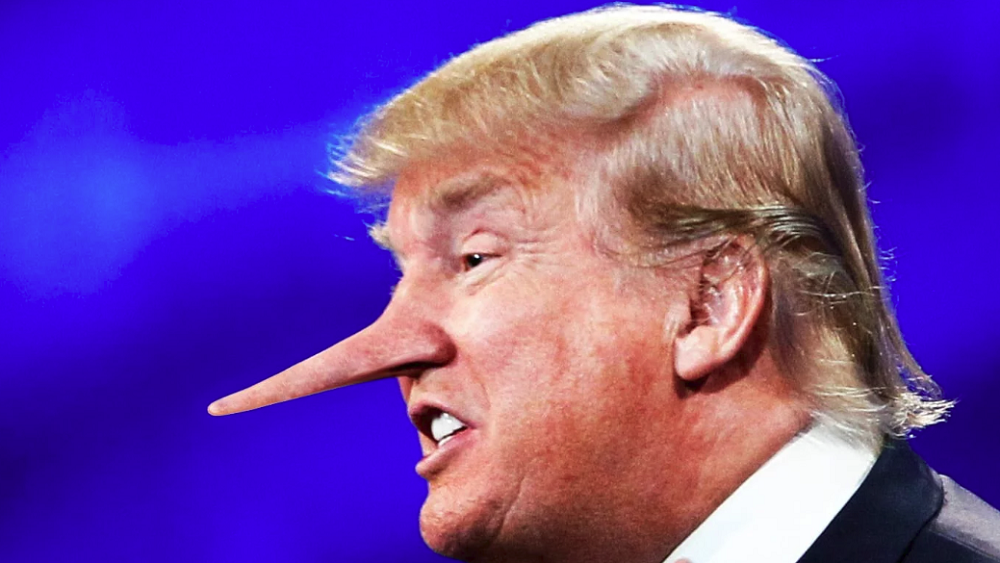 The President of the United States is a serial liar. Daniel Dale, Washington Bureau Chief of the Toronto Star, claims "Donald Trump has said 1829 false things as U.S. president" (as of this writing) and has documented them all. PolitiFact also has an extensive file.
In a NYT piece titled "Here Is One Way Trump Spreads False Information Online,"  Liam Stack argues that trying to rebut these lies actually helps Trump. He uses a recent example:
On Monday, President Trump tweeted that Representative Maxine Waters, Democrat of California, had encouraged liberals to "harm" supporters of "the Make America Great Again movement" and warned her to "be careful what you wish for."

[…]

By Tuesday, the tweet was shared more than 40,000 times, and many users included comments critical of the president. Both critics and supporters of Mr. Trump said the tweet contained a veiled threat against the congresswoman, who called on people to confront Trump officials in public as a form of registering their disapproval.

This kind of Twitter outrage cycle has repeated itself countless times since Mr. Trump began his presidential campaign in 2015, and it is one of his tried and true methods for injecting disinformation into public discourse, experts said.

"What we're seeing here is the standard process of Trump launching a series of lies into our media ecosystem and then watching it bounce around and amplify through the system," said Siva Vaidhyanathan, a professor of media studies at The University of Virginia. "So to respond with anything reasonable to the fact that the president basically made stuff up is to extend the message and to throw a bomb" into the political debate.

The president's tweet about Ms. Waters contained a false statement, an insult and what sounds like a threat. But each time it was shared — even, and perhaps especially, by critics who wanted to vent their anger — the message was amplified and spread.

[…]

By retweeting Mr. Trump, many of his critics in turn spread false statements and an insult ("an extraordinarily low IQ person") rather than correcting them. But even when they do correct the president, Mr. Vaidhyanathan said, it does not make much difference.

"He can make a statement about a member of Congress and her I.Q. and completely lie about what that member of Congress said," Mr. Vaidhyanathan said of Mr. Trump. "And what will occur is consistent repetition of that message. And most of the repetition of that message will be in the form of criticism, not correction."
Neither Stack nor Vaidhyanathan offers an alternative, however. They seem to imply that Trump's outrageous statements ought simply to be ignored. But leaving lies, particularly by someone with the bully pulpit of the presidency, unchallenged is effectively to concede them as truths.
NYU journalism professor Jay Rosen argues "It's time for the press to suspend normal relations with the Trump presidency."
It sometimes happens in diplomacy that one country has to say to another: "This is extreme. We cannot accept this. You have gone too far." And so it suspends diplomatic relations.

In 2012 the government of Canada announced that it would suspend diplomatic relations with Iran. "Canada views the government of Iran as the most significant threat to global peace and security in the world today," said the foreign minister.

Journalists charged with covering him should suspend normal relations with the presidency of Donald Trump, which is the most significant threat to an informed public in the United States today.
In the first days of the Trump presidency, he argued that news organizations should send interns instead of their premier journalists to cover White House press briefings. He notes Rachel Maddow's practice of seldom quoting Trump at all and points to Chris Wallace's counter that whatever the President says is, by definition, news. Rosen then offers this:
A middle-ground would be this: what the president says is neither automatically newsworthy nor automatically suspect. Rather, it has to be judged in context. Which sounds super-reasonable. Who can be against "context" and case-by-case judgment? But here's the context: bad actor, cannot be given the benefit of the doubt, no matter what the case is.

"How," asked Chuck Todd on Meet the Press June 17, "can we believe a president who routinely says things that are provably false?" Instead of treating these questions as unsolvable riddles, Chuck Todd could… suspend normal relations. For Meet the Press, that might mean: don't accept as guests the people the White House sends out as defenders of the provably false (especially Kellyanne Conway.) If Trump himself is willing to sit down with Chuck Todd, fine. Take him on over his many falsehoods. But no surrogates or fog machines unless they are willing to correct the president.

The American press corps is not like the government of Canada, which can speak with a single voice. Thousands of people working for hundreds of newsrooms cannot change their practices in synch with one another. But they can all decide, "This is extreme. We cannot accept this. This has gone too far." And then make a break with normal practice.

For the Washington Post it might be declining to participate in so-called background briefings. For NPR, it might be refusing to report false claims by the President unless they are served as a "truth sandwich," a suggestion recently made by Brian Stelter and Margaret Sullivan, interpreting the work of George Lakoff. For CNN, never going live to a Trump event — on the grounds that you will inevitably broadcast falsehoods if you do — would be a good start.

Suspend normal relations. It's up to the journalists who cover Trump to decide how they will do it. The important thing is that they do it. And then announce what they did, to get others thinking about their own steps. In this way the sovereign state of journalism can take action, and show, as the Canadian prime minister said recently, that it will "not be pushed around."
This sounds quite reasonable: journalists and media outlets should exercise news judgment. It would have been terrific advice if this were the 1970s, maybe even the 199os. But the people most susceptible to Trump's lies about Maxine Waters aren't listening to NPR or viewing CNN, much less watching Rachel Maddow. The press outlets which sided with Trump in 2016 are still siding with him, serving as his propaganda outlets.
I suppose it's possible that the disaffected blue-collar workers who voted for Barack Obama in 2012 and Trump in 2016 would be better off in the news environment Rosen describes. But one gathers they're mostly getting their news from Facebook and Twitter, not traditional outlets with an editorial voice.
It may just be that, in a fact-free world, there's no viable response to a shameless liar. People may well just believe whatever they want to believe.