Trump Is Still Lying, And The Truth Is Still Dying
The frequency and ease with which this President lies is, to say the least, alarming.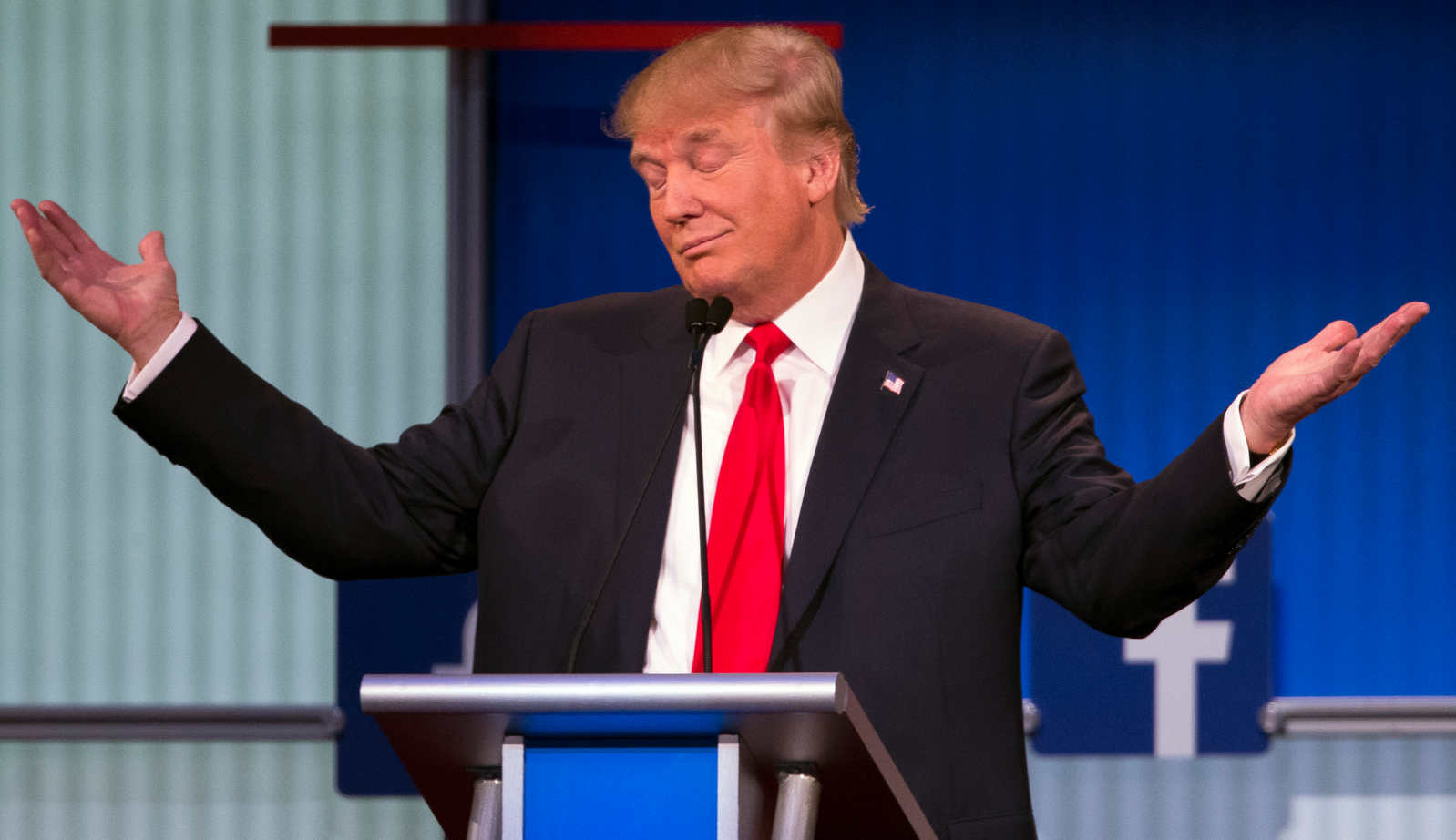 Earlier this week, the President marked his 558th day in office and the fact checkers at The Washington Post used that occasion to update its ongoing list of false and misleading statements the President has uttered since taking office:
Because of summer vacation schedules, we had fallen a month behind in updating The Fact Checker's database that analyzes, categorizes and tracks every suspect statement uttered by the president.

It turns out that's when the president decided to turn on the spigots of false and misleading claims. As of day 558, he's made 4,229 Trumpian claims — an increase of 978 in just two months.

That's an overall average of nearly 7.6 claims a day.

When we first started this project for the president's first 100 days, he averaged 4.9 claims a day. But the average number of claims per day keeps climbing the longer Trump stays in office. In fact, in June and July, the president averaged 16 claims a day.

Our award-winning interactive graphic, created with the help of Leslie Shapiro and Kaeti Hinck of The Washington Post's graphics department, displays a running list of every false or misleading statement made by Trump. We have updated the graphic to allow readers to see the number of claims on a daily or monthly basis.

On July 5, the president reached a new daily high of 79 false and misleading claims. On a monthly basis, June and July rank in first and second place, with 532 and 446 claims, respectively.

Trump has a proclivity to repeat, over and over, many of his false or misleading statements. We've counted nearly 150 claims that the president has repeated at least three times, some with breathtaking frequency.

Almost one third of Trump's claims — 1,293 — relate to economic issues, trade deals or jobs. He frequently takes credit for jobs created before he became president or company decisions with which he had no role. He cites his "incredible success" in terms of job growth, even though annual job growth under his presidency has been slower than the last five years of Barack Obama's term.

Just on trade, the president has made 432 false or misleading claims. He frequently gets the size of trade deficits wrong or presents the numbers in a misleading fashion.

He also indicates a fundamental misunderstanding of economics. In June and July, more than 20 times the president said some variation of the claim that the United States "lost" money on trade deficits. Just about every economist would give a student an "F" for making such a statement.

A trade deficit simply means people in one country are buying more goods from another country than people in the second country are buying from the first. Trade deficits are also affected by macroeconomic factors, such as the relative strength of currencies, economic growth rates, and savings and investment rates.

Not surprisingly, immigration is the top single source of Trump's misleading claims, now totaling 538. Thirty times just in the past five months, for instance, the president has falsely claimed his long-promised border wall with Mexico is being built, even though Congress has denied funding for it.

But moving up the list quickly are claims about the investigation into Russian interference in the 2016 election and whether people in the Trump campaign were in any way connected to it. The president has made 378 statements about the Russia probe, using hyperbolic claims of "worse than Watergate," "McCarthyism" and, of course, "witch hunt." He often asserts the Democrats colluded with the Russians, even though the Democratic National Committee and the Clinton campaign were victims of Russian activities, as emails were hacked and then released via WikiLeaks. All told, nearly 160 times the president has made claims suggesting the Russia probe is made up, a hoax or a fraud.

Misleading claims about taxes — now at 336 — are also a common feature of Trump's speeches. Eighty-eight times, he has made the false assertion that he passed the biggest tax cut in U.S. history.

On foreign policy, the president consistently misstates NATO spending. More than 60 times, he has falsely said the United States pays as much as 90 percent of the alliance's costs and that other NATO members "owe" money. But he is conflating overall defense spending with NATO obligations — and the United States, unlike many NATO allies, has global responsibilities."
At the rate of 7.6 lies per day, which is the average that Trump has run over the 558 days that the Post's latest update covers, this would mean that the President would have told an extraordinary number of provable lies over the course of his Presidency. If he were to maintain this average over the course of his first term, for example, the President will have told roughly 11,111 lies in just four years in office. If this average were maintained over the course of eight years, it would mean roughly 22,222 lies between January 20th, 2017 and January 20th, 2025. While I'm as cynical as the next person when it comes to the tendency of politicians tell the truth, this is an extraordinary number of lies coming from one person and it's arguably consistent with the type of person who either does not believe he is obliged to tell the truth or that he is simply so used to lying that it comes as easily to him as putting on a pair of shoes.
Given the extent to which he makes things up on the fly, whether it's during one of his rallies, during an interview, or on Twitter, it's hardly surprising that the President has faired so badly with the fact-checkers. From the start of his campaign, he's made false and easily disproven claims about Mexicans and crime, about immigrants in general, about Muslims, and about policy issues ranging from international trade to foreign policy to history. Indeed, it can truly be said there are few politicians in American history who have been quite as skilled as Donald Trump when it comes to being able to lie so easily and so frequently. Additionally, the ease with which he does so makes it seem as though he believes what he's saying, or that he simply doesn't care if it's true or not. It's a skill he honed during the time he was considered a "celebrity" before becoming a Presidential candidate. Back then, of course, even his most obviously exaggerated claims about his own business success would be slavishly repeated by the media rather investigated to see if they were actually true. If Trump learned from that experience is that it largely did not matter if the claims he made were true or not. For the most part, the people reporting the "news" about Trump back then were not inclined to check just how much of what he said was true. Indeed, given the fact that it was his status as an ostentatious celebrity that caused the public to tune in or buy newspapers and magazines when they covered him, it was not in their interest to deflate him, but rather to build him up since the relationship between celebrities and the media that covers them is largely a symbiotic one where the media benefits by inflating the ego of the celebrity, and the celebrity benefits by letting the media cover him or her.
From these years, Trump no doubt learned the lesson that making things up didn't really matter because the media wasn't going to check anyway, and he has carried that lesson over to his political career. Things are a bit different when it comes to political reporters, of course, but the fact that Trump was, from the beginning such a high ratings draw for all the cable news outlets means that they were much less inclined to challenge his factual assertions lest he decide to issue one of the several "boycotts" that he's engaged in over the course of the campaign. Those media outlets that have challenged him on the facts, such as The Des Moines Register, The Washington Post, and even Fox News Channel have found themselves subjected to one of Trump's mercurial reprisal efforts.
Of course, the extent to which he is able to lie so brazenly has raised several questions about Trump's psychology and mental state. I am not enough an expert in that field to make any specific judgments about Trump himself except to note that the lying, along with other aspects of his personality do not exactly speak very highly to the kind of person Donald Trump is at the core. In that regard, several words have been tossed around, including narcissist and many others. In the end, though, it seems fairly clear that liar fits just as well as anything else.
All that being said, Trump's liberties with the truth, even when pointed out by the media, have not had much of an impact on his political fortunes. His die-hard supporters, quite obviously, don't care about something as apparently trivial as the fact that the candidate they support is a proven liar, for example, and neither do the Republicans who have rallied behind him in the wake of his clinching of the nomination. Now, as we approach his first year and a half in office, all we can be sure of is that the lying will continue and his supporters will continue to not give a damn.