Donald Trump's European Vacation
Donald Trump's first overseas trip went about as badly as you'd expect it would.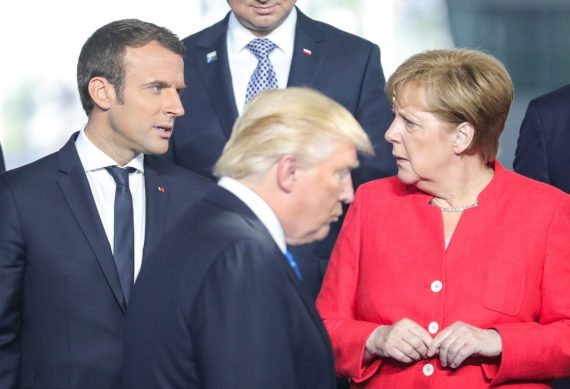 Donald Trump's recent trip overseas, which covered stops in Saudi Arabia, Israel, and Europe, was perhaps in the oddest of any for an incoming President in recent memory. For one thing, there was the choice of destination. With the exceptions of Jimmy Carter, who went to the United Kingdom for his first foreign trip, every new President since World War II chose either Canada or Mexico for their first foreign trip. (Source)1  By contrast, Trump's first foray into international relations ended up being a nine-day jaunt that covered Saudi Arabia, a visit to Israel that included meetings with both Prime Minister Netanyahu and Palestinian President Abbas, and stops in Europe for a visit to Vatican City to see the Pope, a trip to Belgium for a brief meeting with NATO heads of government, and then a trip back to Italy for the G-7 Summit in Sicily.
For the most part, the visits to the Middle East seems to have gone fairly smoothly, which isn't entirely surprising. The Saudis put on a full show of all the Saud family's royal ostentatiousness in what seemed like a clear effort to please a man already known for gaudy and excessive displays of wealth. The Israeli visit seemed to go fine as well, even Trump's meeting with Abbas. The most notable thing about this segment of the trip is that, as expected, Trump did not announce that he was moving the U.S. Embassy to Jerusalem, although there may be news about that matter later this week. The Vatican City visit seemed to go well as well, although the fact that there's a protocol to audiences with the Pope that even someone like Donald Trump apparently can't screw up.
The problems began to surface when Trump arrived in Belgium and followed him to Sicily, and what happened there could have serious implications for the relationship between the United States and Europe for many years to come. At the NATO meeting, Trump made headlines by delivering a speech that spent more time talking about his previously voiced complaints about the alliance, including his entirely mistaken belief that the alliance policy of setting a goal that each member spend roughly two percent of their Gross Domestic Product on defense somehow constitute "dues" that are "owed" to NATO, remarks about the cost of the new NATO headquarters building in Brussels, and an incident where he basically shoved the Prime Minister of Montenegro, the alliance's newest member, out of the way so he could be at the front of the line for a photo op. Things reportedly didn't go much better at the G-7 Summit in Sicily, with several reports about what some diplomats called signs of Trump's naivete and superficial knowledge regarding international issues.
Some of these reports may seem as if they are minor matters, but for nearly all of the leaders he met with this was the first one-on-one meeting they had with the new President, and their first opportunity to evaluate him on the world stage. By all accounts, while Trump did well when he was cozying up to the brutal authoritarian dictators in Saudi Arabia, and of course was sufficiently obsequious to Netanyahu to keep his evangelical base happy (which was half the purpose behind visiting Israel, of course), the President of the United States managed to come across as something of a buffoon when dealing with our most important allies and our most important alliance. One need only consider the immediate reaction of German Chancellor Angela Merkel for evidence of that:
BERLIN — Chancellor Angela Merkel of Germany, Europe's most influential leader, has concluded, after three days of trans-Atlantic meetings, that the United States of President Trump is not the reliable partner her country and the Continent have automatically depended on in the past.

Clearly disappointed with Mr. Trump's positions on NATO, Russia, climate change and trade, Ms. Merkel said in Munich on Sunday that traditional alliances were no longer as steadfast as they once were and that Europe should pay more attention to its own interests "and really take our fate into our own hands."

"The times in which we could rely fully on others — they are somewhat over," Ms. Merkel added, speaking on the campaign trail after a contentious NATO summit meeting in Brussels and a Group of 7 meeting in Italy. "This is what I experienced in the last few days."

Ms. Merkel's strong comments were a potentially seismic shift in trans-Atlantic relations. With the United States less willing to intervene overseas, Germany is becoming an increasingly dominant power in a partnership with France.

The new French president, Emmanuel Macron, has shown a willingness to work with Germany and to help lead the bloc out of its troubles. And Ms. Merkel sees Germany's future more and more with the European Union of 27 nations, without Britain after its vote to leave the bloc.

"This seems to be the end of an era, one in which the United States led and Europe followed," said Ivo H. Daalder, a former United States envoy to NATO who is now the director of the Chicago Council on Global Affairs. "Today, the United States is heading into a direction on key issues that seems diametrically opposite of where Europe is heading. Merkel's comments are an acknowledgment of that new reality."

Ms. Merkel's emphasis on the need of Europe to stand up for its own interests comes after Mr. Trump declined to publicly endorse NATO's doctrine of collective defense or to agree to common European positions on global trade, dealing with Russian aggression or mitigating the effects of climate change.

"We have to know that we must fight for our future on our own, for our destiny as Europeans," Ms. Merkel said.

Ms. Merkel, who did not mention Mr. Trump by name, also spoke of Britain's decision to leave the European Union, which means the bloc will lose its second-largest economy and one of its two nuclear powers. Britain's departure will also weaken trans-Atlantic ties and leave the Continent more exposed than before.

Given this new context for international relations, she said, "I can only say that we Europeans must really take our fate into our own hands — of course in friendship with the United States of America, in friendship with Great Britain and as good neighbors wherever that is possible also with other countries, even with Russia."

With her statement, she seemed to be calling for German voters to get accustomed to a more active European role — and to more involvement by Berlin in crises on the Continent as well as global ones affecting Europe's future. Ms. Merkel is seeking a fourth term as chancellor ahead of parliamentary elections in September.

Ms. Merkel was known to have been unsettled by her meetings with Mr. Trump in Washington in March, and she had been concerned that if Marine Le Pen won the French presidency this month, Germany would be isolated and the European Union badly damaged.

But Mr. Macron, who was meeting Mr. Trump for the first time, appeared to have a less negative impression of the outcome of the talks than Ms. Merkel. In a news conference at the end of the Group of 7 conference, Mr. Macron took a glass-half-full approach, saying that he believed, over all, that despite Mr. Trump's earlier hostile language toward NATO, multilateralism was intact and there was a shared vision in a number of areas.

Mr. Trump campaigned on a platform of trade protectionism, nationalism and skepticism about multilateralism and climate change — all issues on which most European leaders disagree with him. Europeans also depend on NATO for their ultimate defense and are more concerned about an increasingly aggressive Russia than Mr. Trump seems to be, although his defense secretary and national security adviser, both senior military officers, insist that the president is fully behind NATO's Article 5, which requires all members to come to the defense of any country in the alliance that is attacked.

Mr. Daalder said: "This is 'America first' — a policy focused on narrow self-interest — and abandons the idea that the best way to enhance our security and prosperity is by having strong allies and leading globally in pursuit of common values and interests."

As they traveled back to the United States over the weekend, White House officials said Mr. Trump had succeeded in delivering a blunt message about self-reliance to American allies in Europe.

They said the president's decision to scold the NATO member countries about their contributions to the defense alliance would reduce the need for the United States to carry the financial burden for the Continent's defense. And they said the president's tough position on trade would help protect American companies from unfair practices.

"This was a summit in which the goals and priorities of the United States and the president really were felt deeply," said a senior administration official who spoke on the condition of anonymity to discuss the president's conversations with other leaders. Mr. Trump "has changed the way many people around the world are thinking about these issues."

White House officials expressed little concern about the personal interactions between the president and other heads of state. The administration official said Mr. Trump had built "an extraordinary rapport with the other leaders."
In addition to his statements about NATO, the areas of friction between Trump and the other international leaders extended to economic and other issues, including international trade and climate change. With respect to the first, of course, Trump has made his position clear since long before becoming President during a campaign in which he openly campaigned on the largely false argument that the United States has been harmed by international trade agreements such as NAFTA and the World Trade Organization. While he has yet to take any action on NAFTA, Trump has continued threatening to either repudiate the agreement or try to renegotiate it and has pulled the United States out of the Trans-Pacific Partnership, a move that nearly all analysts contend will ultimately harm the United States and benefit China. On climate change, Trump has been as much of a skeptic as most other Republicans and has threatened to pull out of the landmark accord signed last year in Paris, which he could accomplish via simple executive action since the Obama Administration chose to go that route rather than risk submitting the accord to the Senate as a treaty.
It is, however, the implications of the Merkel's comments for the NATO alliance and the role that the United States has played in Europe for well over seventy years now. As an aside, it is worth pointing out, as Daniel Larison does, that Merkel's comments come in the context of closely fought elections in Germany that are scheduled for September 24th. For the most part, both of Germany's major parties are in agreement when it comes to the direction of Europe and there doesn't seem to be the same kind of disdain for the European Union among Germans that we see in the United Kingdom and some other countries. Instead, there is profound interest in maintaining what is seen as a status quo that is very beneficial to the German economy and an apparent interest in anything that could threaten that. Additionally, Larison is correct that we should want Europeans to take up more responsibility for their own defense if only to ease the burden on the United States and allow us to address arguably more pressing issues in the Middle East, and in Asia with regard to North Korea and the Chinese muscle flexing in area such as the South China Sea. Additionally, since these comments were made in the middle of a hard-fought political campaign, they shouldn't necessarily be taken as evidence of a sea change in the relationship between the United States and Europe. At the same time, though, there's something concerning about the way that longtime allies have reacted to Trump's first international trip and the implications it could have for the future.
Josh Marshall puts it well:
Trump now has around him a number of advisors who if they are reasonably criticized on various grounds hold conventional pro-NATO views on Europe. Defense Secretary Mattis appears to be the most important of these. McMaster, Powell and others figure in the mix too. They apparently worked on him closely to make a clear statement of honoring Article 5 of the North Atlantic Treaty – our commitment to come to the defense of any NATO member threatened with external aggression. It was even apprently in the speech he was supposed to give. But Trump nixed it and insisted on these entirely fraudulent entirely fraudulent claims of the Europeans owing the US vast sums of money.

Again, he's malleable, a veritable changeling on everything but this. This isn't a decision that's the President's to make or a judgement call. It's a binding treaty commitment every President since Truman has lived under and honored.

Whether Vladimir Putin has something on Donald Trump or somehow has him in his pay hardly matters. If he doesn't, he apparently doesn't need to do since Trump insists on doing more or less exactly what Putin would want of him entirely on his own. Does this sound hyperbolic. Yes, it absolutely does. I'm even surprised I'm writing it. But look at the evidence before us. A simple statement on a decades old security commitment is the simplest, most pro-forma thing to do. And yet he refuses. Again and again.

Something is very wrong here. But we don't know yet its origins of where it's taking us.
Adam Silverman at Baloon Juice makes similar points:
The reality that the NATO and EU member state leadership have now observed up close and personal has disabused them of the belief that the President was transactional. That if they gave him takeaways that he could claim as wins and stroked his ego then he would do what every US president since Truman has done: formally and publicly commit to Article 5 of the NATO charter. No amount of sweet talk or easy wins will move him off what appears to be one of his few well defined and long held core beliefs. That America's allies and partners seek only to take advantage of the US. This will make whatever the US wants to do in the world going forward more expensive. We will begin to see less assistance from our NATO allies and partners. And we will have to pay more, as in purchase, for assistance from other allies and partners going forward. Trade, defense, and anything else the US will seek to do within the global system will now come with a premium surcharge attached. Just think of it as the price that must be paid to make America great again…
In other words, Trump has managed to do something that the Russians, and before them the Soviets, have been trying to do since the end of World War Two, drive a wedge between the United States and Europe that now arguably threatens one of the most successful international alliances in world history. This is an alliance that has benefited American interests as much as it has benefited Europe and which doesn't add to the costs of national defense nearly as much as it contributes in terms of international peace and stability and the advantages provided by forward-basing of men and material that has been used not just in operations in Western Europe but also to aid operations elsewhere, including the Balkans as well as during the Persian Gulf War, the war in Afghanistan, the Iraq War, and operations connected to our ongoing engagements against ISIS and other elements of the War On Terror. Additionally, it's worth noting that the alliance's collective defense provisions set forth in Article V of the NATO Treaty took place in response to the terrorist attacks on September 11, 2001, and that our NATO allies have all contributed in their own ways to the War On Terror.
Despite all of this, this President has managed to seemingly take steps that, if followed to their logical conclusion, would lead to an unraveling of our most fundamental alliance at a time when Russia is clearly seeking to undermine both the NATO alliance and the European Union. This most likely isn't the result of knowing and conscious collaboration with Moscow, but that hardly matters. If the words of the German Chancellor are indeed more than just campaign rhetoric, the damage is already being done and the implications should concern every American. A weakened alliance between the United States and Europe now could lead to a more adventurous Russia in Europe and elsewhere. Additionally, if Europeans start to believe that the United States is no longer a reliable ally then it's probable that existing and potential allies in other parts of the world will walk away with the same idea. After all, if America's President is willing to throw away seven decades of success for what seem like purely petty reasons, then how can any commitment we make be trusted going forward? Whether it's knowing or not, President Trump is acting in ways that threaten to make the world a less stable place and to place American national security at risk for years to come. And there's not much anyone can do about it.
1 Dwight Eisenhower's first foreign trip as President-Elect was actually to South Korea to visit American troops in the ongoing Korean War, but that occurred in December 1952 before he was sworn in as President. His first foreign trip after January 20, 1953 was to Mexico.