Trump Keeps Lying, The Truth Keeps Dying
Two years into his Presidency, Donald Trump continues to set the wrong kind of records.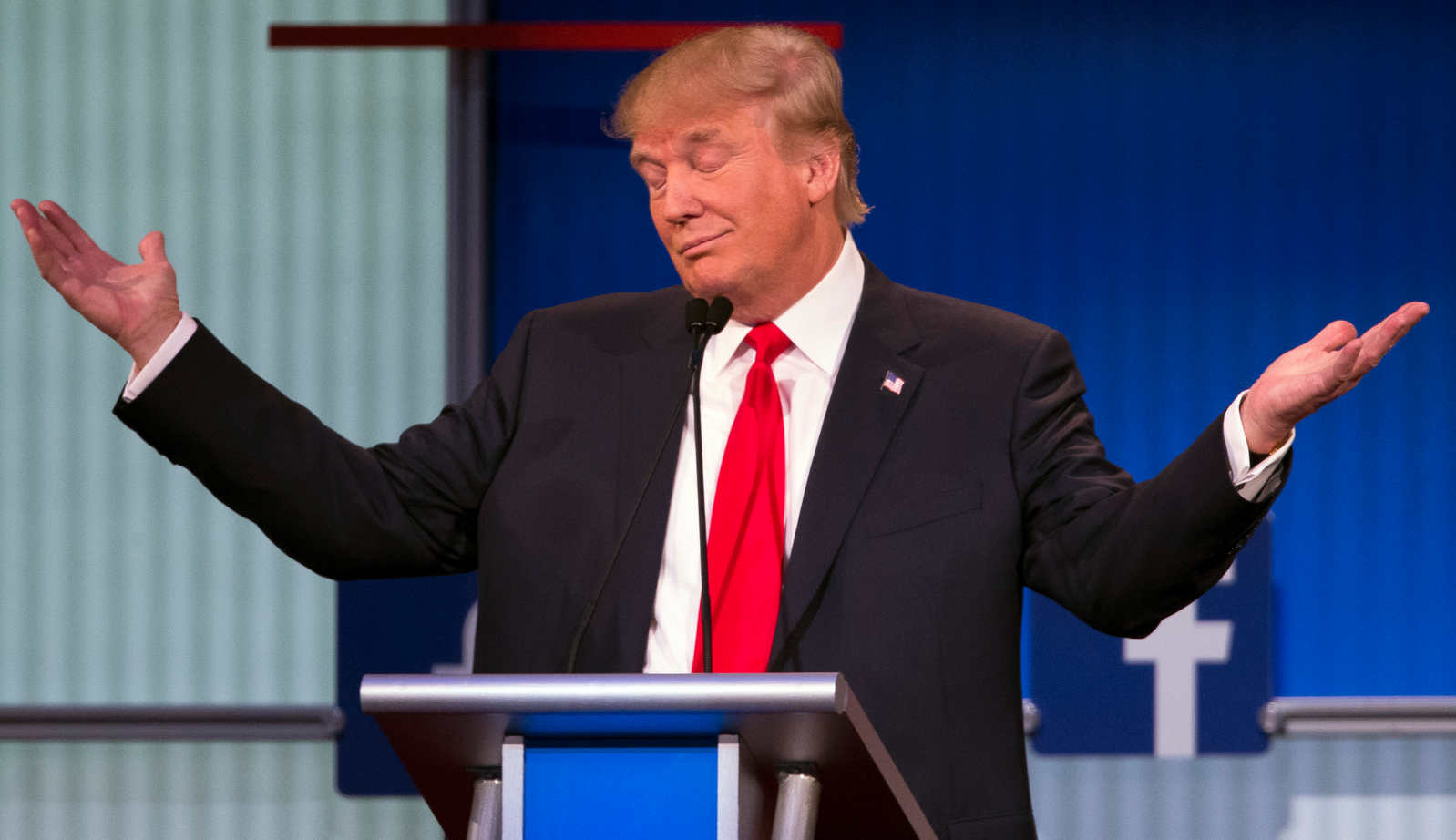 Yesterday marked the second anniversary of President Trump's inauguration, and the guys at The Washington Post Fact Checker blog, who have been keeping track of the President's lies and misrepresentations since taking office, decided to update their numbers, only to find that the number of the President's lies over his two years in office continue to reach astounding numbers:
Two years after taking the oath of office, President Trump has made 8,158 false or misleading claims, according to The Fact Checker's database that analyzes, categorizes and tracks every suspect statement uttered by the president.

That includes an astonishing 6,000-plus such claims in the president's second year.

Put another way: The president averaged nearly 5.9 false or misleading claims a day in his first year in office. But he hit nearly 16.5 a day in his second year, almost triple the pace.

We started this project as part of our coverage of the president's first 100 days, largely because we could not possibly keep up with the pace and volume of the president's misstatements. Readers demanded we keep it going for the rest of Trump's presidency. Our interactive graphic, managed with the help of Leslie Shapiro of The Washington Post graphics department, displays a running list of every false or misleading statement made by Trump. You can also search for specific claims or obtain monthly or daily totals.

In the first 100 days, the president made 492 unsupported claims. He managed to top that number just in the first three weeks of 2019. In October, as he was barnstorming the country in advance of the midterm elections, he made more than 1,200 false or misleading claims.

Not surprisingly, the biggest source of misleading claims is immigration, with a tally that has grown with the addition of 300 immigration claims in the past three weeks, for a total of 1,433.

(…)

By our count, there were only 82 days — or about 11 percent of the time — on which we recorded no claims. These were often days when the president golfed.

But there were also 74 days, or about 10 percent of his presidency, in which Trump made more than 30 claims. These were often days when he held campaign-style rallies, riffing without much of a script.

Trump has made many misleading claims about the investigation into possible Russian interference in the 2016 election, claiming 192 times a variation of the statement that it was a hoax perpetuated by Democrats. The CIA, the FBI and the National Security Agency had announced that they had "high confidence" that Russian President Vladimir Putin ordered a campaign to influence the election, with a clear preference for Trump. Special counsel Robert S. Mueller III was appointed by Trump's Justice Department, and the congressional committees investigating the matter have been headed by Republicans.

Trump repeated 127 times the falsehood about securing the biggest tax cut in U.S. history, even though Treasury Department data shows it would rank eighth. And 126 times, he has falsely claimed that the United States has lost money on trade deficits. Countries do not "lose" money on trade deficits. A trade deficit simply means that people in one country are buying more goods from another country than people in the second country are buying from the first country. Trade deficits are also affected by macroeconomic factors, such as currencies, economic growth and savings and investment rates.\\\
Essentially, what this means is that there is barely a day that doesn't go by where the President does not tell a bald-faced lie or grossly misstated the facts as they are known. This includes situations where he quite simply makes things up out of whole cloth, such as the numerous claims he makes about immigrants or immigration in general. Many of these lies, of course, are situations where it is repeating the same falsehoods over and over again. Every now and then, though, there's something new that enters his repertoire of lies and ends up getting repeated endlessly. Usually, it's something he's seen on one of the many Fox News Channel shows he's known to watch in the morning and the evening and sometimes, it's something that clearly came from a piece of propaganda that is being passed around conservative media circles that ends up being completely false. Quite often, those lies filter down to other Administration personnel who repeat what their boss is saying and to Administration spokespersons who defend the President on other cable news networks. Ultimately though, it is the President who is the source of these lies and the one who keeps repeating them time and time again.
Based on the Post's numbers as of yesterday, the President is averaging roughly 11.16 lies per day over the first two years of his Presidency. This average has increased significantly each time the Post's fact-checker has reviewed its numbers and seems to be getting worse as the President gets sucked into the pressures of the Mueller investigation, the investigation of the U.S. Attorney in New York, the political pressures created by the Democrats taking over the House of Representatives and the ongoing government shutdown. While this average is likely to increase even more over time, it's already at an alarming level even for him. For example,  if he maintains this average, he will have told an astounding 16,316 lies for the duration of his first term in office. If he maintains this average over the course of two terms, then he will have told just under 32,632 lies over the course of an eight-year Presidency.  While I'm a rather cynical person when it comes to the tendency of politicians tell the truth, this is an extraordinary number of lies coming from one person and it's arguably consistent with the type of person who either does not believe he is obliged to tell the truth or that he is simply so used to lying that it comes as easily to him as putting on a pair of shoes. Of course, this should come as no surprise for a man who lied consistently while on the campaign trail and who began his Administration with easily disproven lies about the size of his Inauguration Day crowd as well as spreading false claims that millions of people illegally cast votes for Hillary Clinton in the election, a claim for which he has of course never provided anything close to proof.. From that point forward, the trend was set and we're now at the point where I'm sure that Glenn Kessler and the rest of the fact checkers at the Post and other similar outfits are glad to have access to a computer that can keep track of the numbers for them.
Given the extent to which he makes things up on the fly, whether it's during one of his rallies, during an interview, or on Twitter, it's hardly surprising that the President has faired so badly with the fact-checkers. From the start of his campaign, he's made false and easily disproven claims about Mexicans and crime, about immigrants in general, about Muslims, and about policy issues ranging from international trade to foreign policy to history. Indeed, it can truly be said there are few politicians in American history who have been quite as skilled as Donald Trump when it comes to being able to lie so easily and so frequently. Additionally, the ease with which he does so makes it seem as though he believes what he's saying, or that he simply doesn't care if it's true or not. It's a skill he honed during the time he was considered a "celebrity" before becoming a Presidential candidate. Back then, of course, even his most obviously exaggerated claims about his own business success would be slavishly repeated by the media rather investigated to see if they were actually true. If Trump learned from that experience is that it largely did not matter if the claims he made were true or not. For the most part, the people reporting the "news" about Trump back then were not inclined to check just how much of what he said was true. Indeed, given the fact that it was his status as an ostentatious celebrity that caused the public to tune in or buy newspapers and magazines when they covered him, it was not in their interest to deflate him, but rather to build him up since the relationship between celebrities and the media that covers them is largely a symbiotic one where the media benefits by inflating the ego of the celebrity, and the celebrity benefits by letting the media cover him or her.'Throughout his pre-Presidential life, Trump took advantage of that relationship with the media to hype his "brand" even when it meant telling outright and obvious lies that only a handful of reporters bothered to try to verify.
If all of this is starting to sound like a broken record that keeps repeating itself endlessly, that's because it is. That Donald Trump lies is not news anymore. That he lies with the ease that most of us put our shoes on each day is not shocking. That he tells lies that are so easily disproven doesn't even appear to bother a large number of people. For those who have given up on him, the lies are just a matter of course. For those who will continue to support him no matter what, the lies are either irrelevant or the people who establish that he is, in fact, lying are agents of the "Deep State," the "mainstream media," or they simply ignore them. More concerning, though, is the fact that many of these Trump supporters simply don't care that the President is lying to them. For some, it's because they've, like many other conservatives long ago locked themselves into the Fox News/conservative media bubble. For other's those, it's because they've become part of what can only be called a cult of personality that has built up around Trump. These people aren't going to be persuaded by the truth, heck they wouldn't be persuaded even if the President were found to have acted in a criminal manner and forced out of office. While there have been Presidents in the past who have been personally popular, especially within their own parties, we've never seen this kind of cult of personality before, and it's own that should concern everyone.
In any case, getting back to the issue at hand, as I've said before we've established beyond a reasonable doubt that this President is a congenital, habitual liar. Nothing he says can be trusted to be true, nor should it be. The implications this could have for a future crisis of either a domestic or international scope cannot be overstated. After all, if our President can lie so easily about something as trivial as the size of his Inauguration Day crowd, what basis do we have for trust anything he says about any subject?