Donald Trump's Arguments About Immigrants And Crime Are Based On Lies
Contrary to what Donald Trump claims, immigrants are less likely to commit crime than others.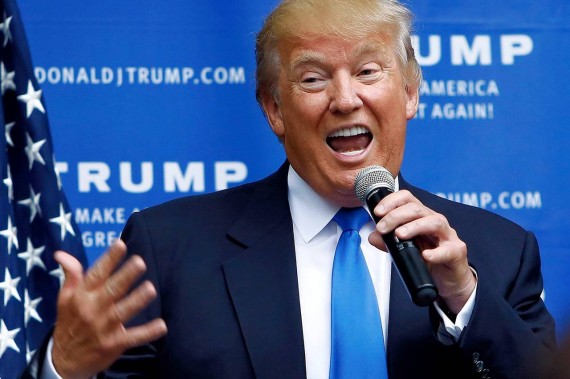 With Donald Trump once again reviving decades old fears about immigrants, legal and otherwise, committing crimes, Jason Riley of The Manhattan Institute reminds us that there is no evidence whatsoever that immigrants are more likely to commit crimes:
[N]umerous studies going back more than a century have shown that immigrants—regardless of nationality or legal status—are less likely than the native population to commit violent crimes or to be incarcerated. A new reportfrom the Immigration Policy Center notes that while the illegal immigrant population in the U.S. more than tripled between 1990 and 2013 to more than 11.2 million, "FBI data indicate that the violent crime rate declined 48%—which included falling rates of aggravated assault, robbery, rape, and murder. Likewise, the property crime rate fell 41%, including declining rates of motor vehicle theft, larceny/robbery, and burglary."

A separate IPC paper from 2007 explains that this is not a function of well-behaved high-skilled immigrants from India and China offsetting misdeeds of Latin American newcomers. The data show that "for every ethnic group without exception, incarceration rates among young men are lowest for immigrants," according to the report. "This holds true especially for the Mexicans, Salvadorans, and Guatemalans who make up the bulk of the undocumented population."

It also holds true in states with large populations of illegal residents. A 2008 report by the Public Policy Institute of California found that immigrants are underrepresented in the prison system. "The incarceration rate for foreign-born adults is 297 per 100,000 in the population, compared [with] 813 per 100,000 for U.S.-born adults," the study concludes. "The foreign-born, who make up roughly 35% of California's adult population, constitute 17% of the state prison population."

High-profile incidents, like the recent arrest of a Mexican national in the horrific shooting death of a young woman in San Francisco, can give the impression that immigrants are more likely to commit violent crimes. But the alleged killer is no more representative of Mexican immigrants than Dylann Roof is representative of white people.

Every immigrant here illegally has already broken a law, though that doesn't mean they are predisposed to crime. In a 2005 paper, the Federal Reserve Bank of Chicago reported that more recently arrived immigrants are even less crime-prone than their predecessors. In 1980 the incarceration rate of foreign nationals was about one percentage point below natives. A decade later that had fallen to a little more than a percentage point, and by 2000 it was almost three percentage points lower.
There are likely several reasons why recent immigrants are less likely to commit crimes than people who are citizens or who have been in the United States many years. For many, the prospect of running afoul of the legal system and thus endangering their ability to stay in the United States to begin with likely leads them to avoid criminal activity to begin with. Additionally, to the extent that many of these people spend their first years in the United States working perhaps multiple jobs in an effort to support themselves and family members and perhaps provide the means for other family members to come to the United States means that their priorities are directed toward productive activities rather than crime. If they are lucky enough to already have family in the United States or be accepted into a wider community of immigrants from their country of origin, Indeed, it is likely the case that many of the immigrants who are drawn in to a life of crime are those who are unable to find steady work and a community that they are attached to and thus find themselves drifting into less savory activities. Then, of course, there are a handful of people like the Mexican national in San Francisco, but there are plenty of those types of people in the population as a whole and no reason to believe that this person's status as an illegal immigrant had anything to do with his criminal history.
These facts, and the studies that Riley cites in his column but the lie to the claims that Donald Trump, along with conservative pundits such as Ann Coulter, Laura Ingraham, and others who have spent years demonizing immigrants, legal and illegal, and making a lot of money doing it. The difference between Trump and the pundits, of course, is that Trump is at least ostensibly running for President, is currently leading in the polls, and is, according to other polls, becoming considerably more acceptable to some Republican voters. The fact that he is doing so based largely on rhetoric that is full of lies and based in bigotry is really something that ought to cause a lot more concern than it seems to be right, probably because most people, myself included, don't take Trump seriously as a Presidential candidate. Serious candidate or not, though, he is saying things that some segment of the public is reacting to positively. The fact that it's all based on lies is something that ought to be made more clear by the media and by the people running against him.