Donald Trump Leads In Another Poll, But How Long Can It Really Last?
Donald Trump leads in a new national poll, but a deeper look at the numbers suggests that this Trump Bubble can't last for very much longer.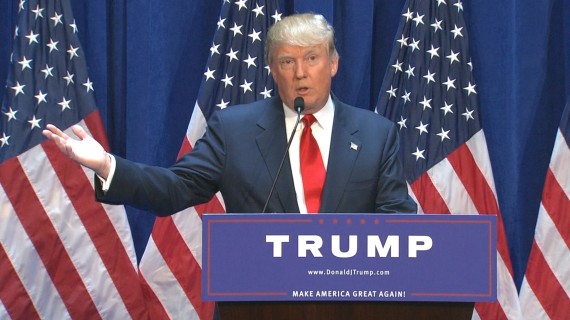 A new USA Today/Suffolk University Poll shows that Donald Trump's surge in the polls is showing signs of stopping just yet, but there are signs that he may be close to peaking:
WASHINGTON — Donald Trump has surged to the top of a crowded Republican presidential field, a USA TODAY/Suffolk University Poll finds, but the brash billionaire is also the weakest competitor among the top seven GOP candidates against Democrat Hillary Clinton.

In the nationwide survey, Trump leads at 17% and former Florida governor Jeb Bush is second at 14%, the only competitors who reach double digits. Trump's edge, which is within the poll's margin of error, is one more sign that his ​harsh rhetoric about immigration and toward his rivals has struck a chord with some voters.

"He's got some backbone," Steve Fusaro, 59, of San Clemente, Calif., who was among those polled, said approvingly in a follow-up interview. "We need a businessman."

But Buxton McGuckin, 19, of Columbia, S.C., who supports Kentucky Sen. Rand Paul, expresses alarm at the potential repercussions of Trump's words. "I know he's a conservative and Republican but I mean … the (stuff) that comes out of his mouth," the audio engineer says.

Trump has gained 6 percentage points since the USA TODAY/Suffolk Poll taken in June; Bush's support has stayed steady.

he survey of 1,000 adults, taken by landline and cellphone Thursday through Sunday, has a margin of error of plus or minus 3 percentage points. The sample of 349 likely Republican primary and caucus voters has an error margin of +/-5.25 points.

Trump's strengths and his weaknesses are on display.

While he leads the GOP field, he fares the worst of seven hopefuls in hypothetical head-to-heads against former secretary of State Hillary Clinton, the leading Democratic nominee. Bush, the strongest candidate against Clinton, lags by four points nationwide, 46%-42%. Trump trails by 17 points, 51%-34%.

That's a wider margin than Florida Sen. Marco Rubio (down 6 points), former Arkansas governor Mike Huckabee (8 points), Wisconsin Gov. Scott Walker (9 points), Kentucky Sen. Rand Paul (10 points) and retired neurosurgeon Ben Carson (13 points).

(…)

Nearly half of all those surveyed, 48%, say Trump's comments about illegal immigrants, including characterizing Mexicans as rapists and drug dealers, matter a lot to their vote. Just 15% say the comments make them more likely to support him; 48% say they make them less likely.

"We've seen Donald Trump make it to the top, but the question is can he stay on top," says David Paleologos, director of the Suffolk University Political Research Center. "In 2012, Michele Bachmann and Herman Cain led the GOP primary field briefly but only to fade."

When the first and second choices of Republicans are combined — an indication of how things might sort out when the field eventually gets smaller — Trump does a bit less well. Bush is at 14% and Trump at 13%. Rubio and Walker are supported by 10%, Texas Sen. Ted Cruz by 6% and Carson by 5%.

(…)

Trump is the best-known of the Republican contenders. Just 2% of those surveyed have never heard of him, compared with 27% who have never heard of Walker and 16% who haven't heard of Rubio. But Trump also is viewed the most negatively of all.

In the poll, 61% have an unfavorable impression of him and 23% a favorable one, a net-negative rating of 38 points. Bush's favorable-unfavorable rating is 35%-42%.
The full numbers in the poll for the Republican race are as follows; Donald Trump 17% Jeb Bush 14%, Scott Walker 8%, Ted Cruz 6% Marco Rubio 5%, Ben Carson 4%, Mike Huckabee 4%, Rand Paul 4%, Chris Christie 3%, Rick Perry 1%, Rick  Santorum, Carly Fiorina, Bobby Jindal, and John Kasich all at 1%, and Lindsey Graham at 0%. Trump's lead is, it's worth noting, within the margin of error however it is consistent with other recent polls which have shown him gaining support to some degree ever since he entered the Presidential race last month. Because of that surge, he is now in second place behind Jeb Bush in the RealClearPolitics polling average, which suggests strongly that his place in the upcoming debates in August and September is likely to be secure. Other candidates, such as Rick Santorum, Carly Fiorina, Bobby Jindal, John Kaisch, Lindsey Graham, and George Pataki cannot say the same thing since all six of them fall below the "top ten" cut off that both CNN and Fox News have established for debate invitations and none of them seems likely to gain enough support to get over that barrier in just the next three weeks or so.
As for Trump, one does have to wonder how much longer this is going to last. In that regard, it's worth keeping in mind that Trump's "surge" in the polls is being exaggerated to some degree by a number of factors, including some that are unique to this cycle's Republican field.
First of all, the fact that the field itself is so large means that it doesn't really take very much any one candidate to end up becoming the leader for a temporary period of time. This poll puts Trump at 17%, that means that some 83% of the Republicans polled support someone other than him. Factor into that his incredibly high negatives, and it seems obvious that he is nearing his peak in the polls. Indeed, it's worth noting that when Trump was briefly flirting with the idea of running for President in 2012 he was also polling in the general range of 15-19% in national polls. That was a ceiling that he never got beyond, and it suggests that he may be near to top of his support levels this time too. Second, while the headlines reporting this latest poll will say that Trump is in the lead, this lead is within the poll's margin of error, meaning that his actual level of support could actually be well below where this particular poll happened to show it. Finally, this poll repeats something that we have seen with virtually every other poll that has been conducted since Trump entered the race, namely that he is both the best known Republican running, for obvious reasons, and he is the most disliked Republican running. Other polls have shown that he is the one candidate that the vast majority of Republicans say they would never consider voting for. This would suggest that he's nearing the point where the number of voters he can actually bring to his side is shrinking while his continued bombastic statements are turning off more and more people. If that's true, then this Trump bubble can't last for very long. Trump may continue to rise for a while longer, and he may get a boost from the first debate in August, but just the Republicans turned away from the likes of Michele Bachmann and Herman Cain in 2011, they're eventually going to give up the Trump and concentrate on the serious candidates.