Biden and the Crime Bill
The Democratic frontrunner is being wrongly blamed for an explosion in the prison population.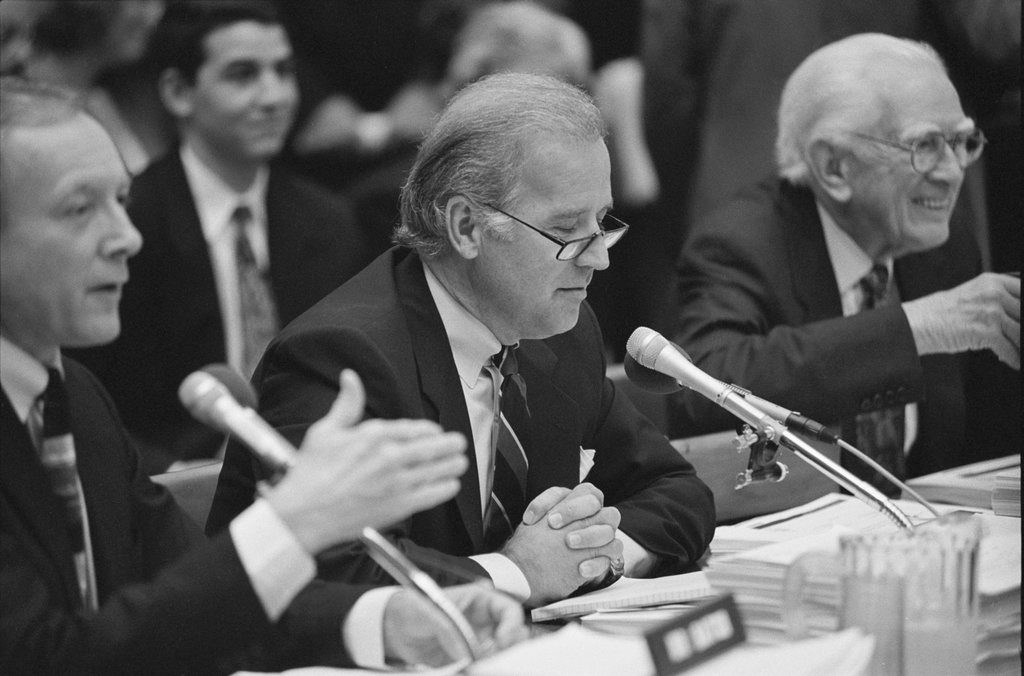 Among the many Progressive complaints about Joe Biden is his role in passing the 1994 Crime Bill. See, for example, this 2015 New York Times article titled "Joe Biden's Role in '90s Crime Law Could Haunt Any Presidential Bid."
As the ranking minority member of the [Senate Judiciary] committee since 1981, Mr. Biden had helped pass two bills establishing mandatory minimums for drug offenses. But as chairman, facing high violent crime rates, a crack cocaine epidemic, and accusations by Republicans that his party was soft on crime, Mr. Biden wanted holistic reform.


The effort, which defined much of his time as committee chairman, culminated in the 1994 Violent Crime Control and Law Enforcement Act, a sweeping, bipartisan bill that touched nearly every aspect of American law enforcement that was signed into law by President Bill Clinton.
More than two decades later, that legislation is once again the subject of fierce debate — this time, as a bipartisan coalition of activists and lawmakers seeks to undo the era of mass incarceration they say the 1994 crime bill helped create.

The rapid shift in mood that those efforts reflect — a reaction to falling crime rates and a renewed attention to issues of racial injustice — could prove one of many hurdles for Mr. Biden if he decides to become a candidate for president.


Already, in the 2016 presidential race, criminal justice has commanded a level of attention unseen since the 1990s and has compelled both Republicans and Democrats to have something new to say about it. For Mr. Biden to win support from the young voters who were critical to President Obama's election victories, according to activists like Jeremy Haile, he will need to show his views have evolved.


"Any Democrat that is interested in gaining support among the current electorate, particularly the progressive civil rights communities, is going to have to say that previous tough-on-crime policies were a mistake," said Mr. Haile, federal advocacy counsel at the Sentencing Project.
Four years later, with Biden the frontrunner for the nomination, the criticism has picked up steam:
U.S. Senator Kamala Harris said during a presidential campaign stop in New Hampshire on Wednesday that she disagreed with former Vice President Joe Biden, who said a day earlier that his Senate vote for a 1994 crime bill did not contribute to mass incarceration.

Harris, who previously served as the top prosecutor for San Francisco and then for California, said at a town hall that she has a "great deal of respect" for Biden but disagreed with him on this issue.


"That 1994 crime bill, it did contribute to mass incarceration in our country. It encouraged and was the first time that we had a federal three strikes law. It funded the building of more prisons in the states. And so I disagree, sadly," Harris told reporters
Even the also-rans are taking their shots:
New York City Mayor Bill de Blasio (D), who is running for president, took aim Sunday at the field's front-runner, former Vice President Joe Biden, over his support for the 1994 crime bill.


Speaking on CNN's "State of the Union," de Blasio called Biden's work on the bill "a huge mistake."

"That crime bill was one of the foundations of mass incarceration and a very painful era in our nation's history," he said. "[Biden] and anyone else has to be accountable for every vote they take and what's on their record. And I think that was a huge mistake."


De Blasio added that the crime bill and other federal policies "were a big part of why untold thousands of people and families had their lives entirely disrupted and in many ways destroyed."


"We've got to break out of that, and anyone responsible has to be accountable," he said.
And, in a perplexing move, the not-at-all-racist President is joining in:
President Trump and his reelection campaign are opening up a fresh line of attack against Joe Biden, hitting the former vice president for his central role in a 1994 crime bill that has left Biden vulnerable to criticism from his right and his left.


As he prepared to leave Tokyo on Tuesday, Trump eviscerated Biden over his efforts behind the Bill Clinton-era law — one centerpiece of the tough-on-crime movement of the 1990s that Biden is being forced to confront on the campaign trail more than two decades later.


"Anyone associated with the 1994 Crime Bill will not have a chance of being elected. In particular, African Americans will not be able to vote for you," Trump said in a pair of tweets going after Biden, whom the president repeatedly referenced during his four-day trip to Japan. "I, on the other hand, was responsible for Criminal Justice Reform, which had tremendous support, & helped fix the bad 1994 Bill!"
The blacks will surely flock to Trump if Biden is the nominee.
It turns out, however, that the notion that the Crime Bill set off a crisis of mass incarceration simply isn't true. Kevin Drum ran the numbers and produced this chart: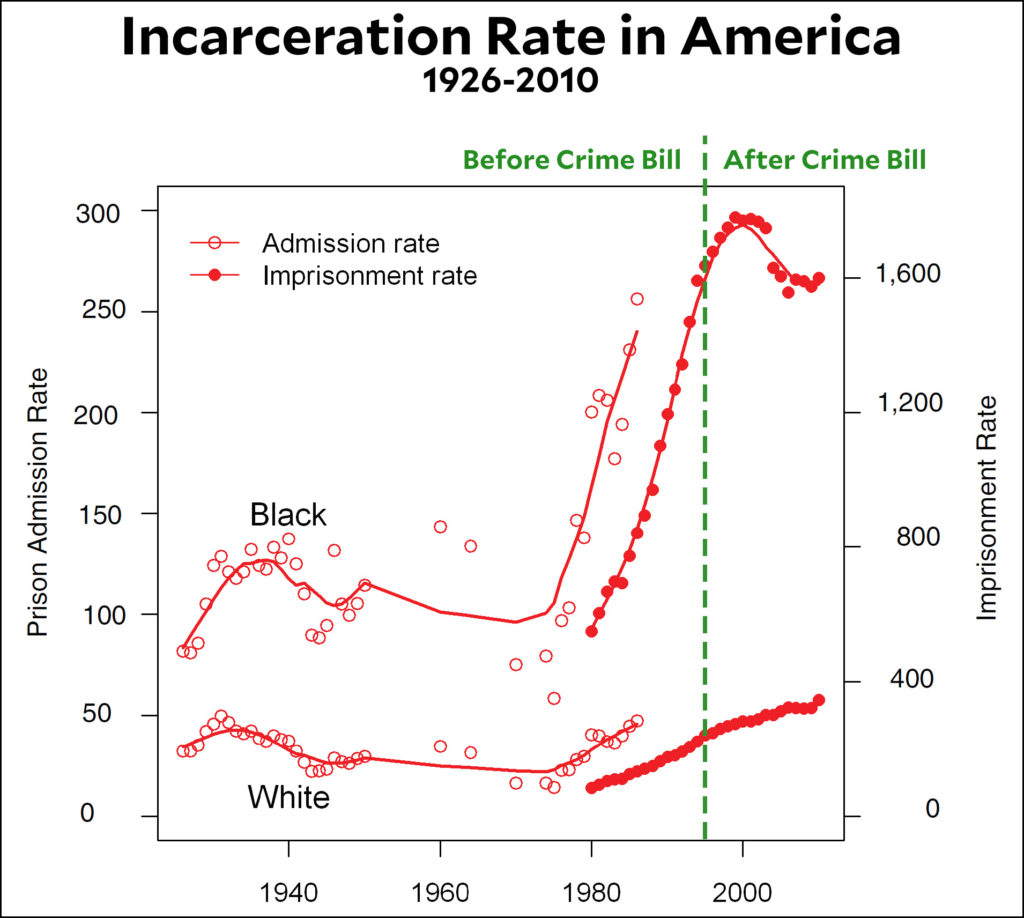 He observes,
As you can see, the 1994 crime bill had no effect on this trend. Incarceration rates started skyrocketing in the late 70s as a response to rising crime rates, and after the crime bill passed the increase in incarceration started to slow, eventually peaking in 2000.


The crime bill, of course, deserves credit for slowing incarceration no more than it deserves blame for increasing it. It was a null factor. Incarceration increased as crime rates increased, and then started to fall about a decade after crime rates started to decline. Mass incarceration in the US was a panicked response to mass crime, and the 1994 crime bill had little effect on it one way or the other.


I don't really care what anyone thinks of Joe Biden, but liberals should stop inventing reasons to blame him for things he isn't responsible for. The 1994 crime bill (a) included a lot of good ideas, (b) included some bad ideas at the insistence of Republicans, (c) had nothing to do with skyrocketing incarceration rates, (d) was supported by most black lawmakers, and (e) was a reaction to the fact that violent crime really was high, and nobody at the time had any reason to think this was likely to change.
So . . . how did the myth get started?
An NBC News fact check explains,
Biden claimed that the 1994 bill did not lead to mass incarceration.


"Folks, let's get something straight, 92 out of every 100 prisoners who end up behind bars are in a state prison, not a federal prison," he said. "This idea that the crime bill generated mass incarceration, it did not generate mass incarceration."


Though the bill was not the root cause of "mass incarceration," it was "the most high-profile legislation to increase the number of people behind bars," according to a Brennan Center analysis in 2016.


The crime bill granted states billions to build prisons if they passed laws requiring inmates to serve at least 85 percent of their sentences, the Brennan Center said, noting that 30 states introduced or amended laws between 1995 and 1999 so that they would be in compliance and receive the money. By 1999, 42 states had "truth-in-sentencing" laws on the books, which contributed to an increase in imprisonment.


"By dangling bonus dollars, the crime bill encouraged states to remain on their tough-on-crime course," the Brennan Center wrote.
That seems plausible enough: there was indeed a rash of prison building, mostly via for-profit corporations. But Drum's chart (compiled from National Science Foundation data) shows that the increase in incarceration after the bill was simply a continuation of a long trendline—and actually soon reversed itself.
The Brennan Center study itself offers this:
First, the good: Though the crime bill was not responsible for the entire drop in crime, it likely helped — not by locking people up, but by putting more cops on the street, studies show. It provided funding for 100,000 new police officers and $14 billion in grants for community-oriented policing, for example. From 1990 to 1999, the number of police officers rose 28 percent, from 699,000 to 899,000, partly funded by the crime bill.
Research also indicates smarter policing tactics, like the ones funded by the bill, and social and economic factors — like an aging population and decreased alcohol consumption — played a role in the crime decline as well.


Crime had already started declining before the bill passed. From 1991 to 1994, crime dropped 10 percent and violence decreased by 5 percent. From 1994 to 2000, crime fell an additional 23 percent, with violent crime dropping by almost 30 percent. All of the above contributed to the fall.


Then there's the bad: Although incarceration was already rising steadily before the crime bill, several of its provisions helped increase incarceration even further. Nevertheless, this increase had little impact on America's subsequent drop in crime.


From 1970 to 1994, the rate of imprisonment exploded 400 percent, to 387 per 100,000 people. From 1994 to 2009, imprisonment continued to rise, doubling.


The crime bill contributed to this increase in incarceration. First, it banned 19 types of semiautomatic assault weapons, authorized the death penalty for dozens of existing and new federal crimes, and instituted a federal "three strikes and you're out" provision.


But those facets were far less pernicious than how the crime bill influenced states to increase their prison rolls. The bill granted states $12.5 billion to build prisons if they passed "truth-in-sentencing" (TIS) laws, which required inmates to serve at least 85 percent of their sentences.


A 2002 Urban Institute study found that between 1995 and 1999, nine states adopted TIS laws for the first time, and another 21 states changed their TIS laws to comply with the crime bill's requirements and then apply for funding. By 1999, a total of 42 states had such laws on the books, sustaining an increase in imprisonment.


The crime bill, however, was just the most high-profile legislation to increase the number of people behind bars. On their own, states passed three-strikes laws, enacted mandatory minimums, eliminated parole, and removed judicial discretion in sentencing. By dangling bonus dollars, the crime bill encouraged states to remain on their tough-on-crime course.
The Crime Bill was mostly a good thing, then. Not only did putting more police on the streets help, we helped fund training to make them more professional.
The bad? It's innumeracy. The Brennan analysts simply look at the raw numbers—the rate doubled!—without paying attention to the trend line. It would have doubled regardless.