Trump Revokes Brennan's Security Clearance
The former CIA Director has been stripped of his access to classified information after repeatedly criticizing the President.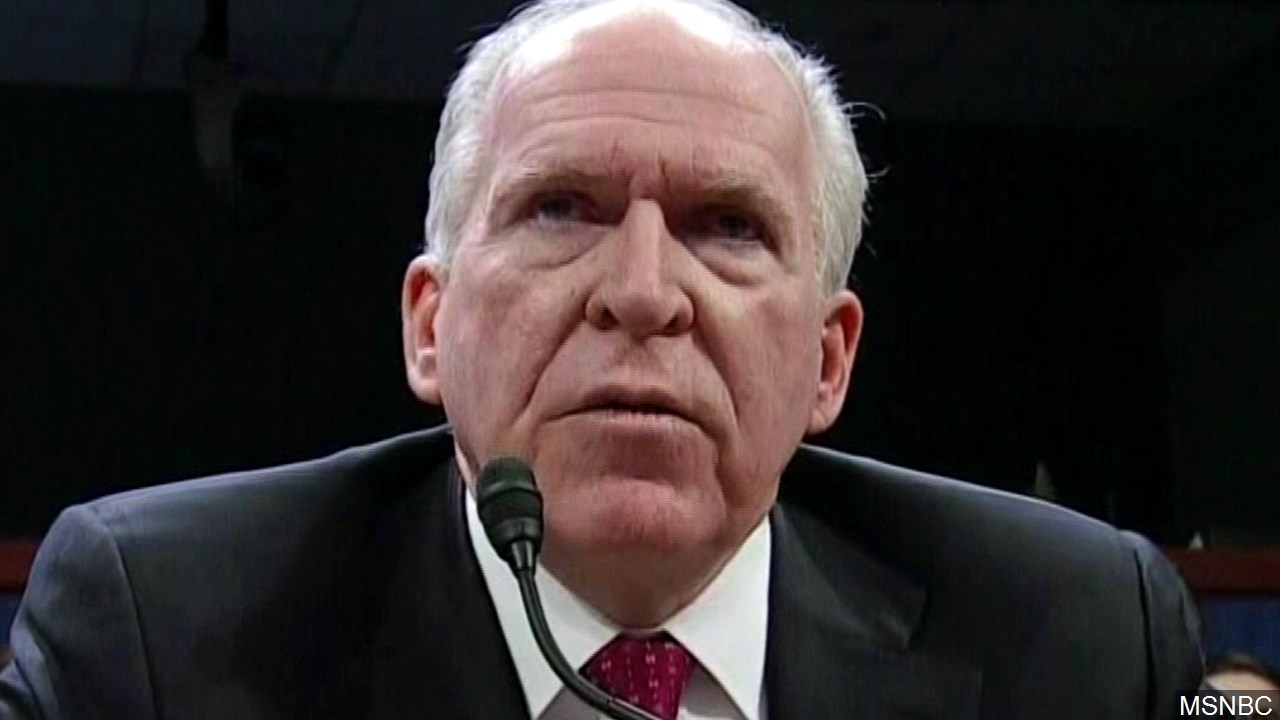 WSJ ("Trump Revokes Ex-CIA Director John Brennan's Security Clearance"):
President Trump drew a direct connection between the special counsel investigation into alleged Russian interference in the 2016 election and his decision to revoke the security clearance of former CIA Director John Brennan and review the clearances of several other former officials.

In an interview Wednesday, Mr. Trump cited Mr. Brennan as among those he held responsible for the investigation, which also is looking into whether there was collusion between the Trump campaign and the Kremlin. Mr. Trump has denied collusion, and Russia has denied interfering.

Mr. Brennan was director of the Central Intelligence Agency in the Democratic administration of former President Obama and one of those who presented evidence to Mr. Trump shortly before his inauguration that Russia had interfered in the 2016 election.

"I call it the rigged witch hunt, [it] is a sham," Mr. Trump said in an interview. "And these people led it!"

He added: "So I think it's something that had to be done."

Mr. Brennan—who since leaving office has become a frequent critic of the Republican president—in a tweet called the revocation of his clearance "part of a broader effort by Mr. Trump to suppress freedom of speech & punish critics." He wrote it "should gravely worry all Americans, including intelligence professionals, about the cost of speaking out."

[…]

Earlier in the day, White House spokeswoman Sarah Sanders said the administration was also reviewing the clearances of former Director of National Intelligence James Clapper, former FBI Director James Comey, and former National Security Agency and CIA chief Michael Hayden.

"I don't trust many of those people on that list," Mr. Trump said in the interview. "I think that they're very duplicitous. I think they're not good people."

Most of the individuals left government service months or years ago under varied circumstances, including being fired by the president and his aides. Some, including Mr. Comey, have said they no longer have or use their clearances.
NYT ("Trump Revokes Ex-C.I.A. Director John Brennan's Security Clearance") couches it this way:
President Trump revoked the security clearance of John O. Brennan, the former C.I.A. director under President Barack Obama, on Wednesday in a striking act of retaliation against an outspoken critic. The president threatened to do the same to other former national security officials who have antagonized him.

Citing what he called Mr. Brennan's "erratic" behavior and "increasingly frenzied commentary," Mr. Trump dispatched Sarah Huckabee Sanders, his press secretary, to read a statement saying that Mr. Brennan had abused his access to the United States' secrets "to make a series of unfounded and outrageous allegations."

The statement came only a few weeks after Ms. Sanders warned that Mr. Trump was considering revoking the clearances of Mr. Brennan and others who he believed had politicized and inappropriately profited from their access to delicate information. It was the latest assault by a president who has routinely questioned the loyalties of national security officials and dismissed some of their findings — particularly the conclusion that Moscow intervened in the 2016 election — as attacks against him.

[…]

The revocation of Mr. Brennan's security clearance also appeared to be a way to change the subject from damaging accusations in a tell-all book by Omarosa Manigault Newman, a former reality TV show star who worked in the White House and now claims that Mr. Trump used a slur to disparage African-Americans and is in a state of mental decline.
Bradley P. Moss had a detailed piece at lawfare back in July examining the question, "Can the President Revoke Former Officials' Security Clearances?" The answer is complicated but the short version seems to be that, even if he lacks the legal authority, there's probably nothing to stop him from doing it.
I join with most of the national security professionals who have expressed their opinion on this matter in believing that this is an abuse of presidential power. Some disagree, however. Sara Carter, a national security affairs reporter for Fox and other conservative outlets, observes,
Trump's decision to revoke the clearance came on the heels of new tweets issued by Brennan over the past several weeks attacking the president. But the tweets and statements made on MSNBC were not just critical in nature but in some cases accused Trump of treason and alluded to unverified rumors that Russia was blackmailing Trump.

This behavior is not just endemic to Brennan but former senior Obama appointees like National Security Advisor James Clapper, FBI Director James Comey, Attorney General Eric Holder and others have gone to social media and cable news outlets to express their displeasure with Trump, as well as instigating unproven allegations that the president could be blackmailed by Russia.
And she found at least one person willing to go further:
"Historically, former heads of intelligence and law enforcement agencies have been allowed to retain access to classified information after their government service so that they can consult with their successors regarding matters about which they may have special insights and as a professional courtesy," Sanders said during a Wednesday press briefing. "Neither of these justifications supports Mr. Brennan's continued access to classified information."

Their behavior-said numerous former and current intelligence officials-is damaging to the nation's national security and eroding the trust the American people have in their institutions.

"Brennan's actions are unconscionable, " said a former senior intelligence official. "Trump did the right thing. He is spreading erroneous and derogatory information about President Trump without any proof and it does nothing more than harm our nation and our national security."

"It's detrimental to national security, and what does Brennan gain from this? On the other hand, Putin gains everything…watching former senior government officials devouring the office of the president and doing more damage to our nation than the Kremlin dreamed of," the intelligence official added.
While I think that goes way too far, I wish Brennan, Clapper, and others would be much more cautious in their commentary. Brennan's caustic attacks on Trump are, in my judgment, harmful in that they contribute to the absurd notion that there's a Deep State out to get Trump. The intelligence community writ large and the CIA, in particular, is seen by many Trump supporters as particularly suspect, in that they've been insistent that Russia attempted to influence the 2016 election. Brennan's half-cocked tweets—almost all of which I happen to agree with—do little to contribute to the substantive debate.
Take, for example, his NYT op-ed ("John Brennan: President Trump's Claims of No Collusion Are Hogwash") out today in response to the security clearance stripping. Aside from being self-aggrandizing, it adds nothing that we don't know to the Russia investigation. In particular, contra the headline, it does nothing to bolster the case of Trump collusion with Russia. While I have very strong suspicions, based on mountains of circumstantial evidence, that Trump and his campaign did, in fact, work with Russian actors during the campaign, lending the gravitas of Brennan's former office to the speculation is counter-productive.
And, frankly, his strongest bit of evidence is not only incredibly weak but was known instantly by the entirety of the IC, news media, and much of the American public in real time:
The already challenging work of the American intelligence and law enforcement communities was made more difficult in late July 2016, however, when Mr. Trump, then a presidential candidate, publicly called upon Russia to find the missing emails of Mrs. Clinton. By issuing such a statement, Mr. Trump was not only encouraging a foreign nation to collect intelligence against a United States citizen, but also openly authorizing his followers to work with our primary global adversary against his political opponent.
Even as a visceral opponent of Trump at the time, I considered the quip a lame, half-assed joke. Even with the benefit of much more knowledge of Russian action and the campaign's incredible enmeshment with Russian actors, there's zero reason to believe that the statement did so much as give Putin and company an idea. Given that they were clearly trying to create havoc for Hillary Clinton, of course they were going to try to hack her campaign emails. The idea that Trump was somehow "colluding" in front of television cameras makes no sense even given Trump's strange lack of self-control.
Regardless, it's just not helpful for Brennan and company to be out there with half-baked assertions of "collusion" and "treason." We have an enormously competent and well-resourced investigative team already working on the problem. Let them do their job.
Again, however, Brennan's being a loose cannon is not justification for revoking his clearance. He's not, however, likely to generate a lot of sympathy.