Former Director: C.I.A. Found 'Suspicious Contact' Between Trump Campaign And Russians
Former C.I.A. Director John Brennan testified before a House Committee today, and what he had to say was not good news for the Trump Administration.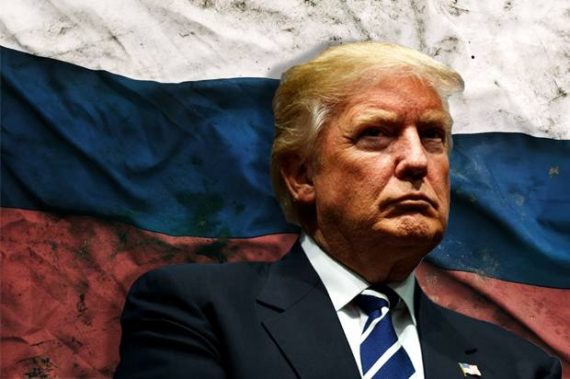 Former C.I.A. Director John Brennan told a Congressional Committee today that there was evidence of 'suspicious contact' between people close to Donald Trump and Russian officials in the months before the 2016 Presidential election:
WASHINGTON — As Russian hackers and propagandists tried to manipulate the American election last year, the C.I.A. noticed a series of suspicious contacts between Russian government officials and associates of Donald J. Trump's campaign, John O. Brennan, the former C.I.A. director, said Tuesday.

In testimony before the House Intelligence Committee, Mr. Brennan described a nerve-fraying few months as American authorities realized that the election was under attack and worried that Mr. Trump's campaign might be aiding that fight. His remarks were the fullest public account to date of the origins of an F.B.I. investigation that continues to shadow the Trump administration.

"I know what the Russians try to do. They try to suborn individual and try to get individuals, including U.S. individuals, to act on their behalf, wittingly or unwittingly," Mr. Brennan said. When he left office in January, he said, "I had unresolved questions in my mind as to whether or not the Russians had been successful in getting U.S. persons involved in the campaign or not to work on their behalf."

Mr. Brennan acknowledged that he did not know whether the Trump campaign colluded with Russian operatives and said the contacts might be benign. But his confirmation of those contacts was the latest revelation to undermine Mr. Trump's changing account of his campaign's links to Russia.

American intelligence agencies have concluded that the Russian president, Vladimir V. Putin, tried to damage Hillary Clinton's candidacy and help Mr. Trump. On Aug. 4, as evidence of that campaign mounted, Mr. Brennan warned Alexander Bortnikov, the director of Russia's Federal Security Service, known as the F.S.B., not to meddle in the election. Not only would interference damage relations between the two countries, he said, it was certain to backfire.

"I said that all Americans, regardless of political affiliation or whom they might support in the election, cherish their ability to elect their own leaders without outside interference or disruption," Mr. Brennan said. "I said American voters would be outraged by any Russian attempt to interfere in election."

Mr. Brennan's warning proved futile. Though intelligence agencies are unanimous in their belief that Russia directly interfered with the election, it has become a divisive partisan issue, with Democrats far more likely than Republicans to accept the conclusion. President Trump has declared that "Russia is fake news" and tried to undermine the conclusions of his own intelligence services.

He has also repeatedly tried to beat back news stories about his campaign's ties to Russia. White House officials tried to enlist the F.B.I. and C.I.A. to dispute stories early this year. Then, after the F.B.I. publicly confirmed its investigation, Mr. Trump asked Dan Coats, the director of national intelligence, and Michael S. Rogers, the director of the National Security Agency, to publicly deny any collusion between Russia and his campaign, according to two former American officials. The Washington Post first reported Mr. Trump's entreaties.

On the day of the F.B.I.'s confirmation, a call from the White House switchboard came in to Mr. Coats's office with a request to speak to the director, a former intelligence official said. Calls from the switchboard are usually from the highest officials at the White House — the president, the vice president or the national security adviser.

Mr. Coats took the call. The official would not confirm what was discussed.

Mr. Coats, who testified Tuesday in a separate congressional hearing, declined to discuss his conversations with the president.

During his candidacy, Mr. Trump's spokeswoman declared that "there was no communication" with foreign entities. And Vice President Mike Pence flatly denied in January that there had been any contacts with Russians. Journalists have since reported repeated undisclosed meetings with Russians. Mr. Trump's first national security adviser, Michael T. Flynn, was forced to resign over misstatements about his conversations with the Russian ambassador to the United States, Sergey I. Kislyak.

A Justice Department special counsel, Robert S. Mueller III, is investigating whether any collusion took place. A grand jury in Northern Virginia has issued subpoenas for information related to Mr. Flynn's lobbying and businesses.
Perhaps most problematic for Trump and his White House, though, is what Brennan said about contacts between the Trump campaign and Russian officials:
Former CIA Director John Brennan said on Tuesday that he had concerns that Russian officials may have successfully recruited aides from Donald Trump's campaign to help in the Kremlin's efforts to influence last year's presidential election.

"I encountered and am aware of information and intelligence that revealed contacts and interactions between Russian officials and U.S. persons involved in the Trump campaign that I was concerned about because of known Russian efforts to suborn such individuals," he told lawmakers. "And it raised questions in my mind again whether or not the Russians were able to gain the cooperation of those individuals."

His remarks, before the House Intelligence Committee, are the most direct acknowledgment yet by a current or former U.S. official that Russia sought to recruit Americans to help in its effort to affect the 2016 contest. The remarks also further complicate matters for President Donald Trump, who has dismissed the investigations into Russia's election meddling as a "witch hunt."

Brennan said that by the time he stepped down as CIA director on Jan. 20, "I had unresolved questions in my mind about whether or not the Russians had been successful in getting U.S. persons, involved in the campaign or not, to work on their behalf, again, either in a witting or unwitting fashion."

He said he believed the FBI's investigation into possible coordination between the Trump campaign and Moscow is "certainly well founded and needed to look into these issues."

The House and Senate Intelligence Committees are also investigating Russia's meddling in the presidential election, including allegations of coordination between the Trump campaign and Moscow. And the FBI's investigation became more serious last week — and potentially more troublesome for Trump — with the naming of a special prosecutor, former FBI Director Robert Mueller, to oversee it.

Brennan made clear on Tuesday that he is not in a position to say whether the interactions he saw between U.S. persons and Russia amounted to collusion, noting that the CIA gathers intelligence but does not investigate crimes. He said he passed evidence collected by the CIA to the FBI, which handles such investigations.

"I know that there was a sufficient basis of information and intelligence that required further investigation by the bureau to determine whether or not U.S. persons were actively conspiring and colluding with Russian officials," Brennan explained.

Asked by Rep. Tom Rooney (R-Fla.) if he saw any evidence of collusion during his time as CIA director, Brennan responded: "I was worried by a number of the contacts that the Russians had with U.S. persons."

A White House spokesman said in a statement Tuesday that the hearings "back up what we've been saying all along: that despite a year of investigation, there is still no evidence of any Russia-Trump campaign collusion."

Brennan also told lawmakers he believes he was the first U.S. official to discuss with Russia its efforts to interfere in the presidential election. He said that last August he contacted the head of Russia's Federal Security Service, Alexander Bortnikov, and raised the issue of Russia's election meddling. He said he warned Bortnikov that such interference would have a negative impact on U.S.-Russia relations.

He said Bortnikov denied that Russia was meddling in the election but also pledged to relay Brennan's message to Russian President Vladimir Putin.
Brennan's comments come just one day after it was reported that Trump had asked his Director of National Intelligence and Director of the National Security Agency if they could assist him in pushing back against the ongoing F.B.I. investigation of Russian intervention in the campaign and the ties, if any, between the Trump campaign and Russian officials. Taken even in their most general contacts, the revelations are suggesting that there is far more evidence in support of the idea that Russia sought to interfere with the election, which of course is something that was at least suspected as far back as last summer in the wake of the Republican and Democratic conventions and the revelations that were being slowly leaked by whoever had hacked into the email of the Democratic National Committee and Clinton confidante John Podesta. There have been several allegations that there were contacts between people who were close to Trump, and who remain strong Trump supporters, and the people believed responsible for the hacking attempts. One of these included reports that Roger Stone, who was an unofficial Trump campaign adviser as well as someone who appeared frequently on cable news networks as a Trump supporter, was in contact with a person who has been as "Gucifer 2.0" who had been responsible for at least some of the hacking attempts. This person was in turn believed to be linked in some way to Wikileaks, which has been identified as at least one of the sources of the anti-Clinton leaks that we saw throughout the campaign.
Obviously, Brennan's concerns and statements are not sufficient evidence either of the nature, content, or purpose of whatever interference by Russia there may have been in the 2016 campaign nor does it confirm that there was collusion between Russia and certain people close to Trump. It's also worth noting that Brennan also stated that it was possible that the Russians were cultivating their relationship with these Trump confidantes in the hope that they could use them in the future to shape American policy more to their liking, or to obtain information about the inner workings of the White House in the event that Trump won the election. It's also possible that these people were unaware of Russian intentions, although one would think you'd have to be something of an idiot to not realize that Russian officials would have anything other than sinister motives for the things they were apparently doing. On the other hand, the idea that there are innocent explanations for the contact between the Trump campaign and Russian officials is undercut by the apparent evidence of an effort by the Administration to quash an investigation of those allegations in a way that we haven't seen since the Nixon Administration tried to shut down the Watergate investigation. This, however, is precisely why we need a full and complete investigation not only by special counsel Robert Mueller but also by the House and Senate regarding what is starting to look like a brazen attempt by a foreign power to disrupt a U.S. Presidential election and apparent efforts by the same power to gain influence inside the campaign of one of the two people most likely to win that election. These are serious allegations, and they deserve a serious, sober investigation that leaves no stone unturned.
Chris Cillizza puts it this way:
This is not someone reading the papers or watching TV and making a snap judgment about Trump and the Russians. This is someone who was intimately familiar with the intelligence gathering regarding Russian attempts to meddle in the election. His voice matters more than most.

So when Brennan says the Russian efforts to "suborn" members of the Trump campaign "raised questions in my mind about whether Russia was able to gain the cooperation of those individuals," it makes it far more difficult for Trump and his senior aides to dismiss all of the questions about Russia's involvement in the election as simply a media-created conspiracy.

If Donald Trump is, as he has insisted since the beginning of all of this, totally innocent of any ties to the Russian meddling, he should be hugely supportive of these investigations designed to get to the bottom of it. To date, he's been the exact opposite.

I don't know why that is. And I won't hazard a guess, either. But Brennan's testimony in regard to his suspicions about the possibility of collusion is broadly consistent with what a number of other high-profile voices — former acting deputy Attorney General Sally Yates, former FBI Director James Comey — have said: That the ties between Russia and the Trump campaign deserve more investigation.

With every statement like the one Brennan made today, it makes it that much harder for Trump to sell the "total hoax" storyline on Russia's meddling. It doesn't mean he'll stop. He likely won't. But his credibility will take deeper and deeper hits if he continues to push that line in the face of lots of smart people saying there's much more to look at here.
Right now, the Trump Administration isn't responding to Brennan's testimony or to yesterday's story claiming another effort by Trump to quash the investigation, beyond the blanket denials and generic press releases claiming that the real problem is the leaks that are making reports like the one in the Post yesterday possible. In part, they're able to get away with that right now because the President is overseas until the end of the week and we are headed into a long Memorial Day weekend after that trip is over. They won't be able to get away with that for much longer, though, and it's likely that there will be new allegations by the time he returns. At the very least, this is going to make it hard for them to accomplish anything in their agenda and, at worst, it's going to mean that they will be far too distracted to get anything done. To some extent, of course, this may not be a bad thing, but the long-term damage this could do to the country if the questions being raised on a daily basis should be rather obvious.