Donald Trump's Dereliction Of Presidential Duty Is Self-Evident
Donald Trump's dereliction of duty in response to clear evidence of Russian interference in the 2016 election is a staggering and flagrant dereliction of the duties he agreed to take on when he took the Oath Of Office more than a year ago.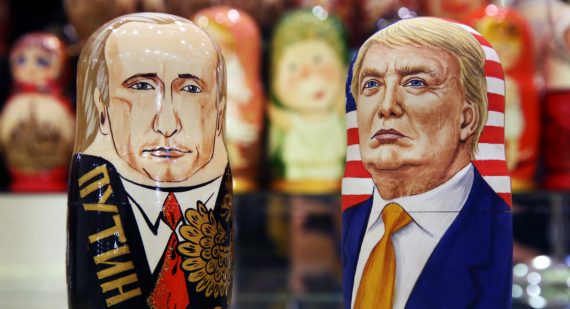 With Friday's announcement of the indictment of thirteen Russians using social media and other means to attempt to interfere with the 2016 Presidential Election, we finally are able to attach names and faces to something that has been alleged or well over a year now. Notwithstanding that fact, President Trump continues to attempt to distance himself from the reality that a foreign power attempted to interfere with an American election and spent much of the President's Day weekend trying to push the false claim that he had never denied the reality of Russian interference and that equally false claim that the indictment actually exonerates him. What we're not hearing from the President, though, is any sign that he is at all inclined to lead the country in response to what the Russian government quite obviously sought to do:
WASHINGTON — After more than a dozen Russians and three companies were indicted on Friday for interfering in the 2016 elections, President Trump's first reaction was to claim personal vindication: "The Trump campaign did nothing wrong — no collusion!" he wrote on Twitter.

He voiced no concern that a foreign power had been trying for nearly four years to upend American democracy, much less resolve to stop it from continuing to do so this year.

The indictment secured by the special counsel, Robert S. Mueller III, underscored the broader conclusion by the American government that Russia is engaged in a virtual war against the United States through 21st-century tools of disinformation and propaganda, a conclusion shared by the president's own senior advisers and intelligence chiefs. But it is a war being fought on the American side without a commander in chief.

In 13 months in office, Mr. Trump has made little if any public effort to rally the nation to confront Moscow for its intrusion or to defend democratic institutions against continued disruption. His administration has at times called out Russia or taken action, and even Mr. Trump's national security adviser, speaking in Germany on Saturday, called evidence of Russian meddling "incontrovertible." But the administration has been left to respond without the president's leadership.

"It is astonishing to me that a president of the United States would take this so lightly or see it purely through the prism of domestic partisanship," said Daniel Fried, a career diplomat under presidents of both parties who is now at the Atlantic Council. He said it invariably raised questions about whether Mr. Trump had something to hide. "I have no evidence that he's deliberately pulling his punches because he has to, but I can't dismiss it. No president has raised those kinds of questions."

Rather than condemn Russia for its actions, Mr. Trump in the past has said he accepts the denial offered by President Vladimir V. Putin. Mr. Trump has not imposed new sanctions called for in a law passed by Congress last year to retaliate for the attack on America's political system, or teamed up with European leaders to counter a common threat. He has not led a concerted effort to harden election systems in the United States with midterm congressional elections on the horizon, or pressed lawmakers to pass legislation addressing the situation.

Michael A. McFaul, an ambassador to Moscow under President Barack Obama, called Mr. Trump's reaction to the indictments "shockingly weak" and said he should instead have criticized Mr. Putin for violating American sovereignty or even announced plans to punish Moscow.

"Instead, he just focused on his own campaign," Mr. McFaul said. "America was attacked, and our commander in chief said nothing in response. He looks weak, not only in Moscow but throughout the world."

The president's silence has not necessarily stopped lower levels of his administration from responding to Russian actions, sometimes going further than Mr. Obama, who was also criticized for not doing enough to counter Moscow's threat. The Trump administration has decided to send weapons to Ukraine so it can defend itself against Russian intervention, and recently imposed sanctions on more human rights violators. After Russia ordered the American Embassy in Moscow to shed most of its staff, the administration responded by ordering Russia to close its consulate in San Francisco and diplomatic annexes in New York and Washington.

Likewise, in just the past few days, the Trump administration formally blamed Russia for an expansive cyberattack last year called NotPetya and threatened unspecified "international consequences." The nation's intelligence agency directors, including those appointed by Mr. Trump, unanimously warned in congressional testimony that Russia was already meddling in this year's midterm elections.

Mr. Trump's own aides readily acknowledge the reality that he does not. Besides describing Russian interference as undeniable on Saturday, Lt. Gen. H.R. McMaster, his national security adviser, speaking at the Munich Security Conference, said Mr. Mueller's charges made clear that Russia had been engaged in a "sophisticated form of espionage" against the United States.

"With the F.B.I. indictment, the evidence is now really incontrovertible and available in the public domain," he said.

Late Saturday night, however, Mr. Trump, contradicted General McMaster, writing on Twitter shortly before midnight that his aide "forgot to say that the results of the 2016 election were not impacted or changed by the Russians and that the only Collusion was between Russia" and the Democrats.

In a second late-night tweet, Mr. Trump said that the F.B.I. missed warning signs of the gunman who killed 17 people at a Florida school on Wednesday because it was too focused on the Russia investigation. "Very sad that the FBI missed all of the many signals sent out by the Florida school shooter," he wrote. "This is not acceptable. They are spending too much time trying to prove Russian collusion with the Trump campaign."

In a second late-night tweet, Mr. Trump said that the F.B.I. missed warning signs of the gunman who killed 17 people at a Florida school on Wednesday because it was too focused on the Russia investigation. "Very sad that the FBI missed all of the many signals sent out by the Florida school shooter," he wrote. "This is not acceptable. They are spending too much time trying to prove Russian collusion with the Trump campaign."
Writing about Trump's apparent unwillingness to lead a fight against Russian election interference, David Frum says this:
The new question is this: What has been—what will be—done to protect American democracy from such attacks in the future? The Russian attack in 2016 worked, yielding dividends beyond Vladimir Putin's wildest hopes. The Russians hoped to cast a shadow over the Clinton presidency. Instead, they outright elected their preferred candidate. Americans once thought it was a big deal that Alger Hiss rose to serve as acting temporary secretary general of the United Nations. This time, a Russian-backed  individual was installed in the Oval Office.

From that position of power, Trump has systematically attempted to shut down investigations of the foreign-espionage operation that operated on his behalf. He fired the director of the FBI to shut it down. His White House coordinated with the chairman of the House Intelligence Committee to misdirect the investigation. He mobilized the speaker of the House to thwart bipartisan investigations under broadly respected leadership. He has inspired, supported, and joined a national propaganda campaign against the Mueller investigation.

And all the while, Trump has done nothing—literally nothing—to harden the nation's voting systems against follow-on Russian operations. On Sunday, he publicly repudiated his own national-security adviser for acknowledging at the Munich Security Conference the most incontrovertible basics of what happened in 2016.

It's worth thinking about what a patriotic president would have done in Trump's situation. He would be leading the investigation himself. He would be scouring his own campaign—doing everything in his power to reassure the country that whatever the Russians may or may not have done, his government owed Putin nothing. He would have imposed penalties on Russia for their outrageous acts—rather than protecting Russia from penalties voted by Congress. Above all, he would be leading the demand for changes to election laws and practices, including holding Facebook to account for its negligence.

At every turn, Trump has failed to do what a patriotic president would do—failed to put the national interest first. He has left the 2018 elections as vulnerable as the 2016 elections to Russian intervention on his behalf.

The president's malignant narcissism surely explains much of this passivity. He cannot endure the thought that he owes the presidency to anything other than his own magnificence. "But wasn't I a great candidate?" he tweeted plaintively at 7:43 a.m on Sunday morning.
Max Boot makes a similar point in The Washington Post:
Imagine if, after 9/11, the president had said that the World Trade Center and Pentagon could have been attacked by "China" or "lots of other people." Imagine if he had dismissed claims of al-Qaeda's responsibility as a "hoax" and said that he "really" believed Osama bin Laden's denials. Imagine if he saw the attack primarily as a political embarrassment to be minimized rather than as a national security threat to be combated. Imagine if he threatened to fire the investigators trying to find out what happened.

Imagine, moreover, if the president refused to appoint a commission to study how to safeguard America. Imagine if, as a result, we did not harden cockpit doors. If we did not create a Transportation Security Administration and a Department of Homeland Security. If we did not lower barriers between law enforcement and intelligence. If we did not pass a USA Patriot Act to enhance surveillance. And if we did not take myriad other steps to prevent another 9/11.

That's roughly where we stand after the second-worst foreign attack on America in the past two decades. The Russian subversion of the 2016 election did not, to be sure, kill nearly 3,000 people. But its longer-term impact may be even more corrosive by undermining faith in our democracy.

(…)

[I[n a disturbing weekend tweetstorm, President Trump attacked the FBI, Democrats, even McMaster — anyone but the Russians. He sought to minimize the impact of the Kremlin's intrusion, tweeting: "The results of the election were not impacted. The Trump campaign did nothing wrong – no collusion!" Actually, there's plenty of evidence of collusion, including the infamous June 2016 meeting that Trump's son, son-in-law and campaign manager held with Russian representatives who promised to "incriminate" Hillary Clinton.

There is also considerable evidence that the Kremlin impacted the election, which was decided by fewer than 80,000 votes in three states. Trump must have thought the Russian operation was significant because he mentioned its handiwork — the release of Democratic Party documents via WikiLeaks — 137 times in the final month of the campaign. On top of that, Russian propaganda reached at least 126 million Americans via Facebook alone.

The onslaught did not end in 2016. Russian trolls have continued promoting hashtags such as #ReleaseTheMemo to sow dissension and division. Director of National Intelligence Daniel Coats just testified that Russia "views the 2018 U.S. midterm elections as a potential target for Russian influence operations." Yet Trump has never convened a Cabinet meeting to address this threat and has resisted implementing sanctions passed by Congress.

The president's obstructionism makes it impossible to appoint an 11/8 Commission to study this cyber-assault and to recommend responses. Various agencies, such as the FBI, are trying to combat the Russians on their own, but there is no coordinated response.
Washington Post  columnist Ruth Marcus, meanwhile, calls it a 'staggering dereliction of duty' on Trump's part:
[T]here is no depth to which Trump will not sink in defense of the only thing he holds dear: himself. And so, the nation witnessed a tweet in which the president, a leader to whom the country once looked for healing in times of national tragedy, instead used innocent victims, high school children mowed down in their own school, to make his bogus, self-interested point: "Very sad that the FBI missed all of the many signals sent out by the Florida school shooter. This is not acceptable. They are spending too much time trying to prove Russian collusion with the Trump campaign – there is no collusion. Get back to the basics and make us all proud!"

Did he? Did he really use dead children to attack an investigation into his campaign and his conduct in office? Yes, he did. This is a person devoid of empathy. He can experience the world only through the prism of his own ego. He can read the requisite words from a teleprompter — "To every parent, teacher, and child who is hurting so badly, we are here for you — whatever you need, whatever we can do, to ease your pain" — but he is incapable of feeling them. No one who imagines the shattered heart of a grieving parent could have written that despicable tweet.

Trump's response can largely be explained, I think, by the fact that his main obsession has been with using whatever news headlines bring forward regarding the investigation to argue that none of it implicate him directly in either collusion or of having played a direct role in the efforts by Trump campaign officials to obtain "dirt" on Hillary Clinton and others to the point that they were taking meetings with people with known connections to the Russian government to get it. While it's true that we have no direct proof that Trump knew what was going on, that doesn't preclude the possibility that he might have known, nor does it preclude or even explain the extent which he has sought to undermine the Russia investigations by Bob Mueller, and by two separate Congressional committees. In addition to being primarily concerned with pushing back against the idea of any Trump campaign collusion with Russia, it's also clear that the President is primarily, indeed obsessively, concerned with the idea that any acknowledgment of the seriousness of the problem would undermine the reality of his election victory and, consequentially, his legitimacy.  This is likely why he has ignored the clear evidence of Russia's interference in the 2016 campaign, the evidence that many of the tactics they utilized toward that effort have continued to this day in connection with everything from release of the Nunes memo to the gun control debate in the wake of last week's Florida school shooting, and the evidence that they intend to mount a similar interference effort in the 2018 campaign. Any effort or desire to protect the integrity of the election system, or the nation, in the midst of what clearly seems like an attack on the democratic electoral process by an adversarial country is taking a back seat to all of these concerns in Trump's mind, and as a result the nation remains as vulnerable to such interference as it was in 2014 when the conspiracy set forth in last Friday's indictments began.
Further evidence of Trump's clear dereliction of what clearly seems to fall within his duties as President can be seen in the extent to which he has sought to undermine the various Russia investigations over the course of the past year. In February of last year, for example, The President asked James Comey, who was still F.B.I. Director at the time, to end the investigation of former National Security Adviser Michael Flynn. Two months later, Trump fired Comey just days after Comey testimony before a Senate committee during which he publicly confirmed that the Bureau was investigating both the allegations of Russian interference in the election and potential contacts between Trump campaign officials and people connected to the Russian government. While the Administration initially claimed Comey was fired due to the investigation into Hillary Clinton's email server and her handling of classified information. It only took a few days, though or the President to admit in a televised interview that he fired Comey because of the Russia investigation. In addition to all this, the President also pressured the heads of the intelligence agencies  to bring the investigation to an  end, implored Senators to end the Senate Intelligence Committee investigation of the matter, and participated in the drafting of a deliberately misleading White House statement regarding his son's meeting with a Russian lawyer in June 2016. Finally and most recently, there have been rumors that Trump has at least considered firing special counsel Robert Mueller and Attorney General Jeff Sessions as a means of undermining the investigation. In addition to all this, of course, there is Trump's long history of using his Twitter account and public speeches and statements to attempt to label the allegations of Russian interference as "Fake News," a campaign that obsequious media organizations such as Fox News Channel and pro-Trump pundits who appear regularly on other news networks have eagerly and enthusiastically parroted.
As Frum, Boot, and Marcus note in their respective columns, Trump's failure to acknowledge the reality of Russian interference in the 2016 campaign, and his ongoing failure to do anything about the prospect of it happening in the future, are a clear dereliction of his duty as President of the United States. While one could argue that this kind of interference doesn't rise to the level of something as serious as the September 11th attacks or cyber-warfare aimed at disrupting critical infrastructure, it's not very far removed. For one thing, the Russian operation was clearly aimed at exploiting the hyperpartisanship that has become an all too common part of America's political system and using it to create chaos and confusion. In that sense, the operation was a remarkable success that they will obviously try to repeat again in the future. Failing to defend the nation from such an attack is clearly a dereliction of one of the obligations that Trump took on when he took the oath of office on January 20th, 2017. Additionally, failure to respond to attacks such as these sends a signal to Russia and other world powers about the resolve that this Administration has regarding threats from abroad that risks bringing on more serious attacks on American interests in the future. Finally, failure to act in the face of all the evidence just lends more credence to the hypothesis that he doesn't really care if the Russians interfere in our elections or even that there's some reason why, of all the people and nations he's attacked since he became a candidate for President, both Vladimir Putin and Russia have been curiously missing from that list. Why that is the case I'll leave for the reader to decide on their own.