Trump Pressed Top Senators To End Russia Investigation
For a guy who considers the Russia investigation "Fake News," President Trump sure is doing a lot to try to stop it.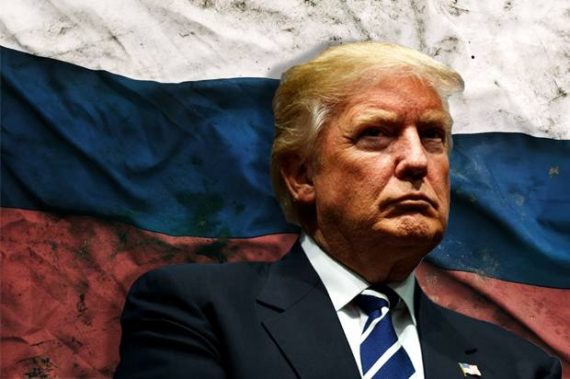 Even before the news about Michael Flynn's guilty plea was released, there was other big news in the investigation into Russian attempts to interfere in the 2016 election and possible collusion between the Trump campaign and Russia. Specifically, The New York Times reported this morning that President Trump contacted several members of the Senate in an effort to get them to bring the investigation into the Russia matter to a close:
WASHINGTON — President Trump over the summer repeatedly urged senior Senate Republicans, including the chairman of the Senate Intelligence Committee, to end the panel's investigation into Russia's interference in the 2016 election, according to a half dozen lawmakers and aides. Mr. Trump's requests were a highly unusual intervention from a president into a legislative inquiry involving his family and close aides.

Senator Richard Burr of North Carolina, the intelligence committee chairman, said in an interview this week that Mr. Trump told him that he was eager to see an investigation that has overshadowed much of the first year of his presidency come to an end.

"It was something along the lines of, 'I hope you can conclude this as quickly as possible,'" Mr. Burr said. He said he replied to Mr. Trump that "when we have exhausted everybody we need to talk to, we will finish."

In addition, according to lawmakers and aides, Mr. Trump told Senator Mitch McConnell of Kentucky, the Republican leader, and Senator Roy Blunt, Republican of Missouri and a member of the intelligence committee, to end the investigation swiftly.

Senator Dianne Feinstein, a California Democrat who is a former chairwoman of the intelligence committee, said in an interview this week that Mr. Trump's requests were "inappropriate" and represented a breach of the separation of powers.

"It is pressure that should never be brought to bear by an official when the legislative branch is in the process of an investigation," Ms. Feinstein said.

Raj Shah, a White House spokesman, said on Thursday that the president had not acted improperly. Mr. Trump, he said, "at no point has attempted to apply undue influence on committee members" and believes "there is no evidence of collusion and these investigations must come to a fair and appropriate completion."

Mr. Trump's requests of lawmakers to end the Senate investigation came during a period in the summer when the president was particularly consumed with Russia and openly raging at his own attorney general, Jeff Sessions, for recusing himself from any inquiries into Russian meddling in the election. Mr. Trump often vented to his own aides and even declared his innocence to virtual strangers he came across on his New Jersey golf course.

In this same period, the president complained frequently to Mr. McConnell about not doing enough to bring the investigation to an end, a Republican official close to the leader said.

Republicans played down Mr. Trump's appeals, describing them as the actions of a political newcomer unfamiliar with what is appropriate presidential conduct.

Mr. Burr said he did not feel pressured by the president's appeal, portraying it as the action of someone who has "never been in government." But he acknowledged other members of his committee have had similar discussions with Mr. Trump. "Everybody has promptly shared any conversations that they've had," Mr. Burr said.

(…)

Mr. Trump also called other lawmakers over the summer with requests that they push Mr. Burr to finish the inquiry, according to a Republican senator who requested anonymity to discuss his contact with the president.

This senator, who was alarmed upon hearing word of the president's pleas, said Mr. Trump's request to the other senators was clear: They should urge Mr. Burr to bring the Russia investigation to a close. The senator declined to reveal which colleagues Mr. Trump had contacted with the request.

Some of Mr. Trump's advisers feared he would move to fire Mr. Mueller, an option that the president pointedly left open in an Oval Office interview with The New York Times in July.

During this time, Mr. Trump made several calls to senators without senior staff present, according to one West Wing official. According to senators and other Republicans familiar with the conversations, Mr. Trump would begin the talks on a different topic but eventually drift toward the Russia investigation.

In conversations with Mr. McConnell and Senator Bob Corker, the Tennessee Republican who is chairman of the Senate Foreign Relations Committee, Mr. Trump voiced sharp anger that congressional Republicans were not helping lift the cloud of suspicion over Russia, the senators told political allies. The Times reported in August that the president had complained to Mr. McConnell that he was failing to shield Mr. Trump from an ongoing Senate inquiry.

The earlier call with Mr. Burr, however, was perhaps the most invasive, given Mr. Burr's role directly supervising the Senate's investigation of Mr. Trump.

Mr. Burr told other senators that Mr. Trump had stressed that it was time to "move on" from the Russia issue, using that language repeatedly, according to people who spoke with Mr. Burr over the summer. One Republican close to Mr. Burr, who spoke on condition of anonymity, said that Mr. Trump had been "very forceful."

Asked why Mr. Trump is so irritated with the investigation, Mr. Burr said: "In his world it hampers his ability to project the strength he needs to convey on foreign policy."

Mr. Burr said Mr. Trump was not fully aware of the impropriety of his request because the president still has the mind-set of a businessman rather than a politician. "Businessmen are paid to skip things that they think they can skip and get away with," he said.
This isn't the first that we've heard about Trump attempting to influence the Russia investigation, of course. Mere days after he had been let go as National Security Adviser, Trump asked F.B.I. Director James Comey to go easy on Flynn and to basically bring that aspect of the Bureau's investigation to a close. Not only did Comey not do this, but he testified regarding the scope of the investigation in early May, just days before he was fired by Trump on what later clearly ended up being trumped up charges regarding the investigation into Hillary Clinton's email server and her use and treatment of classified information. Trump ended up acknowledging within a few days of Comey's dismissal that it was, in fact, the Russia investigation that was the primary motivation for firing Comey. Later in the year, it was reported that Trump had contacted the heads of the intelligence agencies and leaned on them to bring the investigation to the end and perhaps even to influence their potential testimony to Congress regarding the extent of the findings of the intelligence bureaus with regard to Russian interference in the election and, more specifically, to state that Trump and his campaign did not collude with Russia or Russian officials in connection with the election.
What all of this reveals is a clear effort on the part of Trump and other members of the Administration to impair, impede, or bring to an end the ongoing investigations into Russia and collusion not only by Robert Mueller but also by the House and the Senate. This belies the objections we've heard from Trump and others that there is no story to pursue and that the entire Russia investigations constitute so-called "Fake News." If that were the case, then why is the Administration putting so much effort into trying to shut the investigation down and discredit it before it has even really begun? One could make the case, I suppose, that this is simply a signal that Trump is frustrated by the scope and invasiveness of the investigation so far, but that in and of itself leads one to wonder what, if anything, it might be that the President doesn't want Mueller and the House and Senate committees to look into, and what it is that he or the people around him might have to hide. It is, in other words, suspicious behavior that can't be dismissed as the response of someone who doesn't have something that they don't want to see made public.
This is hardly evidence of wrongdoing, of course, but as the Watergate era slogan goes, it's not necessarily the crime of Russian interference and possible collusion that could end up being a problem for Trump, but the cover-up. In the wake of James Comey's firing, Trump's efforts to actively undermine the Mueller investigation, subsequent suggestions that Trump might try to force Robert Mueller out of office, something that Trump did not rule out over the summer, there has been much talk about the idea that the President may be coming close to obstructing justice or attempting to obstruct justice, both of which constitute crimes and both of which were at the center of the charges against President Nixon just prior to his resignation. We're far from that point with President Trump, of course, but the evidence that he is actively seeking to discredit and shut down the Russia investigation is there, and the question of why he would do so unless he had something to hide is difficult to answer.