Republican Senators Commit Insider Trading after Coronavirus Brief
Richard Burr, Jim Inhofe, David Perdue and Kelly Loeffler should go to jail.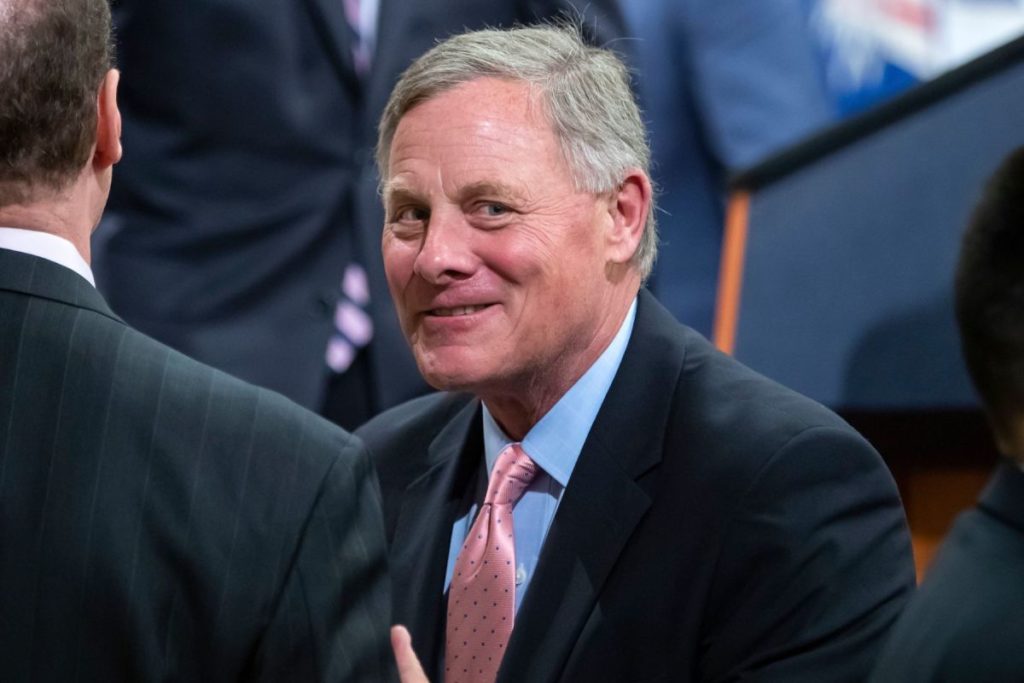 It is illegal for Members of Congress and other government employees to profit from their access to classified information not available to the public. At least four Senate Republicans cashed in after learning of the severity of the coming novel coronavirus.
WaPo ("Sen. Richard Burr (R-N.C.), head of powerful committee, sold large amount of stocks before sharp declines in market"):
Senate Intelligence Committee Chairman Richard Burr (R-N.C.), who had expressed confidence in the country's preparedness for the coronavirus outbreak, sold a significant share of his stocks last month, according to public disclosures.

The sales included stocks in some of the industries that have been hardest hit by the global pandemic, including hotels and restaurants, shipping, drug manufacturing, and health care, records show.
Until about a week ago, President Trump and GOP leaders had projected optimism in the country's ability to manage the global outbreak of the coronavirus.

As head of the powerful Intelligence Committee, Burr reportedly was receiving daily briefings on the threat of the virus. In mid-February, he sold 33 stocks held by him and his spouse, estimated at between $628,033 and $1.72 million, Senate financial disclosures show. It was the largest number of stocks he had sold in one day since at least 2016, records show. The Feb. 13 stock sales were first reported by the Center for Responsive Politics.
The Daily Beast appears to have broken the news on the second case ("Sen. Kelly Loeffler Dumped Millions in Stock After Coronavirus Briefing"):
The Senate's newest member sold off seven figures' worth of stock holdings in the days and weeks after a private, all-senators meeting on the novel coronavirus that subsequently hammered U.S. equities.

Sen. Kelly Loeffler (R-GA) reported the first sale of stock jointly owned by her and her husband on Jan. 24, the very day that her committee, the Senate Health Committee, hosted a private, all-senators briefing from administration officials, including the CDC director and Anthony Fauci, the head of the National Institute of Allergy and Infectious Diseases, on the coronavirus.

"Appreciate today's briefing from the President's top health officials on the novel coronavirus outbreak," she tweeted about the briefing at the time.
AJC ("Perdue, Loeffler among senators whose stock trading during coronavirus raises questions") reports that both Georgia Senators were involved in the scandal:
Georgia's two U.S. senators bought and sold stocks during the same time they were receiving briefings on the coronavirus outbreak, leading to questions about whether they used inside information to guide their financial dealings.

U.S. Sens. David Perdue and Kelly Loeffler both were wealthy before they arrived on Capitol Hill, but there is new scrutiny surrounding financial decisions they and other members have made during the coronavirus pandemic.
Senate rules prohibit members from profiting off of inside information they learn through their elected offices that is not available to the public.
Perdue in nearly 100 transactions bought and sold in equal amounts, although exact figures cannot be determined because senators are only required to report transactions within ranges. Loeffler unloaded stocks at a much more rapid pace than she made purchases, taking money out of the market.

Loeffler's, in tweets posted shortly after midnight, dismissed the criticism.

"This is a ridiculous and baseless attack," she wrote. "I do not make investment decisions for my portfolio. Investment decisions are made by multiple third-party advisors without my or my husband's knowledge or involvement."

Loeffler said she wasn't aware of transactions made in late January until Feb. 16, three weeks after they occurred.

A spokeswoman for Perdue said that his financial disclosures show no wrong-doing and that he also uses third-party money managers.

"Senator Perdue goes above and beyond to comply with current law and meet all Senate ethics requirements, he is not involved in any day-to-day investment decisions and uses an outside financial advisor to manage all assets and publicly report every transaction in a timely manner," Cherie Gillan said.
Raw Story brings the number to four with their report "Republican Jim Inhofe dumped up to $450,000 in stock — the fourth GOP senator implicated in scandal."
The GOP Senate Caucus faced a massive scandal on Thursday after multiple GOP senators revealed in public filings that they had sold large stock holdings after private briefings on the coronavirus scandal.

Sen. Richard Burr (R-NC), Sen. Kelly Loeffler (R-GA) and Sen. Ron Johnson (R-WI) have all be implicated in the scandal.

Now conservative Oklahoma Sen. Jim Inhofe has also been caught up, after reporting he sold in late February.

There have been calls for the implicated lawmakers to resign from office over the scandal.
Do I believe that some or all of these Senators don't pick stocks themselves but rely on financial advisors? Sure. Do I believe that it's just a coincidence that they sold off massive amounts of stock in a bull market right before a global economic meltdown in the days after they received a private briefing? No. No, I don't.
To make matters worse, Burr was apparently tipping off his donors as well.
NPR ("Intelligence Chairman Raised Virus Alarms Weeks Ago, Secret Recording Shows"):
The chairman of the Senate Intelligence Committee warned a small group of well-connected constituents three weeks ago to prepare for dire economic and societal effects of the coronavirus, according to a secret recording obtained by NPR.

The remarks from U.S. Sen. Richard Burr were more stark than any he had delivered in more public forums.

On Feb. 27, when the United States had 15 confirmed cases of COVID-19, President Trump was tamping down fears and suggesting that the virus could be seasonal.

"It's going to disappear. One day, it's like a miracle. It will disappear," the president said then, before adding, "it could get worse before it gets better. It could maybe go away. We'll see what happens."

On that same day, Burr attended a luncheon held at a social club called the Capitol Hill Club. And he delivered a much more alarming message.

"There's one thing that I can tell you about this: It is much more aggressive in its transmission than anything that we have seen in recent history," he said, according to a secret recording of the remarks obtained by NPR. "It is probably more akin to the 1918 pandemic."

The luncheon had been organized by the Tar Heel Circle, a nonpartisan group whose membership consists of businesses and organizations in North Carolina, the state Burr represents. Membership to join the Tar Heel Circle costs between $500 and $10,000 and promises that members "enjoy interaction with top leaders and staff from Congress, the administration, and the private sector," according to the group's website.

In attendance, according to a copy of the RSVP list obtained by NPR, were dozens of invited guests representing companies and organizations from North Carolina. And according to federal records, those companies or their political committees donated more than $100,000 to Burr's election campaign in 2015 and 2016. (Burr announced previously he was not planning to run for reelection in 2022.)

Thirteen days before the State Department began to warn against travel to Europe, and 15 days before the Trump administration banned European travelers, Burr warned those in the room to reconsider.

"Every company should be cognizant of the fact that you may have to alter your travel. You may have to look at your employees and judge whether the trip they're making to Europe is essential or whether it can be done on video conference. Why risk it?" Burr said.

Sixteen days before North Carolina closed its schools over the threat of the coronavirus, Burr warned it could happen.

"There will be, I'm sure, times that communities, probably some in North Carolina, have a transmission rate where they say, 'Let's close schools for two weeks. Everybody stay home,' " he said.

And Burr invoked the possibility that the military might be mobilized to combat the coronavirus. Only now, three weeks later, is the public learning of that prospect.
Time, as they say, is money.
While it seems now that we've been talking about this crisis for months, it's only been a few weeks. Indeed, China didn't even announce the epidemic there until December 31. As best I can tell, the first mention of the outbreak at OTB was on February 15, and even then it was about whether it's time to rethink Chinese investment, with the epidemic just one factor among many.
By February 28, world stocks were down $5 trillion.
Now, in fairness to Burr, US stocks and global stocks were already falling by the time of the luncheon. But President Trump and he himself were telling the general public that things weren't that bad. Indeed, the President was telling people that the alarm was a Democratic hoax.
Political scandals are often complicated. There was enough messiness around, for example, the degree to which the Trump campaign colluded with the Russians to interfere in the 2016 election that those who wanted to dismiss the issue could. This one, though, is plain and simple: Senators used inside information to make themselves and their wealthy supporters rich while simultaneously lying to the American public in a way that almost certainly got a lot of people killed.
UPDATE: WaPo reports that Burr was one of only three Senators who voted against the STOCK Act of 2012, which applied existing insider trading laws to Members of Congress and their staffs.