Donald Trump's Politically Stupid Attack On A Grieving Family
Of course Donald Trump responded to a Gold Star Father in the worst possible way.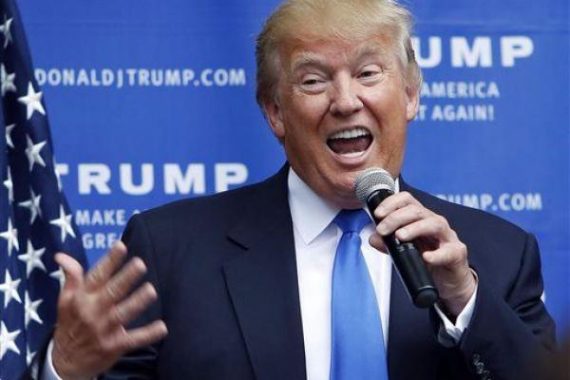 Donald Trump responded to Khizr Khan, the Gold Star Father who lost a son in Iraq in 2005 and spoke Thursday night at the Democratic National Convention, in the most crass, insulting, and seemingly politically stupid way possible:
Donald J. Trump belittled the parents of a slain Muslim soldier who had strongly denounced Mr. Trump during the Democratic National Convention, saying that the soldier's father had delivered the entire speech because his mother was not "allowed" to speak.

Mr. Trump's comments, in an interview with George Stephanopoulos of ABC News that will air on Sunday, drew quick and widespread condemnation and amplified calls for Republican leaders to distance themselves from their presidential nominee. With his implication that the soldier's mother had not spoken because of female subservience expected in some traditional strains of Islam, his comments also inflamed his hostilities with American Muslims.

Khizr Khan, the soldier's father, lashed out at Mr. Trump in an interview on Saturday, saying his wife had not spoken at the convention because it was too painful for her to talk about her son's death.

Mr. Trump, he said, "is devoid of feeling the pain of a mother who has sacrificed her son."

Gov. John Kasich of Ohio, a rival of Mr. Trump's in the Republican primaries who has refused to endorse him, castigated him on Twitter. "There's only one way to talk about Gold Star parents: with honor and respect," he wrote, using the term for surviving family members of those who died in war.

And Hillary Clinton, Mr. Trump's Democratic opponent, said he "was not a normal presidential candidate."

"Someone who attacks everybody has something missing," she told a crowd at a campaign stop in Youngstown, Ohio. "I don't know what it is. I'm not going to get into that."

(…)

Mr. Trump told Mr. Stephanopoulos that Mr. Khan seemed like a "nice guy" and that he wished him "the best of luck." But, he added, "If you look at his wife, she was standing there, she had nothing to say, she probably — maybe she wasn't allowed to have anything to say, you tell me."

Mr. Trump also told Maureen Dowd of The New York Times on Friday night, "I'd like to hear his wife say something."

In a statement late Saturday, Mr. Trump called Captain Khan a "hero," and reiterated his belief that the United States should bar Muslims from entering the country.

"While I feel deeply for the loss of his son," he added, "Mr. Khan, who has never met me, has no right to stand in front of millions of people and claim I have never read the Constitution, (which is false) and say many other inaccurate things."

(…)

And when asked what he would say to the grieving father, Mr. Trump replied, "I'd say, 'We've had a lot of problems with radical Islamic terrorism.'"

Mr. Stephanopoulos also noted that Mr. Khan said that Mr. Trump had "sacrificed nothing," and had lost no one.

"I think I've made a lot of sacrifices," Mr. Trump replied. "I've worked very, very hard. I've created thousands and thousands of jobs."
Khan,who will appear on at least one Sunday morning show today, responded to Trump late yesterday:
Responding to Trump's latest statement, Khan said, "This is faked empathy."

"What he said originally — that defines him . . . People are upset with him. He realizes, and his advisers feel that [his original statement] was a stupid mistake. That proves that this person is void of empathy. He is unfit for the stewardship of this great country. You think he will empathize with this country, with the suffering of this country's poor people? He showed his true colors when he disrespected this country's most honorable mother… all the snake oil he is selling, and my patriotic, decent Americans are falling for that. Republicans are falling for that. And I can only appeal to them. Reconsider. Repudiate. It's a moral obligation. A person void of empathy for the people he wishes to lead cannot be trusted with that leadership. To vote is a trust. And it cannot be placed in wrong hands."

In response to Trump's attack on his wife, Khan said the Republican nominee's words were "typical of a person without a soul."

Khan said his wife didn't speak because she breaks down when she sees her son's photograph — a huge one of which was projected onto a screen behind the stage at the convention.

"Emotionally and physically — she just couldn't even stand there, and when we left, as soon as we got off camera, she just broke down. And the people inside, the staff, were holding her, consoling her. She was just totally emotionally spent. Only those parents that have lost their son or daughter could imagine the pain that such a memory causes. Especially when a tribute is being paid. I was holding myself together, because one of us had to be strong. Normally, she is the stronger one. But in the matter of Humayun, she just breaks down any time anyone mentions it."

Khan said he asked his wife whether she wanted to address the convention.

"I asked her, 'Do you want to say something? Thank you? We are glad?'" Khan said. "She said, 'You know what will happen. I will sob.' Would any mother be able to utter a word under those circumstances?"

(…)

Speaking of Trump's proposed suspension of Muslim immigration, Khan said that the candidate is simply "pandering for votes."

"This is my country too," he said, adding that Trump "lacks understanding," that most Muslims are victims of terrorism, not perpetrators — and they condemn it. "He lacks awareness of these issues. He doesn't realize there are patriotic Muslim Americans in this country willing to lay their lives for this country. We are a testament to that."

Khan said since his speech Thursday, he's received a unexpected flood of emails from judges, lawyers and others around the country who he thinks have become emboldened since his appearance.

"What has caused this stir is how those words have strengthened the hearts of people," he said. "These are scholars, very prominent judges, prominent lawyers — one said very clearly: 'I have never voted Democrat. I will vote Democrat this year. I want you to know that somehow you have touched my heart."
In the mind of a rational politician, of course, there is really only one way to respond to the parents of a fallen soldier, even one who has directly criticized you. You issue a statement making note of the loss of their son (or daughter) and leave it at that. Attacking the parents themselves is something fraught with political danger, especially among voters in a closely fought election where comments that turn off even a small category of the electorate could go a long way toward deciding the outcome of the election itself. Donald Trump, of course, is not a rational politician. Instead of letting the grief of these parents speak for itself and moving on, Trump is quite clearly a man who cannot help but respond to any attack on him in the worst possible way, and he demonstrates that quite clearly in this case. He starts out with a swipe at Mrs. Khan, who did not speak during her husband's speech but has spoken out subsequently, and suggested that she was "not allowed to speak," thus reinforcing the notion that the view of women that applies among jihadists and in orthodox Muslim countries such as Saudi Arabia, the Gulf States, and Iran. Apparently, he didn't consider the possibility that she just couldn't speak at that point in time about something that, even a decade later, still impacts her and a her family very deeply. Besides all of that, the look on Mrs. Khan's face as her husband spoke said more than any words possibly could have under the circumstances. Finally, Trump's comment that he has also 'sacrificed' in response to a parent who lost his son is perhaps one of the most politically tone deaf responses ever uttered. What, exactly, has Donald Trump sacrificed at any point in his life that can compare to the life of a son?
Someone who had the slightest sympathy for his fellow man would consider things like this, and certainly wouldn't attack parents who have lost their son in war. We've learned over the past year, though, that Donald Trump has very little empathy for anyone other than himself, at least when he speaks on the public stage. Even in response to tragedies such as a the terror attacks in Paris, San Bernardino, Nice, and elsewhere, his responses to tragic events tend to become opportunities for self-promotion rather than actual expressions of sympathy. Similarly, when faced with the comments of a father who lost his son, a father who would not even be in this country if Trump's "ban all Muslims" immigration policy had been in effect when he sought to come to this country in the 1970s, Trump responds not with empathy, but with an attack and a gratuitous slap at a grieving mother. This is what the Republican Party puts forward as its best?
In any case, thanks to Trump's decision to respond to Khan, this story is likely to have legs for the next few days. As we know from past history, it certainly isn't going to be enough to turn off his most rabid supporters and it may only have a tangential impact on the polls at best, but I doubt it's going to help very much. As always seems to happen with Trump, though, it's something that reinforces all of the negative stereotypes about him and, to that extent, it plays right into the hands of a Democratic campaign that is quite obviously far more willing to take Trump on head-to-head than any of his Republican opponents were during the long race for the Republican nomination. It's also the kind of thing that could have a negative impact on swing voters who haven't quite made up their mind yet. Trump is already reaching unseen before lows in his favorable/unfavorable numbers and things like this are unlikely to help improve on those numbers. If he continues to fall, it could make any prospect of a viable path to the White House all the more impossible. In that case, he'll have nobody but himself to blame.
Update: Ghazala Khan, Mr. Khan's wife, has written a piece for The Washington Post:
Walking onto the convention stage, with a huge picture of my son behind me, I could hardly control myself. What mother could? Donald Trump has children whom he loves. Does he really need to wonder why I did not speak?

Donald Trump said that maybe I wasn't allowed to say anything. That is not true. My husband asked me if I wanted to speak, but I told him I could not. My religion teaches me that all human beings are equal in God's eyes. Husband and wife are part of each other; you should love and respect each other so you can take care of the family.

When Donald Trump is talking about Islam, he is ignorant. If he studied the real Islam and Koran, all the ideas he gets from terrorists would change, because terrorism is a different religion.

Donald Trump said he has made a lot of sacrifices. He doesn't know what the word sacrifice means.
Just as with Khizr Kahn, Trump will feel compelled to respond to this. His advisers should do everything they can to dissuade him from doing that.