A Gold Star Father Rebukes Donald Trump
More than any politician that spoke last night, it was the father of a fallen solider who stole the night.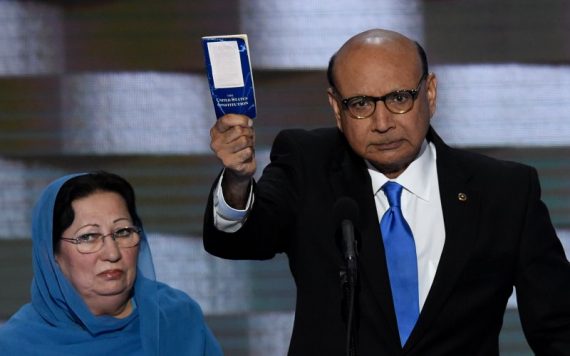 Perhaps the highest impact moment of last night's final night of the Democratic National Convention came not when one of the politicians spoke, not when Chelsea Clinton spoke to introduce her mother, and not when Hillary Clinton herself spoke at the end of her night, but when the parents of a young man who died serving his country in Iraq took to the stage
Donald Trump was speaking at an event in Iowa, complaining that America was not allowed to waterboard terrorists, when Khizr Khan and his wife walked up to the microphone at the Democratic convention in Philadelphia.

Khan's son, Humayun, was a captain in the U.S. Army. When a vehicle packed with explosives approached his compound in Iraq in 2004, he instructed his men to seek cover as he ran toward it. The car exploded, killing Khan instantly. He was awarded the Bronze Star posthumously.

In 2005, The Washington Post interviewed Khizr Khan. "They did not call him Captain Khan," he said of the men his son led. "They called him 'our captain.' "

"We are honored to stand here as the parents of Capt. Humayun Khan," the elder Khan said at the Democratic convention, "and as patriotic American Muslims with undivided loyalty to our country." He spoke of his son's dreams of becoming a military lawyer and how Hillary Clinton had referred to his son as "the best of America."
Khan spoke proudly of his son's service and the fact that he gave up the relatively safe job of training to become a military lawyer to serve on the front lines in a controversial war, but then he brought the house down when he turned his attention to the Republican nominee:
"If it was up to Donald Trump, [Humayun] never would have been in America," Khan said. "Donald Trump consistently smears the character of Muslims. He disrespects other minorities, women, judges, even his own party leadership. He vows to build walls and ban us from this country.

"Donald Trump," he said, "you are asking Americans to trust you with our future. Let me ask you: Have you even read the U.S. Constitution? I will gladly lend you my copy." He pulled a copy of the Constitution from his pocket. "In this document, look for the words 'liberty' and 'equal protection of law.' " Earlier this month, Trump promised congressional Republicans that he would defend "Article XII" of the Constitution, which doesn't exist.

"Have you ever been to Arlington Cemetery?" Khan said. "Go look at the graves of the brave patriots who died defending America — you will see all faiths, genders, and ethnicities.

"You have sacrificed nothing. And no one."
It was a powerful moment, and a unique one that could not have happened in any other election year because, of course, we've never before had an election where a major party nominee is running on the idea of excluding people of an entire religion from even coming to this country. In Donald Trump's America, Khizr Khan and his wife never would have had the opportunity to come to the United States in the 1970s, where Mr. Khan became a success in his own right and raised three children, all of whom were accepted for attendance at the University of Virginia. In Donald Trump's America, Captain Khan never would have had the chance to serve his country, and he never would have had the chance to die saving his fellow soldiers from the car bomb that came speeding toward the checkpoint he was manning in June 2004, giving his own life to save others, In Donald Trump's America, the Khan's would be seen as enemies rather than potential citizens who contributed to their adopted nation. All of that makes this Gold Star Father's rebuke of Trump's  all the more powerful, and turns it into something that Trump can't simply dismiss with a sarcastic tweet or speech. Captain Khan and his father show us what America is really all about. Donald Trump shows us the dark side of what America could become if the rhetoric he engages in becomes part of the mainstream of American politics, As the election moves forward, one can only hope that there are more Captain Khan's than there are Donald Trump's.
Here's video of Mr Khan's speech last night: