Can Someone Without A Filter Be A Viable Presidential Candidate?
Brian Schweitzer has a reputation for saying things that most politicians wouldn't, but that may be just what he needs to get attention if he runs in 2016.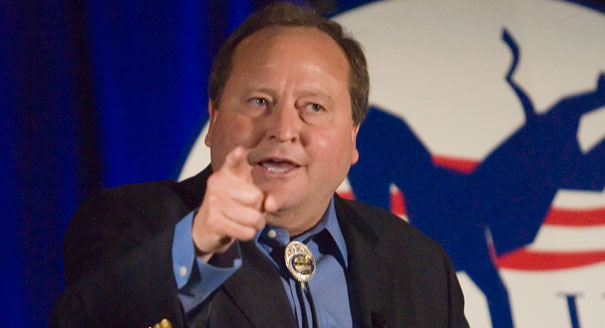 Former Montana Governor Brian Schweitzer has a reputation for speaking his mind regardless of the consequences, and that was definitely on full display during a recent interview in which he opined about Eric Cantor's primary loss, among other issues:
Former Montana Gov. Brian Schweitzer (D) doesn't have much of a filter.

The potential presidential hopeful spoke with National Journal's Marin Cogan for a wide-ranging profile published Tuesday and offered some pretty off-color opinions about politicians on both sides of the aisle.

When Cogan called him up on the night House Majority Leader Eric Cantor (R-VA) was stunningly defeated in his primary, Schweitzer suggested Cantor set off his "gaydar."

"Don't hold this against me, but I'm going to blurt it out. How do I say this … men in the South, they are a little effeminate," he told Cogan. When asked to clarify, he offered "They just have effeminate mannerisms. If you were just a regular person, you turned on the TV, and you saw Eric Cantor talking, I would say—and I'm fine with gay people, that's all right—but my gaydar is 60-70 percent. But he's not, I think, so I don't know."
Schweitzer also didn't hold much back when he talked about Dianne Feinstein:
He held nothing back in discussing Senate Intelligence Committee Chair Dianne Feinstein (D-CA), either. Feinstein recently accused the CIA of spying on congressional staffers who were compiling a report on the agency's torture program.

"She was the woman who was standing under the streetlight with her dress pulled all the way up over her knees, and now she says, 'I'm a nun,' when it comes to this spying!" he told Cogan. "I mean, maybe that's the wrong metaphor—but she was all in!"
The Fix's Aaron Blake suggests that this kind of no-filter comments, which is nothing new for Schwetizer really, along with things such as the fact that the former Montana Governor was a guest at Mitt Romney's weekend event last week, suggest that Schweitzer wouldn't be a major player if he ran for President in 2016. Ed Morrissey and Andrew Sullivan, who come from very different parts of the political spectrum, seem to agree with that assessment.
I tend to disagree with the idea that incidents like this are going to prevent Schweitzer from becoming a "dark horse" candidate should he choose to run for President in 2016.
For one thing, if he's a candidate running to Hillary Clinton's left in what will likely be a field devoid of any big-name Democrats, which seems likely, then he's going to get a lot of press attention just because of that. The political press loves a story, and a Democratic race that looks like it's going to be little more than a Hillary Clinton coronation would be exceedingly boring to the people who cover politics on a regular basis and, quite honestly, to the rest of us. The Republican race will provide plenty of news copy all its own, of course, but there are going to be reporters looking for stories to cover. Whatever you might think of Schweitzer, he's going to provide reporters with good stories to cover if he runs for President, this interview is just one indication of that.  Secondly, the very fact that Schweitzer is largely unfiltered like this means that the media is going to love putting cameras on him on a daily basis on the campaign trail. Obviously, if he wants to be a viable candidate he's going to have to be more than a guy who spouts his mouth of without concern for what he's saying.  So, if he does run you're likely to see a more professional Schweitzer than what you're seeing now. In the end, though, he's still likely to have the same personality he does now, and that's exactly what would make him a media darling. Schweitzer is unlikely to be the kind of candidate who could beat Hillary Clinton, but he strikes me as a guy who would have a hell of a lot of fun trying, and the progressive wing of the Democratic Party would love having a voice getting so much press attention.
I don't know if Schweitzer will run or not, but I doubt the lack of a filter will be something that restrains him or prevents the media from giving coverage.