Good News For GOP, Bad News For Obama In Latest CBS/New York Times Poll
President Obama hits new job approval lows, while the GOP seems poised for success in November,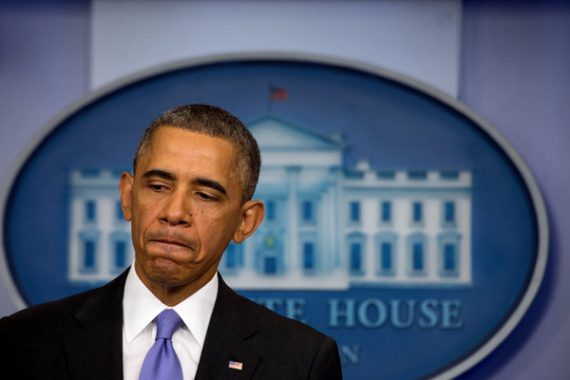 A new poll from CBS and The New York Times has good news for the GOP, but bad news for the President, especially when concerning the public's confidence, or more appropriately, the lack thereof, in his plan to defeat ISIS:
A New York Times/CBS News poll shows that President Obama's approval ratings are similar to those of President George W. Bush in 2006 when Democrats swept both houses of Congress in the midterm elections.

A deeply unpopular Republican Party is nonetheless gaining strength heading into the midterms, as the American public's frustration with Mr. Obama has manifested itself in low ratings for his handling of foreign policy and terrorism.

The generic ballot question, which measures national sentiment for the House of Representatives vote, shows a notable swing of voters toward the Republican Party and away from Democrats. Voters' dissatisfaction with their own representatives has hit a high as nearly two-thirds say they are ready to throw their own representatives out of office.

Republican candidates are further buoyed by the fact that voters trust their party over the Democrats to better handle some issues voters consider to be the most important. The economy ranks at the top of that list followed by health care, terrorism and immigration. The Republican Party easily tops the Democratic Party in handling the economy, terrorism and foreign policy while voters are about evenly divided between the two parties on immigration. Democrats do hold a five-point advantage on health care, and many Republican candidates have shied away from making the president's signature health care law a campaign issue.

(…)

At just 34 percent, the rating of Mr. Obama's handling of foreign policy is a record low for him, but not as low as the 25 percent that Mr. Bush eventually reached. At 41 percent, Mr. Obama's rating on terrorism is not only his worst personally, but is significantly lower than Mr. Bush in 2006. This is the first time Mr. Obama's numbers have shown that at least 50 percent disapprove of his handling of the issue.

The approval ratings of Mr. Obama and Mr. Bush are in sharp contrast to the only other two-term presidents who served in the last four decades. Bill Clinton and Ronald Reagan enjoyed ratings above sixty percent at this point in their second terms.
Perhaps the biggest concern for the Administration, and for Democrats, though, is that the public seems to have absolutely no confidence in this plan to fight ISIS:
According to a new CBS News/New York Times poll, 57 percent of Americans don't think Mr. Obama is being tough enough in dealing with ISIS militants, while just 31 percent think his approach is about right. Republicans are particularly critical of Mr. Obama on this measure: 83 percent of Republicans don't think he is being tough enough.

In addition, Mr. Obama's handling of the threat of terrorism, once considered an area of strength, is now at the lowest of his presidency. Just 41 percent approve of his handling of the issue, a drop of 12 points since March.

Since March, the president's approval rating on handling terrorism has declined across the political spectrum: Republicans (down 11 points), Democrats (down 16 points) and independents (down 10 points).

The president's approval rating on handling foreign policy, now at 34 percent, is also a record low. His ratings on the economy and immigration continue to be negative. Only 30 percent approve of his handling of immigration and 40 percent approve his handling of the economy.

Mr. Obama's overall job rating remains more negative than positive. Forty percent approve of his overall job performance, which is similar to last month, although his rating is 5 points lower than it was heading into the 2010 congressional elections, when Republicans won control of the House of Representatives.

At 40 percent, Mr.Obama's job approval rating is similar to George W. Bush's in September 2006, before the 2006 midterm elections – when Democrats captured control of the House and the Senate. Mr. Bush was at 37 percent approval 8 years ago. Former Presidents Bill Clinton and Ronald Reagan were at 62 and 63 percent approval, respectively, at the same point in their presidencies.
These numbers aren't too much of a surprise, of course. Since the beginning of the summer we have seen the President's job approval numbers, both overall, and on specific issues such as the economy and foreign policy decline to lows that he has not seen at all during the course of his Presidency. Even before the ISIS crisis began, polling was indicating that the public had little confidence in the President's leadership or his judgment when it came to issues such as foreign policy. What's interesting, though, and perhaps a sign of future trouble for the Administration, is the fact that these numbers have not seemed to improve as American's have become more concerned about the threat posed by ISIS and the possibility that they could launch terrorist attacks in the United Stats, which most analysts believe to be a remote possibility at this point. Ordinarily in situations like this, you see a President's approval numbers tick upward as the public rallies around the President in the face of an international crisis. That doesn't seem to be happening in this case, at least not at the moment, and it suggests that the President is going to have a hard time selling the public on the idea that he can lead the nation effectively during the current crisis in the Middle East. Something similar happened to President Bush as we headed into the 2006 midterms, and neither he nor his party recovered from it during the remainder of his Presidency. If that's the road that President Obama is headed down, then November could prove to be painful even if the current polling models are showing the race for Senate control to be close.
One sign of how November might shape out, of course, can be seen in the Generic Congressional Ballot. In this new poll, the GOP has a seven point lead in the Generic Ballot, which is generally considered by pollsters to be a sign that things are breaking in favor of one party or the other. This seven point lead is consistent with an earlier poll from Fox News, but there have also been polls showing a tighter GOP lead, and the RealClearPolitics average gives the GOP at 3.5 point lead. As this chart shows, however, the trend have been very positive for Republicans in recent weeks: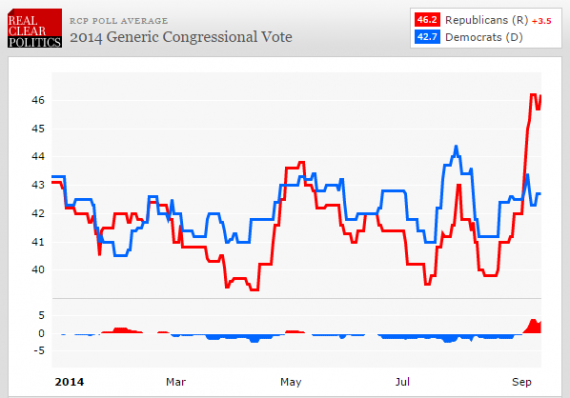 As I've noted before, this polling question, while it has been around for a long time, isn't necessarily the best predictor of how a midterm election will turn out, and it doesn't always catch waves or trends. However, it does show the extent to which public attitudes about the two parties could end up influencing the way people vote for House and Senate. I've noted previously that, this year, the Generic Ballot didn't seem to be indicating any kind of Republican wave, and that has generally been true. However, it's worth noting that in 2010 we didn't start to see signs of the Republican wave that would come in November until late August at the earliest. This time around, it's possible that the wave is starting a bit later, which suggests that it may not be as strong as we've seen in the past three Congressional elections, but it may just be enough to put the GOP over the top.