Obama Hits New Job Approval Lows
Some bad news for the President.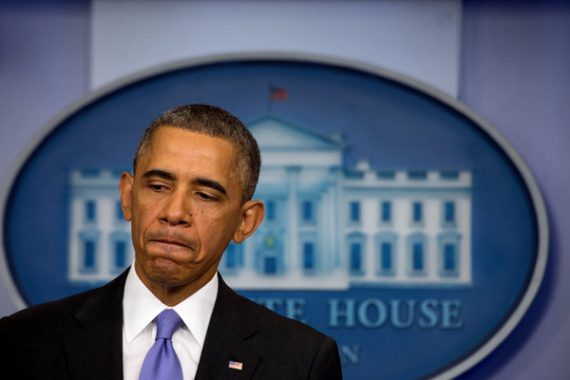 Since virtually the beginning of his Presidency, Barack Obama has had problems with his job approval numbers. After soaring in the wake of the 2008 election and for a brief period after his Inauguration, the President's approval numbers started to decline and his disapproval numbers started to steadily climb. To some degree, of course, this was something that was to be completely expected. Most every President enters office with high job approval, mostly as a reflection of good will and general optimism, and this was doubly true for President Obama, who was seen as a conscious break from the Bush Administration in both foreign and domestic policy.  Inevitably, though, those numbers start to decline as time goes on and policies are actually implemented. In President Obama's case, this decline was exacerbated by the fact that the economy, while in recovery, was still incredibly weak for an extended period of time. Factor into that the intensity of the Republican opposition to this President, and its no surprise that, with the exception of the period immediate after the killing of Osama bin Laden and the period leading up to the 2012 elections, President Obama's job approval numbers have been negative for the vast majority of his Presidency.
On some level, of course, President Obama doesn't really need to worry about his job approval numbers anymore. He's not going to be running for re-election, after all, and he's likely to get the same kind of post-Presidential bump that other Presidents have gotten once he leaves office in January 2017. However, with the President's party looking at fighting for control of the Senate in November, and the Administration still obviously concerned about public opinion on issues that it wishes to advance, these aren't numbers that can be ignored either. So, there was no small degree of chatter in Washington last week when the President hit record lows in three separate polls:
At least three polls released this week showed President Obama's favorability rating hitting new lows.

In his first term, his favorable rating held steady even as his job approval rating slipped. But that's no longer true.

Fifty-two percent of Americans said they held an unfavorable view of Obama, according to a Gallup poll released Thursday. Forty-seven percent said they held a favorable opinion of him. The five-point net negative favorable rating is a new low for Obama in Gallup polling.

The new CNN/ORC International poll showed something nearly identical, with Obama's favorable rating at 47 percent (a new low for Obama during his presidency in in CNN/ORC polling) and his unfavorable rating at 51 percent. A Bloomberg National poll pegged Obama's favorability rating at 44 percent.
Looking more broadly, the RealClearPolitics Average shows Obama at roughly 54% disapproval and 42% approval, and the trend has been moving steadily in one direction for the past several months: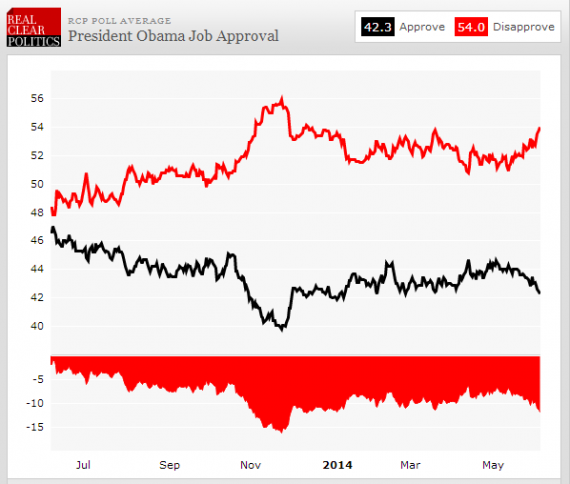 When you look at the numbers for all of Obama's Presidency, it's clear that he's been in the red much more than he's been in the black: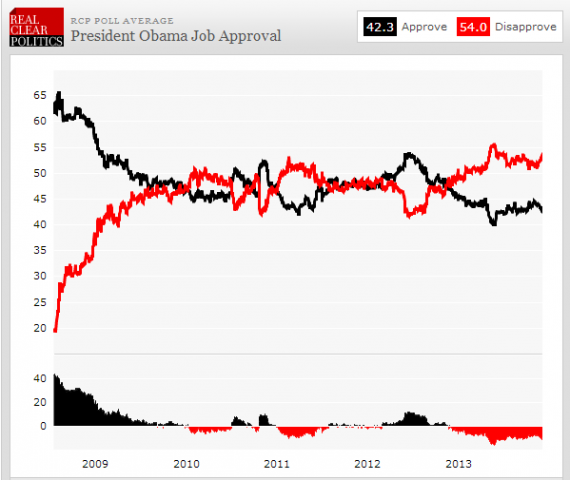 This decline in the polls has been going on for some time. Back in April, I noted that President Obama's approval numbers had hit a new low in one poll, although they were higher in a subsequent poll from NBC News, and that this was causing concern among Democrats looking forward to November. Since then, things seem to have only continued to go down hill and, to some extent, it's not difficult to see. Over the past month, the news has been filled with the Veterans Administration scandal along with foreign policy crises in Ukraine and Iraq. We've seen more news come out about Benghazi and the IRS targeting scandal. Even the release of a Prisoner Of War, which one would think would normally inure to the benefit of the President, has not gone over well with the public thanks both the terms of the deal itself and the President's failure to notify Congress as required by law. When combined with the other forces that have been pushing the President's poll numbers down, it's no surprise that recent events have had this kind of an impact on the polls.
At this point, one has to wonder if the President's approval numbers will ever really recover during the thirty-one months remaining on his time in office. It seems unlikely that they would do so, except perhaps in some small respects. After the midterms, for example, President Obama will be well down the road to being the lame duck that every two term President eventually becomes as everyone starts focusing on the 2016 Presidential race. This will become even more true if Republicans manage to grab control of the Senate, or even if they just get close enough to be able to exercise more influence over the agenda. With that, along with all the other factors that have tended to push the President's approval numbers down, it's likely that the President will leave office far less popular than he was when he entered, or when he was re-elected.