Republicans Seem To Be Surging In Generic Ballot
Good news for Republicans.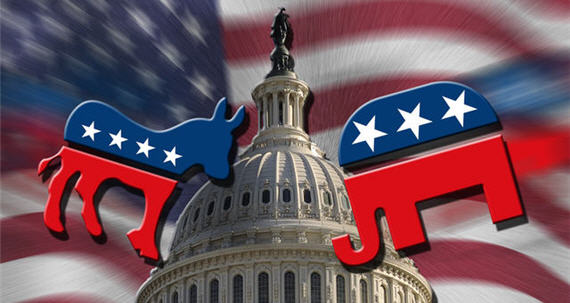 A new Pew Research/USA Today poll suggests good news for Republicans, and bad news for Democrats, heading into the 2014 midterms:
WASHINGTON — Democrats hoping improvements in the economy's course and the Affordable Care Act's implementation would level the playing field for November's elections should brace themselves.

A nationwide USA TODAY/Pew Research Center Poll shows the strongest tilt to Republican candidates at this point in a midterm year in at least two decades, including before partisan "waves" in 1994 and 2010 that swept the GOP into power. Though Election Day is six months away — a lifetime in politics — at the moment, Democrats are saddled by angst over the economy, skepticism about the health care law and tepid approval of the president.

"People should start opening their eyes and seeing we're not on track," says Brenna Collins, 32, a small-business owner from Kasson, Minn., who was among those surveyed. "Not exactly saying Republicans are right but that things need to change."

By more than 2-1, 65%-30%, Americans say they want the president elected in 2016 to pursue different policies and programs than the Obama administration, rather than similar ones.

In the 2014 elections, registered voters are inclined to support the Republican candidate over the Democrat in their congressional district by 47%-43%. That 4-percentage-point edge may seem small, but it's notable because Democrats traditionally fare better among registered voters than they do among those who actually cast ballots, especially in low-turnout midterms.

"It's huge," says former Virginia congressman Tom Davis, who twice chaired the Republican congressional campaign committee. He says its potential impact is tempered only because House Republicans already hold a 233-seat majority, including most swing seats. Even so, the friendly landscape, if it holds, could help the GOP bolster its majority in the House and gain the six seats needed to claim control of the Senate.

Their lead in the generic congressional ballot is the biggest at this point for Republicans in the past 20 years. In 1994, when the GOP would gain control of the House and Senate, Democrats held a 2-point advantage in the spring of the election year. In 2010, when Republicans would win back the House, the two sides were even.
Admittedly, as the chart accompanying the article shows, the GOP lead in the General Congressional Ballot is not as high as it was for Democrats in 2006, when they gained 31 seats and took control of the House, or in 1998 when they gained five seats and set in course a chain of events that led to Newt Gingrich losing his position as Speaker of the House in the Republican leadership elections later that months. Additionally, the RealClearPolitics average for Generic Congressional Ballot polls shows the GOP with just a .4 point lead. However, the trend in that poll seems to be showing real Republican momentum over the past month or so: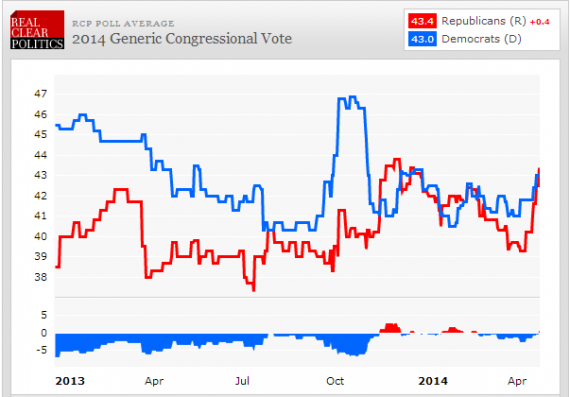 For be fair, the Generic Ballot is not always the best measurement of political sentiment when it comes to individual races in the House and Senate. Rather than looking at the state of specific races, these polls aggregate national opinion in a way that may not necessarily correlate with how the campaigns of individual candidates are actually doing. It's also not clear what this kind of poll portends for the Senate in particular, which is where the only real action is in the 2014 midterms since there's essentially no chance that control of the House of Representatives is up for grabs. Furthermore as the chart above shows, this is a poll that tends to fluctuate quite a lot, and it will likely fluctuate some more between now and late summer when most voters actually start paying attention to the races in their states and districts. That being said, there is definitely an historical connection between this poll and the battle for control of Congress. So, at the very, least these numbers should elate Republicans, and cause no small degree of concern for Democrats.
Not surprisingly, the biggest issue that seems to be impacting voters at the moment is the economy:
Voters say the most important issue affecting their vote for Congress this fall is the jobs situation, cited by 27% of those surveyed. Health care is first for 21%, followed by the federal budget deficit, named by 19%. Only education and national security also break into double digits.

Though economists report an economic recovery is underway, most people say they aren't feeling its benefits. By more than 2-1, 40%-17%, they assess the nation's economic conditions as poor, not excellent or good. That's essentially unchanged from a year ago.

Nor is there evidence of increased optimism about the future. One in four predict economic conditions will be better a year from now, but another one in four predict they will be worse. Half don't expect it to change.

"I think the economy is getting better, but slowly — too slowly," says Ronald Moore, 65, of San Francisco. "It's just at a standstill."

(…)

Most of those surveyed say their own families aren't prospering: 39% rate their financial situation as "only fair" and 23% call it poor. They do see a bit of hope on the horizon. Looking ahead, 59% say things are getting better for them, though most say only a little better. One in four say things are getting worse.

"My situation has improved," says John Konicek, 41, an engineer from Estero, Fla. "I have a secure job, and my home (value) has increased."

"Food out here is expensive; gas is going up; rent is going up; I don't get a raise," frets Edward Trivette, 55, of Forgan, Okla. He says he often can't afford to buy the sort of meat he processes at the plant where he works. He doesn't see the federal government doing much to help. "It's very, very frustrating when you try to make a living for your family and Congress and Washington is against you."

Perhaps the most disturbing sign for Democrats: By 43%-39%, Americans say following the economic policies of Republican congressional leaders would do more to strengthen the economy over the next few years than following the policies of the Obama administration.
And the Affordable Care Act continues to perform poorly:
Public views of the 2010 health care law have changed little over the past several months. Currently, 55% disapprove of the Affordable Care Act and 41% approve. In September, before the launch of the online health care exchanges, 53% disapproved and 42% approved.

Republicans continue to be largely united in their opposition of the health care law — 88% disapprove and 10% approve of it. Among Democrats, about three-in-four (73%) approve, while roughly one-in-four (24%) disapprove of the law. Independents remain mostly opposed to the law, with 57% disapproving and about four-in-ten (39%) approving of it.

(…)

As in earlier surveys, opposition to the law is more intense than support: 43% of the public disapproves of the law very strongly and 11% disapprove of it not so strongly. By comparison, 26% approve of the law very strongly while 13% approve of it not so strongly.

Republicans and Republican leaners who agree with the Tea Party have a particularly negative assessment of the law. Almost all Tea Party Republicans (97%) disapprove of the law and about nine-in-ten (91%) disapprove very strongly. Among non-Tea Party Republicans, 83% disapprove and 67% disapprove very strongly.
It's always possible, of course, that public attitudes on the issues will change. The economy could begin to improve at more rapid pace, for example, or the Administrations three year long propaganda campaign in favor of the Affordable Care Act could finally begin to pay off in the polls. However, those are things that Democrats have been hoping would happen for some time now and they've been consistently disappointed, so it's probably safer to assume that they won't happen than that they will. There could also be external factors that will have an impact on the course of the election, including but not limited missteps by Republican candidates that have an impact on the fortunes of the party as a whole. As things stand now, though, the trends are all moving in the GOP's direction.