New Emails And F.B.I. Notes Show Clinton Still Hasn't Put Email Issue Behind Her
Another set of revelations shows that the Clinton campaign has yet to put the email story behind it.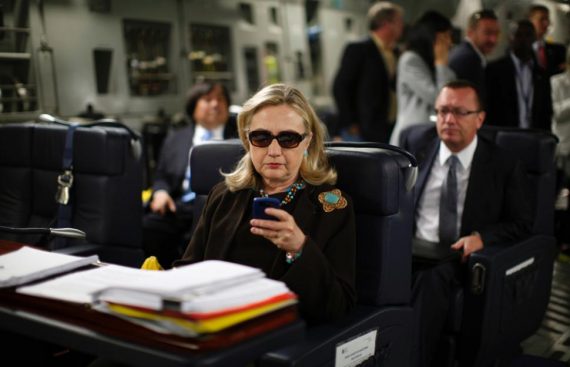 The Federal Bureau of Investigation released investigators notes connected with its investigation of Hillary Clinton's private email server, specifically including agent's notes regarding its interview with Clinton in early July that was followed shortly thereafter by the announcement from FBI Director James Comey that the bureau would not be recommending criminal charges against Clinton or anyone else:
WASHINGTON — F.B.I. officials questioned Hillary Clinton extensively about her judgment in using her private email system to discuss classified drone strikes and in allowing aides to destroy large numbers of emails, before ultimately deciding she should not face criminal charges, according to investigative documents released Friday.

The documents provided a number of new details about Mrs. Clinton's private server, including what appeared to be a frantic effort by a computer specialist to delete an archive of her emails even after a congressional committee had requested they be preserved.

In a 3½-hour interview with the Justice Department's top counterintelligence officials on July 2, Mrs. Clinton defended her handling of the private email system by repeatedly saying she had deferred to the judgment of her aides, an F.B.I. summary of the interview showed.

Mrs. Clinton's use of the private server has shadowed her presidential campaign for a year and a half. And the newly disclosed records, while largely reinforcing what had already been known about the F.B.I. investigation, provided Republicans more ammunition to attack the Democratic nominee's judgment and honesty as she heads into the final, post-Labor Day phase of the campaign.

Among the other key findings in the F.B.I. documents:

■ Mrs. Clinton regarded emails containing classified discussions about planned drone strikes as "routine."

■ She said she was either unaware of or misunderstood some classification procedures.

■ Colin L. Powell, a former secretary of state, had advised her to "be very careful" in how she used email.

The F.B.I. documents show that an unnamed computer specialist deleted the archive of Mrs. Clinton's emails weeks after the existence of the private server became public in March 2015.

Days after The New York Times first reported that Mrs. Clinton had used a private email system exclusively as secretary of state, the House committee investigating the 2012 attacks in Benghazi, Libya, asked that her emails be preserved and subpoenaed those that were related to the attacks.

About three weeks later, however, the unnamed specialist "had an 'oh shit' moment" and realized that he had not destroyed an archive of emails that was supposed to have been deleted a year earlier, according to the F.B.I. report.

Dozens of times during her interview, Mrs. Clinton said she did not remember details about the server or guidance she had received on how to handle classified information.

In its summary of the investigation, the F.B.I. said that Mrs. Clinton had emailed Colin Powell, a former secretary of state, a day after she was sworn in to office about Mr. Powell's use of a personal email account when he was the country's top diplomat. Mr. Powell warned Mrs. Clinton that if she used her BlackBerry for official business, those emails could become "official record[s] and subject to the law."

Mr. Powell, apparently implying that he was cautious in his use of a personal email account, added: "Be very careful. I got around it all by not saying much and not using systems that captured the data." According to the summary of her interview, Mrs. Clinton said that she did not know exactly what Mr. Powell was saying in that email and that his message "did not factor into her decision to use a personal email account."

F.B.I. officials appear to have questioned Mrs. Clinton most aggressively about her judgment in using her private, unsecured system to get emails about how or where the Obama administration was planning to launch drone strikes against terrorism suspects, the documents indicated.

The F.B.I. showed her one email after another containing information about possible drone strikes that was considered classified. But Mrs. Clinton appeared almost blasé in explaining her use of her private system to gather information on drone strikes.

After being shown one email that was redacted from the public release of her emails, Mrs. Clinton "stated deliberation over a future drone strike did not give her cause for concern regarding classification," according to the F.B.I. summary of the interview.

"Clinton understood this type of conversation as part of the routine deliberation process," the summary said. "Moreover, she recalled many conversations about future strikes that never occurred."

Mrs. Clinton's lawyer, David Kendall, declined to comment. In a statement, her campaign said it was pleased that the F.B.I. had made the documents public.

"While her use of a single email account was clearly a mistake and she has taken responsibility for it, these materials make clear why the Justice Department believed there was no basis to move forward with this case," the campaign said.

But Representative Jason Chaffetz, Republican of Utah and the chairman of the House Oversight and Government Reform Committee, said that the deletion of the emails violated an order his committee issued to Mrs. Clinton in 2012 and a subpoena issued by the Benghazi committee in 2015.

He said he planned to seek answers from Mrs. Clinton about the deletions. "These were not Hillary Clinton's emails — they were government records, and this was potentially one of the largest security breaches at the State Department because they had all these years of security records that just went out the door," Mr. Chaffetz said. "It's a very black-and-white order. There's no wiggle room."
There don't appear to be any new revelations in the report regarding the email server or the issue of Clinton's handling of classified information, which Comey referred to as "extremely careless" in his report to the press and Attorney General Loretta Lynch, but the news is likely to add to Clinton's on again, off again problems with this issue that have seemingly made it difficult for her to put Donald Trump's campaign behind her in the race for the White House. One new piece of information that some media outlets such as Reuters have highlighted is the fact that Clinton told investigators that she could not recall all of the briefings she received during the final months of her time as Secretary Of State due to the concussion and other health issues she suffered from beginning in December 2012. This is one of the first time remarks by Clinton regarding the health scare she had back then has been made public, and it's likely to be jumped on by political opponents and reporters as a basis for asking more questions regarding her health. Additionally,  Clinton told investigators that she was unaware what the notation "(c)," which appears on sever chains of emails that had been found on the server, stood for and that she thought it was a notation of the alphabetic order of items in the email itself. As it turns out "(c)" denotes that the information is "Confidential," which is the lowest level of classification in the U.S. and described as information that would damage national security if it was disclosed in a manner other than that approved by the proper authority. Despite the low level, it is still considered classified information and still covered by disclosure laws. Given that Clinton would have presumably been briefed about classification both when she was a Senator and when she became Secretary of State, there are several observers who are questioning Clinton's claim that she didn't know what "(c)" stood for and raising further questions about her veracity and judgment.
In addition to the release of this FBI report, Clinton's campaign is also dealing with the release of another set of emails that suggest a much closer relationship between the Clinton Foundation and the State Department than she has admitted to that raises further questions regarding the extent to which people with ties to the Foundation received favorable access to Clinton personally, as well as her top aides, during the time that she served as Secretary of State. Both cases raise questions that go beyond criminality and seem to reinforce the doubts that the public continue to have about Clinton, doubts that seem to be preventing her from closing the deal with the public in her race against Donald Trump. As it stands, Clinton's favorable/unfavorable and trustworthiness numbers continue to be overwhelmingly negative, albeit not quite as bad as Trump's numbers, they are nonetheless unusually high. Additionally, recent polling has shown Clinton shedding the massive lead that she had in the immediate aftermath of the party conventions at both the national and state level. At least part of that seems to be attributable to the fact that Clinton's campaign is unable to completely put the email story behind it, both because Clinton herself continues to parse her words when speaking with the media about it and because there continue to be new revelations about the story every couple weeks that help to blunt whatever rise in the polls Clinton may be experiencing at the time. In the meantime, the Clinton campaign seems to be hoping that the story will just go away if they ignore it, which clearly isn't the case. Reporters, for example, are beginning to mention daily that it has been more than 250 days since Clinton has held a press conference in which she took questions from a battery of reporters for an extended period of time. It's unclear if things would change if they did that, but at this point it strikes me that handling the issue in this manner could not hurt and that it would be better than the constant drip of information that the campaign seems to be dealing with now. Otherwise, the shadow of what might be revealed next is likely to hang over Clinton's campaign from now until Election Day.
Here's the full FBI Report:
Hillary Clinton FBI Notes by Doug Mataconis on Scribd