Some Thoughts on HRC
An amplification on the question of likability.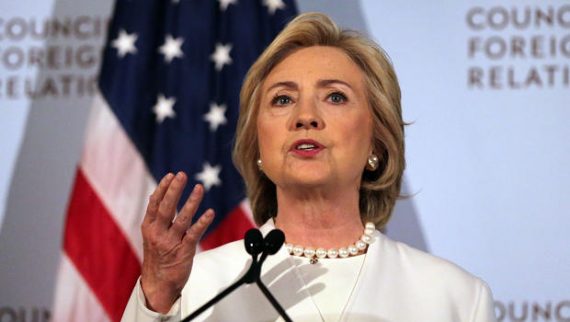 In the comment thread of Doug Mataconis' latest post on HRC's e-mail, I stated the following:
Count me as one of those people who doesn't particularly like HRC but find her more than qualified for the office.
To which Loviatar responded:
Seriously though, could you please explain the dislike.
Let's start with a foundational point: I don't especially like most politicians, and that point of view has grown with age. Of course, I will also state that as I get older, I am less concerned with whether I like a politician than I am concerned as to what kind of job they would do.  As such, like and dislike aren't really the issue. Mainly what I was trying to point out in the conversation thread is that my views on HRC are not about emotional preferences (i.e., like or dislike), but to my (hopefully) dispassionate assessment of her qualifications.
Still, it's a fair question, so here are some things off the top of my head.
-I am not fond of the political dynasty aspect of her candidacy.
-To that point, I think having been in position of privilege for a very long time (first lady in Arkansas, then FLOTUS, then US Senator from NY, etc.) has kept her is a fairly rarefied position that does lead to her being prone to a more cavalier attitude towards the applicability of the rules to her.
-Also on the dynasty thing:  the Clinton Foundation is a good illustration about the difficult relationship between the power of the past, the power of the present, and the potential power of the future.  That is, there is no doubt that the Clinton Foundation can raise money and get things done because of the past (i.e., the Bill Clinton presidency).  However, one cannot ignore that the fact that HRC was SecState didn't also augment interest in that Foundation, as does the future prospect of another Clinton presidency.  The influence nexus here is problematic, in my opinion.  Foundations and actions of past-presidents tend to exist in a context whereby that president is out of power and can never get back into power. This is not the case with Clinton Foundation, as it remained connected to power (Senator and Secretary Clinton) and to likely future power (President Clinton).
-While I think that many of the criticisms leveled at her are disproportionate, but I don't find her to be as transparent as I would like.
-I find her to be a bit more of an opportunist than I would prefer.  The NY Senate run is a good example of this, which also builds on the political dynasty issue.  While I think she won fair and square and was a competent Senator, there is no arguing the fact that the main reason she as able to run and win is that she was a former FLOTUS, not because she had cultivated a political career in New York state.  I will say that, unlike some, I think that being FLOTUS is a legitimate resume line.
-While I recognize that a lot of what is thrown at the Clintons over the years has been about politics, I would say that they have generated enough of their own problems to make one prefer a non-Clinton on the ballot.
I have a couple of policy-based reasons as well:
-She is too hawkish on foreign policy for my preferences at the moment.
-I find some of her associations with high finance to be concerning given the problems they helped create.
I recognize that a lot of what I have listed could also just be generic problems that politicians have, which is true (and hence my statement above about like/dislike).
Regardless of likability, she is manifestly qualified to be President.  And in the least daring statement of my professional career I will further state that she is far more qualified for the job than is her major party rival (and, indeed, the gap on this dimension between the two is likely of historical proportions).  As such, the issue of likability is way down my list of concerns at the moment.