Duck Dynasty, "Free Speech," And The Culture Of Perpetual Outrage
"Reality" TV star says something dumb about gay people, gets suspended, usual pointless outrage ensues.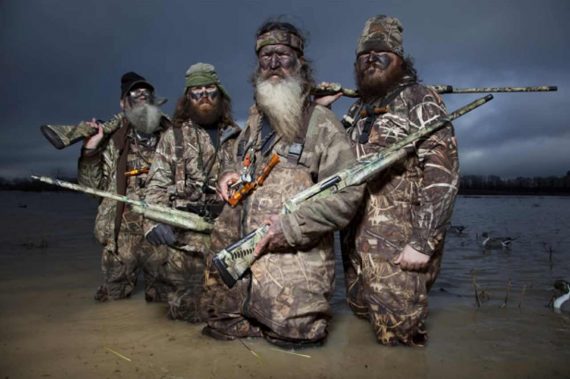 With the Christmas holidays fast approaching, the news is becoming thinner and thinner so it's not entirely surprising to see some silly matters like the question of whether Santa Claus is black or white getting far more attention than they probably deserve.  Starting last night, though, Twitter, Facebook, and the blogosphere exploded not over the racial makeup of a fictional being who travels the world in a magical sleigh, but to the star of a "reality" television program devoted to a family in what seems to be the redneckiest part of the Deep South that apparently devotes itself to making duck calls, hunting ducks, and being incredibly religiously conservative:
A&E has placed Duck Dynasty patriarch Phil Robertson on indefinite hiatus following anti-gay remarks he made in a recent profile in GQ.

"We are extremely disappointed to have read Phil Robertson's comments in GQ, which are based on his own personal beliefs and are not reflected in the series Duck Dynasty," A&E said in a statement. "His personal views in no way reflect those of A+E Networks, who have always been strong supporters and champions of the LGBT community. The network has placed Phil under hiatus from filming indefinitely."

The news comes after Robertson compared homosexuality to bestiality in an interview with the magazine. He'll likely appear in season four, which bows Jan. 15, since production is largely wrapped.

"It seems like, to me, a vagina — as a man — would be more desirable than a man's anus," Robertson says in the January issue of the men's magazine. "That's just me. I'm just thinking: There's more there! She's got more to offer. I mean, come on, dudes! You know what I'm saying? But hey, sin: It's not logical, my man. It's just not logical."

During a discussion about repentance and God, Robertson is asked what he finds sinful.

"Start with homosexual behavior and just morph out from there," he says. "Bestiality, sleeping around with this woman and that woman and that woman and those men."

He goes on to paraphrase Corinthians: "Don't be deceived. Neither the adulterers, the idolaters, the male prostitutes, the homosexual offenders, the greedy, the drunkards, the slanderers, the swindlers — they won't inherit the kingdom of God. Don't deceive yourself. It's not right."

GLAAD on Wednesday condemned his remarks as "some of the vilest and most extreme statements uttered against LGBT people in a mainstream publication" and said "his quote was littered with outdated stereotypes and blatant misinformation."

"Phil and his family claim to be Christian, but Phil's lies about an entire community fly in the face of what true Christians believe," GLAAD spokesperson WilsonCruz said. "He clearly knows nothing about gay people or the majority of Louisianans — and Americans — who support legal recognition for loving and committed gay and lesbian couples. Phil's decision to push vile and extreme stereotypes is a stain on A&E and his sponsors, who now need to re-examine their ties to someone with such public disdain for LGBT people and families."

GLAAD responded to A&E's suspension, commending the network for its swift decision. "What's clear is that such hateful anti-gay comments are unacceptable to fans, viewers, and networks alike," GLAAD's Cruz said late Wednesday. "By taking quick action and removing Robertson from future filming, A&E has sent a strong message that discrimination is neither a Christian nor an American value."
Soon after it was announced, though, Robertson's suspension set off a firestorm on the right online that continued well into Thursday afternoon:
After 'Duck Dynasty' patriarch Phil Robertson was suspended from his popular reality television show for making controversial anti-gay comments in an interview with GQ magazine, conservatives jumped to his defense.

Lousiana Gov. Bobby Jindal (R) in a Thursday statement called Robertson's suspension a "messed up situation."

Both former Alaska Gov. Sarah Palin (R) and Sen. Ted Cruz (R-TX) also weighed in on Facebook by defending Robertson's right to free speech.
"Free speech is an endangered species. Those 'intolerants' hatin' and taking on the Duck Dynasty patriarch for voicing his personal opinion are taking on all of us," said Palin.

"If you believe in free speech or religious liberty, you should be deeply dismayed over the treatment of Phil Robertson," added Cruz.

Conservative blogger Erick Erickson on Wednesday defended Robertson's reference to scripture.

"He spoke openly of his Christian faith," Erickson wrote on his blog, "Red State." "Because he offended a secular left at war with orthodox Christianity, he must be punished."

Radio host Rush Limbaugh on Thursday similarly claimed Robertson was suspended because of his religious beliefs.

"Now, excuse me for just a second here, but who is being discriminated against here except Phil Robertson? Who just lost a job because of religious beliefs?" he asked. "Nothing happened to any gay people or homosexual people. Nothing happened to them."
These comments echo much of what I have seen from many, but not all, conservatives online over the past day, and there's so much wrong with it that it's hard to know where to begin.
First of all, though, it's necessary to make it eminently clear that this is not a "free speech" issue at all. The only context in which the idea of "freedom of speech" has any real meaning eminates out of the First Amendment and, as anyone who has actually read that Amendment can tell you, that only applies to the government, originally only Congress but also, over time thanks to the Incorporation Doctrine, state and local governments. Outside of laws that bar employment or other forms of discrimination based on religious belief, there is no such thing as a "free speech" when it comes to the relationship between employer and employee. Most likely, that point is even further driven home by the fact that entertainment contracts like the one that Richardson likely has with A&E contain provisions that give the employer the discretion to discipline the employee as they see appropriate if the employee does something outside the matter for which they are hired that tends to bring the reputation of the employer or its property, in this case the television show, into disrepute. These provisions typically leave the matter completely within the discretion of the employer. Even without such a contractual provision, though, the idea that suspending Robertson violates his "free speech" rights as Palin and others have claimed is, quite simply absurd and either a deliberate conflating of the concept or a display of utter ignorance. I'll leave it to the reader to decide which one applies here.
Second, it's necessary to address the assertion that many of the commentators quoted make that Robertson is being punished for his religious belief. While I've never actually watched the show myself, my understanding of what it involves would seem to prove that this suggestion is absurd. Discussions about the show before today have frequently noted the extent to which many episodes feature the members of the Richardson family speaking openly about their very conservative religious views. Indeed, it seems as though this is one of the elements of the show that the producers have chosen to highlight over the four seasons that it has been on the area. Given that, the idea that Robertson is being punished for expressing a religious point of view that is frequently a part of the show itself is demonstrably absurd and really more a reflection of the perpetual outrage and sense of victimization that many on the Christian Right seem to want to project these days. Despite the fact that we live in a country where, according to polls, the vast majority of people say they believe in a God, where Christianity of some form is the dominant faith, and where church attendance is far higher than pretty much anywhere else in the West, there's a group on the right who wishes to perpetuate the myth that they are constantly under attack. You can see another example of that silly idea in the so-called "War On Christmas," which is been an annual meme on Fox News Channel for years no. In the end, Richardson wasn't suspending for his faith, but for the manner in which he expressed it which, as the blockquote at the top of the page demonstrates, was really quite vulgar and offensive.
Perhaps the most interesting comments about this matter, though, came from Andrew Sullivan, who was critical both of Richardson and of what he sees as an overreaction by A&E:
[Richardson's comments are]  fascinating glimpse into the fundamentalist mind. You'll notice that, for the fundamentalist, all sin – when it comes down to it -  starts with sex. This sexual obsession, as the Pope has rightly diagnosed it, is a mark of neurotic fundamentalism in Islam and Judaism as well as Christianity. And if all sin is rooted in sex,

then the homosexual becomes the most depraved and evil individual in the cosmos. So you get this classic statement about sin: "Start with homosexual behavior and just morph out from there."

This emphasis is absolutely not orthodox Christianity. There is nothing primary about sexual sin as such in Christian doctrine. It sure can be powerfully sinful – but it's not where sin starts. And to posit gay people as the true source of all moral corruption is to use eliminationist rhetoric and demonizing logic to soften up a small minority of people for exclusion, marginalization and, at some point, violence.

If you think I'm hyperventilating, ask yourself what the response would be if in talking about sin, Phil Robertson had said, "Start with Jewish behavior …" The argument would be totally recognizable, once very widespread, and deeply disturbing. What we're seeing here – and it's very much worth debating – is how fundamentalist religion seizes on recognizable, immoral minorities to shore up its own sense of righteousness. You can gussy it up – but it's right there in front of our nose.

(…)

Robertson is a character in a reality show. He's not a spokesman for A&E any more than some soul-sucking social x-ray from the Real Housewives series is a spokeswoman for Bravo. Is he being fired for being out of character? Nah. He's being fired for staying in character – a character A&E have nurtured and promoted and benefited from. Turning around and demanding a Duck Dynasty star suddenly become the equivalent of a Rachel Maddow guest is preposterous and unfair.

What Phil Robertson has given A&E is a dose of redneck reality. Why on earth would they fire him for giving some more?
Sullivan makes very good points on both counts, of course. Robertson's comments serve as much to point out the flaws in a fundamentalist religious mindset as they reveal the extent to which that mindset is obsessed with the sexual practices that other people engage in. Why that is, or even should be, their personal concern is something I've never quite understood myself. I can understand on some level the idea that one might believe that homosexual behavior is sinful, but to obsess so much about what people do behind closed doors strikes me as just bizarre on multiple levels. These people would do themselves to listen to what Pope Francis has had to say about the issue when he argues that, while the Catholic Church still considers homosexual behavior, or indeed any sexual relationship outside of marriage, to be sinful, that should not lead Catholics to treat gay people in hateful and contemptuous ways, which is what Rorbertson's comments do.
As for A&E's decision to suspend Robertson, that's their business decision as far as I'm concerned. Time will tell whether it's one that will harm their bottom line or their ratings, but they certainly had the right to make it. I will note, however, that all of this is occurring mere weeks before the premiere of the 5th season of Duck Dynasty and that there have been reports for months that Robertson was planning on taking a lesser role in the show going forward. On some level, I find the coincidence of those two facts and the events of the past 24 hours to be a bit too much of a coincidence, but that may just be my suspicious nature.
In any case, the one thing that the events of the past day reveal is that we now seem to live in a society of perpetual outrage where even a seemingly minor event like a magazine interview and a business decision by a network can set off the kind of outrage that, oddly, seems to be missing when it comes to issues that are obviously far more important. Apparently, there are a lot of people out there who stand at the ready waiting to be outraged by trivial matters. One would think they'd have better things to do.