Bill Richardson, 1947-2023
The longtime politician and statesman is gone at 75.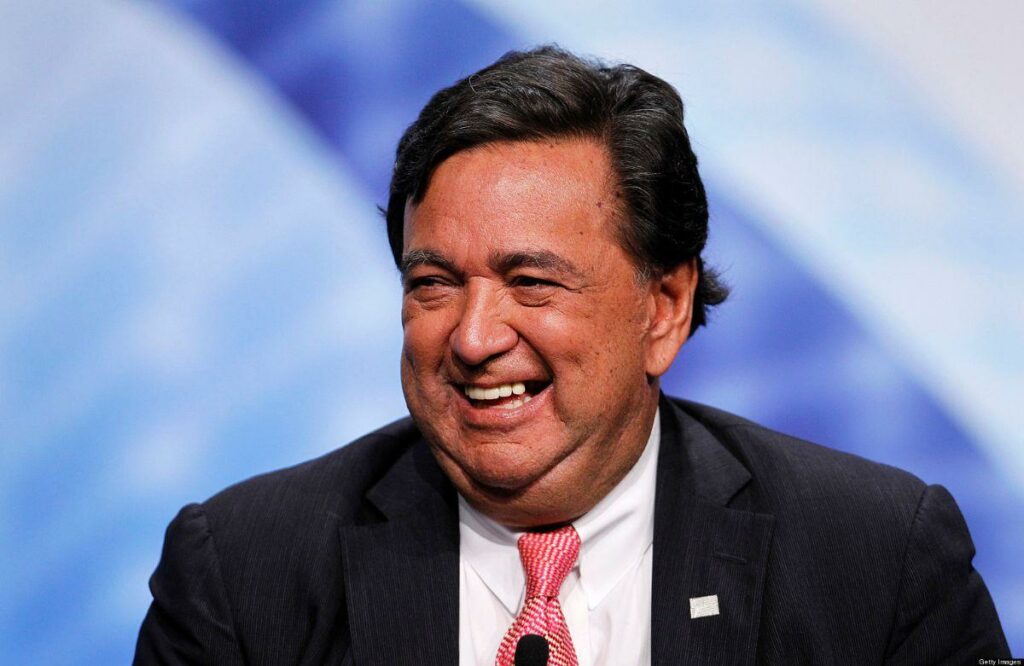 Washington Post, "Former U.N. ambassador Bill Richardson is dead at age 75"
Bill Richardson, the former New Mexico governor and U.N. ambassador who later traveled the globe on missions to free hostages and political prisoners, has died at his family's Cape Cod summer home.

Richardson, 75, died late Friday at the family property in Chatham, Mass., according to a statement Saturday from the Richardson Center for Global Engagement, an organization he founded to promote diplomacy and peacekeeping efforts.

"Governor Richardson passed away peacefully in his sleep last night," said Mickey Bergman, the center's vice president. "He lived his entire life in the service of others – including both his time in government and his subsequent career helping to free people held hostage or wrongfully detained abroad."

Richardson's career in politics and diplomacy spanned four decades and included eight terms in Congress, a stint as energy secretary during the Clinton administration and a run for the Democratic presidential nomination in 2007.

In more recent years, he was best known as the globe-trotting statesman and savvy negotiator who was repeatedly dispatched by Democratic and Republican administrations to win the release of hostages and political prisoners, from North Korea and Myanmar to Russia. He spent months negotiating with Russian officials in helping to secure the release last December of WNBA basketball star Brittney Griner.

His reputation as a hostage negotiator earned him international accolades. "Bill Richardson is like a diplomatic Red Adair," former senior White House adviser and ABC News personality George Stephanopoulos once said, comparing Richardson to the world-traveling oil-well firefighter. "He's a skilled negotiator. He sits there and listens, and people trust him."

At the time of his presidential bid in 2007, he was perhaps the Democratic Party's most celebrated and courted Latino official. He campaigned in English and Spanish, presenting himself as the embodiment of America's growing diversity. He was known then, and since, for often striking a humorous and self-depreciating tone.

"I was talking to my mom, and I said, 'Mom, I'm running for president,'" he said during a 2007 campaign stop in Phoenix, Ariz."President of what?" he recalled her asking him in Spanish.
New York Times, "Bill Richardson, Champion of Americans Held Overseas, Dies at 75"
Bill Richardson, who served two terms as governor of New Mexico and 14 years as a congressman before devoting himself to the cause of Americans who were being held hostage or whom he believed were being wrongfully detained overseas, died on Friday at his summer home in Chatham, Mass., on Cape Cod. He was 75.

[…]

Under President Bill Clinton, Mr. Richardson was ambassador to the United Nations, succeeding Madeleine Albright in early 1997, and then secretary of energy, beginning in August 1998.

In 2008, he mounted a short-lived campaign for the Democratic presidential nomination and then endorsed Barack Obama over Hillary Clinton. After winning the presidency, Mr. Obama nominated Mr. Richardson as secretary of commerce, but he withdrew because of a pending investigation into improper business dealings in his home state. That investigation was later dropped.
Associated Press, "Bill Richardson, a former governor and UN ambassador who worked to free detained Americans, dies"
Bill Richardson, a two-term Democratic governor of New Mexico and an American ambassador to the United Nations who also worked for years to secure the release of Americans detained by foreign adversaries, has died. He was 75.

[…]

"He lived his entire life in the service of others — including both his time in government and his subsequent career helping to free people held hostage or wrongfully detained abroad," said Mickey Bergman, the center's vice president. "There was no person that Gov. Richardson would not speak with if it held the promise of returning a person to freedom. The world has lost a champion for those held unjustly abroad and I have lost a mentor and a dear friend."

Before his election in 2002 as governor, Richardson was the U.S. envoy to the United Nations and energy secretary under President Bill Clinton and served 14 years as a congressman representing northern New Mexico.

[…]

Richardson also traveled the globe as an unofficial diplomatic troubleshooter, negotiating the release of hostages and American servicemen from North Korea, Iraq, Cuba and Sudan. He bargained with a who's who of America's adversaries, including Iraqi dictator Saddam Hussein. It was a role that Richardson relished, once describing himself as "the informal undersecretary for thugs."

"I plead guilty to photo-ops and getting human beings rescued and improving the lives of human beings," he once said.

He helped secure the 2021 release of American journalist Danny Fenster from a Myanmar prison and this year negotiated the freedom of Taylor Dudley, who crossed the border from Poland into Russia. He flew to Moscow for a meeting with Russian government officials in the months before the release last year of Marine veteran Trevor Reed in a prisoner swap and also worked on the cases of Brittney Griner, the WNBA star freed by Moscow last year, and Michael White, a Navy veteran freed by Iran in 2020.

Armed with a golden resume and wealth of experience in foreign and domestic affairs, Richardson ran for the 2008 Democratic nomination for president in hopes of becoming the nation's first Hispanic president. He dropped out of the race after fourth place finishes in the Iowa caucuses and New Hampshire primary.

Richardson was the nation's only Hispanic governor during his two terms. He described being governor as "the best job I ever had."

"It's the most fun. You can get the most done. You set the agenda," Richardson said.

As governor, Richardson signed legislation in 2009 that repealed the death penalty. He called it the "most difficult decision in my political life" because he previously had supported capital punishment.

Other accomplishments as governor included $50,000-a-year minimum salaries for the most qualified teachers in New Mexico, an increase in the state minimum wage from $5.15 to $7.50 an hour, pre-kindergarten programs for 4-year-olds, renewable energy requirements for utilities and financing for large infrastructure projects, including a commercial spaceport in southern New Mexico and a $400 million commuter rail system.

U.S. Sen. Ben Ray Lujan, D-N.M., called Richardson a "giant in public service and government."

"In his post-government career, he was trusted to handle some of the most sensitive diplomatic crises, and he did so with great success. Here in New Mexico, we will always remember him as our governor. He never stopped fighting for the state he called home," Lujan said in a statement.

Richardson continued his freelance diplomacy even while serving as governor. He had barely started his first term as governor when he met with two North Korean envoys in Santa Fe. He traveled to North Korea in 2007 to recover remains of American servicemen killed in the Korean War. In 2006, he persuaded Sudanese President Omar al-Bashir to free Pulitzer Prize-winning American journalist Paul Salopek.

Richardson transformed the political landscape in New Mexico. He raised and spent record amounts on his campaigns. He brought Washington-style politics to an easygoing western state with a part-time Legislature.

Lawmakers, both Republicans and Democrats, complained that Richardson threatened retribution against those who opposed him. Democratic state Sen. Tim Jennings of Roswell once said Richardson was "beating people over the head" in his dealings with lobbyists on a health care issue. Richardson dismissed criticisms of his administrative style.

"Admittedly, I am aggressive. I use the bully pulpit of the governorship," Richardson said. "But I don't threaten retribution. They say I am a vindictive person. I just don't believe that."

Longtime friends and supporters attributed Richardson's success partly to his relentlessness. Bob Gallagher, who headed the New Mexico Oil and Gas Association, said if Richardson wanted something done then "expect him to have a shotgun at the end of the hallway. Or a ramrod."

After dropping out of the 2008 presidential race, Richardson endorsed Barack Obama over Hillary Clinton. That happened despite a long-standing friendship with the Clintons.
It's interesting that all of the obits focus so much on his post-gubernatorial work to secure the release of hostages, which is certainly not the first thing I think of when I hear his name. Indeed, as much coverage of the Griner situation as I consumed, I'd somehow forgotten Richardson's role.
Similarly, I find it curious that only the AP report mentions his time in Congress, which is where I first came to know of him. He was elected when I was in high school and was seemingly a fixture on the Sunday talking heads shows forever. Indeed, by the time he was finished with his time in government service, I'd stopped watching them.
I'm not sure that UN Ambassador, much less Secretary of Energy, have traditionally been stepping stones to higher elective office but Richardson managed to leverage those experiences for the governorship. Not being a resident of New Mexico, I didn't pay all that much attention to that phase of his career but he apparently got a lot done.