Never Forget: It's Really about the Money
Lest we forget what the entire "Duck Dynasty" brouhaha is really all about.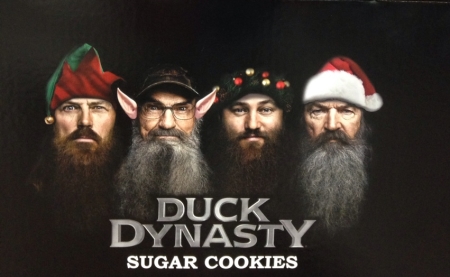 Without a doubt, the various reactions to Phil Robertson's interview in GQ underscores clear areas of cultural conflict in US society.  And, many of the arguments that have emerged have simply used Robertson's statement as an excuse to stoke those conflicts.
However, it is worth nothing that at the foundation of all of this is money.  This is business.  As I argued on a friend's FB thread the day it happened:  A&E made a calculated decision that it was in their best interest to be seen "doing something" while full well knowing that even if Duck Dynasty fans were angry over the suspension that they would not stop watching the show and, indeed, that they would likely double-down on their support for the program.  I very much expect that the ratings for the January season premiere of the show will be huge.
I will note that while I am not an intentional Duck Dynasty viewer, that my kids like it and I have experienced a decent amount of it while they watch it (sort of like second-hand smoke, it is sometime impossible to avoid).  It is an innocuous, quasi-sitcom with a reality veneer.  A Rolling Stone article aptly described is thusly:
So multiply Home Improvement by The Beverly Hillbillies, then subtract any sense of fancy-pants production values, and Duck Dynasty is what you get.

[…]

The characters are just like any big nutso TV family. There's the patriarch Phil and the wise mama bear Miss Kay. There's the three man-child sons and their tsk-tsking blond wives. Then there's everybody's favorite, Uncle Si, the hairy Nam vet who seems amiably demented, although his family prefers to describe him as a "logic vacuum." And even though they have a pile of money, they supposedly fluked into it the way Jed Clampett did, with a little bit of backwoods gumption and know-how.
On the one hand, the Robertson family is portrayed as a bunch of down home rednecks, they are, on the other, rednecks with money.  Money for serious outdoor toys and trips to Hawaii.   They really are a combination of redneck and yuppie, which I think lends to the overall appeal.  I would note that they are very popular here in Montgomery, AL (and across the southeast).
There is a lot of money at stake here, for A&E and for the Robertsons.  Beyond the show, the merchandising is huge.  The banner for this post featuring Duck Dynasty sugar cookies was taken by me at our local Wal-Mart the other day.  Below is part of a table of merch at Books-a-Million that I took last night.  Please note that there was a whole other side of the table, plus stuff on both ends.  Underneath the table was full as well.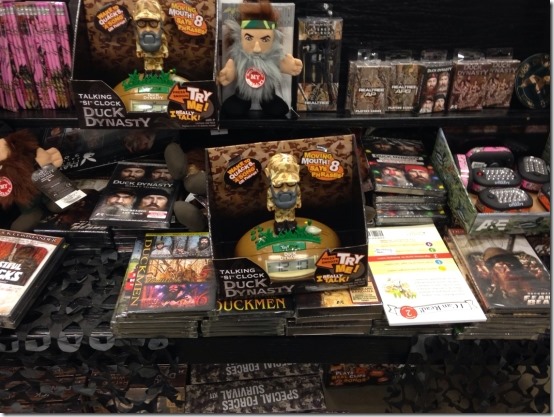 Some of that stuff is Duck Dynasty branded and some of it is Duck Commander or Duckmen branded.  Duck Commander is the Robertson's business and the Duckmen stuff predates the A&E program.
As such, I cannot help but think that despite all the public posturing, that all of this will eventually result in the show going on as normal.  When in doubt, look to the dollar to help explain outcomes and behaviors.
At the end of the day, the PR people at A&E aren't stupid.  They know that Robertson's remarks were going to cause some blowback, so they acted to show their sensitivity (whether they are actually sensitive or not is irrelevant-we are talking PR here).  They also certainly knew that while Duck Dynasty fans were likely to take umbrage at the suspension of Phil Robertson that they only ways those fans have to show support for Robertson is to a)  buy DD merchandise and b) watch Duck Dynasty. (I have noted, with amusement, people on FB calling on supporting Phil by boycotting A&E).
Can someone tell me where in all of this A&E loses?
And yes, I know that the Robertsons have claimed that they will not go on without Phil.  We shall see how all of this plays out, but I expect that they aren't going to walk away from a cash cow, either.
While the cultural divide that Robertson's comments highlighted clearly exists, the actual fight about Duck Dynasty is a faux one.
I may be wrong and perhaps all this will result in the implosion of this particular pop culture empire.  This strikes me as unlikely, however, as we in America are certainly quite good at milking profits centers until they are beyond dry.