Capitol Rioter Convicted of Six Felonies
A former Virginia police officer has been found guilty, partly on the testimony of a former colleague.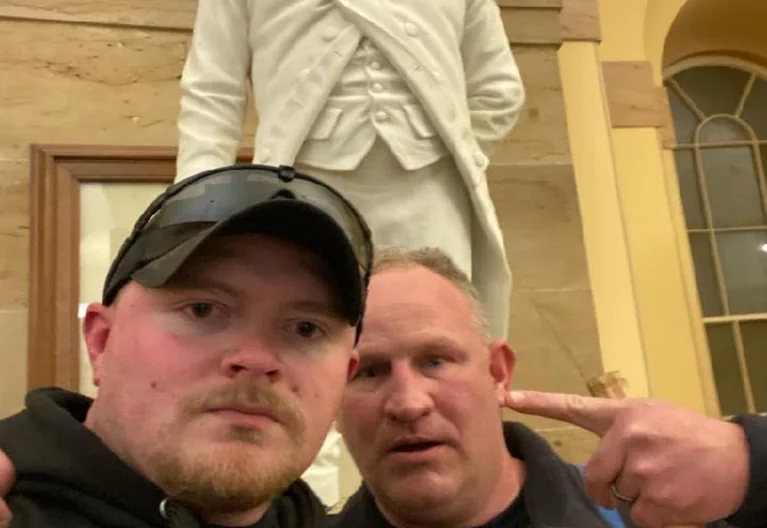 POLITICO ("Jury convicts former Va. police officer for role in Jan. 6 riot"):
A former police officer from Rocky Mount, Va., was convicted Monday on multiple charges stemming from his role in the Jan. 6 breach of the Capitol, after a trial that featured harrowing footage of the mob and testimony from a co-defendant who once served with him on the force.

Thomas Robertson was convicted on multiple felony charges, including obstruction of Congress' Jan. 6 session to count Electoral College votes, a central charge in hundreds of cases the Justice Department has brought against Jan. 6 rioters.

The result was a boost for the Justice Department, which has now won both Jan. 6-related jury trials that have been completed to date.

[…]

The most potent evidence in Robertson's case likely came from co-defendant Jacob Fracker, who served on the police force with Robertson at the time of the Jan. 6 attack. Fracker pleaded guilty to his involvement in the breach and testified that Robertson was the driving force behind their actions that day. He also said Robertson helped get rid of their cell phones after Jan. 6, which led the jury to convict him on an evidence-tampering charge as well.

"I absolutely hate this," Fracker said as he testified against his friend and former colleague. "I've always been on the other side of things. The good guys side, so to speak."

[…]

Later, prosecutors showed jurors footage and images of Robertson and Fracker inside the building, including a crude selfie taken in the Capitol crypt.

"At the time, that was all fun and games," Fracker recalled of his actions with Robertson. "That's not the person I am … My mom would slap me in the face if she saw what I was doing that day. I sit here today ashamed of my actions. I didn't have to do all that stuff, but I did."
Because it was featured on memeorandum, this was the first report I read of the incident and my reaction was that, while Robertson was probably guilty of the charges, some of them struck me as a bit, no pun intended, trumped up. And, more importantly, Fracker's testimony came across as contrived and self-serving.
Other reports, though, provide better context.
WaPo ("Former Va. officer convicted on all counts in the 2nd Jan. 6 jury trial"):
A former police officer from Rocky Mount, Va., whose bond was revoked last summer after he stockpiled firearms and endorsed political violence, was found guilty on all counts Monday at the second jury trial of a participant in the Jan. 6 Capitol attack.

[…]

Robertson, 49, and Jacob Fracker, 30, were fired from the Rocky Mount Police Department in early 2021 after a photo they took of themselves posing in front of a statue of John Stark inside the building on Jan. 6 was shared with police colleagues.

[…]

Prosecutors relied on Capitol surveillance video showing the men entering the building with the first 100 or so pro-Trump rioters who broke through the Senate wing doors and windows at 2:13 p.m. Minutes earlier, officer-worn body-camera video footage showed Robertson wearing a gas mask, holding a three-foot-long wooden stick in front of him and refusing to move when a D.C. police squad moved through the crowd to assist overwhelmed Capitol Police.

Afterward, Robertson celebrated the mob's targeting of lawmakers, prosecutor Elizabeth Aloi said.

"We were stomping on the roof of their safe room chanting. WHO'S HOUSE, our HOUSE," the U.S. Army veteran, angered at the outcome of the 2020 election, exulted in a Jan. 9 message on Facebook.

"A government scared of its people. The pictures of them huddled in the floor crying is the most American thing I have ever seen," he wrote on Jan. 8, adding, "We … not Antifa. Stormed it."

Prosecutors said Robertson's own statements showed his purpose was to intimidate and impede Congress and that he planned for violence.

[…]

Initially released on personal recognizance after his January 2021 arrest, Robertson was jailed pending trial in July after he illegally stockpiled 34 firearms despite release conditions barring firearms possession, providing evidence that he had been "further radicalized" by his pending case, the judge ruled.

Days after the November 2020 election, Robertson wrote on Facebook: "A legitimate republic stands on four boxes: the soap box, the ballot box, the jury box and then the cartridge box." He said he was preparing for the fourth step: "Being disenfranchised by fraud is my hard line. I've spent most of my adult life fighting a counter insurgency. Im about to become part of one, and a very effective one."

On Jan. 8, he added, "The next revolution started in DC 1/6/21. The only voice these people will now listen to is VIOLENCE," saying that even if former president Donald Trump was done, he was prepared for "open armed rebellion" with "like minded and trained individuals."

On June 10 as he was hoarding weapons, Robertson wrote in statements that prosecutors produced for his bond hearing but not at trial, "I've said before. They are trying to teach us a lesson. They have. But its definitely not the intended lesson. I have learned that if you peacefully protest than you will be arrested, fired, be put on a no fly list … I have learned very well that if you dip your toe into the Rubicon … cross it. Cross it hard and violent and play for all the marbles."

At trial, defense attorney Mark Rollins urged jurors to judge Robertson based on his actions, not his words, and not based on the actions of those around him.
A rather different picture!
To be sure, there are a lot of people who shitpost on social media about violent acts that have no intention of actually carrying them out. But stockpiling a massive cache of firearms—against the terms of one's bail—is a rather huge red flag. And the age and seniority differences between the two then-officers makes it much more plausible that Hacker was indeed following Robertson's lead. And the fact that they were in the first wave to enter the Capitol—wearing gas masks and brandishing a large stick—is certainly pretty strong evidence of premeditation.
Additionally, the POLITICO report gives the impression that the only evidence for the "violent entry" charge was pretty circumstantial. CNN's report, "Former Virginia police officer who stormed US Capitol found guilty on all charges," sheds additional light:
During the trial, a DC Metropolitan Police officer testified that a man carrying a stick, who prosecutors say was Robertson, hit him and another officer as they tried to pass through the mob of rioters during the attack. Prosecutors played several clips of the incident, including footage from police body cameras worn that day.

Prosecutors cited online posts Robertson allegedly wrote a month before the attack where he called for an "opened armed rebellion."

"The defendant made good on that promise," assistant US attorney Elizabeth Aloi told the jury during opening arguments, saying that Robertson used a large stick to impede officers who were called in as back up during the riot.
So, basically, this guy committed multiple crimes in front of cameras; took a picture of himself doing it, which he posted to the Internet; posted evidence of violent intent on social media once the investigation got underway; disposed of his and his co-defendant's cellphones by placing them into police evidence lockers; and then stockpiled firearms in violation of his terms of release while awaiting trial for violent crimes. This seems like a pretty clean case here. I'm surprised that it took the jury 14 hours to deliberate.