With Five Weeks To Go, Clinton Appears To Have Momentum
With five weeks to go, the momentum in the race is moving decidedly in Hillary Clinton's favor.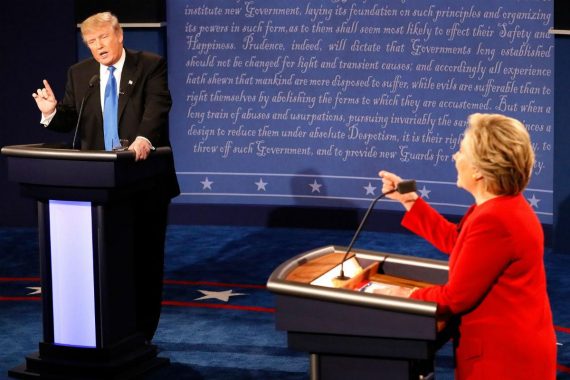 Thirty-five days from today, Americans will be headed to the polls to cap off what has been one of the most bizarre campaigns in American history. In some parts of the country, early voting has either already started or will be starting in the near future. Within the next week we'll have two of the three Presidential debates and the Vice-Presidential debate behind us and we'll be at the point where voters actually start making up their minds. Because of that, the trends we are seeing now are likely to define the rest of the race going forward. As anticipated, of course, the biggest story of the week was the Presidential debate Monday night and, while the entire encounter fully lived up to the low expectations that many observers had for it, it was also clear that Hillary Clinton won the debate easily and that Trump walked away from the affair clearly rattled and distracted. The best example of this was the fact that a brief mention by Clinton of disparaging comments that Trump had made about a Miss Universe contestant in 1995 caused Trump to go off on a week-long tirade that essentially ate up his entire news cycle and threw him off message for the first time since he had rebooted his campaign some five or six weeks ago, By the end of the week, Trump was up at three in the morning tweeting about the story rather than ignoring it while Clinton had moved on to rallies where she pushed her agenda while needling Trump about his as-yet unreleased tax returns. That story also reared its head toward the end of this seven day period with a report in the New York Times reporting on what appeared to be a portion of Trump's 1995 tax return and the fact that he had taken a business loss that could potentially mean that he did not pay any taxes for the next eighteen years or more, Additionally, as we'll see, the polls that last week suggested the end of Hillary Clinton's slide all now seem to be moving in her favor again just as the closing weeks of the campaign begin,
In the week since the debate, a number of national polls, including polling from CBS News, NBC News, CNN, The Economist, and Fox News Channel, have shown Clinton expanding her lead over Trump to five or six points. At the same time, the only poll that is consistently showing Trump in the lead is the Los Angeles Times/USC poll, which continues to appear to be an outilier amid the ocean of polling out there. As a result of these numbers, the trend in the campaign once again appears to be turning in Clinton's favor. In the RealClearPolitics head-to-head race, for example, Clinton (48.1%) now enjoys 3.8 point lead over Trump (44.3%), a substantial increase over last week when her average lead was at 2.3 points and two weeks ago when it was at 1.3 points. In a four-way race that includes Libertarian Gary Johnson and Green Party nominee Jill Stein, Clinton (43.7%) has a 4.0 point lead over Trump (41.1%) while Johnson stands at 7.0% and Stein at 2.3%. This is an improvement over last week when the RCP average showed Clinton with a 1.5 point average lead, and two weeks ago when it showed Clinton with a 1.1 lead. The Pollster average shows similar improvements for Clinton in both a two-way race and a three-way race that includes Johnson, as do the charts from RealClearPolitics.
Here's the chart for a two way race: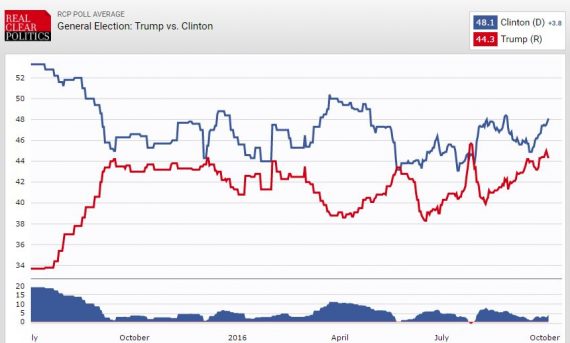 And here's the chart for for the four-way race:
The reality of a Clinton breakout is also becoming apparent at the state level, where Clinton is seemingly rebuilding her lead in states where it had started slipping even as Donald Trump continues to poll strongly in states that the GOP has had difficulty in over the past several cycles such as Iowa and Ohio. For her part, Clinton has seen her lead expand in states such as New Hampshire, Virginia, and Pennsylvania while also taking slight leads in battleground states such as Florida, North Carolina, and Nevada. The result is that the RealClearPolitics Electoral Map now shows Clinton with 205 Electoral Votes to 165 for Trump and 185 Electoral Votes for the thirteen states listed as Toss-Up states. In a map without Toss-Up states, Clinton leads with 322 Electoral Votes to 216 for Donald Trump.
The turn in Clinton's favor is also reflected in other projections. Nate Silver's polls-only forecast, for example, projects a 71.9% likelihood of a Clinton victory and a  28.1% chance of a Republican victory while the 'Polls-Plus' forecast gives Clinton a  68.7% chance of winning versus 31.2% for Donald Trump and the "Now-cast," which purports to project would happen if the election were held today, showing a 79.0% chance of a Clinton victory and a 21.0% chance of a Trump victory. These are all significant improvements over where Clinton was over the past two weeks. As was the case last week, Clinton fares slightly better in Sam Wang's forecast and in Larry Sabato's forecast. The New York Times, meanwhile, gives Clinton a 78% chance of winning the race while DailyKosgives Clinton a  72% chance of winning. These are also an improvement over Clinton's position last week.
If nothing else, what we've seen over the past six weeks shows that this year's Presidential race is following a familiar path. Rather than turning into the blowout that many predicted in the wake of the party conventions, we've fallen into the same pattern we have seen in most of the Presidential elections stretching back to at least the 2000 match-up between George W. Bush and Al Gore, and especially since the 2008 race between Barack Obama and John McCain. Under that pattern, the race has generally stayed close until roughly mid-October at which point it starts turning toward the eventual winner decisively. In part, this is due to the impact of the debate, and in part it's due to the fact that the beginning of early voting means that Americans are starting to make up their minds. For now at least, it appears that the momentum is moving in Hillary Clinton's favor and that it's doing so at precisely the right moment. There's still time for that to change, of course. The upcoming debates could end up having as much of an impact as the first debate is, although it's worth noting that in years with multiple Presidential debates, it has generally been the first debate that has had the largest viewership and which has had the biggest impact on the state of the race. If that pattern holds, and assuming there are no unforced errors or revelations harmful to the Clinton campaign, then things are looking good for Hillary Clinton right now and they're only likely to get better as the countdown to Election Day continues.
Previous posts:
With Eleven Weeks To Go, Hillary Clinton Appears To Be Unstoppable
Ten Weeks Out: The Presidential Race Tightens A Bit, But Clinton Still Lead
With Nine Weeks To Go, Clinton's Post-Convention Bounce Seems To Have Disappeared
With Eight Weeks To Go, A Tighter Race But It's Still Advantage Clinton
Presidential Race Continues To Tighten With Seven Weeks To Go
Presidential Race Remains Tight Heading Into First Debate