It's Two Weeks Until Election Day, And Things Are Looking Very Good For Hillary Clinton
Two weeks before Election Day, everything seems to be going Hillary Clinton's way.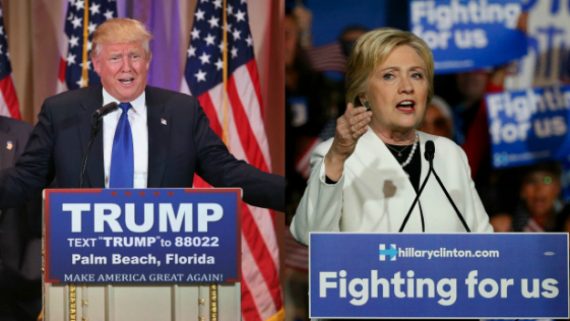 Considering how long it seems as though we've been dealing with news of the race for President dominating the headlines, it's hard to believe that we've reached the point where it's almost over, but I'm happy to report that it's true. Two weeks from today, Americans will head to the polls and, by the end of the evening, we should know who the 45th President of the United States will be. As we get closer to that day, both campaigns are working across the country at breakneck speeds to get supporters to the polls and battle for votes in what seem to be just a handful of remaining battleground states. Unfortunately for the Donald Trump campaign, several of those battlegrounds appears to be on territory that Republicans shouldn't have to worry about at this point in an election, including closer than should be expected polling in states such as Arizona, Utah, Georgia, Ohio, North Carolina, and even Texas. The campaign news of the past week, meanwhile, was marked by the final Presidential debate, during which Trump refused to say that he would accept the results of the election and an appearance at the Al Smith Foundation Dinner that crossed the line into partisanship that had long been an established rule there for Presidential candidates. Hillary Clinton's, meanwhile, was rocked once again by another round of email releases from Wikileaks, but the impact of this revelations seems to be limited to Trump supporters and other who aren't inclined to support Clinton to begin with. Trump, meanwhile, continues with his rhetoric claiming that the entire electoral system, including the media and all the polls, except the ones that have good news for him, are biased against him. It's rhetoric that likely helps to energize Trump supporters, but seems unlikely to attract new voters this late in the election cycle. As we'll see below, there's been some tightening in the polls at the national level, but not much, and in the Electoral College it's looking very much as if Trump has almost no realistic path to victory unless the majority of the polls are completely wrong. As Steven Taylor noted yesterday, that's the same kind of naive thinking about polls that was behind the "skewed polling" nonsense we saw four years ago, and it's just as mistaken.
Last week, the national polls painted a picture that seemed to show Clinton setting up for a landslide victory on November 8th. While there's still some possibility that could happen, the most likely outcome has always been something closer to what we saw in 2008 and 2012 simply due to the fact that we live in a very polarized nation and there are some voters who are just going to reflexively vote Republican or Democratic no matter whose at the top of the ticket, meaning that the odds of the kind of margins that would create a landslide like we last saw in 1984 are smaller than they used to be. In any case, this is a long way of saying that national polling over the past week has tightened just a little bit, although the picture still looks very good for Hillary Clinton. she now has a 5.1 point lead over Trump in a two-way race and leads him 48.3% to 43.2%. This is a drop from the 7.1 point lead she had after a particularly good weekend of poll releases at this time last week, but still pretty strong for this late in the race. In a four-way race, Clinton (45.3%) has a 5.4 point lead over Trump (39.9%). Libertarian Party nominee Gary Johnson, meanwhile, has fallen to an average of  6.0% nationally and the Green Party's Jill Stein has fallen to 2.2%, which seems to be further confirmation of the argument that many made earlier in this race that the relatively high poll numbers for both third-party candidates were temporary at best. Once again, Pollster shows a similar outcome in both a two-way and a three-way race.  In the RealClearPolitics polling average of the Favorable/Unfavorable question for both candidates, both candidates continue to be viewed unfavorably but Clinton is in a decidedly better position than Trump, For Clinton an average of 52.9% of respondents saying they have an unfavorable opinion of her versus 43.3% who say they have a favorable opinion. This leaves her with an average deficit of -9.6 points. This compares quite favorably to Donald Trump who stands at 60.4% unfavorable and 35.9% favorable and an average deficit of -25.2 points.
Despite the apparent tightening, Clinton still has a comfortable lead, as we can see in the chart for the two-way race: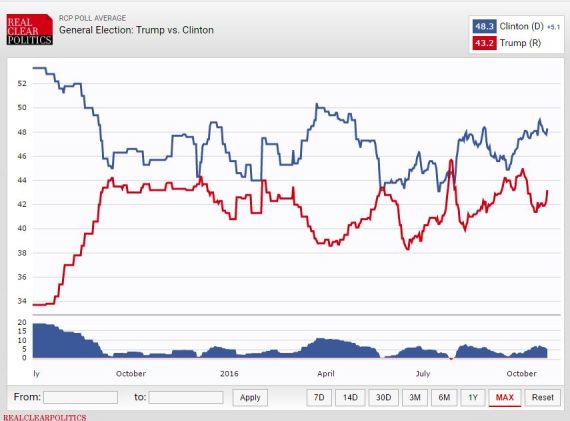 And the four way chart: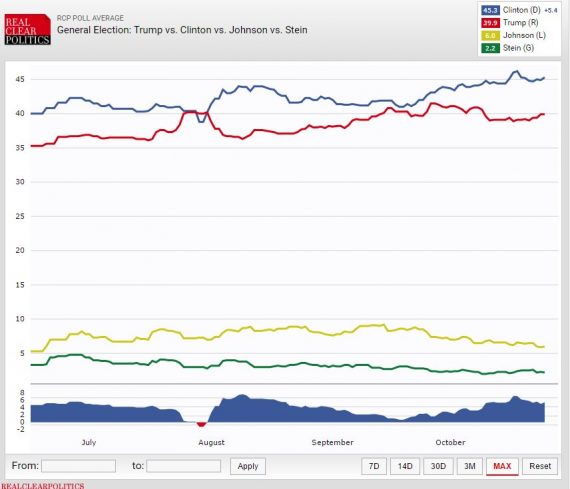 Turning to the state level polling, as I noted there are several apparent problems for Trump at that level, not the least of them being the fact that he is underperforming past GOP nominees in several key states, many of which have not been considered "battleground" states for some time, if they ever. Meanwhile, some traditional battleground states, such as Virginia, Florida, and New Hampshire, seem to be either firmly in Clinton's corner or moving there. As a result, the RCP Electoral Map currently gives Clinton 272 Electoral Votes, two more EV's than needed to win, to 126 Electoral Votes for Trump and 150 Electoral Votes from nine states and one Congressional District in Maine listed as toss-ups. One of those, toss-ups, though, is Minnesota, which hasn't been polled since mid-September and, given the fact that it hasn't gone for a Republican since 1972, it seems unlikely that this is a state that will slip out of Hillary Clinton's fingers. This represents a real loss for Trump, as a number of states that were in his corner slipped into the "toss-up" category. Without toss-ups, Clinton has 333 Electoral Votes to 205 for Donald Trump. This is a slight loss for Trump over last week due to the loss of Arizona. If these trends hold, Clinton appears on deck to win an Electoral College victory comparable to what President Obama won in 2008 and 2012.
In the projections, Clinton's turnaround continues to be reflected there as well. Nate Silver's polls-only forecast, for example, projects a 86.3% likelihood of a Clinton victory and a  13.6% chance of a Republican victory while the 'Polls-Plus' forecast gives Clinton a  84.0% chance of winning versus 16.0% for Donald Trump and the "Now-cast," which purports to project would happen if the election were held today, showing a 86.6% chance of a Clinton victory and a 13.3% chance of a Trump victory. These are all significant improvements over where Clinton was over the past two weeks. As was the case last week, Clinton fares slightly better in Sam Wang's forecast and in Larry Sabato's forecast. The New York Times, meanwhile, gives Clinton a 91% chance of winning the race while DailyKos gives Clinton a 95% chance of winning. These are largely consistent with Clinton's position last week.
As we go through the final two weeks of the campaign, there will be a lot of people telling Americans that "anything can happen," or pointing to elections like the 1980 contest between Jimmy Carter and Ronald Reagan in which Reagan didn't begin to really break through until the final weeks of the campaign (as John Sides and others have pointed out the extent to which Reagan was really an underdog in those final weeks has been greatly exaggerated). Some of these people will be the cable news networks eager to keep people interested in a race and treating every micro-movement in the polls as if it were "Breaking News" without putting any of those polls in context, others will be partisans from one side or the other whose job it is to push the agenda of their candidate. The reality, though, is that the odds are quite low that there will be a big enough change in the course of this campaign to make a major difference in the next fourteen days. So, unless pretty much every poll out there is wrong, and the odds of that are fairly low, it appears that Hillary Clinton is headed for victory. The only question is how big that victory will be, and what impact her win will have on the race for the Senate and House of Representatives.
Previous posts:
With Eleven Weeks To Go, Hillary Clinton Appears To Be Unstoppable
Ten Weeks Out: The Presidential Race Tightens A Bit, But Clinton Still Lead
With Nine Weeks To Go, Clinton's Post-Convention Bounce Seems To Have Disappeared
With Eight Weeks To Go, A Tighter Race But It's Still Advantage Clinton
Presidential Race Continues To Tighten With Seven Weeks To Go
Presidential Race Remains Tight Heading Into First Debate
With Five Weeks To Go, Clinton Appears To Have Momentum
Clinton Keeps Pulling Ahead Heading Into Second Presidential Debate
With Three Weeks To Go, Clinton's Momentum Appears To Be Surging