Erick Erickson's Struggles
The erstwhile Republican firebrand and current NeverTrumper shares his personal struggles.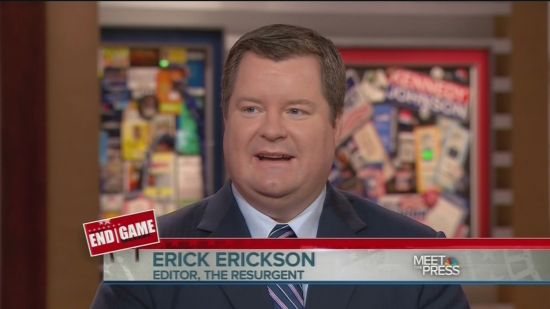 Erick Erickson has a rather remarkable post at his newish site, The Resurgent.  It begins:
In April I went into the hospital and stayed there a week. Subsequently, I have gone back numerous times. In fact, I have spent more time in the hospital this year than all the rest of my life combined. My lungs were filling with clots and I could barely breath. By the time I got admitted, my blood-oxygen level was below 90%. While I was there, doctors found a tumor in my wife's right lung. In June, she had it removed and on the day of surgery the doctors found a new growth on her left lung. The one was removed on a Tuesday and the other that Friday. My wife, it turns out, has a very uncommon form of lung cancer that only affects non-smoking women.

This has been a year. It started with angry Trump supporters showing up at our home and at my office. It continued with angry people harassing my advertisers and station. And while the professional toll has been something to behold, it is nothing compared to the personal struggles my wife and I have had to deal with this year and will now continue to deal with.

For the first time we have had to actually dwell on the possibility that we could leave our children in the world without us long before any parent should have to depart. Between the weight of this political season and the struggles of health, I have spent a lot of time thinking. If my wife and I were to die, what would we want our children to know. What would we leave them with? And honestly, it is hard to separate the struggles of this year from each other. It envelops my thinking.
The rest, about struggles between his faith and his politics and between his politics and his livelihood, is well worth reading. It's unlikely to be read with much sympathy from opponents who blame him for his part in coarsening the American political debate. But that's a pity.
I don't know Erick particularly well but met him a couple times at CPAC and similar gatherings in the early days of our blogging ventures, a decade or more ago now. I found him smart and likable.
Over time, our politics and tone diverged. He rose to the head of the RedState empire whereas I remained an independent. While I was always openly partisan, even in the earliest days of the site—which coincided with the most bitter part of the Iraq War fight—I was always an analyst first and a politico second. Partly because of my academic training and partly because of the relative smallness of my platform, it never occurred to me to slant my commentary for the good of a greater cause. RedState, by contrast, was conceived of as a Republican answer to Daily Kos and other community sites on the left. As it and Erick became more prominent, he also became a radio host, including filling in on Rush Limbaugh's show occasionally; a regular paid television commentator; and even a local politician.
The pressure to become more outrageous and less nuanced was naturally very intense; few resist it and fewer still do so while maintaining a major player on the national stage. While he's of course responsible for his choices in that regard, I certainly understand them.
I don't share Erick's religious faith but hope it comforts him and his family while they go through this struggle. I hope fervently that he and his wife recover quickly and fully from their ailments and that they can see their children mature into adults and enjoy their grandchildren.