Third Presidential Debate Marked By Trump's Refusal To Accept Election Result
For better or worse, the third Presidential debate will largely be remembered for one thing.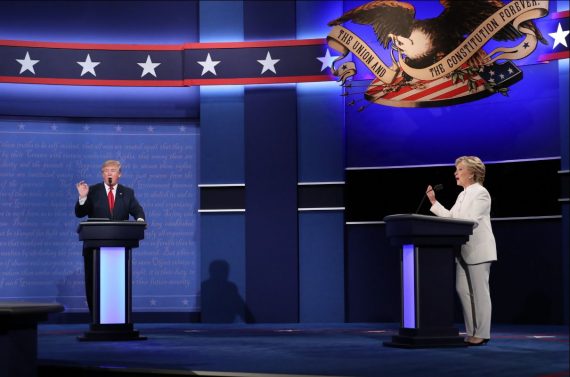 By far, last night's third and final Presidential debate was the most substantive of two Presidential debates and one Vice-Presidential debate that preceded it. Unlike the previous affairs, the main focus of the debate was 0n policy issues, and a real attempt to hold both candidates to both answer the questions that were asked and to explain the positions they'd taken in the past. To a large degree, thanks for that can be given to the debate moderator, Chris Wallace of Fox News Sunday, who by many accounts did a far better job as moderator than any of the others selected this year, and who was certainly more successful at getting the candidates to actually answer questions than Lester Holt, Martha Raadtz, and Anderson Cooper were. Even the candidates seemed to be doing better, for the most part. Hillary Clinton hasn't changed her game plan much throughout each of the three debates, mostly because she didn't need to as the polls clearly seem to indicate, and once again accomplished her basic mission of coming across as the calm, rational candidate with grasp on the issues that the next President will have to deal with. In the beginning at least, Donald Trump was also managing to stay on message. Granted, most of the responses he was giving to questions on issues such as the Supreme Court and immigration, as well as Vladimir Putin or the central issue of his own campaign, immigration, were utter nonsense, but at least for a time he was doing a better job of sticking 'to message' than he had before. After that first half hour or so, though, the old Trump began to emerge. He started to interrupt Clinton again, often by saying "wrong" while she was still talking. He also began to ramble into nonsense territory again, especially when the topic turned to areas where he clearly had no idea what he was talking about. The biggest headline of the night, though, came when Trump said that he wouldn't necessarily accept the results of the election if he were to lose:
In a remarkable statement that seemed to cast doubt on American democracy, Donald J. Trump said Wednesday that he might not accept the results of next month's election if he felt it was rigged against him — a stand that Hillary Clinton blasted as "horrifying" at their final and caustic debate on Wednesday.

Mr. Trump, under enormous pressure to halt Mrs. Clinton's steady rise in opinion polls, came across as repeatedly frustrated as he tried to rally conservative voters with hard-line stands on illegal immigration and abortion rights. But he kept finding himself drawn onto perilous political territory by Mrs. Clinton and the debate's moderator, Chris Wallace.

He sputtered when Mrs. Clinton charged that he would be "a puppet" of President Vladimir V. Putin of Russia if elected. He lashed out repeatedly, saying that "she's been proven to be a liar on so many different ways" and that "she's guilty of a very, very serious crime" over her State Department email practices. And by the end of the debate, when Mrs. Clinton needled him overSocial Security, Mr. Trump snapped and said, "Such a nasty woman."

Mrs. Clinton was repeatedly forced to defend her long service in government, which Mr. Trump charged had yielded no real accomplishments. But she was rarely rattled, and made a determined effort to rise above Mr. Trump's taunts while making overtures to undecided voters.

She particularly sought to appeal to Republicans and independents who have doubts about Mr. Trump, arguing that she was not an opponent of the Second Amendment as he claimed, and promising to be tougher and shrewder on national security than Mr. Trump.

But it was Mr. Trump's remark about the election results that stood out, even in a race that has been full of astonishing moments.

Every losing presidential candidate in modern times has accepted the will of the voters, even in extraordinarily close races, such as when John F. Kennedy narrowly defeated Richard M. Nixon in 1960 and George W. Bush beat Al Gore in Florida to win the presidency in 2000.

Mr. Trump insisted, without offering evidence, that the general election has been rigged against him, and he twice refused to say that he would accept its result.

"I will look at it at the time," Mr. Trump said. "I will keep you in suspense."

"That's horrifying," Mrs. Clinton replied. "Let's be clear about what he is saying and what that means. He is denigrating — he is talking down our democracy. And I am appalled that someone who is the nominee of one of our two major parties would take that position."

Mrs. Clinton then ticked off the number of times he had deemed a system rigged when he suffered a setback, noting he had even called the Emmy Awards fixed when his show, "The Apprentice," was passed over.

"It's funny, but it's also really troubling," she said. "That is not the way our democracy works."

Mrs. Clinton also accused Mr. Trump of extreme coziness with Mr. Putin, criticizing him for failing to condemn Russian espionage against her campaign's internal email.

When Mr. Trump responded that Mr. Putin had "no respect" for Mrs. Clinton, she shot back, in one of the toughest lines of the night: "That's because he'd rather have a puppet as president of the United States."

"No puppet, no puppet," Mr. Trump sputtered. "You're the puppet." He quickly recovered and said, "She has been outsmarted and outplayed worse than anybody I've ever seen in any government, whatsoever."

With 20 days left before Election Day and early voting already underway in Florida, Ohio and several other key states, the debate felt less like an argument between equals than a last-ditch attempt by a fading candidate, Mr. Trump, to save himself.

Mr. Trump sought throughout the debate to recover from a politically damaging three weeks. He has been unable to gain traction in the polls from his strategy of assailing the Clintons as corrupt and immoral; the news media as biased and bent on rigging the election against him; and the nine women who have come forward to accuse him of unwanted sexual advances as liars and, in some cases, unattractive.

Mr. Trump said, in response to a question from the debate moderator, Chris Wallace of Fox News, that the claims of the women had been "debunked" and that they had been put forward by Mrs. Clinton's campaign.

But after he denied ridiculing the looks of the women accusing him of sexual harassment — "I did not say that," he repeated three times — Mrs. Clinton repeated nearly verbatim his two comments from last week about the appearances of a pair of his accusers.

"Donald thinks belittling women makes him bigger," she said. "He goes after their dignity, their self-worth; and I don't think there is a woman anywhere who doesn't know what that feels like."

After Mrs. Clinton finished an extended condemnation, Mr. Trump said only: "Nobody has more respect for women than I do, nobody."
Trump's comment that he could not guarantee that he would accept the result of the election should not come as a surprise, of course. For weeks now, he has been making the claim that the election and 'the system' are rigged and that any result other than a Trump victory would not be legitimate, even though he has no real evidence to support the claims of "rigging' that he's making. To some degree, of course, comments like this can be dismissed as the same sort of nonsense we've been hearing from Trump for the entire election process and, in the end, it really doesn't matter whether Trump accepts the results or not. Unless we end up with a repeat of the 2000 election in which the very outcome of the national election is in doubt because one state or another is too close to call, which seems unlikely, the results of the election will be certified, the Electoral Votes will be cast and counted as required by statute and the Constitution, and the new President will be sworn into office on January 20, 2017. The fact that Trump or his supporters may be sitting on the sideline claiming that the outcome was 'rigged' will, at that point, be somewhat irrelevant. At the same time, of course, there is something rather alarming about a Presidential candidate who refuses to accept the outcome of an election or who builds a post-election political movement telling tens of millions of people who have spent the past eighteen months getting involved in a political campaign that they have had the election stolen from them, and it is apparent that Trump himself doesn't care what kind of chaos a position like his would create.
Dan Balz suggests that Trump's comment about the legitimacy of the election will end up being a 'crucial mistake,' and Peter Beinart predicts it will be his downfall:
Barring some massive unforeseen news, that comment will dominate political conversation in the coming days. By next week, it will be all anyone remembers about tonight. And for good reason. A major party nominee suggesting he won't concede defeat in a presidential election he has clearly lost was, until Trump came along, unthinkable. Had Al Gore taken that position in 2000, the United States might not be a functioning democracy today. If Trump's position becomes the new normal–if future candidates refuse to respect the voters' will–America may not remain one. Democracies require public legitimacy for their survival. When powerful actors withhold that legitimacy, the system crumbles.

The good news is that Trump's answer will devastate him politically—perhaps even more than the groping scandals. It will devastate him because the minute the debate ends, journalists will begin asking every Republican they can find whether they agree that he doesn't need to concede defeat. And many of those Republicans—including the ones on Trump's own campaign—will feed him to the wolves.

Mike Pence, Trump's own running mate, has already said he'll accept the election outcome. Trump's campaign manager, Kelly Anne Conway, has said something similar. The Republican National Committee's Sean Spicer has said the RNC will accept the results. So has Laura Ingraham. Spicer, Ingraham, Conway and Pence want a career in the GOP post-Trump. They have no choice.

The media largely structures its coverage around partisan disagreement. If a candidate's own party won't defend something he says, journalists treat that statement as illegitimate. Which means that Trump, by refusing to commit to respect the election outcome, has just given the media an excuse to savage him in the days to come.
This won't matter to Trump's supporters, of course, this kind of rhetoric is exactly what they want to hear from a candidate like Trump and it just tends to reinforce what they already believe about the political system. It is likely, though, to have an impact on Trump's ability to stop his current downward trajectory in the polls or to attract any support from mainstream Republicans and conservatives who have already been disassociating themselves from him in the name of self-preservation. If that happens, it would be entirely appropriate. For more than two centuries now, our political system has largely prided itself on something that many nations have yet to fully mater, the peaceful transition of power in the democratic society. Losing candidates have, by and large, accepted the outcome of an election even when evidence existed that they might have had a basis for challenging the outcome and have at least put on a public display of being gracious in their loss even though there is likely private disappointment going on behind the scenes. The one time that this tradition most notably failed, it led to a Civil War that killed more people than any conflict in American history. That isn't going to happen this time, of course, largely because nobody is going to go to war for Donald Trump. At the same time, though, if Trump uses a loss in this election to build a political movement and/or media empire obsessed with the politics of resentment, it won't be a healthy development for our country. Sadly, that seems to be exactly where he intends to go.
As things stand, it seems unlikely that last night's debate will do much to change the overall direction of the race, which has been moving in Hillary Clinton's favor for several weeks now. If anything, the negative coverage that Trump is likely to get in the press from his refusal to accept the outcome of the election is likely to accelerate that process and to cause more Republicans to disassociate themselves from Trump in an effort to preserve precarious down-ballot races for the House and Senate. We'll get a better idea of the impact late this week when the first post-debate polls start to come out, of course, but absent something earth-shattering happening it's likely that we'll be seeing President-Elect Hillary Clinton on our television screens sometime during the evening of November 8th.
Update: James Joyner has posted his own reaction to last night's debate, with which I largely agree.