The Third And Thankfully Last Presidential Debate of 2016
Last night's debate, sadly, lived down to my expectations.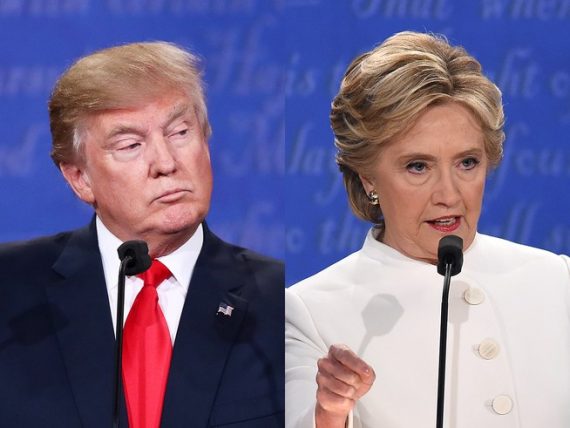 Last night's debate, sadly, lived down to my expectations. I went into the evening believing Donald Trump to be the least qualified, most dangerous major party nominee in the modern era and Hillary Clinton to be qualified by experience but not in character. My views on both counts were reinforced.
While it is assuredly a low bar, this was by far the most substantive and best-moderated of the three presidential debates this cycle. While I was more than a little dubious of a Fox News anchor as the sole questioner, Chris Wallace chose far more substantive questions—encouraging policy-driven answers to questions that have taken the back seat to more salacious controversies over the course of the campaign—and respectfully and with comparative success kept the candidates in line. Both, as has been the norm, talked over one another and dodged questions to get in their jabs at their opponent. But this was far more like a traditional presidential debate than the previous two iterations.
Most of my social media friends and associates highlighted the same moment that all of the major press outlets did: Trump's hedging on whether he would gracefully concede the election if the vote didn't turn out his way. For a variety of reasons, I didn't find that particularly newsworthy. First, because he has been screaming about the game being "rigged" all cycle, it wasn't really a deviation from his baseline. Second, there are perfectly benign ways to take his answer. While the stolen election nonsense is potentially dangerous in theory, I'm not inherently opposed to a wait and see attitude in the context of an election where foreign operatives and computer hackers are playing a significant role. For that matter, it has been customary, going back to the 2000 election, to reserve the right to litigate close outcomes. Third, given the embarrassment caused to all of Trump's primary foes in being forced to pledge to support the winner, perhaps some leeway is in order.
I was frankly more concerned by his general venality and continued lack of policy understanding. While I often disagreed, sometimes quite strongly, with Clinton's policy prescriptions, she clearly understood the questions and provided plausible answers. Trump was, for the most part, winging it while slinging charges of corruption and otherwise calling names.
Aside from some grating personality ticks, Clinton was mostly fine. While she was frequently flatly dishonest, she knows her brief.
Most notably, while it seemed to have the desired impact of getting under his skin, claiming that Trump is some sort of "puppet" for Vladimir Putin is simply outrageous. While there is plenty of reason to believe that the Russian government and making mischief in this election and that they're doing so mostly in ways helpful to Trump and harmful to Clinton, there's simply no evidence that Trump is in any way colluding with Putin.
On the policy front, her contention that "the Supreme Court needs to stand on the side of the American people," that "will stand up on behalf of women's rights, on behalf of the rights of the LGBT community," and, especially, that "the Supreme Court should represent all of us" sounds wonderful in theory but is, in reality, part of why we're in the mess that we're in right now as a country. It is not the role of the judiciary to impose its policy views on the populace. We elect representatives, who are answerable to the voters and restrained by all manner of checks and balances, to make policy. The courts exist to ensure that those representatives don't exceed their authority under the Constitution and to settle disputes between the executive and legislature and between the central government and those of the several states. A Supreme Court that ignores the will of the people in order to impose its view of justice will be seen as illegitimate and make the system indeed appear to be "rigged."
Trump, on the other hand, seems to have never considered the issue before and essentially just repeated "Second Amendment" over and over.  Which then took the ensuing discussion down the gun control rabbit hole.  Before Wallace took it down the even less productive abortion rabbit hole.
Similarly, Clinton's assertion that "I'm going to continue to push for a no-fly zone and safe havens within Syria" would be a laughably dumb answer for any presidential candidate this far into the war, much less a candidate whose main claim to having sufficient experience for the job is four years as Secretary of State. Alas, Trump's answers could have been given by a twelve-year-old.  He started off with, "Let me tell you, Mosul is so sad. We had Mosul. But when she left, she took everybody out, we lost Mosul. Now we're fighting again to get Mosul." Things didn't improve subsequently.  Most notably, he made the utterly bizarre claim of the ongoing campaign to take back Mosul: "the only reason they did it is because she's running for office of president and they want to look tough."
This exchange, coming off the heels of that assertion, pretty much typified the debate afterward:
Wallace: Secretary Clinton, it's an open discussion. Secretary, please let Mr. Trump speak. Go ahead.

Clinton: He's unfit. He proves it every time.

Trump: No, you're the one that's unfit. You know, Wikileaks just actually came out. John Podesta said some horrible things about you, and boy was he right. He said some beauties. And you know Bernie Sanders, he said you have bad judgment. You do. And if you think going into Mosul after we let the world know we're going in and all of the people we really wanted, the leaders are all gone, if you think that was good, then you do. Now John Podesta said you have terrible instincts. Bernie Sanders said you have bad judgment. I agree with both.
It was all pretty disgraceful. She was petulant and unpresidential by any previous standard. And he was orders of magnitude worse.  It remains baffling that, in a nation of 310 million, these are the best choices we have.