Insurgents Linked To Al Qaeda Capture Iraq's Second City
Things only seem to be getting worse in Iraq.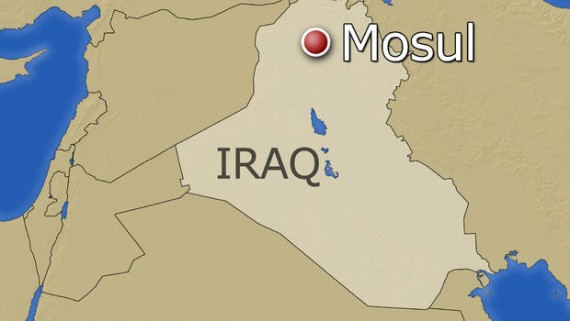 An insurgent group linked to al Qaeda has seized control of one of Iraq's largest and most strategically important cities:
BEIRUT — Insurgents seized control early Tuesday of most of the northern Iraqi city of Mosul, including the provincial government headquarters, offering a powerful demonstration of the mounting threat posed by extremists to Iraq's teetering stability.

Fighters with the Islamic State of Iraq and Syria (ISIS), an al-Qaeda offshoot, overran the entire western bank of the city overnight after Iraqi soldiers and police apparently fled their posts, in some instances discarding their uniforms as they sought to escape the advance of the militants.

In Baghdad, Prime Minister Nouri al-Maliki announced a "general mobilization" and asked parliament to declare a state of emergency, saying the government would not allow the area to fall "under the shadows of terror and terrorists."

Iraq's speaker of parliament, Osama Nujaifi, said Mosul, Iraq's third-largest city and the effective capital of northern Iraq, is now entirely in insurgent hands.

"When the battle got tough in the city of Mosul, the troops dropped their weapons and abandoned their posts, making it an easy prey for the terrorists," he told a televised news conference in Baghdad.

All key facilities are now controlled by the insurgents, including the airport and the prisons, said Nujaifi, who is from Mosul.

"Everything is fallen. It's a crisis," he said, appealing for international and government help to retake the city. "Having these terrorist groups control a city in the heart of Iraq threatens not only Iraq but the entire region."

In declaring the state of emergency in a televised speech, Maliki called on "all powers — political, financial and popular — to stop the terrorism and bring life to normal in the areas controlled by the terrorists in Mosul or any other city."

He said his government has created a special Crisis Unit to deal with the situation and warned that punishment would be meted out to "those who were reckless and those who did not rise to the challenge" of the attack on Mosul.

The speed with which one of Iraq's biggest cities has fallen under militant control is striking and suggests the U.S.-trained Iraqi security forces are even more vulnerable than had previously been thought.

The collapse of government forces in Mosul echoed the takeover earlier this year of the town of Fallujah in western Anbar province, where U.S. troops fought some of their fiercest battles of the Iraq war in an effort to quell the insurgents.

Mosul, however, is a far more important city, the capital of northern Iraq and a key commercial and trading center. It had also been an important focus of the U.S. military's effort to stabilize Iraq.

The capture of the airport, which had served as a major hub for the U.S. military, could not be independently confirmed, but Nujaifi said it had been seized and that all of the aircraft there also were captured.
More from the BBC:
The BBC's Jim Muir in Beirut says ISIS has been informally controlling much of Nineveh province for months, imposing tolls on the movement of goods and demanding protection money from local officials.

After five days of fighting, they took control of key installations in Mosul, which has a population of about 1.8 million.

Prime Minister Nouri Maliki, who is struggling to form a government in the wake of the April elections, has vowed to drive the ISIS "terrorists" out of mainly-Sunni Mosul in short order.

He is unlikely to succeed soon. He made similar vows when Sunni militants took over Falluja, west of Baghdad, in January, and they are still there.

It is not yet clear whether it is only ISIS involved in the Mosul takeover. In Falluja and its province, Anbar, Mr Maliki has clearly alienated many Sunni tribesmen and others, creating fertile soil for the radicals.

Internet images of local youths and even children stoning Iraqi security vehicles as they fled Mosul suggest that the Shia PM is not popular there either.

ISIS is also actively fighting in neighbouring eastern Syria to establish its control there, apparently aiming to straddle the border with an Islamic state.

If Mr Maliki is to defeat the Sunni radicals, he may need the help of Kurdish forces from the north. That will come with a heavy price tag, and they have in any case so far refused.

(…)

Osama al-Nujaifi, the speaker of parliament and brother of Nineveh's governor, called on the Iraqi government and Kurdistan Regional Government to send reinforcements to Mosul to "fight the terrorists", whom he said had seized military hardware, including helicopters.
 Hayes Brown makes these observations:
Mosul is on the border with Syria, including area that the United Nations was considering using to channel aid to the thousands displaced during that country's civil war, and making it strategically important to the militants now in control. ISIS originally formed out of an alliance between Al Qaeda in Iraq (AQI) and jihadist groups in Syria two years ago as the Syrian civil war was entering its current, deadly phase. Though the group originally tried to mask its brutality through civilian outreach such as a day filled with ice-cream and tug of war competitions, that facade has since fallen away. Among the tactics the group reportedly uses for intimidation purposes within Syria: crucifixion.

The group has also spent the last year fighting against not just the Syrian government, but also fellow jihadi group Jabhat al-Nusra. The latter is core al Qaeda's preferred group in Syria and the fight between the two has led al Qaeda leadership to officially disavow the group. ISIS "is not a branch of the al-Qaeda group . . . does not have an organizational relationship with it and [al-Qaeda] is not the group responsible for their actions," al-Qaeda's General Command said in February. The group is also feuding with Iran-backed terrorist group Hezbollah — the latter of whom is Shiite, while ISIS is Sunni — having detonated car bombsin Lebanon targeting neighborhoods where Hezbollah is strong.
After a brief period of relative calm, political violence became a fact of life in Iraq not too long after the U.S. completed its withdrawal to the point where car bombings and similar attacks have become nearly as common as they were during the worst of the uprising that occurred in after the fall of Saddam Hussein. As this chart shows, there has been a dramatic uptick in civilian deaths attributable to insurgent attacks after a five year period when they were relatively low compared to 2006-2007: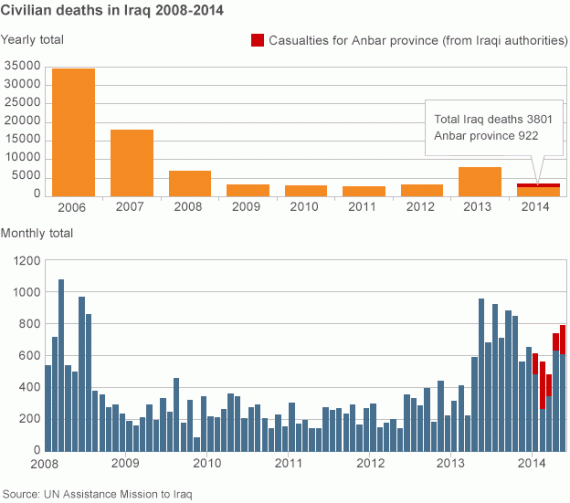 To a large degree, it appears that the uptick in deaths and attacks has occurred as the Iraqi political system has continued to break down. The coalition of interest groups in charge in Baghdad seems to be capable of little more than inertia, which has allowed insurgent groups like ISIS to come in and start reasserting themselves.
Additionally, the civil war in Syria and the manner in which it has attracted jihadists and al Qaeda sympathizers has also had an impact on events inside Iraq. To some degree, it appears that this is partly due to the fact that the Iraqi government is either unable or unwilling to do anything about the fact that many of the worst elements of the Syrian resistance have taken to seeking refuge in western Iraq just across the Syrian border. Given that power vacumn, it's no surprise that groups like ISIS would seek to expand their power in this manner.
It will be interesting to see how the Iraqi Government responds to this. In the worst case scenario, we could end up seeing the Syrian Civil War spread across the Iraqi border.