With Eight Weeks To Go, A Tighter Race But It's Still Advantage Clinton
The election is now fifty-six days away and, while the race is tighter than it has been, it's still one in which Hillary Clinton has seemingly all the advantages.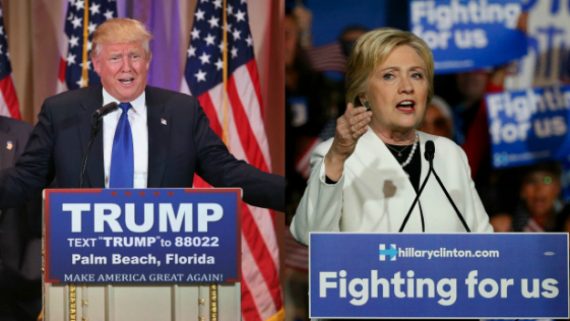 With just fifty-six days to go until Election Day, the campaign has settled somewhat into a pre-debate pattern in which both campaigns seem to be circling each other waiting for an opportunity to strike, but mostly holding off for the most part until the first debate, which now lies some less than two weeks away. For the most part, that means the race has gone into something of a holding pattern in which nothing earth-shattering that would have a real impact on the candidate's standing is occurring.
Donald Trump has, for the most part, avoided slipping back into the pattern that we became familiar with from the start of this campaign where he ends up saying something outrageous that take over the news cycle and ends up derailing whatever message the campaign may have for a particular day. No doubt, this is largely attributable to the influence of his new campaign team, which actually seems to have managed to convinced him to stay on message for the most part. Additionally, Trump seems to have adopted the practice of using teleprompters for more of his campaign speeches, and to stick to the script laid out before him. While it does tend to make his speeches come across as somewhat flat and passionless, it has the advantage of ensuring that he stays 'on script,' where the campaign wants him.
For her part, Hillary Clinton has continued moving forward, although she has had some stumbles along the way. The first came toward the end of last week when she said at a fundraiser that half of Donald Trump's supporters belonged in a "basket of deplorables" that includes racists, xenophobes and other bigots. The Trump campaign was quick to jump on Clinton for the comment, and even many pundits who aren't generally Trump supporters wondered if this would turn into a "47 percent" moment for Clinton akin to the one Mitt Romney faced when he commented that nearly half of Obama's supporters were dependent on government and therefore not likely to support Republicans. Clinton quickly retracted the comment, but the Trump campaign has continued to exploit it over the past several days. Clinton's second mistake manifested itself on Sunday when she became ill at the 9/11 memorial commemoration in New York and left early while he campaign kept the press in the dark for several hours before revealing that the candidate had been diagnosed with pneumonia on Friday, a decision the campaign now seems to agree was a mistake on their part.
Even Libertarian Party nominee Gary Johnson got into the news cycle his past with, for both good and bad reasons. On the good side, Johnson and his running mate former Massachusetts Governor Bill Weld secured the endorsement of the traditionally Republican Richmond Times Dispatch, which declined to endorse a Republican candidate for President for the first time in recent memory, as well as the Winston-Salem Journal out of Winston-Salem, North Carolina. So far, Johnson has earned more newspaper endorsements than Donald Trump has. On the bad side, Johnson had a particularly bad moment on live television late in the week when he appeared to be unaware of what Aleppo, the Syrian city that is the center of the nation's refugee crisis, was or where it was located. It was an embarrassing moment that managed to push Johnson into the news cycle for all the wrong reasons, but to his credit the candidate acknowledged that he had made a mistake and didn't resort to the traditional political response of trying to paper over a gaffe or claim that he had "misheard" the question. Whether that moment would blunt what had been a good couple months for Johnson remained unclear as the week ended.
Turning to the polls, the race appeared to continue to tighten over the past week, although some polls showed Clinton in better shape than others, and none of them appeared to show anything resembling a decisive shift in momentum toward Donald Trump at this point. In a two-way race, the RealClearPolitics average has narrowed to 2.4 point lead for Clinton (45.8%) over Trump (43. 4%) thanks in no small part to the LA Times/USC  Tracking Poll which has shown a decided pro-Trump bias for this entire cycle and which employs a unique methodology that may or may not provide new insights that traditional polling does not. Clinton's margin has also slipped in the four-way matchup, with RealClearPolitics now giving her a 2.4 point edge over Trump at 41.9% to 39.9%. Libertarian Party nominee Gary Johnson remains stable at an average of 9.0% and Jill Stein at 2.9%.  These margins are tighter than we've seen since the party conventions at the end of July, and, as the charts demonstrate, they show that the race continues to tighten: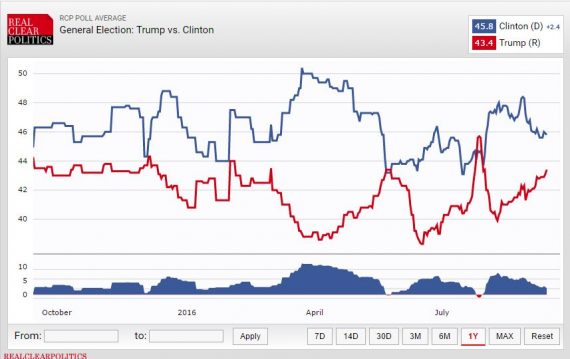 And here's the four way chart, which for the first time shows signs of movement over a shorter period of time: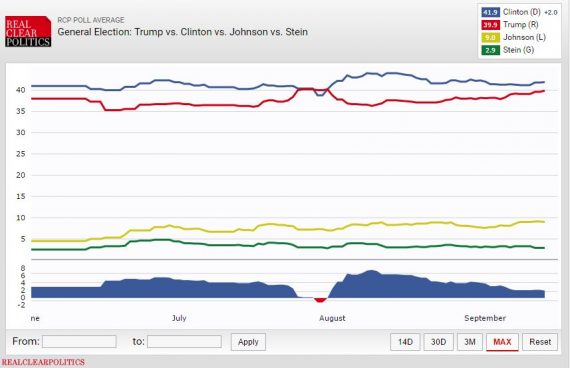 Turning to the states, we continue to see evidence of tightening there as well as several state polls have shown a slip in Clinton's lead, or even a slight turn toward Trump that may or may not last very long. The most notable changes have been in states such as Wisconsin and Michigan, which have seen Clinton's once dominant lead shrink slightly and in Florida and Iowa, where Donald Trump has actually taken a slight (as in under 1%) lead thanks to one or two recent polls. The result is that several states have shifted into the toss up category on the RealClearPolitics Electoral Map so that it now shows the Clinton/Kaine ticket with 209 Electoral Votes, Trump/Pence holding steady at 154 Electoral votes, and thirteen states, along with one Congressional District in Maine, adding up to 175 Electoral Votes falling into the Toss-Up category. Without toss-ups, Democrats continue to hold a comfortable, if slightly diminished, lead with 311 Electoral Votes projected for Clinton/Kaine and 227 projected for Trump/Pence. 
In other projections, Nate Silver's forecasts show a slightly increased likelihood of a Clinton win, but remained largely stable for the week. The polls-only forecast projects a 69.4% likelihood of a Clinton victory and a 30.6% chance of a Republican victory, for example, while the 'Polls-Plus' forecast gives Clinton a 68% chance of winning versus 32.0% for Donald Trump and the "Now-cast," which purports to project would happen if the election were held today, showing a 72.7% chance of a Clinton victory and a 27.2% chance of a Trump victory. Once again, there have been no significant updates to either Sam Wang's or Larry Sabato's Electoral Projections over the past week.
This past week has largely been a continuation of what we've seen over the past three weeks, a race that is tightening but which still gives a real advantage to the Democratic candidate thanks to strength at the state level that is remaining fairly consistent. Additionally, as Harry Enten points out, the tightening seems to have its limits in large part because Donald Trump's momentum in the polls has stopped, which suggests there may be a ceiling to his support after all. To a large degree, in fact, what we're seeing right now is not entirely different from the fluctuations we saw during the 2012 campaign which ultimately ended in a victory by President Obama that amounted to about 2.45% in the popular vote and a larger margin in the Electoral College. While many people, myself included, expected that this race would be different thanks to the presence of Donald Trump on the ballot, it would appear that this isn't the case. In no small part, this is likely due in part to the fact that the partisan divide in the country remains notwithstanding the controversy that Trump brings with him and in part to the fact that both candidates are equally unpopular among voters. Whatever the reason, it means that the race is closer than many people think it should be, and this seems to be making some Democrats nervous. Personally I tend to believe that Clinton will pull away from Trump as the election gets closer, and that we'll see a win more akin to 2008 than 2004, we're unlikely to see any real movement in the polls in either direction before the upcoming debates which, under the circumstances, are likely to be the highest rated in quite some time.
Previous posts:
With Eleven Weeks To Go, Hillary Clinton Appears To Be Unstoppable
Ten Weeks Out: The Presidential Race Tightens A Bit, But Clinton Still Lead
With Nine Weeks To Go, Clinton's Post-Convention Bounce Seems To Have Disappeared