Mike Johnson is Very Religious
His critics are focused on the wrong problem.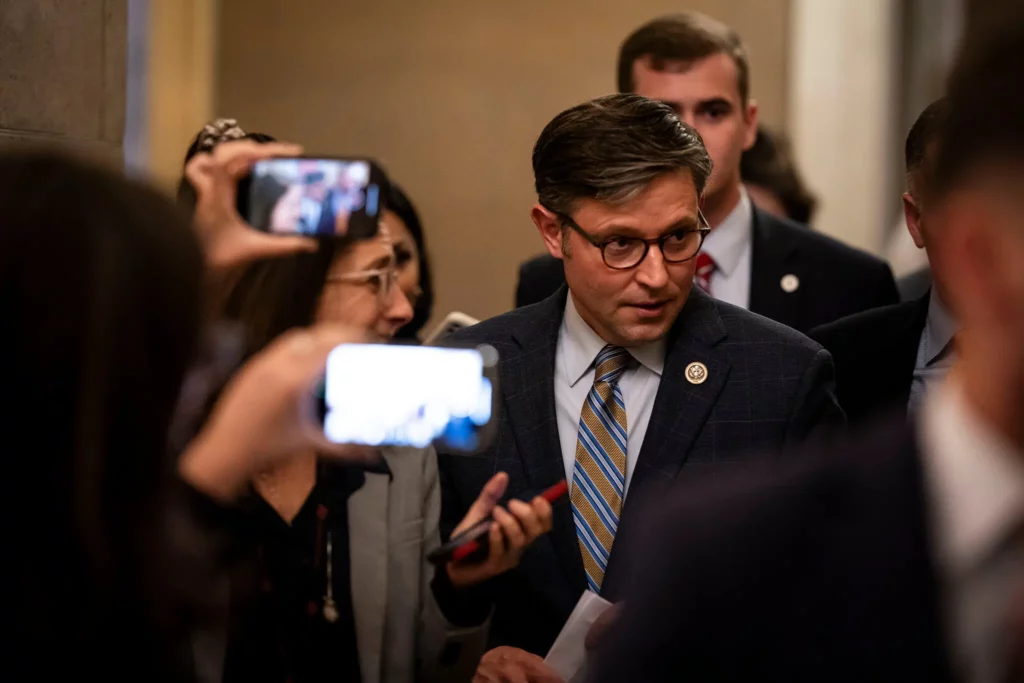 Because Mike Johnson was a virtual unknown to most of us, seemingly coming out of nowhere to win the unanimous support of an otherwise divided Republican caucus to get elected Speaker, there is a spate of reporting scrambling to figure out who he is. I find most of it frankly exasperating, conflating views that are simply odd from the perspective of most of the professional class with public policy ideas that are actually dangerous.
HuffPost's senior politics reporter Jennifer Bendery ("Mike Johnson's Wife Runs Counseling Service That Compares Being Gay To Bestiality, Incest") is an exemplar of the type:
The wife of newly elected House Speaker Mike Johnson (R-La.) runs a counseling business that advocates the belief that homosexuality is comparable to bestiality and incest, according to its operating documents.

Johnson and his wife, Kelly, have long intertwined their political and business lives: They became a known entity in the late 1990s when they went on national television as the face of Louisiana's new marriage covenant law, which makes it harder to get a divorce. Today, they co-host a podcast, "Truth Be Told," where they talk about political and social issues from a conservative Christian perspective. Their podcast is up to 69 episodes.

"We have been working in ministry side by side and together for our whole marriage," Johnson said last year when he and his wife launched their podcast, in an interview with The Message, a website that connects members of the Louisiana Southern Baptist community.

The House speaker's identity as an evangelical Christian has been a driving force in hisin his personal life and his career, which includes eight years as the senior attorney and national spokesperson for a legal nonprofit affiliated with the religious right.

"Go pick up a Bible off your shelf and read it ― that's my worldview," Johnson told Fox News' Sean Hannity in a Thursday night interview. "That's what I believe, and so I make no apologies for it."

Kelly Johnson features the couple's podcast on the website of her company, Onward Christian Counseling Services, which promotes Bible-based pastoral counseling. Her website also includes a link to its 2017 operating agreement, which lays out the corporate bylaws for the company ― and embraces a number of socially conservative beliefs about LGBTQ+ people and women's reproductive rights.

The agreement states that Onward Christian Counseling Services is grounded in the belief that sex is offensive to God if it is not between a man and a woman married to each other. It puts being gay, bisexual or transgender in the same category as someone who has sex with animals or family members, calling all of these examples of "sexual immorality."

"We believe and the Bible teaches that any form of sexual immorality, such as adultery, fornication, homosexuality, bisexual conduct, bestiality, incest, pornography or any attempt to change one's sex, or disagreement with one's biological sex, is sinful and offensive to God," says the eight-page business document.

This agreement also refers to "pre-born babies" and says the company is committed to defending and protecting all human life, "from conception through natural death."
Longtime political reporter and commentator Brian Beutler, now blogging on Substack, wants us to "Make Mike Johnson Famous."
I had hoped, without really expecting, that the 20-plus member GOP rebellion against Jim Jordan's efforts to shove himself down their throats would bloom into a greater struggle against MAGA Donald Trump's abusive lieutenants in the House.

A week later they decided they'd had quite enough integrity, thanks, and settled for Mike Johnson, who's like Jim Jordan without the manic caterwauling.

[…]

And I think it reflects a general sense within the Republican Party that its members can plow past most of their political liabilities with a brief burst of shamelessness and then quickly waft the stench away. They reasoned that by picking a relatively unknown quantity, one who seems studious and kind instead of smarmy and dim (Kevin McCarthy) or abrasive and menacing (Jim Jordan), they could put weeks of turmoil behind them with one quick show of unity, and then let beat sweeteners take care of the rest.

[…]

Republicans have gambled that they can apply the same method Bill Barr used to bury the Mueller report to Mike Johnson's record of extremism and insurrection—create a first impression of innocence in the public mind that Democrats can't easily unmake.

[…]

Instilling an idea about a person in the social consciousness and making it stick is an unending and tedious process. Republicans didn't define Al Gore as a wooden teller of Big Fish tales in one day, it required relentless scoffing; same with John Kerry as the out-of-touch cheese-eating surrender monkey, Hillary Clinton as Mrs. Emails. Nancy Pelosi as Mrs. San Francisco values, and so on.

House Republicans, with a helpful assist from Rep. Virginia Foxx (R-NC), teed things up nicely for Democrats by boo-hissing and screaming at a journalist to "shut up" for asking Johnson whether he stands by his involvement in the coup, while he stood by meekly. Rep. Anna Paulina Luna (R-FL) shouted booyah ("damn right!" technically) on the House floor in full support of Johnson's efforts to overturn the 2020 election. But memories of those episodes will fade, advertisements that exploit the footage, while useful, will lose shock value. (Don't most people thumb through their phones during commercial breaks these days anyhow?)

What won't fade as easily is an indelible caricature. Like Gore the exaggerator again, or Jimmy Carter as the prophet of malaise. Sen. Josh Hawley (R-MO) became a meme when the January 6 Committee released footage of him (daintily, fearfully) fleeing the insurrection he helped inspire. Well here's Mike Johnson, MAGA Ayatollah, running away from questions about his involvement in the failed coup and support for a national abortion ban.

When Johnson is absent or unavailable for any reason, it must be because he's hiding from yet more questions about his election lies. Or maybe he's trying to arrest a gay couple, or a woman who terminated a pregnancy. With him it's always one or the other.

[…]

House Republicans won't pay much of a price for electing Johnson unless Johnson is understood, at a population level, to be a malign actor, where when you say the name "Mike Johnson," it conjures a predictable image in the mind of whomever you're talking to.

[…]

Republicans just lined up unanimously to hand the House over to an election denier. They did this because Donald Trump insisted on it. If they suffer politically as a result, it won't be because of the IRA. It'll be because people come to see Johnson no differently than they saw Kari Lake and the other defeated insurrections of the 2022 midterms. And it's critically important that they do. If Republicans don't lose next November, an insurrectionist will be running the House on January 6, 2025.
NYT congressional reporter Luke Broadwater ("9 Takeaways From Mike Johnson's First Interview as Speaker") simply reports, putting things into reasonable context:
Speaker Mike Johnson said on Thursday evening that his personal worldview and policy positions are dictated by the Bible, in his first extended interview since assuming the job second in line to the presidency.

During a 41-minute interview with the Fox News host Sean Hannity, Mr. Johnson, a 51-year-old Louisiana Republican, acknowledged that some of his conservative Christian views, such as his opposition to same-sex marriage, run counter to the law. He said he would not try to impose that view or others, such as his opposition to abortion, on the whole country. He also laid out how he planned to approach other major issues that would soon come before Congress.

[…]

Here are nine takeaways from the interview.

1. Johnson's views stem from the Bible.

"I am a Bible-believing Christian," he told Mr. Hannity. "Someone asked me today in the media, they said, 'It's curious, people are curious. What does Mike Johnson think about any issue under the sun?' I said, 'Well, go pick up a Bible off your shelf and read it.' That's my worldview."

Mr. Johnson added that his religious views didn't necessarily mean that he would be successful in pushing a conservative Christian agenda through Congress.

"Everybody comes to the House of Representatives with deep personal convictions, but all of our personal convictions are not going to become law," he said.

2. He acknowledged that same-sex marriage is the law of the land.

Mr. Johnson has for years argued that same-sex marriage should be illegal and has called homosexuality "inherently unnatural" and "dangerous." But he told Mr. Hannity he had no plans to try to criminalize same-sex marriage now that he's speaker.

"On the marriage issue, no one has discussed that for as long as I can remember," Mr. Johnson said. "This has been settled by the Supreme Court."

He said that he disagreed with the Supreme Court, but that he would not fight to change the law.

"They changed the definition of marriage that had been regarded by basically every human society for 5,000 years, but when five justices on the Supreme Court changed it, that became the law of the land," Mr. Johnson said. "I'm a constitutional law attorney. I respect that, and we move forward."

Editors' Picks

Yankee Fans Can Buy Mickey Mantle's Childhood Home. The Price: $7.New York City Was the Real Star of 'Billions'This Turkey Just Will Not Stop Crossing the Road

In fact, Mr. Johnson tried just last year to prevent the enactment of legislation to codify same-sex marriage protections at the federal level. He was one of 169 House Republicans who voted against that bill, but it cleared Congress with broad bipartisan support and became law.

3. Johnson said abortion rights should be decided by the states.

Mr. Johnson is staunchly opposed to abortion and has supported a nationwide ban on the procedure after 20 weeks of pregnancy. But he said in the interview that he would not push for enactment of a federal prohibition, and that the matter should instead be left up to the states.

"We argued my entire career for 25 years that the states should have the right to do this," he said. "There's no national consensus among the people on what to do with that issue on a federal level for certain."

4. He wants a vote on Ukraine aid separated from a vote on aid to Israel.

Mr. Johnson, who has opposed sending more aid to Ukraine as the country tries to fight off a Russian invasion, said he would insist on splitting that money off from aid to Israel for its war against Hamas. President Biden has requested one large $105 billion emergency aid package for both, including money for Taiwan and border security in the United States.

"I told the staff at the White House today that our consensus among House Republicans is that we need to bifurcate those issues," Mr. Johnson said of Ukraine and Israel. He added, however, that he believed that Russia must be stopped.

"We can't allow Vladimir Putin to prevail in Ukraine because I don't believe it would stop there. And it would probably encourage and empower China to perhaps make a move on Taiwan," he said, adding, "We're not going to abandon them, but we have a responsibility of stewardship — responsibility over the precious treasure of the American people."

He also described himself as a "skeptic" about providing humanitarian aid to Palestinians, as Mr. Biden has requested, arguing it could end up in the hands of terrorists.

"You do not want to further empower the terrorist groups. Our heart goes out to innocent Palestinian people, of course, as we do to anyone who's in a terrible situation like that," he said. "We have to be very discerning in our policy and in our approach to this."

5. Johnson endorsed changing House rules to make it harder to remove a speaker.

During the interview, Mr. Hannity railed against the House rule that allows any one lawmaker to force a snap vote to remove the speaker, which hard-right Republicans used to oust former Speaker Kevin McCarthy. He suggested that the threshold for removing a speaker should be raised.

"I think we're going to change it," Mr. Johnson said.

6. Johnson does not want to kick out Santos.

Mr. Johnson said that he would not move to expel Representative George Santos of New York, who has been indicted on fraud charges, despite an effort by several House Republicans to do so. He noted the slim majority his party has in the chamber.

"We have a four-seat majority in the House," he said. "It is possible that that number may be reduced even more in the coming weeks and months, and so we'll have what may be the most razor-thin majority in the history of the Congress. We have no margin for error."

He said Mr. Santos should get due process and the ability to fight the charges.

"He's not convicted. He's charged," Mr. Johnson said. "And so if we're going to expel people from Congress, just because they're charged with a crime or accused, that's a problem."

But the matter is not up to him. House rules allow any member to call for the expulsion of another member, which a group of New York Republicans have done, and force a quick vote that takes a two-thirds majority to prevail.

7. Johnson said there would be no legislation on guns.

After the mass shooting in Maine, Mr. Johnson said it was "not the time" to talk about more gun restrictions.

"The problem is the human heart. It's not guns, it's not the weapons," he said. "At the end of the day, we have to protect the right of the citizens to protect themselves, and that's the Second Amendment, and that's why our party stands so strongly for that."

8. He played down the importance of race while discussing the difficulties of his Black son.

Some conservatives have criticized Mr. Johnson for comments he made in a 2020 interview in which he spoke about racial disparities in America and called for "systemic change." In it, Mr. Johnson spoke about raising a Black son in addition to his biological children, saying his Black son had a more difficult path than his white son "simply because of the color of his skin."

When Mr. Hannity asked about the issue on Thursday, Mr. Johnson maintained that his two sons had disparate experiences, but suggested that his Black son's troubles were not only about race but also about his family background and circumstances.

"Having raised two 14-year-old boys in America and the state of Louisiana, they had different experiences," he said. "And I'm not so sure it was all about skin color, but it is about culture and society. Michael, our first, came from a really troubled background and had a lot of challenges."

9. He attacked President Biden as mentally weak and potentially corrupt, but he didn't endorse impeachment.

During the interview, Mr. Johnson said he couldn't think of a single thing that Mr. Biden had done well in office, suggested that the president's mental faculties had left him and raised the accusation, without any proof, that Mr. Biden had taken foreign bribes.

Still, Mr. Johnson said he was not at the point where he could endorse an impeachment of Mr. Biden.

"I know people are getting anxious and they're getting restless and they just want somebody to be impeached, but we don't do that like the other team," Mr. Johnson said. "We have to base it upon the evidence, and the evidence is coming together. We'll see where it leads."
Look, I wish fewer of our politicians used a literal interpretation of a centuries-old religious text as the basis for their life decisions. And I certainly get why folks would be upset by his views on LGBTQ issues and abortion. But, frankly, they're not all that unusual.
More importantly, it's hard to imagine the voter who would otherwise vote Republican next November who is going to be dissuaded that their Speaker is too damned religious. If anything, constantly harping on these beliefs will likely bolster their turnout with "values voters" and reinforce the notion that Democrats are the anti-God party. It has every potential to be this cycles version of "They get titter, they cling to guns or religion . . ." or "basket of deplorables."
Beyond that, to the extent that this are just nutty beliefs that have no real chance of getting enacted into law (Democrats control the Senate and White House after all) and, indeed, Johnson fully admits are settled issues, focusing on them is a distraction from the real issue: he's an election-denying, insurrection-supporting, Mega-MAGA Trump supporter.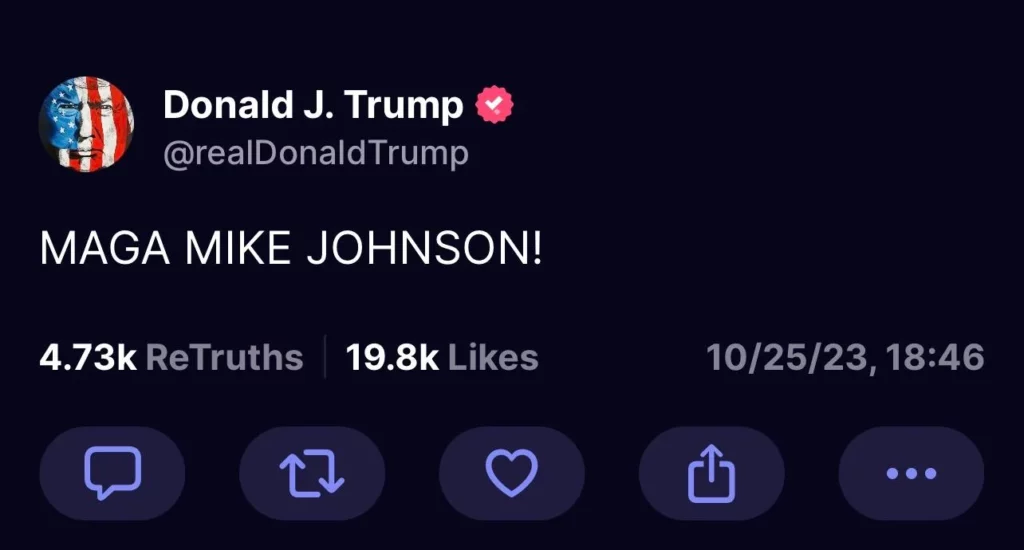 Johnson isn't dangerous because he's a Jesus freak with nutty ideas. Tens of millions of Americans hold similar beliefs. While I keep seeing the notion that he's "Jim Jordan in a jacket" or otherwise just like the Crazy Eight who dethroned McCarthy, he's actually got an agenda. He's dangerous precisely because he's a True Believer willing to ignore the will of the voters and the rule of law to keep power in service of these ideas.
This is the drum that Democrats and others who are afraid of a second Trump term need to bang for the next year and a week.