Sean Hannity's TXT Messages To Mark Meadows [Updated]
How the host's off-camera views contradict what he was telling his audience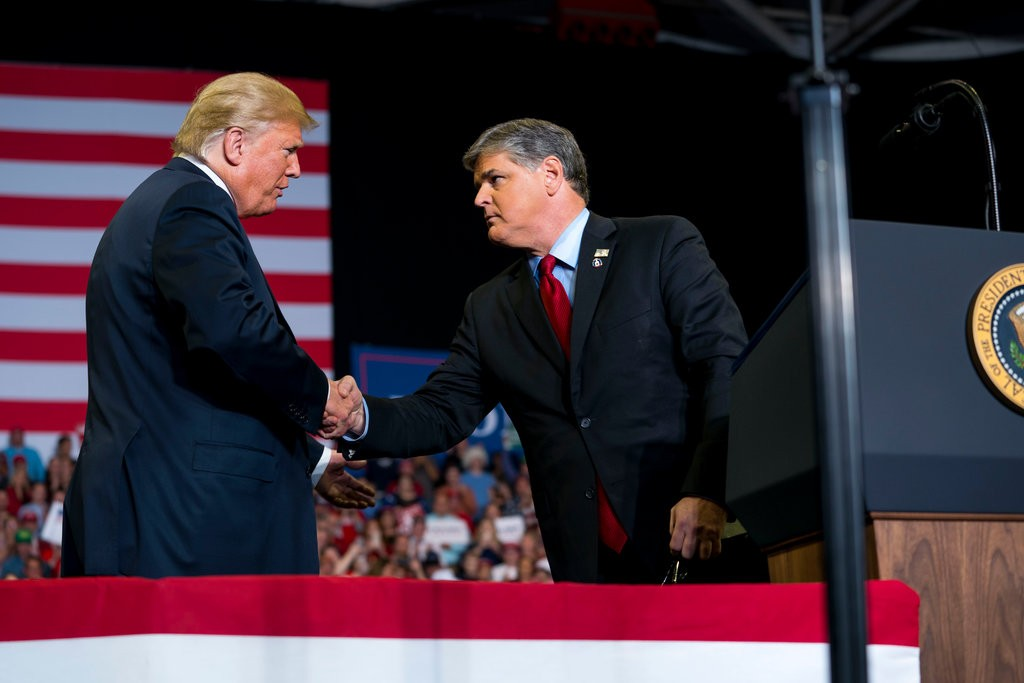 Yesterday, January 4th, the House Select Committee investigating the January 6th attack on the capital released a letter written to Fox News Host Sean Hannity requesting an interview. At the center of the committee's case for the request are the following texts Hannity sent to White House Chief of Staff Mark Meadows:
12/31/2020
"We can't lose the entire WH counsels office. I do NOT see January 6 happening the way he is being told. After the 6 th. He should announce will lead the nationwide effort to reform voting integrity. Go to Fl and watch Joe mess up daily. Stay engaged. When he speaks people will listen."

1/5/2021
"Im very worried about the next 48 hours."

"Pence pressure. WH counsel will leave."

1/6/2021
"… Ask people to peacefully leave the [C]apit[o]l."

1/10/2021
"Guys, we have a clear path to land the plane in 9 days. He can't mention the election again. Ever. I did not have a good call with him today. And worse, I'm not sure what is left to do or say, and I don't like not knowing if it's truly understood. Ideas?"

https://january6th.house.gov/sites/democrats.january6th.house.gov/files/2022-1-4.BGT%20and%20LC%20Letter%20to%20Hannity_Redacted.pdf
Beyond revealing more about Hannity's role as an external advisor to the administration (more on that in a moment), these texts demonstrate the divergence between Hannity the advisor and Hannity the right-wing media host.
In particular, the 12/31 message implies that Hannity was well aware that Trump has lost the election and had little hope of changing the outcome. He even appears to be aware that Trump is being given poor advice about those possibilities. However, on-air, Hannity the host continued to rally his audience to support the big lie and promote the January 6th "Stop the Steal" rally.
There's often been a public perception that Hannity is, well, not the brightest bulb among right-wing media stars. Yet these snippets of txts, in particular, the ominous "Im very worried about the next 48 hours." (Jan 5th, less than 24 hours before the riot), show someone who appears far more tuned into the reality of the situation than many close Trump advisors.
This brings us to Hannity's role as an external advisor to the President and his close staff. In the January 10th txt, for example, we see a Hannity exasperated by his direct communications with the President ("I did not have a good call with him today").* Hannity is implying that it's time for Trump to give up the fight whether he likes it or not. These communications suggest that he and the former president were in semi-regular contact.
Hannity and Trump have a long-standing relationship that goes back to Hannity's start in the New York conservative talk radio. In those days Trump was a recurring guest on Hannity's radio show and later the Hannity and Colmes TV program. Still, while news personalities have served as informal external advisors to Presidents in the past, it appears that the relationship between Hannity and President Trump may be unique in terms of both access to the President and the regularity of their conversations. As the House Investigations Committee letter notes: "[i]t appears from other text messages that you may have had a conversation directly with President Trump on the evening of January 5th (and perhaps at other times) regarding his planning for January 6th."
All those conversations were happening while Hannity was regularly interviewing and "reporting" on the President as part of his Fox News program. At no time was Hannity's audience at Fox made aware of the depth of this ongoing relationship. Given Hannity's relationship with Fox's management, it's unlikely these revelations will have much impact on him. What remains to be seen is how Hannity and his lawyer Jay Sekulow (who also served as an outside counsel for President Trump during both impeachment proceedings) will respond to the Committee's request. Also, the degree to which Hannity himself (not to mention Fox News) will cover these txts and the interview request on his program. He was notably silent on the topic last night.
Then again, not revealing that he's been requested for an interview based on his communications with the President is in keeping with the broader pattern of keeping the thoughts of Hannity the advisor hidden from Hannity the host's audience.
[Update 1/6/2022]
The Washington Post's Aaron Blake published an excellent deep dive into topics raised in this post. He also notes that the 12/31 and 1/5 text both seem to suggest that Hannity was somewhat aware that White House counsel Pat A. Cipollone and his top deputy, Patrick F. Philbin were threatening to resign if Trump went through with a documented plan to replace the acting AG with loyalist Jeffrey Clark.

* – Note that former President Trump has already issued a statement about this text through a spokesperson:

Trump is now responding to the Hannity texts released by the Jan. 6 committee, including when he told Mark Meadows that Trump should stop talking about the election. "I disagree with Sean on that statement and the facts are proving me right," Trump tells me, via a spokesman.

— Kaitlan Collins (@kaitlancollins) January 5, 2022
---
A personal message: Happy New Year folks. One of my resolutions is to write more publicly this year. And I could think of no better place to rebuild that muscle than here. James and Steven have graciously welcomed me back to the fold. My primary beats beyond politics will be the criminal legal system and social safety net (with some pop culture probably thrown in as well). And hopefully, unlike with my comments, I'll keep the typos to a minimum.