An Observation on the Mueller Testimony
On documents and the degree to which they speak for themselves.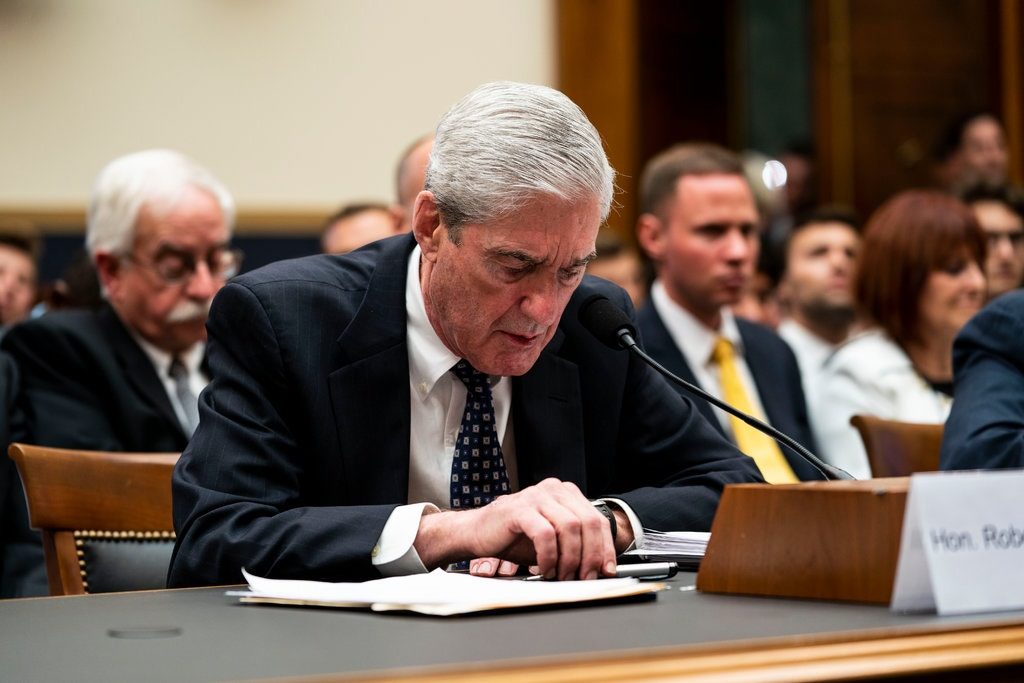 There has been one key element of Robert Mueller's approach to his whole investigation that I have found more than vexing. It is his insistence that texts speak for themselves. It has been his almost literal mantra about the report, and it is a a statement he applied to a letter that he wrote concerning AG Barr's treatment of said report.
Now, on the one hand, there is a degree to which one should be able to expect a text to speak for itself. But, there are a lot of examples in which texts clearly are not expected to speak for themselves in all ways, and more importantly, there are key moment in which texts are not expected to solely speak for themselves.
I live in a world of texts and words. They have dominated my professional existence. A text is called upon to speak for itself in moments of quiet contemplation when the reader and the text are involved in the interchange. This is certainly true. But texts consumed en masse almost never are asked to solely speak for themselves, and, indeed, many texts are explicitly written for an audience in which clearly it will not be simply speaking for itself.
Some key examples:
-There are oral arguments before the Supreme Court of the United States because texts are not asked to fully speak for themselves.
-Court proceedings in general are examples of texts (such as briefs, laws, transcripts of depositions, other written testimony, etc.) are not expected to speak for themselves.
-Doctoral dissertation defenses are clear examples wherein if the doctoral student told her committee, "the text speaks for itself" then said students would not pass the defense.
-When a professor uses a book or article that they have written, they do not walk into class, drop the book on the table, and walk out shouting "the text speaks for itself, so I am getting a coffee" on the way out the door.
-A key reason for a blog comment section is that blog posts aren't always able to speak for themselves.
To that last two points: I have taught enough and have written enough for public consumption to know, without any doubt whatsoever, that no matter how clear I think I am being, there is always someone (and often a lot of someones) for whom further clarity could be provided.
The entire act of literacy and film criticism is predicated on the notion that texts frequently require interpretation. Indeed, the very fact that we have to use the word "interpretation" to any discussion of any text indicates that texts often cannot speak for themselves, at least if one means that the text's speech is clear and understood equally by all.
For that matter, the whole notion of education, from K-12 through graduate school, is that texts need people to speak for them. If books alone were the gateways to understanding, then we could save a lot of money and time on education. (I would note, too, that churches could close as well–just read your holy text of choice and move on).
Indeed, if there is ever a moment in which a text should not be expected to speak for itself is when the author is in the room with you. Only the author can explain the choices made. Only the author has a clue about why they made the choices they made (and yes, authors are fallible and their memories and egos may get in the may of how they answer such questions).
Still, the notion that Mueller could not elaborate on his report, and that the report spoke for itself, was a disservice to the country. It was especially a disservice because he knows full well that most Americans (indeed, more members of the committees he was testifying before) did not read the text in question. If a main goal of a report is to, well, report then the author might find the need to help the report get adequately reported. His unwillingness to even read sections of the report himself undercut the purpose of the document.
I appreciate his dedication to fairness and his clear desire not to be partisan (which is ironic, given the attacks he suffered on that count). I further appreciate his calm demeanor in the face of some serious scorn heaped on him from Trump and his supporters over the last several years.
But the notion that he was duty-bound to elaborate on nothing, to explain nothing, and to simply continually assert that the text speaks for itself, was heavily misguided in my opinion. I think, too, it flies in the face of what we know about texts and how we treat them, let alone the purpose of the report itself.