'To Kill A Mockingbird' And 'Huckleberry Finn' Banned By Minnesota School District
Two classic pieces of American Literature have been banned from the curriculum in Duluth, Minnesota. This is a mistake.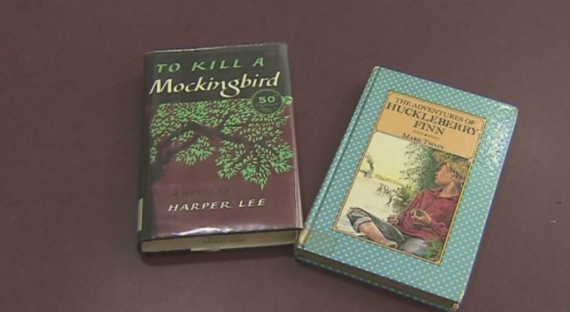 Two iconic pieces of American literature are being banned by school districts in Minnesota due to the fact that they contain a racial slur:
Novels by Harper Lee and Mark Twain have been pulled from school syllabuses in Minnesota over fears their use of racial slurs will upset students.

The Duluth school district said it was removing To Kill a Mockingbird and The Adventures of Huckleberry Finn from its curriculum because their content may make students feel "humiliated or marginalised".

The school district, which includes more than 20 schools, said it will keep copies of the classic novels in its libraries but will be removing the texts on its curriculum for its ninth and 11th-grade English classes in the next academic year.

Michael Cary, the district's curriculum director, said that its schools planned to replace the novels with texts that "teach the same lessons" without using racist language.

Both To Kill a Mockingbird, a Pulitzer-prize winning novel depicting racial injustice in Alabama, and Huckleberry Finn, which deals with slavery in pre-Civil War America, include racist characters who regularly use offensive language, including the N-word.

The two novels have been listed among the most banned or challenged books from 2001 to 2009 by the American Library Association, in large part because of their uncomfortable language.

According to the association, many of the complaints about Lee's To Kill a Mockingbird came from black parents concerned about a book containing a racial slur being taught in the classroom.

However, the texts are both widely considered to be anti-racist texts, using historically accurate language and characters to highlight and address the issue.

Mr Cary told local paper the Bemidji Pioneer: "We felt that we could still teach the same standards and expectations through other novels that didn't require students to feel humiliated or marginalised by the use of racial slurs".

The decision had come in response to complaints about the books' offensive language over the years, rather than a specific complaint by a student, Mr Cary said.

The National Association for the Advancement of Coloured People has supported the decision, saying it was long over due.

Stephan Witherspoon, the president of the local branch, said the books were "just hurtful", adding that they use "hurtful language that has oppressed the people for over 200 years".

However, free speech organisations have criticised the move, with the National Coalition Against Censorship, saying it was "deeply disturbed" by the decision.

"Rather than ignore difficult speech, educators should create spaces for open dialogue that teaches students to confront the vestiges of racism and the oppression of people of colour," a spokesperson for the organisation said.

Bernie Burnham, president of the Duluth Federation of Teachers, said the district's English teachers were concerned that they were not consulted before the decision was made.

"I don't think anybody is averse to change – there's obviously lots of great literature there that we can use with our students and are there reasons to walk away from that book? Probably – but we just want to be included in conversation about it," she said.
This isn't the first time that either book has raised ire among parents or school boards, of course. As noted above, a report from the American Library Association states that the two books were in the top 25 of the list of most banned or challenged books for the period from 2000 to 2009, and in the top 50 for the period from 1990 to 1999. They have also both made the list for years after 2009. More recently, a School District in Virginia pulled the book from its curriculum and school libraries in 2016 based on the complaint of a single parent but eventually reinstated them after an outcry from the community. Back in October, another district in Mississippi pulled the books after some parents complained that their language made them 'uncomfortable.' The book was later reinstated but the new policy stated that students could only read the book if their parents permitted it. Perhaps most famously, back in 1966 a school district in Hanover, Virginia banned Mockingbird after a school board member called the book 'immoral literature,' prompting Harper Lee to write a particularly biting letter chastising the decision that was published by the Richmond News-Leader:
Recently I have received echoes down this way of the Hanover County School Board's activities, and what I've heard makes me wonder if any of its members can read.

Surely it is plain to the simplest intelligence that "To Kill a Mockingbird" spells out in words of seldom more than two syllables a code of honor and conduct, Christian in its ethic, that is the heritage of all Southerners. To hear that the novel is "immoral" has made me count the years between now and 1984, for I have yet to come across a better example of doublethink.

I feel, however, that the problem is one of illiteracy, not Marxism. Therefore I enclose a small contribution to the Beadle Bumble Fund that I hope will be used to enroll the Hanover County School Board in any first grade of its choice.

Harper Lee
It is true, of course, that both Mockingbird and Huckleberry Finn contain a word that most people today find to be deeply offensive and hurtful. At the same time, though, it's also clear that both books are devoted to themes meant to combat and counteract that racism that this word, and other dialogue, in both books is there to lay bare the truth about the times that they depict. This, above all else, is what makes them among the most significant and important pieces of literature in American history. Rather than banning these books, school districts ought to be including them in the curriculum and encouraging teachers to use them as opportunities to engage students in discussions about the issues that they raise, including the power that a single word can have on the people who hear it. I wouldn't recommend either book for young children, of course, but for students in the later years of High School, they both seem to me to be appropriate learning vehicles not only in English classes but also in American History classes when the focus is on the times with which both books take place. This strikes me as being especially important at a time like now when the ideas that these books are combatting seem to be on the rise again thanks in no small part to a President who has raised xenophobia to an art form and referred to white supremacists who marched through the streets of Charlottesville, Virginia as "very fine people."  Indeed, it's unfortunate that an organization such as the NAACP would support a decision like this given the fact that banning the books seems to run counter to their own messages about teaching racial inclusiveness.
Outside of the particular issue of these books and the lessons they teach, it's also disturbing to see something like book banning coming back into vogue in education. While it's true that there are some fine works of literature that arguably are not age appropriate even for High School students, this most certainly isn't true of either of these books nor is it true for the majority of the books on the ALA's list of banned and challenged books. Book banning is a practice that brings echoes of authoritarian regimes and the idea that there are ideas that students should be shielded from, two principles that run counter to the notion of what education ought to be. Instead of banning books, schools ought to be encouraging students to read more, even if that includes books that challenge their notions about the world and even make them feel uncomfortable. Shielding students from the reality of the worlds that Mockingbird and Huckleberry Finn depict doesn't make those eras of American history disappear, and it's better that we talk about and learn from them then that we shield student from them because they might be momentariy 'uncomfortable.' Hopefully, the Duluth school district will see the error of its ways and reconsider its decision, but if the past is any indication that's probably not going to happen.