Harper Lee, Author Of 'To Kill A Mockingbird,' Dead At 89
The reclusive author of one of the greatest American novels ever written has died at the age of 89.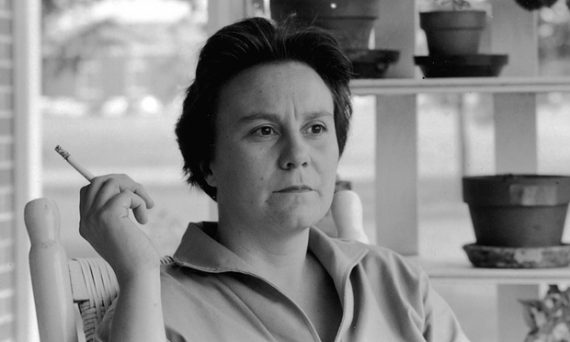 Harper Lee, the author of one of the great novels of American literature who spent most of her life after its publication living quietly in the hometown that inspired her classic work, has died at the age of 89:
Harper Lee, whose first novel, "To Kill a Mockingbird," about racial injustice in a small Alabama town, sold more than 10 million copies and became one of the most beloved and most taught works of fiction ever written by an American, died on Friday in Monroeville, Ala., where she lived. She was 89.

Hank Conner, a nephew of Ms. Lee's, said that she died in her sleep at the Meadows, an assisted living facility.

The instant success of "To Kill a Mockingbird," which was published in 1960 and won the Pulitzer Prize for fiction the next year, turned Ms. Lee into a literary celebrity, a role she found oppressive and never learned to accept.

"I never expected any sort of success with 'Mockingbird,' " Ms. Lee told a radio interviewer in 1964. "I was hoping for a quick and merciful death at the hands of the reviewers, but, at the same time I sort of hoped someone would like it well enough to give me encouragement."

The enormous success of the film version of the novel, released in 1962 with Gregory Peck in the starring role of Atticus Finch, a small-town Southern lawyer who defends a black man falsely accused of raping a white woman, only added to Ms. Lee's fame and fanned expectations for her next novel.

Ms. Lee gained a reputation as a literary Garbo, a recluse whose public appearances to accept an award or an honorary degree counted as important news simply because of their rarity. On such occasions she did not speak, other than to say a brief thank you.

(…)

The novel had its critics. "It's interesting that all the folks that are buying it don't know they're reading a child's book," Flannery O'Connor wrote in a letter to friend shortly after the novel's appearance. Some reviewers complained that the perceptions attributed to Scout were far too complex for a girl just starting grade school and dismissed Atticus as a kind of Southern Judge Hardy, dispensing moral bromides.

The book soared miles above such criticisms. By the late 1970s "To Kill a Mockingbird" had sold nearly 10 million copies, and in 1988 the National Council of Teachers of English reported that it was being taught in 74 percent of the nation's secondary schools. A decade later Library Journal declared it the best novel of the 20th century.

Nelle Harper Lee was born on April 28, 1926, in the poky little town of Monroeville, in southern Alabama, the youngest of four children. "Nelle" was a backward spelling of her maternal grandmother's first name, and Ms. Lee dropped it when "To Kill a Mockingbird" was published, out of fear that readers would pronounce it Nellie, which she hated.

Her father, Amasa Coleman Lee, was a prominent lawyer and the model for Atticus Finch, who shared his stilted diction and lofty sense of civic duty. Her mother, Frances Finch Lee, also known as Miss Fanny, was overweight and emotionally fragile. Neighbors recalled her playing the piano for hours, fussing with her flower boxes and obsessively working crossword puzzles on the front porch. Truman Capote, a friend of Ms. Lee's from childhood, later said that Nelle's mother had tried to drown her in the bathtub on two occasions, an assertion that Ms. Lee indignantly denied.

Ms. Lee, like her alter ego Scout, was a tough little tomboy who enjoyed beating up the local boys, climbing trees and rolling in the dirt. "A dress on the young Nelle would have been as out of place as a silk hat on a hog," recalled Marie Rudisill, Capote's aunt, in her book "Truman Capote: The Story of His Bizarre and Exotic Boyhood by an Aunt Who Helped Raise Him."

One boy on the receiving end of Nelle's thrashings was Truman Persons (later Capote), who spent several summers next door to Nelle with relatives. The two became fast friends, acting out adventures from "The Rover Boys" and, after Nelle's father gave the two children an old Underwood typewriter, making up their own stories to dictate to each other.

Mr. Capote later wrote Nelle into his first book, "Other Voices, Other Rooms," where she appears as the tomboy Idabel Tompkins. She made a repeat appearance as Ann Finchburg, nicknamed Jumbo, in his story "The Thanksgiving Visitor." Ms. Lee returned the favor, casting Mr. Capote in the role of the little blond tale-spinner Dill in "To Kill a Mockingbird."

Ms. Lee attended Huntingdon College, a local Methodist school for women, where she contributed occasional articles to the campus newspaper and two fictional vignettes to the college's literary magazine. Both gave an inkling of themes that would find their way into her novel. "Nightmare" described a lynching, and "A Wink at Justice" told the story of a shrewd judge who makes a Solomonic decision in the case of eight black men arrested for gambling.

After a year at Huntingdon, Ms. Lee transferred to the University of Alabama to study law, primarily to please her father, who hoped that she, like her sister Alice, might become a lawyer and enter the family firm. Her own interests, and perhaps her disposition, led her elsewhere.

"I think lawyers sort of have to conform, and she'd just as soon tell you to go to hell as say something nice and turn around and walk away," a classmate recalled. Ms. Lee wrote a column called Caustic Comments for Crimson White, the campus newspaper, and contributed articles to the university's humor magazine, Rammer Jammer, where she became editor in chief in 1946.

After her senior year, she spent a summer at Oxford University as part of a student-exchange program. On her return from England, she decided to go to New York and become a writer.

Ms. Lee arrived in Manhattan in 1949 and settled into a cold-water apartment in the East 80s. After working briefly at a bookstore, she found work as a reservations agent, first for Eastern Airlines and later for BOAC. At night she wrote on a desk made from a door. The local colony of displaced Southerners regarded her askance. "We didn't think she was up to much," recalled Louise Sims, the wife of the saxophonist Zoot Sims. "She said she was writing a book, and that was that."

Michael and Joy Brown, a couple she met through Mr. Capote, believed in her. Mr. Brown, a lyricist, had just received a large check for his work on a musical fashion show for Esquire magazine , and on Christmas Day 1956, he and his wife presented Ms. Lee with a check equal to a year's salary at BOAC and a note that read: "You have one year off from your job to write whatever you please. Merry Christmas."

Slowly she developed a small portfolio of short stories, which she took to an agent, Maurice Crain. He suggested she try her hand at writing a novel. Two months later she returned with the first 50 pages of a manuscript she called "Go Set a Watchman."

It told the story of a small-town lawyer who stands guard outside a jail to protect his client against an angry mob, a central incident in the novel-to-be, whose title Mr. Crain changed to "Atticus" and later, as the manuscript evolved, to "To Kill a Mockingbird."

The title refers to an incident in the novel, in which Atticus, on giving air rifles to his two children, tells them they can shoot at tin cans but never at a mockingbird. Scout, puzzled, learns from Miss Maudie Atkinson, the widow across the street, that there is a proverb, "It's a sin to kill a mockingbird," and the reason for it: the birds harm no one and only make beautiful music.

Editors at Lippincott told Ms. Lee that her manuscript read like a string of anecdotes, not a novel, but encouraged her to revise. Eventually they paid a small advance and assigned her to work with Tay Hohoff, an experienced editor with whom she developed a close working and personal relationship.

As the novel made its way toward publication, Mr. Capote called with a proposal. He was going to Kansas to research the shocking murder of a farm family. Would she like to come along as his "assistant researchist"?

Ms. Lee jumped at the offer. "He said it would be a tremendously involved job and would take two people," she later told Newsweek. "The crimes intrigued him, and I'm intrigued by crime — and, boy, I wanted to go. It was deep calling to deep."

For months, Ms. Lee accompanied Mr. Capote as he interviewed police investigators and local folk. Engaging and down to earth, she opened doors that, without her, would have remained closed to her companion, whose flamboyantly effeminate manner struck many townspeople as outlandish. Each night she wrote detailed reports on her impressions and turned them over to Mr. Capote. Later she read his manuscript closely and offered comments.

When the book, "In Cold Blood," was published in 1966 to much acclaim, Mr. Capote repaid her help with a brief thank you on the dedication page and thereafter minimized her role in the book's creation. By then the friendship had already cooled and entered a deep freeze after "To Kill a Mockingbird" became a runaway best seller.
It was around that time that Lee moved back to her hometown of Monroeville, where she quickly became the subject of mystery and speculation thanks to her refusal to give interviews. Contrary to much speculation, though, Lee had hardly turned into a modern-day Southern recluse:
Although reporters imagined a Southern Miss Havisham, Ms. Lee lived a quiet but relatively normal life in Monroeville, where friends and neighbors closed ranks around her to fend off unwelcome attention by tourists and reporters. She lived with Alice, who practiced law in her 90s and died in 2014 at 103.

Ms. Lee also attended the local Methodist Church (built in part from her royalties) and occasionally dropped in on English classes at the local high school when "To Kill a Mockingbird" came up for study. She also spent time in Manhattan, where she maintained a small apartment.

Occasionally there were sightings. In 2001, Ms. Lee began attending an annual awards ceremony at the University of Alabama to meet and talk with the winners of a contest for the best essay by an Alabama high school student on "To Kill a Mockingbird."

In keeping with her longstanding policy, she refused to talk about her own life and work, which became a matter of intense journalistic curiosity again with the release of two films that dealt with the writing of "In Cold Blood." In one, "Capote" (2005), Ms. Lee was portrayed by Catherine Keener and in the other, "Infamous" (2006), by Sandra Bullock. She did, however, send a letter to the magazine Oprah in 2006 describing her childhood love of reading.
In recent years, Lee has made the news when it was revealed that she had filed suit against her long time agent for allegedly deceiving her out of royalties for 'Mockingbird' as well as for the rare public appearances she would sometimes make outside her hometown or home state. The biggest news, though, came last year when it was revealed that a second manuscript written by Lee, described simultaneously as both a sequel to 'Mockingbird' and a book that was effectively the first draft of Lee's classic novel, had been discovered among her papers. Soon, it was announced that this novel, 'So Set A Watchman' would be published, and it's release last summer was widely anticipated. After it's release, though, the reaction was mixed both because many literary critics saw it as a less in quality to Lee's classic novel and because of the way it depicted the iconic figure of 'Mockingbird,' Atticus Finch, as someone who had become somewhat cynical and even racist in the face of the Civil Rights Movement that was just beginning in the 1950s setting of the new novel. However history ultimately judges 'Watchman," though, it is clear that 'To Kill A Mockingbird' will continue to be seen as one of the great novels of American literature, something which makes Lee's achievement all the more remarkable.