[Updated 1/31] Both Sides Are NOT the Same: "Banned" Book Edition
People, details do in fact matter!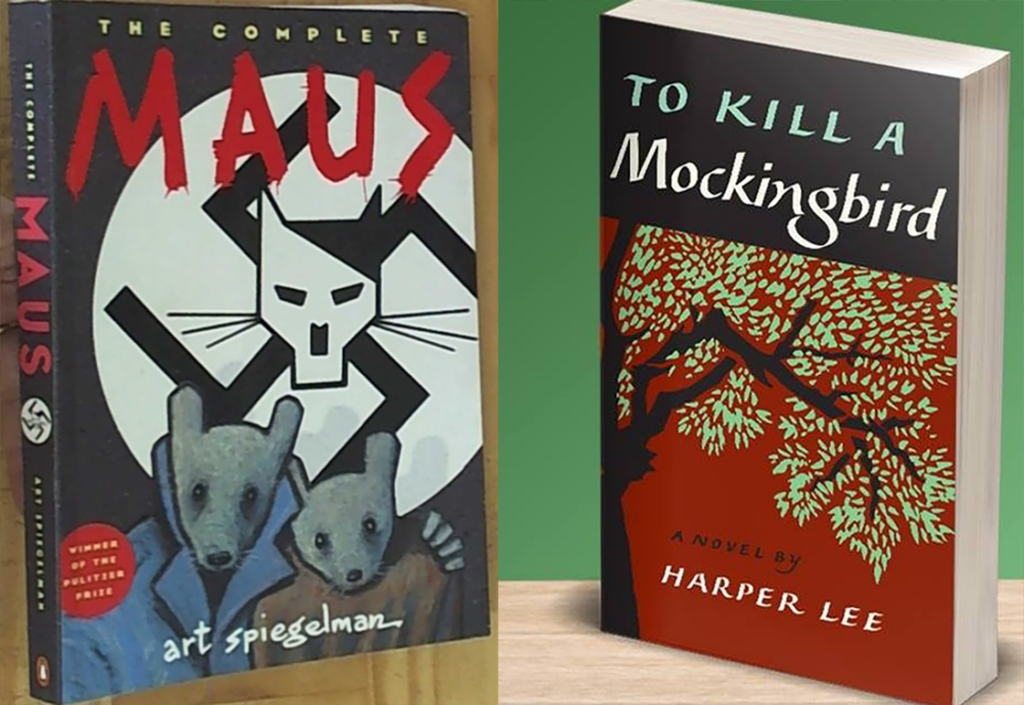 As is often the case, when a notable cultural event happens–say a conservative school district bans a book for content–there is often a quest to find a counter-example. And in the wake of McMinn County Tenessee removing Art Spiegelman's Maus from its eighth-grade curriculum earlier this week, folks have latched onto the news that the Mukilteo School District in Seattle has made a decision about requiring the teaching of To Kill a Mockingbird to ninth-graders.
"BOTH SIDES DO IT!" is proclaimed by very-serious-heterodox-thinkersTM on social media. "Liberals are the real hypocrites" proclaim conservative media pundits and outlets like the New York Post. Heck, some might make the argument that Mukilteo has a greater impact as the district is roughly three times the size of McMinn.
Unfortunately, all of these folks either (a) haven't looked into the details of each case or (b) apparently decided said details are best ignored because they will get in the way of an awesome dunk on folks they disagree with any easy "likes" from their followers. And that ultimately reveals, for approximately the gazillionth time, the utter emptiness behind most "bothsiderism."
Let's review what happened in McMinn (Maus). Here's the Cliffs Note version for those of you who didn't do the assigned reading (for a deeper dive see this fact page by The Tennesseean–local journalism FTW!):
Maus was, as far as well can tell, was not just taken out of the eighth-grade curriculum; it appears to have been banned from the district in its entirety. The board meeting minutes mention that the book was also being taught in some high school classes ("[t]he high schools have adopted a separate curriculum, but it is in the freshman curriculum, the same book, and was taught last year in freshman classes and a digital version as well. We are not talking just eighth grade, we are talking freshman."). The ban means that those grades can no longer teach the book either. It also most likely means the book will be removed from school libraries.

The process was initiated by a complaint from a concerned parent. The school board then reviewed the book themselves, and after taking comments from teachers, unanimously banned the book. The reason the book was banned was for (mouse) nudity, language, and violence (to mouses).

The board banned the book without a replacement. The book is the center of the Holocaust Module. If the board cannot find an appropriate replacement "[i]t would probably mean we would have to move on to another module," skipping the Holocaust module (see link above).
Mukilteo appears to be an almost completely different case. First, the book isn't banned in the school district or from teaching:
The Mukilteo School District recently approved removing the text as a required assignment for ninth graders. Under the change, the district retains the book as an option for teachers who still want to assign it.

https://crosscut.com/news/2022/01/kill-mockingbird-hot-seat-wa-school-district
So, for those in the back row, the district isn't removing books from the school or necessarily the curriculum. It's just not requiring that teachers teach the book (which has been required since 2016).
This review process started when three teachers made a request in the fall for the district's instructional materials committee to review the book's required status. The committee, comprised of about 20 teachers, librarians, administrators, and parents, reviewed the case. The group voted to remove the book from the required reading list but not to remove the book from the district's approved novels list. The board then held an open meeting, with comments from teachers, students, parents, and community members before unanimously voting to approve the committee's decision.
The makeup of the curriculum review committee represents another important difference. Unlike in McMinn, where the content review was conducted by elected community members, in Mukilteo the people who did the review were a cross-section of the people who were closest to the teaching and would be impacted by the decision: teachers, librarians, and parents. It's unfortunate, though not unexpected, that there isn't any student representation on the committee (perhaps the district isn't quite that liberal after all).
Next is the issue of why the book was removed from the required list. To Kill a Mockingbird is a perennial member of the American Library Foundation's infamous Most Challenged Books list. In part, it's due to the book's language (and in particular the use of the "N-word"). However, the more recent critique of the book is that it's an example of the "White Savior" genre–when a helpless person of color needs to be literally saved through the work and sacrifice of an idealized White individual. Alice Randall, the author of The Wind Done Gone, captured some of that sentiment in 2017 when she wrote:
Many who defend "Mockingbird" as a choice for curriculum are imagining students emboldened by Atticus to "fight for right" or inspired by Scout to be better than the society into which she is born. But imagine instead that you are an African-American eighth-grade boy in Mississippi today, and are asked to read "Mockingbird." Perhaps it reinforces your growing suspicion that you are unlikely to get a fair trial should you stand accused of something like Tom Robinson.

[…]

Every student who reads Lee's book does not identify with Atticus or with Scout, and teaching it as though they do, or they must, may reinforce the very stereotypes about black men and impoverished women that teaching the book is supposed to combat. Some identify with Tom Robinson, or with Calpurnia, or with Mayella Ewell and, for these students, "To Kill a Mockingbird" is a far more complex text which, in the hands of a less-than-effective teacher, can be damaging.

https://www.nbcnews.com/think/opinion/why-are-we-still-teaching-kill-mockingbird-schools-ncna812281
Randall also points out that while the core White characters in the book are deeply fleshed out, the core Black characters are treated more as "set dressing" and shown as lesser and lacking in agency. This is also called out in a 2020 Washington Post opinion piece by Errin Haines.
[T]he story is one by a white author, told through primarily white characters. Rereading the book, I was struck that Lee offers rich profiles of the story's white characters, their personalities, mannerisms, dress, histories, but there are no such character studies to be found for any of the African Americans in this story. Their humanity is obscured from us, suggesting that it is of little consequence to the author, reader or the whites in Maycomb. White privilege means not actually having to know black or brown people, to live among them but to never really see them, even in one's own house.

And that privilege extends to the hero of Lee's novel in the minds of many readers: Atticus Finch…. Atticus has come to represent more than just a white savior. He stood in an Alabama courthouse not to block justice for a black man but to fight for it. In doing so, he wasn't just attempting to save Tom Robinson (in an alternate version, he would have been the hero); he was absolving the entire white race from the ills of racism. Atticus is the unimpeachable and quintessential example of what it means to be a Good White Person, inspiring young people across the country to become lawyers and enabling white Americans to point again and again to a fictional character as proof that not all actual white people are racist.
These concerns, raised by teachers and students in Mukilteo, are of a different order than being made uncomfortable by drawings of nudity and violence. They are part of a larger cultural dialog that has been going on about the book itself.1
I expect that by this point, you are already drafting a response in your mind (if not in the box on the page below): "why not use this as a teaching opportunity?!"
That, is ultimate, the key difference between the McMinn and Mukilteo decisions. Mukilteo didn't ban To Kill a Mockingbird without a plan to replace it. It didn't ban its teaching at all! In fact, the Mukilteo curriculum review committee's decision allows that teaching opportunity to take place at the teacher's discretion. Teachers can still choose to teach Mockingbird. In fact, what this decision enables, by not replacing it with another required work, is allowing teachers to select another approved novel written from a different perspective and have the two books read against each other.
There is no way to teach Maus in McKinn county. There is no way to struggle with the discomfort it causes. Heck, it appears there is no way to even get the Pulitzer prize-winning work from a school library (including the one in the High School).
In Mukilteo county, you can still find To Kill a Mockingbird in school libraries. It can still be taught in Mukilteo classrooms. It may even be able to be taught better, contrasted with newer works written by a diverse group of authors. It just isn't required.
The first is censorship. But, no matter how slippery you try to make the slope, the second one isnt. So, look elsewhere for an example of bothsiderism (and yes, they do exist on the liberal side) this one isn't it.
---
1 – I expect some readers are going to bristle at the idea of Atticus Finch as a White Savior. It's worth noting that, based on his representation in her posthumously released work Go Set a Watchman, Harper Lee may have come to have seen him very much from that perspective. That reinterpretation of the character was something that many fans of To Kill a Mockingbird were upset by when that novel was released.
---
[Update 1/31/2022]
Last night Mu Yixiao rightly dinged me on not showing my work:
Show proof of it being banned from the district entirely-because that's not what the story has been as I've read it. The story has been that Maus can has been removed from the 8th-grade curriculum as the core of a particular class.

Show me evidence that it has been removed from the school libraries.
While I consider my writing opinion analysis, I want to make sure I'm doing my fact-checking. Today I reached out to a few local journalists to see if they knew if my assumption is correct. Given how short-staffed newspapers are today, it may take a while to hear back. In the meantime, I did a bit of digging and discovered that the McMinn School Library Catalog is online. Searches for "Maus" returned no circulating copies. To ensure that this wasn't because I was accessing the site from outside the District, I did an additional search for "Spiegleman" that returned the following results: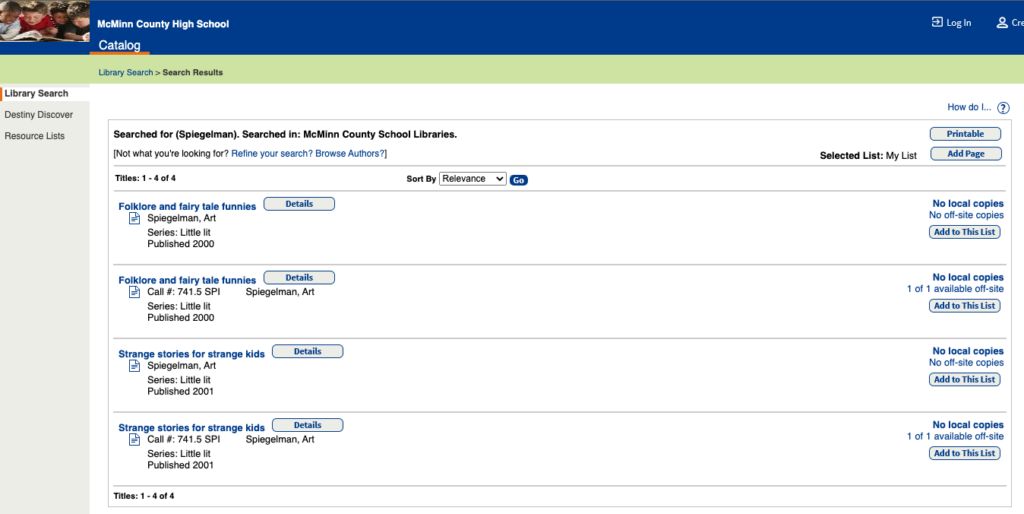 While students in McMinn appear to have access to some of Art Spiegleman's other works, there are no circulation copies of Maus listed in the catalog. It is entirely possible that the district never had a circulation copy. Still, the fact remains that regardless of whether there were or were no circulation copies prior to the decision, you cannot currently borrow Maus from any school library in McMinn county.
Thankfully, because librarians rock and are amazing defenders of free speech and dangerous books, you can get copies throughout the county library system, including the E. G. Fisher Public Library. Librarians FTW!