Harper Lee To Release New Book, Sequel To 'To Kill A Mockingbird'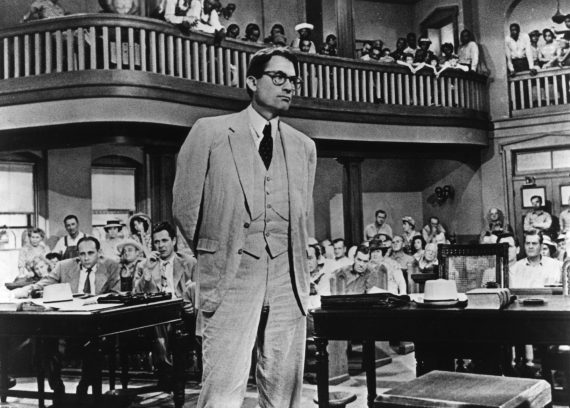 Harper Lee, who became an international sensation with the publication of To Kill A Mockingbird, which itself was turned into one of the greatest movies ever made, is coming out with a new book after fifty long years of relative silence:
"To Kill a Mockingbird" will not be Harper Lee's only published book after all.

Publisher Harper announced Tuesday that "Go Set a Watchman," a novel the Pulitzer Prize-winning author completed in the 1950s and put aside, will be released July 14. Rediscovered last fall, "Go Set a Watchman" is essentially a sequel to "To Kill a Mockingbird," although it was finished earlier. The 304-page book will be Lee's second, and the first new work in more than 50 years.

The publisher plans a first printing of 2 million copies.

"In the mid-1950s, I completed a novel called 'Go Set a Watchman,'" the 88-year-old Lee said in a statement issued by Harper. "It features the character known as Scout as an adult woman, and I thought it a pretty decent effort. My editor, who was taken by the flashbacks to Scout's childhood, persuaded me to write a novel (what became 'To Kill a Mockingbird') from the point of view of the young Scout.

"I was a first-time writer, so I did as I was told. I hadn't realized it (the original book) had survived, so was surprised and delighted when my dear friend and lawyer Tonja Carter discovered it. After much thought and hesitation, I shared it with a handful of people I trust and was pleased to hear that they considered it worthy of publication. I am humbled and amazed that this will now be published after all these years."

Financial terms were not disclosed. The deal was negotiated between Carter and the head of Harper's parent company, Michael Morrison of HarperCollins Publishers. "Watchman" will be published in the United Kingdom by William Heinemann, an imprint of Penguin Random House.

According to publisher Harper, Carter came upon the manuscript at a "secure location where it had been affixed to an original typescript of 'To Kill a Mockingbird.'" The new book is set in Lee's famed Maycomb, Alabama, during the mid-1950s, 20 years after "To Kill a Mockingbird" and roughly contemporaneous with the time that Lee was writing the story. The civil rights movement was taking hold by the time she was working on "Watchman." The Supreme Court had ruled unanimously in 1953 that segregated schools were unconstitutional, and the arrest of Rosa Parks in 1955 led to the yearlong Montgomery bus boycott.

"Scout (Jean Louise Finch) has returned to Maycomb from New York to visit her father, Atticus," the publisher's announcement reads. "She is forced to grapple with issues both personal and political as she tries to understand her father's attitude toward society, and her own feelings about the place where she was born and spent her childhood."

(…)

"This is a remarkable literary event," Harper publisher Jonathan Burnham said in a statement. "The existence of 'Go Set a Watchman' was unknown until recently, and its discovery is an extraordinary gift to the many readers and fans of 'To Kill a Mockingbird.' Reading in many ways like a sequel to Harper Lee's classic novel, it is a compelling and ultimately moving narrative about a father and a daughter's relationship, and the life of a small Alabama town living through the racial tensions of the 1950s."

The new book also will be available in an electronic edition. Lee has openly started her preference for paper, but surprised fans last year by agreeing to allow "Mockingbird" to be released as an e-book.
Given the widespread appeal of Lee's first book, this new book will no doubt be met with much anticipation, especially since it will apparently include many of the same characters who will we will now see dealing with the explosive issues surrounding the Civil Rights era, and the fact that it was written largely contemporaneously as those events were occurring should make Lee's perspective something worth reading. Lee's original work ranks as one of the great works of American literature, and while it's not reasonable to expect lightening to strike twice, one could hope that this book will prove to be as enlightening as her original work was. It's a good thing that it was found, and that she's willing to share it with us.