Conservative Party In Danger Of Losing Majority In Canada, But Outcome Still In Doubt
If pre-election polling is to be believed, Stephan Harper and Canada's Conservative Party seem likely to lose power after Monday's elections, but there are several reasons why this may not end up being the case.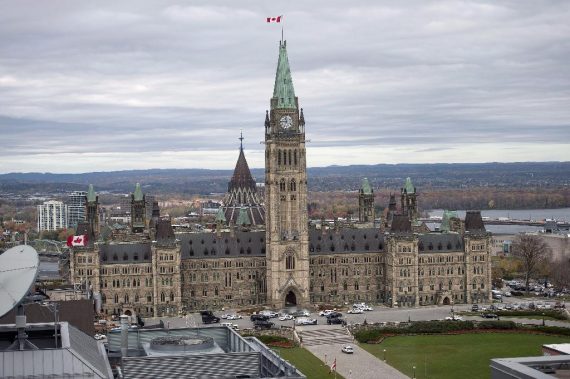 With Canadians set to head to the polls on Monday, things aren't looking so good for Prime Minister Stephen Harper and his Conservative Party, but it seems unlikely that any part will be able to grab a Parliamentary majority outright:
TORONTO — Stephen Harper did not get to be prime minister of Canada by persuading most of the country's voters to put him in office, and that is not how he intends to keep the job in the general elections on Monday.

Thanks to a splintered opposition, Mr. Harper and his Conservative Party have prevailed in three straight elections and held power for nine years without ever winning more than 40 percent of the vote.

"A national election is not a popularity contest," Mr. Harper said in August, when he moved to dissolve Parliament.

With that first tactical strike, Mr. Harper opened Canada's longest official federal campaign season in at least a century, an absorbing and at times strikingly vitriolic spectacle of political calculation. In broad strokes, Mr. Harper said his re-election would bring "stability, not risk." The main opposition groups, the New Democratic Party and the Liberal Party, say they will restore Canadian traditions of progressive liberalism and roll back what they see as the Harper era's bellicose posture in foreign affairs.

Another dynamic: After nine years in power, the Conservatives have worn out many voters, with about 70 percent of Canadians saying they want change in published polls and internal party polls.

One possible measure of how threatened Mr. Harper feels late in the racewas the appearance at a party rally last week of Rob Ford, the former Toronto mayor notorious for using crack cocaine, public drunkenness and other offenses to polite society. Now a city councilor, Mr. Ford remains popular in parts of Toronto, but associating with him could cost Mr. Harper among socially conservative immigrants in the suburbs who strongly backed the Conservative Party four years ago.

Retail-level politics is now conducted in a dozen or so languages, as candidates try to reach voters at festivals and supermarkets, in community centers and on doorsteps. Nearly half of all residents in the Toronto suburbs were born outside Canada, in China, South Asia, Africa, the Caribbean and the Middle East.

Some ridings, or parliamentary districts, were decided by fewer than 1,000 votes in the last elections. This time, it is not just party machines that are trying to grab those seats. A swath of nonaligned voters, known as A.B.C.s, Anything But Conservative, have organized online to pool and swap votes.

For instance, Olivier Jarvis Lavoie, a 32-year old researcher who lives in a Toronto riding unlikely to vote Conservative, struck a deal with a friend, a Green Party supporter who lives in an Ottawa district where a Conservative candidate is competitive.

"He said, 'If you're willing to vote Green in your riding, I will vote for whichever candidate is best positioned to defeat the Conservative,' " Mr. Lavoie said.

As of Saturday, one campaign had drawn more than 89,000 pledges to switch votes in close-fought districts to candidates who seemed to have the best chance of beating the Conservative nominees.

"It's a Rubik's Cube here in Canada: a three-dimensional electoral map with history, immigration and vote switching," said John Wright, a senior vice president with Ipsos Reid, a polling and marketing company.

Since August, each of the three big parties has led in one poll or another, but the robust, dizzying political culture puts the race well beyond the reach of trustworthy handicapping. At least six parties have fielded nearly 1,800 candidates for seats in all or some of the 338 ridings, spread from the Atlantic Ocean to the Pacific and north to the Arctic. In each riding, a simple plurality determines the winner. The party with the majority in Parliament — 170 or more members — selects the prime minister and forms the government.

"Even with six in 10 people hating them, the Conservatives could still win with a massive parliamentary majority at 38 percent of the popular vote, or a comfortable majority at 37 percent," Mr. Wright said.

The same arithmetic might also work for the New Democrats, led by Thomas Mulcair, or the Liberals, led by Justin Trudeau, whose father, Pierre Elliot Trudeau, was prime minister for 15 years into the early 1980s.

In their fight to be recognized as the standard bearers of change, Mr. Mulcair, 60, and Mr. Trudeau, 43, have been hostile to each other but both have said that they would try to block Mr. Harper from forming government if the Conservatives or their own parties do not get a majority.

Mr. Trudeau took over the Liberals in 2013 when the party was in shambles after a historic rout two years earlier. By all accounts, it has been restored to a position as a serious political force. Recent polls show it in the lead.

The youngest of the main candidates, Mr. Trudeau has led a campaign of high style and tight scripts, inviting photographers to see him sparring in a boxing ring, paddling a canoe, or picking pumpkins with his wife and their three young children. He recently outlined a child welfare program in Montreal's Olympic Stadium, saying that the arena's seats could hold the 60,000 children who would be lifted out of poverty under the Liberal proposal. As a video drone operated by one of his aides buzzed overhead in the nearly empty stadium, he waved, smiled and boarded a bus.

His opponents have tried to use his age, relative inexperience, and youthful appearance against him. One early Conservative ad ran through a list of Mr. Trudeau's supposed shortcomings, and concluded with the line, "Nice hair though." Another favored punch line: "Just not ready."

Mr. Mulcair was a bit more subtle, addressing Mr. Trudeau in debates as "Justin."

The condescension may have backfired: Mr. Trudeau proved to be as forceful a presence as his opponents in debates that also included Elizabeth May of the Green Party, and Gilles Duceppe of the Bloc Québécois.

For his part, Mr. Mulcair, the leader of what has traditionally been Canada's most left-leaning major party, came into the campaign as the front-runner. The party had surprised even itself by sweeping seats in Quebec in 2011.

That support was shaken when the Harper government pursued a ban on the niqab, a face veil worn by some Muslim women, during citizenship ceremonies. Many in the French-speaking region were in favor of the ban but Mr. Mulcair opposed it, saying that while he was not comfortable with the niqab, the courts had ruled against prohibiting it. The Conservatives, Mr. Mulcair charged, were using it as a "weapon of mass distraction." Mr. Harper said the ban "reflects our values as a society." So far, polls suggest, the niqab debate may have undermined the New Democrats in Quebec, and coincided with their loss of ground elsewhere.
As things stand right now, it seems hard to say what will happen when Canadians go to the polls on Monday. The poll tracker run by the Canadian Broadcast Corporation, which has been tracking the national, provincial, and territorial polls since the election started, presently shows Trudeau's liberal with a national lead of 36.4%, following by the Conservatives at 31.1%, and the New Democrats at 22.5%. They've projected this out to show a hypothetical Parliamentary makeup that looks like this: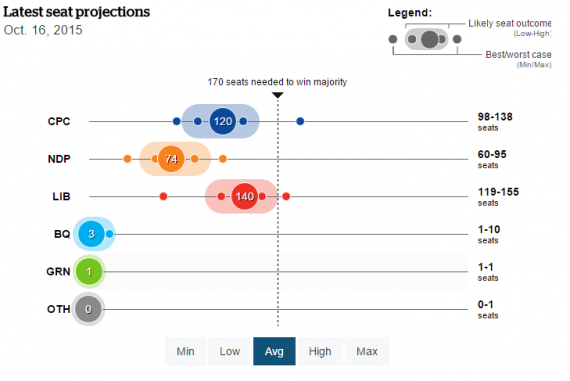 Based on this projection, it would appear that the most likely outcome is one in which none of the major parties get the 170 seats that are needed to form a majority outright. This isn't necessarily an unusual thing in Canadian politics, though, as there have been minority governments before that have survived for surprisingly long periods of time by relying on opportunistic coalitions to get bills passed. Indeed, of the more than nine-and-a-half years that Stephen Harper has been Prime Minister he governed under a minority government for roughly five of those years thanks to elections in 2006 and 2008 in which his party one the most seats, but failed to win a majority. It wasn't until the 2011 elections that Harper's conservatives won a majority. In fact, since 2000 Canada has been governed by a minority government for eleven of the past fifteen years since the last Liberal Party government, elected in 2004, also failed to win an outright majority. Given that history, it wouldn't be surprising for either the Conservatives or the Liberals, either one of whom seems to be the party most likely to walk away from Monday with the most seats of any party even if it doesn't have a majority.
Which party ends up getting the first chance to form a government, though, isn't necessarily straight forward, and it's entirely possible that Harper could stay as Prime Minister even if his party doesn't win enough the most seats:
Many Canadians see Governor-General David Johnston as a nice man who greets foreign dignitaries, reads a speech from the throne that others write for him and hands out awards. But a week from today, they may learn how important a role he plays in the life of the nation.

If the polls hold, Canadians could wake up to a hung Parliament after the 42nd general election, with no party able to command a majority of seats in the House of Commons. In that case, tradition, precedent and Mr. Johnston's discretion could determine who governs Canada and for how long.

Earlier this year, Prime Minister Stephen Harper asked Mr. Johnston to extend his tenure for another two years. According to those close to the discussions, Mr. Harper anticipated the possibility of a hung parliament, in which no party won a clear majority of seats and it was unclear which party would form government.

A former professor of law, law-school dean and university president, Mr. Johnston had been repeatedly called upon by both Liberal and Conservative governments to offer advice in difficult situations, before Mr. Harper chose him for Governor-General in 2010.

Mr. Harper asked Mr. Johnston to stay on because he wanted someone with experience and skill at Rideau Hall, in the event of a close or uncertain result Oct. 19.

While we may understand that in a general election we vote for a local candidate in our riding and that the winners of these 338 contests then meet in the House of Commons and invest confidence in a government, in fact most people vote for a party and its leader.

This discrepancy between the parliamentary democracy that we have and the American-style assumptions that voters make "is a serious problem," maintains Bruce Ryder, an authority on constitutional law who teaches at York University's Osgoode Hall Law School.

"The important rules of the Canadian Constitution are conventional and unwritten and for that reason they are somewhat murky and open to contestation," he says. "But nevertheless, they are absolutely crucial to the operation of our system of parliamentary government. And the governor-general plays a very important role in the situation that we're likely to have with a closely hung parliament."

For example, both Conservative Leader Stephen Harper in this election and Liberal leader Paul Martin when he was prime minister said that whichever party wins the most seats on election night gets to govern.

Not so. "That's a political decision, not a constitutional one," says Adam Dodek, a constitutional scholar who teaches at the University of Ottawa faculty of law. Only the prime minister may advise the governor-general, Prof. Dodek points out, and Mr. Harper will still be Prime Minister the day after the election. Whether the Conservative Party comes in first, second or third, Mr. Harper has the right to advise Mr. Johnston whether he wishes to form a government and test the confidence of the House of Commons.

"In 1993, Kim Campbell, as prime minister, had the right if she so desired to meet the House and suffer her fate," he adds.

But since Mr. Harper has declared he will step down as prime minister unless his party wins the most seats, he would need a plurality to continue governing, which introduces another complication: Both Liberal Leader Justin Trudeau and NDP Leader Tom Mulcair have repeatedly declared that they would never, ever prop up another minority Conservative government.

Could Mr. Harper advise Mr. Johnston that he intended to form a government and then refuse to meet the House of Commons? Constitutionally, Parliament does not have to meet until next June, a year after the previous Parliament was dissolved.

However, long before then Mr. Johnston would likely intervene. A governor-general would let a government exist without testing the confidence of the House for "a few months and not more than a few months," says David Schneiderman, a University of Toronto law professor, who has a new book,Red, White and Kind of Blue, that examines the drift in Canadian political culture away from its Westminster roots and toward the American model. "You don't want to prolong uncertainty."
The CBC has more on the role that Governor General Johnston could play in the event of a minority government.
The other possibility, of course, is that a coalition could be formed, most likely between the Liberal Party and the New Democrats, both of whom are at least united in opposition to Harper if nothing else, and as The New York Times reports today there is some campaigning going on in that regard:
OTTAWA — A new kind of canvasser has been knocking on doors in Canada's election campaign, the longest in its modern history. These canvassers are partisan only in the sense that they oppose Prime Minister Stephen Harper and his Conservatives. What they are asking like-minded voters to do is to set party allegiance aside and vote on Monday for whichever opposition candidate has the best chance of defeating the Conservatives.

Interest in this kind of strategic voting has been growing during Mr. Harper's decade in power in Canada, a country where there is sometimes as much discussion over the mechanics of the electoral system as over who ought to be elected.

As Mr. Harper's opponents point out, the Conservatives have formed governments after each of the last three elections without ever getting more than 39.6 percent of the popular vote. That has been enough to win them a majority in Parliament because most of the remainder has been split between two center-left parties, the Liberals and the New Democratic Party.

"I was just appalled with our government, and that Harper would get 39 percent of the vote and 100 percent of the power," said Jackie DeRoo, a retired executive in Vancouver, British Columbia. She now volunteers as a canvasser in a strategic voting campaign organized by Leadnow Canada, an independent group that encourages citizen participation in elections and on issues.

Less obvious than the arithmetic of the opposition's vote-splitting problem is how to eliminate it. One solution would be a merger of the Liberals, who date to the founding of Canada, and the slightly more leftward New Democrats, a party created in part by organized labor. The current Conservative Party of Canada was created that way — a 2003 merger of the Canadian Alliance, then led by Mr. Harper, and the venerable Progressive Conservative Party — for a similar reason, to avoid fracturing the vote on the right.

Yet there do not seem to be many voters like Ms. DeRoo who want to reduce Canadian politics to a two-party system, and the idea has no support among party leaders either. Nor does Canada have a tradition of parties forming coalitions during campaigns.

That leaves strategic voting. In a country where voters choose their members of Parliament district by district, but most publicly available opinion polls yield only broad national data, determining how to vote strategically is not always straightforward.

Early efforts in Canada mainly involved websites trying to guide voting decisions. In 2008, Hisham Abdel-Rahman, an information technology worker in Calgary, Alberta — historically a Conservative bastion where strategic voting would be pointless — started a website, strategicvoting.ca. He said he relied on past election results and online election handicappers to offer advice to voters who live in areas where strategic voting might work. Based on web traffic, he believes interest in the idea has increased.

"People are really engaged in this process this time," Mr. Abdel-Rahman said.
There has been talk of strategic voting elsewhere in the past, of course, but it never seems to work out the way that the parties intended. Additionally, it's worth remembering that national polling in countries with Parliamentary systems doesn't necessarily tell us much about how an election will actually turn out. Just this year, for example, pre-election polling in both the United Kingdom and Israel in advance of their elections purported to show that the governing parties were either in danger of losing their majorities or walking away with smaller majorities than they had been governing with. In both cases, the polls ended up being wildly wrong. In Great Britain, election eve polling showed the outcome of the election to be up in the air and there was talk of either a hung Parliament or a situation where Labour would have to give massive concessions to the Scottish National Party to form a government. Instead, David Cameron walked away with a substantially largely majority than anyone was predicting before the election thanks in no small part to the collapse of Labour in Scotland and the Liberal Democrats elsewhere. In Israel, there as also early polling that put Likud's hold on power in doubt, but Benjamin Netanyahu won and ended up with a large enough majority to give him considerable freedom in constructing a government that seems likely to last until the next election is required in five years. We could see the same thing happen in Canada, so it's worth taking the polls with a grain of salt. Nonetheless, as things stand it does appear that Stephan Harper and the Conservative Party may be at the end of their nine years in power.