Benjamin Netanyahu Appears To Secure Victory In Israeli Elections
After appearing to be behind in pre-election polling, Prime Minister Benjamin Netanyahu seems to have secured a victory in Israel's elections.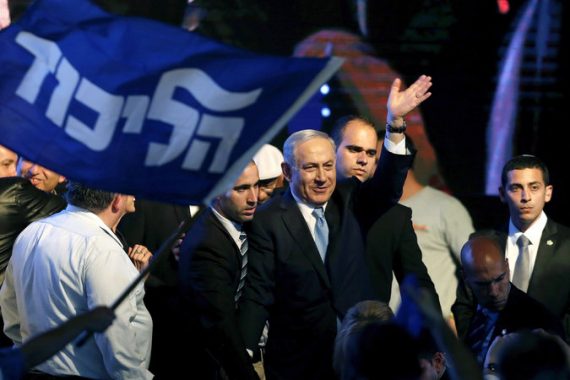 Israeli Prime Minister Benjamin Netanyahu appears to have led his Likud party to victory in Israel's parliamentary elections, but any questions remain:
TEL AVIV — After a bruising campaign focused on his failings, Prime Minister Benjamin Netanyahu of Israel won a clear victory in Tuesday's elections and seemed all but certain to form a new government and serve a fourth term, though he offended many voters and alienated allies in the process.

With 99.5 percent of the ballots counted, the YNet news site reported Wednesday morning that Mr. Netanyahu's Likud Party had captured 29 or 30 of the 120 seats in Parliament, sweeping past his chief rival, the center-left Zionist Union alliance, which got 24 seats.

Mr. Netanyahu and his allies had seized on earlier exit polls that showed a slimmer Likud lead to create an aura of inevitability, and celebrated with singing and dancing. While his opponents vowed a fight, Israeli political analysts agreed even before most of the ballots were counted that he had the advantage, with more seats having gone to the right-leaning parties likely to support him.

It was a stunning turnabout from the last pre-election polls published Friday, which showed the Zionist Union, led by Isaac Herzog, with a four- or five-seat lead and building momentum, and the Likud polling close to 20 seats. To bridge the gap, Mr. Netanyahu embarked on a last-minute scorched-earth campaign, promising that no Palestinian state would be established as long as he remained in office and insulting Arab citizens.

Mr. Netanyahu, who served as prime minister for three years in the 1990s and returned to office in 2009, exulted in what he called "a huge victory" and said he had spoken to the heads of all the parties "in the national camp" and urged them to help him form a government "without any further ado."

"I am proud of the Israeli people that, in the moment of truth, knew how to separate between what's important or what's not and to stand up for what's important," he told an exuberant crowd early Wednesday morning at Likud's election party at the Tel Aviv Fairgrounds. "For the most important thing for all of us, which is real security, social economy and even less strong leadership."

But it remained to be seen how his divisive — some said racist — campaign tactics would affect his ability to govern a fractured Israel.
Neither of the two major parties contesting the election garnered enough votes to achieve a Knesset majority on their own, of course, but as I noted when I wrote about the election last week, the real question is which party would be able to put together the 61 (or more) seat majority necessary to control the Knesset. Based on the pre-election polling which, by law, ended roughly 48 hours before ballots were cast, it appeared as though the Zionist Union, which is essentially the modern-day version of Israel's Labor Party, would end up with at least a slight majority over Prime Minister Netanyahu's Likud Party. This would have given the opposition's leader, Isaac Herzog, at least some advantage in the battle put together a majority through alliances with the numerous smaller parties that make up Israeli politics. As I noted last week, however, that was always a slim chance for Herzog that largely depended upon his being able to establish a significant gap between his party and Netanyahu's. Based on the election results, it would appear that Herzog has failed in that effort. Instead, it seems likely that Netanyahu will be able to eke out a majority quite easily.
Given the nature of Israeli politics, and the fractured party structure,  it's obviously far too early too say decisively that Likud has secured a majority from this election, and indeed it's even less how stable that majority will be. However, given the numbers we have it seems fairly apparent that Netanyahu will be given the first opportunity to put together a majority, and that if he is successful in that effort that the Knesset majority will likely lean more to the right than the current government does. Given the Prime Ministers's comments leading up to the election, which included an apparent rejection of the long-standing idea of the two-state solution to the Israeli-Palestinian issue, and his comments on election day about the numbers of Arab Israelis who were turning out at the polls, though, one has to wonder just what kind of future he will be leading Israel toward.